Ecobank is one of the 25 licensed commercial banks in Uganda, with a wide customer base enjoyed across the country. Known for being a Pan-African conglomerate, its business focus and target falls with in the continental radius of Africa; and with an ambition to achieve 100 million customers by 2020, their latest innovation in the Masterpass QR is a really profitable and sustainable move.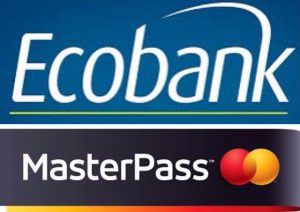 Advertisement - Continue reading below
Masterpass QR, the first mobile-driven Person-to-Merchant (P2M) payment solution, is a digital mobile-payment service that resulted from the signing of a Memorandum of Understanding between Ecobank Group and MasterCard, a global card and digital payment company. It is an enhancement to the Masterpass global digital payment system that will enable millions of micro, small and medium enterprises across Africa to begin accepting fast and secure digital payments from their mobiles.
The service addresses the challenges of acquiring expensive infrastructure, saves merchants the cost of buying POS devices and does away with the need for cash when transacting. It is specifically designed to support Ecobank's retail payment strategy, and in this, it enables merchants like shops, restaurants, bars, food sellers, taxi drivers, boda-boda riders among others to accept payment from mobile phones and cards without having to use a point of sale (POS) device.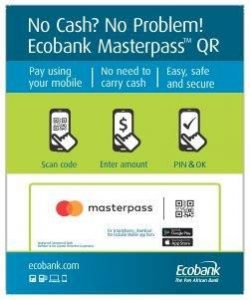 How Ecobank Masterpass QR works 
As a user, you are required to download the MasterPass app from the app store onto your mobile device. You will need an Android, iPhone, Windows or BlackBerry handset though currently not available for BlackBerry 10. In this case, you may choose the one issued by Ecobank or any of the others that you may want to use. Upon downloading the app and loading your card data, a unique customer profile will be created for you.
When completing a transaction, Open the app on your mobile device and enter your bank card data as requested. Scan the QR code (or manually enter the code) displayed on the merchant's website or on any availability as offered by the merchant. There are no fees or charges to use MasterPass but if you ever opt to receive notifications about your account by text message, you may incur standard messaging fees from your mobile phone service provider.
Advertisement - Continue reading below
For the customers with feature phones, Ecobank is securing a USSD code that you may use to access the service. This implies that at least every customer is granted the opportunity to move from cash to digital payments. For the record, it is secure as it requires the use of a personal identification number (PIN), which means no one can access another person's funds.
It was also announced at the recent Mobile World Congress that "Masterpass QR will eventually allow all payment platforms including even cards like Visa and others, other than MasterCard, to be used for payment via Masterpass." This will make MasterCard the first and only network to have delivered an omni-channel for digital payments for consumers, issuers  and merchants across the world.
Masterpass has already taken shape in Nigeria, Ghana, and already on the drive here in Uganda, with expectation of covering up to 33 more countries across Africa. Try it out, the smart move towards a cashless society.