Mere days after Telegram announced the launch of their real-time Live Location sharing feature, WhatsApp has also followed suit. As we reported in our post about Telegram's Live Location service, WhatsApp is no different.
In a nutshell, what Live Location does is allow you share your location with colleagues, family and friends. In effect, you let others see where you are, so they know you're safe. It also makes it easy to locate others in the same vicinity. Live Location is powered by Google Maps, on Android at least.
Advertisement - Continue reading below
End-to-End Encryption
WhatsApp's Live Location is end-to-end encrypted for a layer of security as you share your location. You can set a timer on the duration to share your location from 15 minutes, 1 hours up to 8 hours. More on that, you can always stop sharing your Live Location instead of waiting for the timer to expire.
How to use Live Location sharing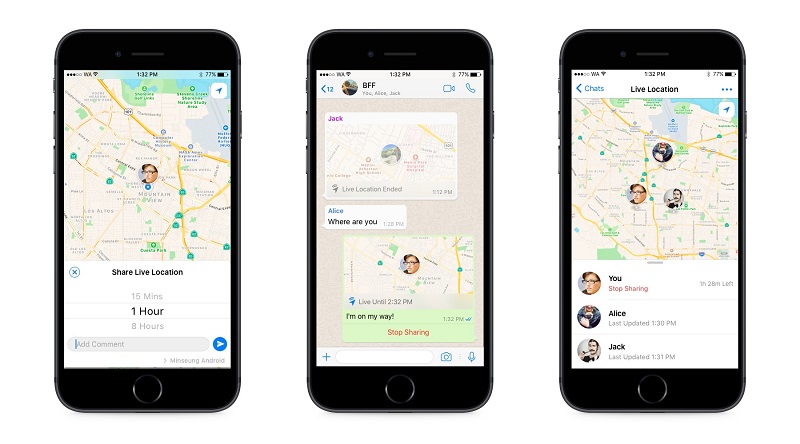 Find Live Location by clicking the Attach button (that paper clip icon) and Location. There's now a new option to Share Live Location. Choose the duration of the Live Location, from 15 minutes to 8 hours and send to activate. The map will auto-update to reflect your current whereabouts as you move. Should more than one person share their Live Location in a group, for instance, all the locations will be visible on the same map.
---
Related content: Telegram 4.4 brings you Live Location, a revamped Media player
---
This feature would come in handy as a way to track items, make sure family and friends have reached their destination and more. It's a cool way to also locate each other, for example at venues and concerts. Live Location is still rolling out to all regions as we speak. If you don't see the option just yet, sit tight and wait for it.
Other apps with Live Location.
As mentioned above Telegram launched a similar feature last week. Facebook Messenger has had an opt-in way to locate nearby friends. WhatsApp tested out Live Location tracking way back in February this year but the feature has been under development since then. Until now. Other apps with Live Location include Foursquare and Snapchat among others.
Advertisement - Continue reading below