With the data breaches that Facebook has been involved in the past couple of months, its very understandable if you want to delete your Facebook account. However, online privacy is not the only reason for you to delete your Facebook account. You may have opened up another account and are deciding to delete the one you used to handle.
The process of deleting a Facebook account is not hard. We shall show you how to delete your Facebook account with no option of retrieving it later. You cannot perform this process from the Facebook mobile app.
Advertisement - Continue reading below
Procedure:
Go to Facebook's delete site. Using a web browser, navigate to https://www.facebook.com/help/delete_account by typing it into the address bar and pressing ↵ Enter.
If you are not automatically logged in, enter the email address or phone number and password for your account, then click Log In. It's a blue button in the middle of the page.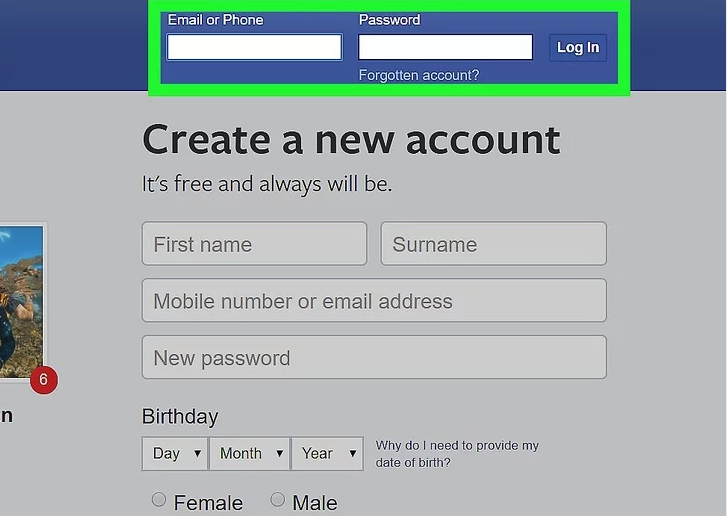 Click Delete My Account. It's below the warning message in the middle of the page. Clicking it invokes a pop-up window.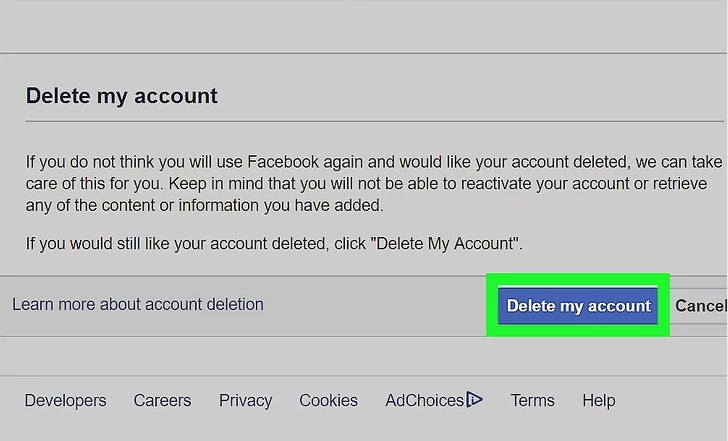 Enter your password again. You'll do so in the "Password" field at the top of the window.
Advertisement - Continue reading below
---
Related Article: What is Facebook Account 'Cloning'?
---
Type in the captcha code. This code is the jumble of letters and numbers in the middle of the window; you'll type your answer into the field below the code.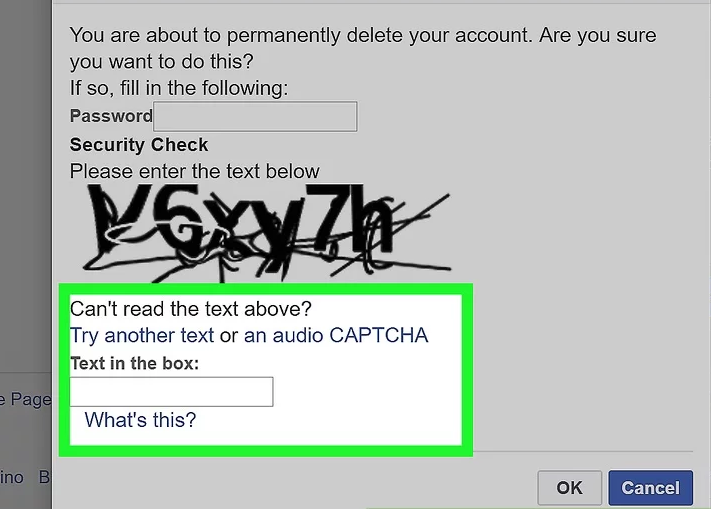 If you can't read the code, you can click either the Try another text or the an audio captcha link below the code to generate a new one.
Click OK. This will submit your code. If it's correct, another pop-up window will appear.
If you incorrectly entered your password or captcha code, you'll be asked to try again.
Click OK to delete your account. It's at the bottom of the pop-up window. Total account deletion can take up to 14 days, but your account will be gone from Facebook after that time frame.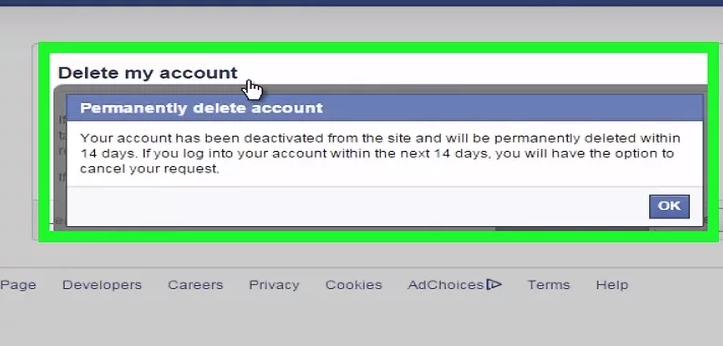 Advertisement - Continue reading below
Well, its just that simple! Follow the precise steps above and your account will be deleted permanently. You will have to create a new account in case you want to use Facebook again.