One of the greatest joys of the modern day is the ability to access the internet and of course being connected for long for long without battery running out midway. With the rise of faster 4G networks, smartphone batteries experience undeniable strain and soon run out cutting off the fun. This leads to feeling a deep yearning in the user. Unfortunately, batteries are stronger than ever but still aren't big enough to satisfy most users demands. This calls for external support, power banks. But what you can keep connected with a two in one MiFi and power bank?
Related: How a MiFi really works, why and how to buy one
Advertisement - Continue reading below
Ask anyone who holds a phone and their biggest fear is running out of battery on any given day. In addition, the need to be 'connected' is important to keep up with communication with business, friends and family.
Related: How to reset your MiFi password if you forgot it
Due to this, many had to move around with two important devices, a MiFi and a power bank. However, thanks to MTN Uganda, the days of walking around with two bulky gadgets will now come to an end with the introduction of a two-in-one MiFi and power bank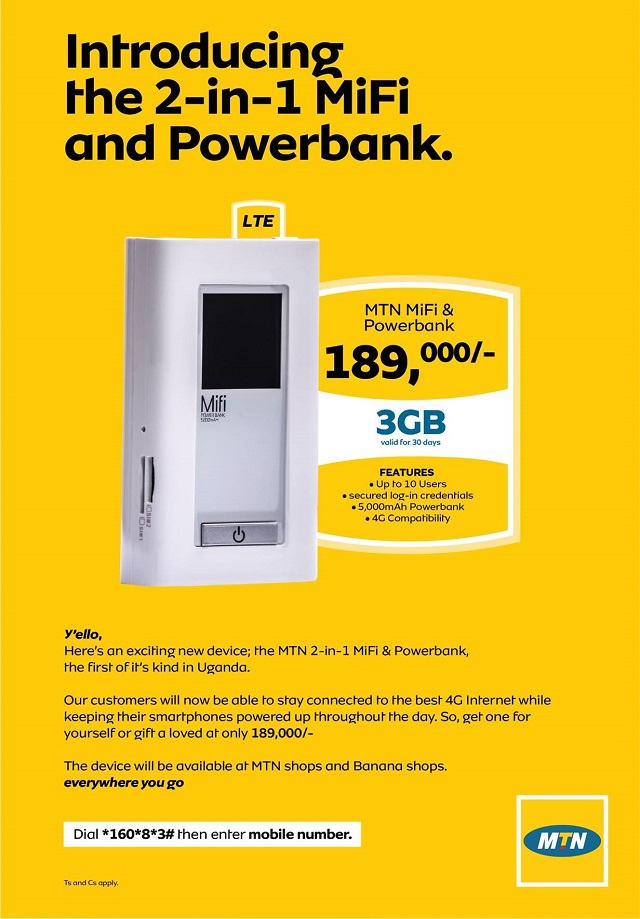 "As part of our twentieth anniversary celebrations, we are giving Ugandans a perfect gift for their communication needs in the form of an exciting new device"



MTN Uganda's Chief Marketing Officer (CMO) Olivier Prentout
The device will enable users to keep up to date with all the online action, news as well as be connected with their work. According to MTN Uganda, the product is as a result of feedback from customers who complained about carrying bulky power banks and MiFis separately, sometimes making their pockets and bags heavy.
Related: How to view and control who connects to your MiFi router
Advertisement - Continue reading below
"Our customers will now be able to stay connected to the best 4G Internet while keeping their phones powered up throughout the day thanks to the never seen before MTN 2-in-1 Mi-Fi and Powerbank."



MTN Uganda's Chief Marketing Officer (CMO) Olivier Prentout
The following are the key features of the MTN two in one MiFi and Power bank:
4G compatibility
Can pick 2G and 3G MTN networks as well
1.5-inch display
Can connect up to 10 users
5,000 mAh battery
LTE compatible
The MTN two in one MiFi and Power bank can fully charge a smart phone (as a power-bank) more than twice, making the device a must have for smartphone device owners, individuals working on the move or remotely. It is is also vital for students and firms or start-ups that work in small groups or in close proximity who jointly need internet connectivity.

Price and availability
The device retails at only UGX 189,000 and comes packed with 3GB valid for 30 days. It is now readily available at all MTN shops, Banana Shops, partner dealer shops and on Jumia online shopping website (www.jumia.ug). Major phone shops will also stock the devices.