Quick Verdict
The Tecno Camon 11 Pro is a fine phone that lacks any crippling flaws, but elements such as a low-res display and plastic body that easily scratches make it hard to champion over other lower-mid-range alternatives.
Pros
Awesome diamond fire design
Good Cameras
Increased RAM
Strong Battery with fast charging
Cons
No OIS on cameras
Plastic profile scratches
Fingerprint magnet back
Tecno has bossed the budget camera-centric smartphone market ever since the first Camon device, the Camon C5. The Camon series has gone on to become one big (sn)appy family with all the updates that followed. No one makes desirable, premium looking smartphones for a < $250 budget quite like the Transsion-owned brand.
Advertisement - Continue reading below
Related: The Phantom, Camon, F and Spark series: A Guide to Tecno Smartphones
The Camon 11 Pro is a few steps above the former flagship contender, the Camon X Pro. It comes with a better spec sheet that the Camon X Pro but with a very different approach to both hardware and software, but a lower launch price. (UGX 899,000 compared to UGX 940,000).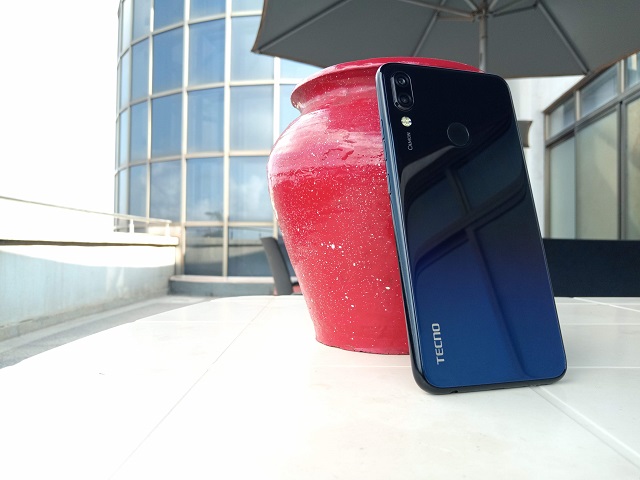 It's priced just above the Infinix Note 5 but lower than worthy competitors from Nokia, Xiaomi and Samsung. These days, you can expect to get quite a lot of phone for this sort of money. We've come to expect a certain flagship flavor when it comes to design and feel, alongside a couple of stand-out features. The Camon 11 Pro delivers on this.
Related: Top Chinese smartphone brands you should try out in Africa
The Camon 11 Pro is an all-round package and perhaps the best Tecno design to date, but it only really stands out for one reason, the notch. Thankfully, it's quite an appealing one.
Key Specs
OS Version: Android 8.1 (Oreo) + HiOS 4.1 OS
Display: 6.2-inch Super FULL VIEW HD+ (720 x 1500 pixel) Display
CPU: 2.0 GHz octa-core MT6762 Helio P22 CPU
Internal Storage: 64 GB expandable to 256GB via microSD card
RAM: 6 GB RAM
Back Camera: 16 + 5 MP dual Rear Camera with quad-LED flash
Front Camera: 24-megapixel AI Clear Selfie Camera with LED flash
Other Features: Fingerprint scanner, Face ID, Bluetooth 5.0, Dual SIM and 4G LTE Networks
Battery: 3750mAh with Mediatek Pump Express
Price: UGX 899,000
Camon 11 Pro Design
The Camon 11 Pro design has undeniably been heavily influenced by the recent sea of notched smartphones, specifically the Huawei P 20 Lite, both front and back. It has close to edge-to-edge notched display. However, it possesses a bottom chin that makes it look a little askew. The phone also has a plastic back with the looks of glass (don't be fooled) and a vertically aligned dual-camera module.
Advertisement - Continue reading below
The main design highlight of the Camon 11 Pro is the new diamond fire design. Tecno pulled one of its best designs of 2018 and perhaps of all time with this device. The rear panel gradients from black to Nebula blue for an elegant look.
Tecno Camon 11 Pro diamond fire design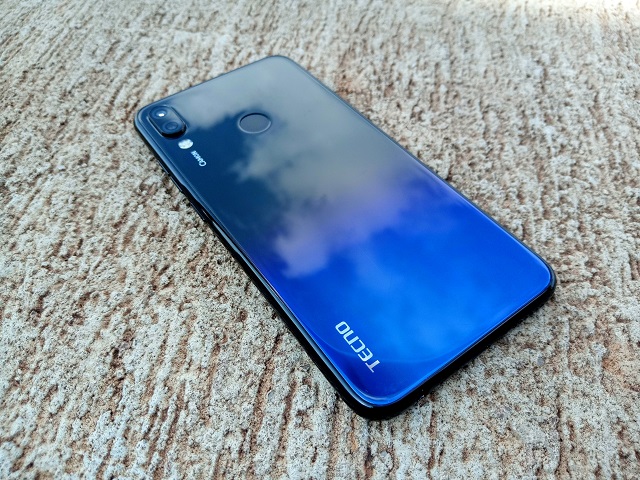 The awesome paint job, glass looks, and the slim profile of the Camon 11 Pro make an awesome smartphone package. We can forgive Tecno for not using actual glass at the back panel given how affordable this device is.
The left side of the Camon 11 Pro houses the dual-nano SIM card and micro SD card tray while the right is home for the volume rocker and power buttons. The top of the device is kept free whereas the bottom is crowded with the 3.5mm audio jack, microphone, micro USB port and a single loud-speaker.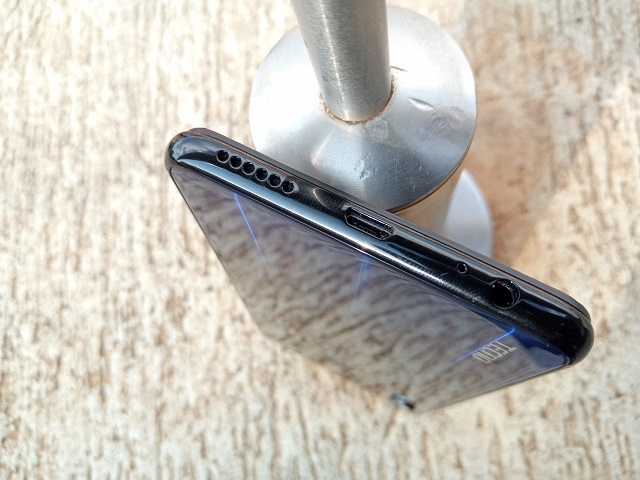 The rim of the phone got a glossy finish this time round to look more premium. Flipping the device to the back side, you see the dual-rear vertically aligned camera module that makes a little bump from the rest of the back. Juist below it is a quad LED flash light that is squeezed in a circular shape. Camon and Tecno branding are written shooting to the heavens in the same line as the camera leaving the top center area for the fingerprint reader. This is the natural home for fingerprint reader.
The Camon 11 Pro is a pleasant phone to hold. It gives a 'just right' feeling in the hands. However, it feels delicate and almost slippery in the hands. There were a couple of times when I felt like I was about to drop it.
Glossy back side

The notched 6.2″ display is elegant to look at
Despite throwing jabs to a much more expensive phone (the iPhone X), the Camon 11 Pro doesn't feel that much more premium than it is. The rear plastic panel attracts fingerprints like it was meant for that. However, this isn't a problem unique to the Camon 11 Pro. But it does get filthy awfully quickly. The provided cover can fix this although you must tuck away all the pretty looks.
Tecno Camon 11 Pro Display
Well, the Camon 11 Pro sports a display notch, of course. Those who hate the notch and would prefer devices like the ZTE Nubia may just let out a wistful sigh when they see the Camon 11 Pro. However, Tecno added a feature in settings to hide the notch (hello notch haters). However, we didn't like Tecno's implementation of hiding the notch since it doesn't provide the same sexy curves of the bottom part of the display. But, take a breather since this can be fixed with a software update.
App drawer on the Tecno Camon 11 Pro

Home Screen of the Tecno Camon 11 Pro
The Camon 11 Pro is far from the only phone to follow the iPhone X blueprint, of course. The Infinix S3X, the Huawei P 20 Lite, the and even the Google Pixel 3 XL have all jumped on that bandwagon in recent times. Whereas Apple's design compromise is justifiable for housing Face ID hardware, Tecno is simply pushing for more screen real estate (or perhaps, having a design like the iPhone).
Advertisement - Continue reading below
Good display can be better
While that 6.2" 19:9 Super FULL VIEW display dominates the front of the Camon 11 Pro, it doesn't chiefly impress. It gets bright enough for bright day light usability with a default auto-brightness setting that gets the job done in most situations. The color balance is flawlessly fine, too, with an eye-pleasingly natural tone.
However, the Camon 11 Pro lacks pop to the picture that it outputs, which seems to come largely from a sheer lack of pixel density. At 720 x 1520, you're looking at a 720p resolution. Stretched out over 6 inches, this results in a far from superlative 268 pixels per inch.
This won't be a worry when flicking through the colourful app draw or home screen of HiOS 4.0 or navigating through the phone's menus. However, interacting with visual heavy media like games and movies with bring to notice the lack of sharpness.
Camon 11 Pro Camera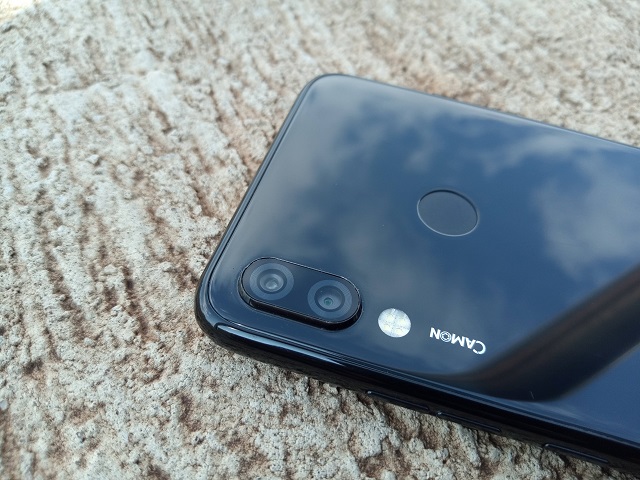 The Camon 11 Pro packs a dual-camera set-up, but that's pretty much not news anymore now. On paper, the 11 Pro's dual camera setup sounds like one of its top features. In some regards that's factual. However, it's at times inconsistent to the point that competitors like the pricier Pocophone seem steps ahead.
The selfie camera is a 24-megapixel AI Clear shooter with LED flash. It does an absolutely good job in clear lighting and has many shooting modes. The AI induced portrait mode is a hit and miss sometimes. Night selfies are brought to life with the included front facing LED light, but they don't survive the wrath of noise and mostly look awful.
The Camon 11 Pro packs one main 16 MP camera and one 2 MP assistant. The latter provides the former with added depth information. Consequently, this opens the door for a couple of neat photographic tricks like bokeh.
Related: What's Bokeh in smartphone photography
Tecno is using AI (artificial intelligence) auto scene recognition buzzword in its marketing efforts for the Camon 11 Pro. However, it doesn't live up to its potential: the AI photography is too subtle to make much of a difference, except for additional colour pop (at least it's not overzealous like Infinix's system in the S3X though).
Advertisement - Continue reading below
Mark this: The Tecno Camon 11 Pro is the best Camon device to date. However, the images aren't as clean-looking as they could be. They still suffer the same fate as previous editions of Camon devices – over processing (especially with beauty mode).
Day shots? the Camon 11 Pro is…. Well, mostly alright. Choose a good scene with plenty of light, use steady hands and you'll get some satisfying results.
Camera Samples
However, in poorly lit environments, the noise begins to impinge.
Night Photo in Pro Mode

Night photo

Portrait photo is a hit and miss
All of this might sound rather damning. But Tecno hasn't produced a poor camera, it just depends on your expectations. At this price point, in a field of ok-but-not-amazing camera phones in the <$250 price range, there are enough positive points. The camera is easy to use, and the images are more than good enough for social sharing. There's also Portrait mode for background blurring and other features, including a Pro mode for manual adjustment as you deem fit.
All in all, the Camon 11 Pro's camera represents Camon series imaging legacy. It got many of the component parts right. However, it doesn't all gel together in the very best possible way to make for a camera that'll knock its competition.
Camon 11 Pro Battery
With Helio P22 CPU power management, a 720p display and a power efficient HiOS 4.0, you'd expect the Camon 11 Pro's 3750mAh battery to last you comfortably through a full day. We're glad to report that this is indeed the case.
With moderate usage, you'll plausibly be able to get through two full days before a trip to the charger. Using the Camon 11 Pro as a second phone, we got from 8 am to 10 pm with around 75% left in the tank.
However, on more eventful days where we took it as the daily driver, the battery emptied much faster. While you would expect this from a phone of this price, it labels the Camon 11 Pro as a charge-every-nighter. Which is fine.
Advertisement - Continue reading below
Related: Top 8 questions about smartphone charging answered
Battery stamina of the Camon 11 pro varies depending on usage. However, charging this device is pretty fast with Mediatek Pump Express. You can easily get over 7 hours of power in just 20 minutes of charging.
Performance
Tecno has equipped the Camon 11 Pro with a 2.0 GHz octa-core MT6762 Helio P22 chipset. It is a reasonably capable CPU given the healthy 6GB of RAM that back it up.
Consequently, you are assured of generally fluid performance for the most part. Navigating through the home screens and flicking between apps is plenty fast enough, as you might expect. It is not the fastest phone around, but nor is it irritatingly sluggish.
Gaming is not all bad either. The phone can handle highly demanding games. However, the graphics don't look as nice as they should be given the less resolution of the display. We should also point out that you can get excellent performance with a 1080p display and at a potentially lower price, with Android One perks, in the no notch form of the Infinix Note 5.
Audio
You don't get stereo sound of the Infinix Hot 6, but its single bottom-mounted speaker is plenty loud and clear enough. However, you might get muffled sound when your finger covers the speaker during landscape-oriented gaming if you're not careful.
The good news is that you still get a 3.5mm jack – something that's started disappearing from the flagships and many mid-range smartphones. For audio playback, you get Boom Player and the usual Music player. Boom Player is a decent piece of playback software and a strong streaming service, should you choose to sign up for it.
Storage
Our review device had an ample 64GB of storage and a bonus micro SD card slot. This is normal to any 2018 Android mid-range device, but it still feels like a generous provision.
Security
The Camon 11 Pro has all Android security features. You can unlock the device using the fast fingerprint sensor or the improved Face ID that uses the front facing camera to unlock the device. However, there is no dedicated face ID software. Therefore, the Face ID on the Camon 11 Pro can sometime be an issue since it must rely on light. The bright LED can be eye-bothering when you use Face ID in dark environments.
Related: Face ID is not yet entirely secure. Why your brother/sister can probably unlock your phone
Advertisement - Continue reading below
However, its fast enough and can save you a whole lot of times especially when you have sweaty fingers. A double tap to wake and Face ID is quicker than drying the finger and then aiming it to the fingerprint scanner.
Connectivity and other features
The Camon 11 Pro supports GSM / HSPA /4G LTE networks. It has Wi-Fi 802.11 b/g/n, WiFi Direct, hotspot with Bluetooth 5.0. It has a GPS Yes, FM radio and a micro USB 2.0.
Related: How to upgrade from WiFi 5(802.11ac) to WiFi 6(802.11ax)
You can find other features of the Camon 11 Pro in this more detailed article about the Camon 11 and Camon 11 Pro new exciting features.
Verdict
The spec sheet of the Camon 11 Pro is war ready on paper for its price. However, in the real-world it's also one that shows a little inexperience in a market filled with masters of the art like Apple, Samsung and low-priced and highly speced Xiaomis.
On the design front, the Camon 11 Pro's Huawei P20 Lite-like exterior is generally a success, yet small quirks such as the fingerprint grabbing plastic and scratch prone back hold it back from achieving greater things. The price is also higher than similar-price competitors that, for many people, will be the more familiar go-to brands.
However, the Camon 11 Pro is a solid backbone mid-range smartphone from which Tecno can evolve and progress. It gets enough right to make it worthy of consideration. However MI, Infinix, cheaper Itels and Nokia are all knocking on Tecno's door (often for less money).