I can't be the only one thinking the long-awaited Nokia flagship should have arrived earlier. According to the leaks before now, the Nokia 9 PureView does have five cameras on its back and one at the front bringing it to a total of six cameras (seven – if you were to include the TOF camera). This is the first smartphone with five back cameras and it intends to deliver more details than your average flagship or so it says. Unveiled at the ongoing MWC event in Barcelona, the new smartphone comes with a pure Android One tag written at the back. This is neither a foldable or all screen smartphone as it would rather remain much more like a flagship from the last generation.
More: 5G smartphones are coming in 2019; Top 5 upcoming 5G-ready phones
Advertisement - Continue reading below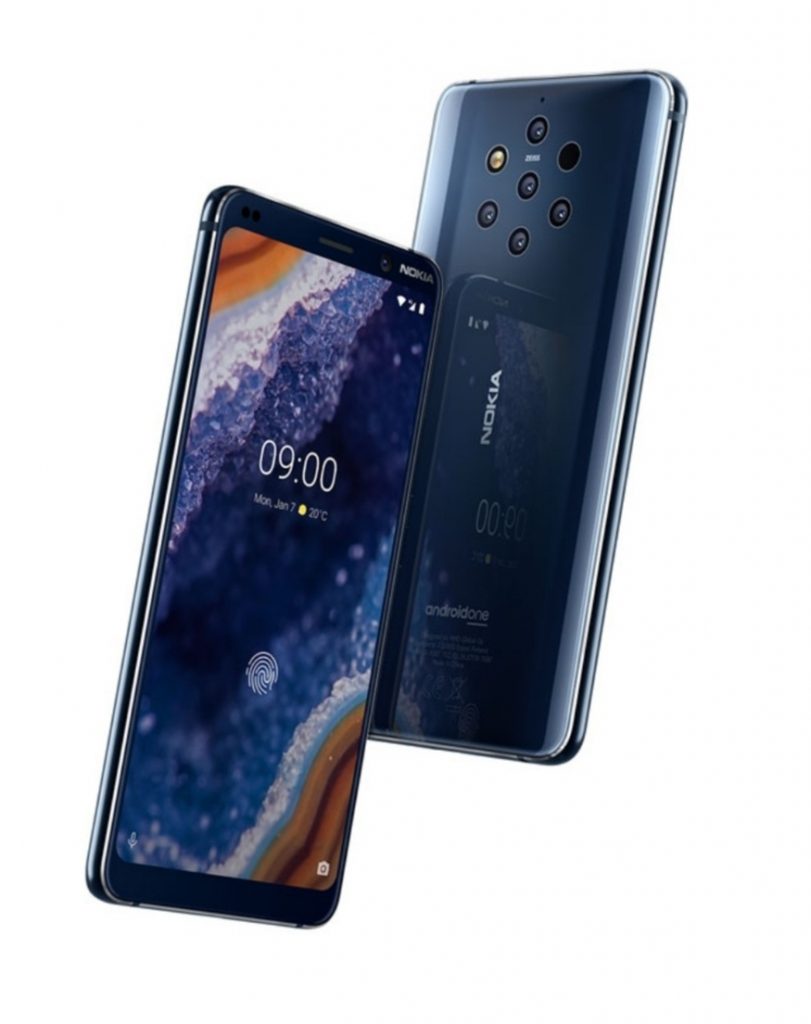 Design and Build
HMD Global decides to play it safe on this smartphone with no innovation to be seen here, just a glass build with an aluminium frame. Don't get me wrong, it does look good and there is certainly no doubt about being premium in its appearance. Nonetheless, the truth still remains that you don't have as much bezel reduction for a flagship in 2019. The rear cover is curved at the side, tapering towards the front of the smartphone in a way that makes it settle into your hands nicely. Behind the smartphone, the cameras are arranged to form an hexagonal ring joined by the flash and TOF sensor.
You've got a smartphone that measures 8mm in thickness on your hands, which is not much but certainly can't be referred to as thin either. Furthermore, there is an IP67 rating on the smartphone which means it is impervious to dust and can take water up to a depth of 1m for no more than 30mins. Like the bunch of other flagships, audio jack is omitted from the smartphone so you will be using the USB Type-C adapter instead.
Read more: HMD Global Confirms Android 9.0 Pie Update For Nokia 3, 5, 6 and 8 Smartphones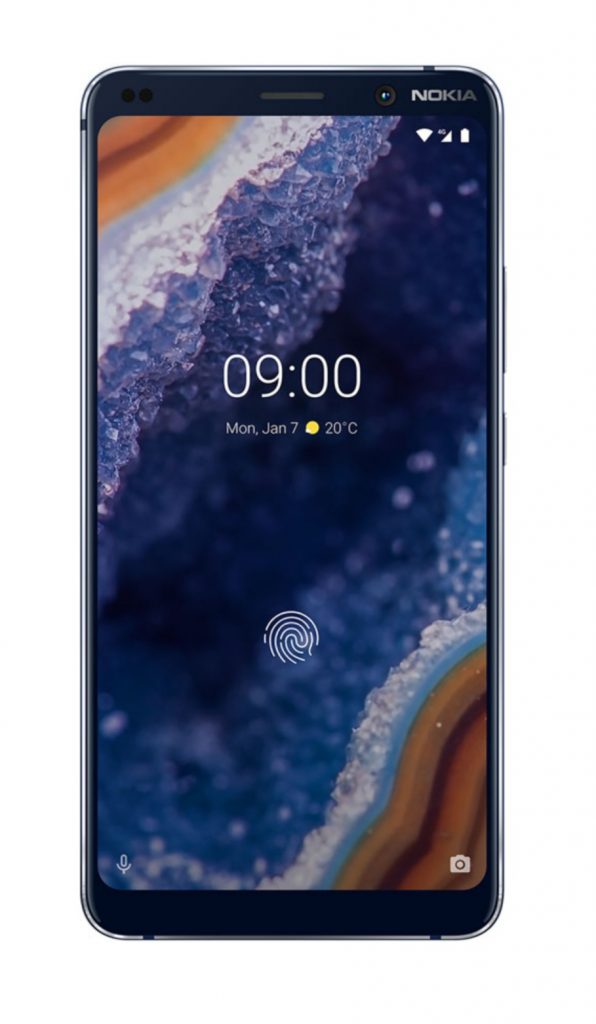 Display
Currently carrying the title of the most premium Nokia smartphone, it is only logical that it has a top of the line display. Sporting a pOLED screen, the smartphone has a pleasing 2K resolution (QHD) which is about 1440 x 2880 pixels on a 5.99-inch sized display. Beefed up with Nokia's PureDisplay tech, there is a stunning colour representation and immersive picture quality. You can as well enjoy improved visibility outdoors with clarity and better luminance despite the sun shining down on the smartphone. Not to forget, the display comes with support for HDR10 content and sports an on-screen fingerprint scanner.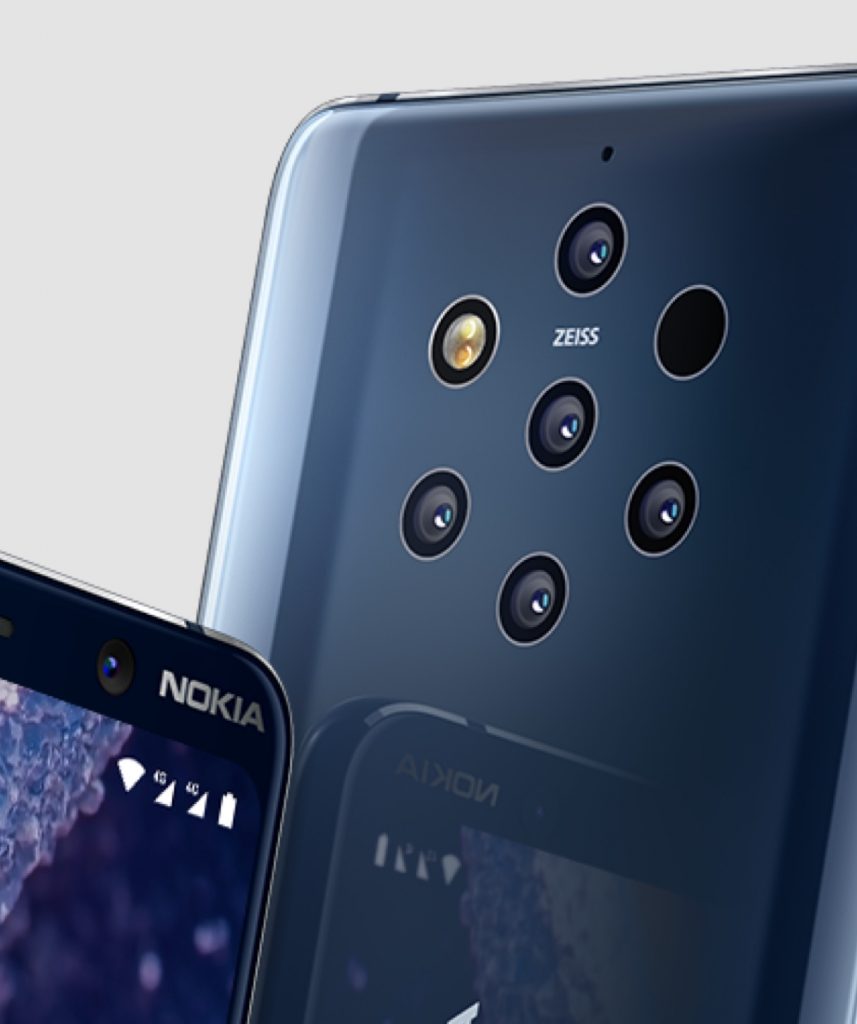 Camera
Safe to say this is the main SP of this smartphone with a record-setting five camera count on the back. The first of such and with partnership from Zeiss optics and Light – a company responsible for the 16 lens camera. Considering the Snapdragon 845 on board is built to handle maximum of 3 cameras, Light's Lux Capacitor is combined with it to assist in the processing of images from the five cameras since they shoot simultaneously for a picture. The aim of this much cameras on the smartphone is to capture more details than any other flagship. Switching to the front, the story changes, with a single 20MP camera for selfies with flagship grade AI and beauty enhancements also present.
Check out: 10 smartphones to look out for in 2019
Advertisement - Continue reading below
All five cameras at the back of the smartphone have an f/1.8 aperture and a 12MP sensor. Three out of the five, are monochrome cameras while the remaining two have RGB sensors. A TOF cam is included to get the depth-of-field and help in acquiring the right focus as you take the shot. You can adjust the degree of blurring on the background or just change it to back and white while the subject focus remains coloured. Each camera chooses the best settings for a shot and then images from each of them are all stacked up to make one image with lots of details. In segue, algorithms and AI additions are in place to make sure that pictures are taken with the most optimum configuration.
Another perk of using a five camera smartphone like the Nokia 9 PureView is that you get to shoot raw DNG pictures which you can edit on the go. The smartphone can spot over 1200 layers which is employed in making a full depth map of the image captured. This can then be saved in Google Photos without loosing any details so you can go back and edit with full control over most of the settings. In that regard too, Adobe Photoshop Lightroom comes pre-installed and has specific in built settings for each of the sensors on the smartphone. Leading to a possibility of satisfyingly editing your pictures on your smartphone without using your Laptop. However in DNG mode, you should expect a large file size in the region of 30MB per image because of enormous data that is involved.
Battery, Hardware and Software
In the average sense, the battery featured here is good enough and would normally last you the day. Not unless you've got some battery draining tasks to perform on the smartphone. That is with respect to the 3, 320mAh battery on the smartphone which can be charged wirelessly with a 10W Qi Wireless Charger. Using the USB Type-C cable which delivers 18W of power, charging is enhanced with a faster Quick Charge 3.0 in play. On the other hand, there is 6GB RAM inside and a 128GB storage space built-in. Sadly, no other storage variant is available at the moment neither is there support for expansion. However, you can see Android One written at the back of the phone, denoting the OS on board.
The smartphone will not go on sale until March as announced by HMD and the MSRP is €599, or $699. According to speculations, the smartphone is limited edition, although, there is no specific figure about how many will be made.