Two days after Google threw the future of Huawei's Android devices into disarray, its sub-brand Honor is announcing its flagship lineup for the year. At an event in London today, the Honor 20 series was unveiled with an emphasis flagship photography at an affordable price. Honor has made no secret of the fact it's targeting the youth segment of the smartphone market and it hopes this latest selection will appeal to camera-conscious youngsters on relatively small budgets.
While Google, Huawei, and Honor have promised to support phones currently on the market, it's not clear for how long they'll receive Android updates or access to the Play Store, which would severely curtail their usefulness compared to the competition.
Advertisement - Continue reading below
The Honor 20 has a new quad-camera setup, with a traditional 48-megapixel main camera, a 16-megapixel super-wide-angle camera and a 2-megapixel depth camera, which is used for the prerequisite portrait mode. The fourth camera is more unusual: a 2-megapixel macro camera, dedicated to super close-up shots.

Honor 20 Pro, which includes no fewer than four rear cameras. The 48MP main sensor is the same one used in the recently launched OnePlus 7 Pro, and it's supplemented by a 16MP wide-angle lens, 8MP telephoto with 3x optical zoom, and a 2MP macro lens. The front camera is 32MP and situated within a 4.5mm punch hole cutout in the 6.26-inch FHD LCD display. The fingerprint sensor is located on the side of the device and doubles as a power button.
The phone launches into an ultra-competitive market, which sees Google's Pixel 3a XL, Samsung's Galaxy A-series and the OnePlus 7 battling it out. They also may be the last Huawei smartphones launched in the west with Google services on board, following the firm's blacklisting by the US.

Honor 20 Price and Availability
The big question mark over the Honor 20 is to do with its release date, as Honor has yet to announce when people will be able to get their hands on this phone – of course, we'll let you know when they do.
You can pick up the Honor 20 for €499 / £400 (roughly $560, AU$810), which gets you 6GB RAM and 128GB storage, so it's priced fairly competitively as a premium mid-range device.
Advertisement - Continue reading below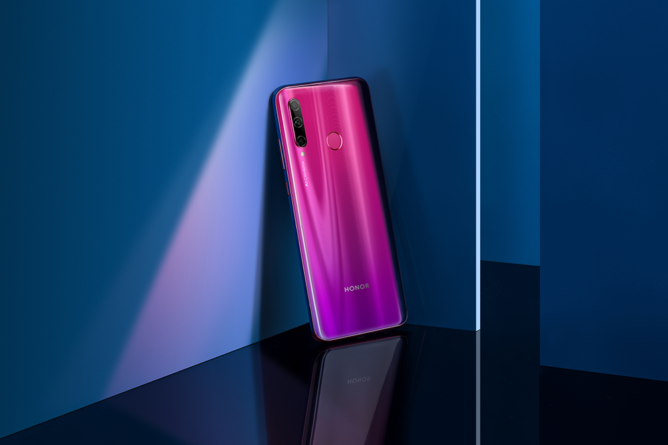 Image credit: TechRadar