Yesterday, July 24th, 2019, Google hosted an event dedicated to unveiling new products it would be launching in the regions as well as updates to products that have been previously launched.
The #GoogleForNigeria event was held in the country's commercial capital, Lagos, and was graced by many top Google executives, developers, startups, celebrities, influencers and lots more in the audience. The recently concluded #GoogleforNigeria is the third edition of the event in the country and definitely one of the biggest and best so far. A number of exciting products tailored to Nigeria (and Nigerians) and other African countries were announced. Let's take a look.
Advertisement - Continue reading below
1. Gallery Go
Because more Nigerian are starting to use the Google Photos app, Google designed a new product for the section of Android users who do not have access to reliable internet. The new Gallery Go app is basically a "Lite" version of the original Google Photos app.
The app comes with exciting features (like Auto Organization, Auto Enhance, and Offline support) which would help users find photo faster, edit photos more easily, and manage photos and videos offline without using up users' data. Additionally, the Gallery Go app is optimised to run faster as it is smaller (about 10MB) compared to the original Google Photos app (27MB).
2. "Travel Mode" for Motorbikes in Google Maps
Motorbike hailing is a growing market in Nigeria with more start-ups and companies putting more motorbikes on the road than ever before. The Google Maps app is more geared towards providing directions for cars than motorbikes. And because these (over 10 million) motorbikes on the Nigerian roads move differently from cars, Google introduced a new "Travel Mode" in Google Maps to help motorbikes navigate roads better.
The "Travel Mode" will display routes optimized for motorbikes to improve their navigation experience on roads. Travel mode would also be launching in Benin Republic, Ghana, Uganda, Rwanda, and Togo — basically countries with blooming motorbike-hailing markets.
In addition to Travel mode, Google also announced that it would be introducing a "Nigerian Voice" to read navigation instructions to cars and motorbikes.
We're also launching navigation instructions in a Nigerian voice for both motorcycle and car driving modes, so that local names and places get pronounced as they should be.

Advertisement - Continue reading below
3. Assistant & Lens integration in Google Go
As you know, Google Go is a lightweight version of the original version Google app that's optimized for faster search and data saving of up to 40%. Launched in 2018, Google is now bringing major improvements to the app. First off, Google Go users would be able to summon Assistant directly within the app using their voices. Yeah, a new Nigerian voice for the Assistant was also introduced.
A new "Discover" feed will also be integrated into the Google Go app. The feed will supply the latest news based on the user's interest — football, music, politics, etc. Lastly, to help more people read and translate the words they search for to their local (Hausa, Igbo, and Yoruba) languages, the Google Go app will now support Lens.
4. Bolo: Learning app for kids
At the #GoogleForNigeria event, Google announced that it would be rolling out Bolo –its learning app designed for kids– to Nigeria and Ghana. Bolo harnesses the power of the Google Assistant's same-speech technology to teach kids to read in English. Bolo also works offline and was formerly available in India only. Extending access to Africa is definitely a welcomed development.
5. StreetView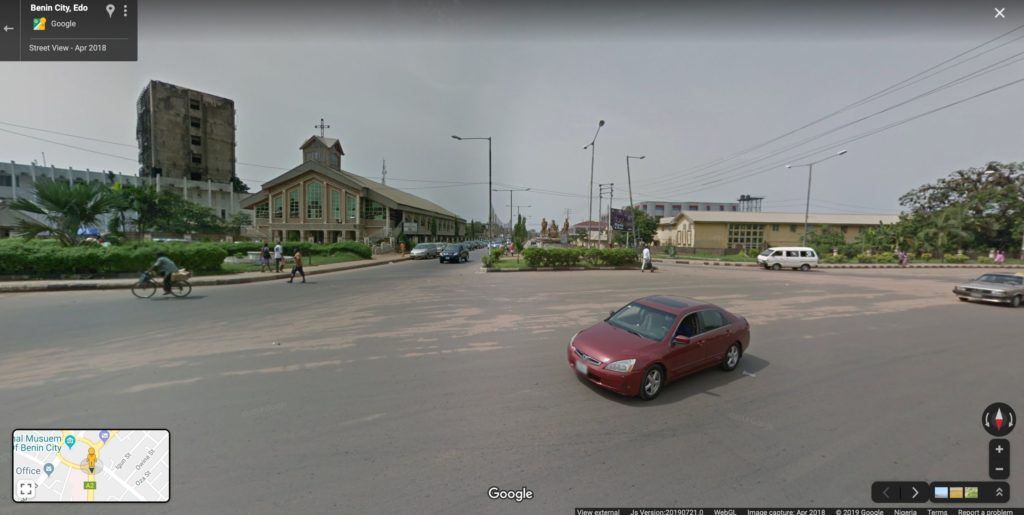 The addition of more panoramic imagery on Street View in four cities of the country was another exciting announcement made at the #GoogleForNigeria event. Google said it has added almost 12,000 kilometers of road in Abuja, Benin City, Ibadan, and Enugu to make it easier for people to explore more places in Nigeria.
To learn more about all the Google for Nigeria event announcements and partnerships, visit Google's official blog for Africa or this Google Africa Twitter thread.