Bang! Bang! Shots Fired! Ever since the release of USB C, all those unique traditional USB ports connecting various gadgets are seeing an untimely death. And as it stands, the marriage between USB4 vs Thunderbolt 3 has more or less sealed the deal.
Contrary to popular belief, there's a thin line between USB4, the newly released USB specification and the venerable Thunderbolt 3. Up until now, Thunderbolt 3 was by far the fastest hardware interface money can buy. But not anymore. USB4 is now the true inheritor of the Thunderbolt crown in more ways than one.
Advertisement - Continue reading below
Thunderbolt 3 is USB4: Here's how it happened
Thunderbolt is a hardware interface developed by Intel in collaboration with non-other than Apple Inc. Apple actually called first dibs and therefore released the original Thunderbolt with the MacBook Pro back in 2011.
Initially called Light Peak, Thunderbolt piggybacked on PCI Express and Mini DisplayPort technology to create an entirely new interface. The original Thunderbolt and also the Thunderbolt 2 used Mini DisplayPort. Unfortunately, lots of gizmos didn't support it and thus couldn't take advantage of it.
Read more:
However, starting with Thunderbolt 3, Intel wisely shifted goal posts and adopted USB-C. Far from being a spur of the moment decision, this stemmed from a commitment Intel made in 2017 to integrate Thunderbolt 3 into future Intel CPUs.
Furthermore, Intel announced that it would make the Thunderbolt protocol specification free for all under a nonexclusive, royalty-free license. Not long after, the USB-IF announced the USB4 specification based on Thunderbolt protocol specification. This meant that future USB hardware would in effect have underlying Thunderbolt technology.
While USB4 spec is based on Thunderbolt 3, support of interoperability with Thunderbolt 3 products is optional for USB4 hosts. That means a USB4 port won't necessarily support all features of Thunderbolt 3 product.
Advertisement - Continue reading below
What USB4 gains from Thunderbolt integration
Two-lane operation using existing USB C cables and up to 40Gbps operation over 40Gbps certified cables
Multiple data and display protocols efficiently sharing the maximum aggregate bandwidth
Backward compatibility with USB 3.2, USB 2.0 and Thunderbolt 3
USB Power Delivery allowing USB4 ports to deliver up to 100 watts of power.
Read more
USB4 vs Thunderbolt 3: Version history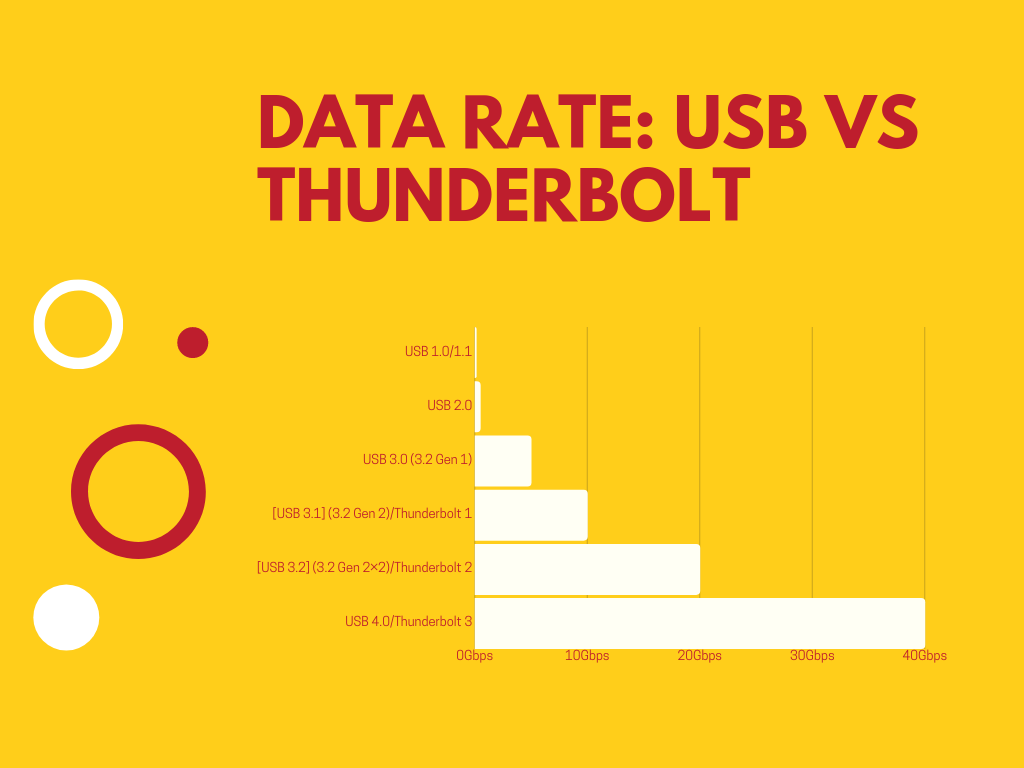 A quick comparison between the 3 Thunderbolt iterations and those of USB allow us see things in a new perspective. The original USB 1.1 had a measly 12Mbps which increased to 480Mbps in USB 2.0. Strangely enough, most Micro USB cables (including smartphones) cruise 480Mbps.
USB managed to catch up to Thunderbolt with the release of USB 3.1/USB 3.2 Gen 2 with a data rate of 10Gbps, comparable to the original Thunderbolt standard released years earlier. Additionally, USB 3.2/USB 3.2 Gen 2×2 doubled this to 20Gbps.
Luckily Thunderbolt adopted the USB C standard starting with USB 3.1/USB 3.2 Gen 2. This move gave Thunderbolt mainstream adoption, seeing as USB had long reached critical mass. The first major laptops to support USB 4.0 where Apple's Mac Mini (M1, 2020) (2 controllers), MacBook Air (M1, 2020), and MacBook Pro (13-inch, M1, 2020). More PCs are expected to support the standard through Intel's Tiger Lake processor.
Summary
For these reasons and more, this writeup is less about USB4 vs Thunderbolt 3 and more about how the fate of these two initially divergent technologies is now forever intertwined.
With Thunderbolt 3 integrated with USB, OEMs can shrink devices while retaining usability. A single USB4 port can power and connect billions of devices with a single cable and port. How is that for genius?
Image credit: lifehacker
Advertisement - Continue reading below