As antiquated as this mode of correspondence might feel, there is still a place for email in this day and age, presumably cemented by official workflow. I mean, we really don't want to be talking to our bosses on WhatsApp and Telegram for official business, do we?
Like many people, accessing your email using the web browser seems to be the most common way of doing things. It is simple to use, customizable with themes, and so on. But that is not the only way of doing it.
Advertisement - Continue reading below
Email clients have been a thing for a long time now and should you be in need for one of these, chances are that your operating system comes with one of these baked in already. For macOS users, Apple Mail should be pre-installed or easily installable. Since Windows 10, Microsoft has been bundling a Mail app with that. Most Linux distros come with Thunderbird installed and while these serve their purpose, there is more.
Best Email Desktop Apps for your desktop
There are tons of Desktop Email client apps and these are some of the best ones that we'd recommend. Worth noting is that many of these applications are available across most popular platforms but some are exclusive to select systems and we'll be noting this in the selections below.
Microsoft Outlook
Part of the Microsoft Office suite, many Windows users who rely on the suite of apps also have this app installed. Microsoft Outlook retains the same look and feel as Word, Excel, and PowerPoint and offers users easy access to their mailbox.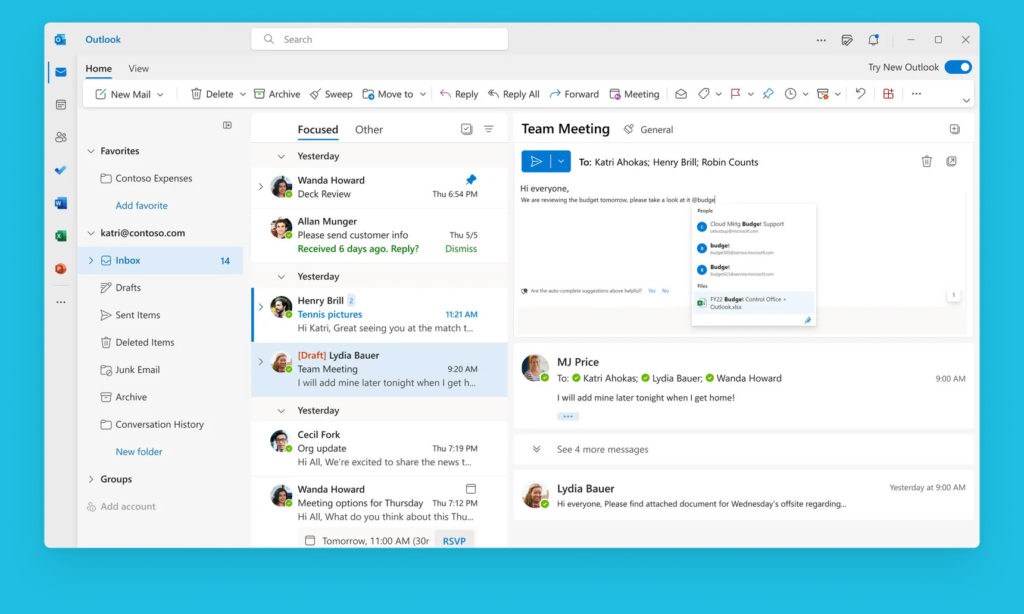 Microsoft outlook also has the benefit of coming with a calendar feature and support for address books so if you save your contacts with Microsoft, all of those will be accessible via the app. You can also manage your calendar using the same app, kinda like a jack of all trades.
Perhaps one of the downsides is that, it comes with Microsoft Office which is not free but if your school or organization offers you Microsoft Office or a deal, it is a viable client.
As this comes with Microsoft Office, it is available across supported platforms which at the moment include Microsoft Windows and macOS.
Advertisement - Continue reading below
If you're more into free and open source software, the Thunderbird is your next best option. Built by the same folks behind Mozilla Firefox, Thunderbird offers users access to most popular email services including Gmil, Yahoo, Outlook and more.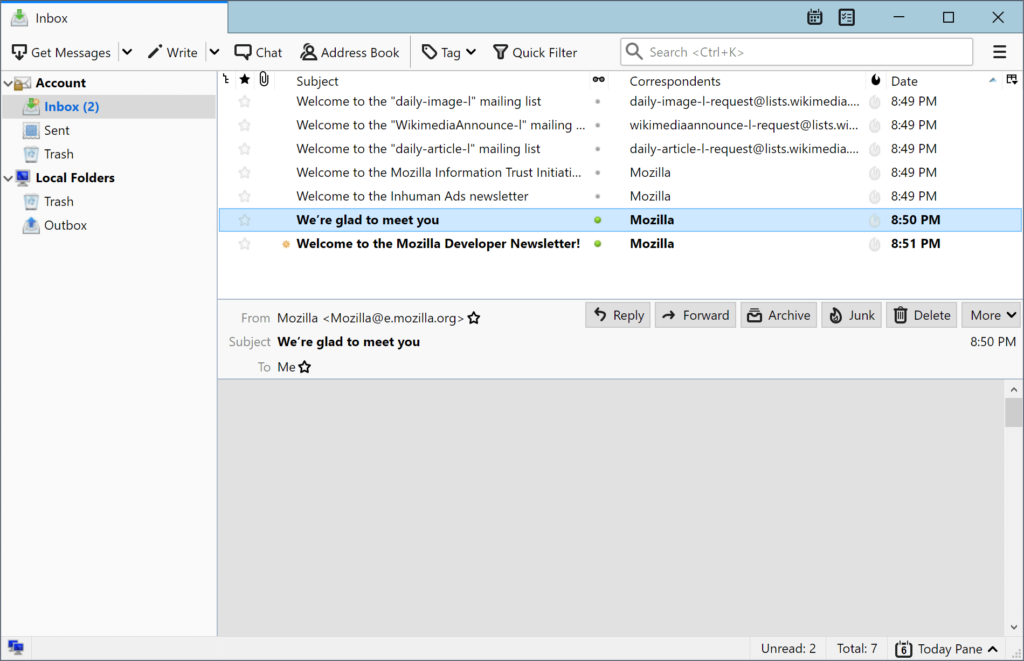 Perhaps one of the biggest pros of Thunderbird is support for add-ons, just like Mozilla Firefox. These add-ons could help you perform more tasks like linking files from cloud storage solutions, spam management, signature management, and so on.
As this software is open-source, it is free to download and install. However, there have been talks of plans to monetize Thunderbird but in the meantime, it remains free to use.
Thunderbird is available on Windows, macOS, and Linux and it is probably the most widely used email client app out there today.
Hiri prides itself in being a real alternative to Microsoft Outlook. It is available for Mac, PC, and Linux. It boasts of features such as support for Office 365 and Exchange calendar so should your workplace be invested in the Microsoft ecosystem, you should be just fine.
Hiri is more tailored to the power user who needs to deal with tons of emails as it brings with it helpful sorting tools. These include a dashboard feature, aimed at limiting the time you take checking for mails, a task list that converts your emails into tasks, Action, that categorizes your emails accordingly as soon as they come in, and Zero Inbox strives to keep your inbox at zero, all the time so you remain on top of things.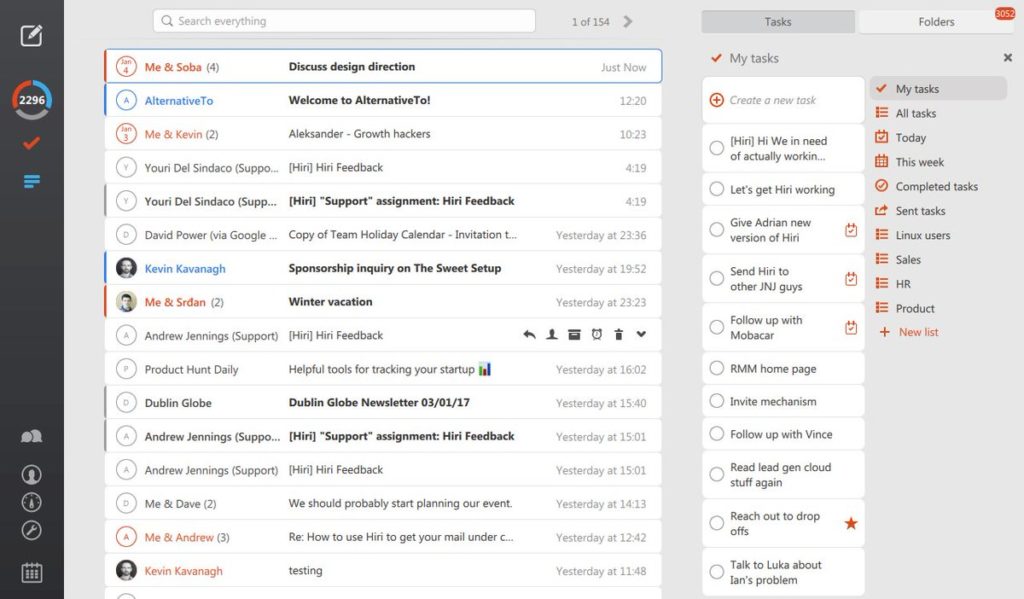 Hiri is not free. Users need to part with $119 for a lifetime license. However, you might also opt for a $39 annual plan. You get a 7-day trial period should you want to test the service before you decide to go all in.
---
Related:
Advertisement - Continue reading below
---
Mailbird
What more could you need from your email client app? Try integration with other popular services that you probably also use for work. That is exactly what Mailbird does.
This app offers you all the functions you'll need on your email, along with add-ons to enable services like Slack, Trello, Google Drive, Dropbox, and Twitter. These are just some of the apps with native integrations.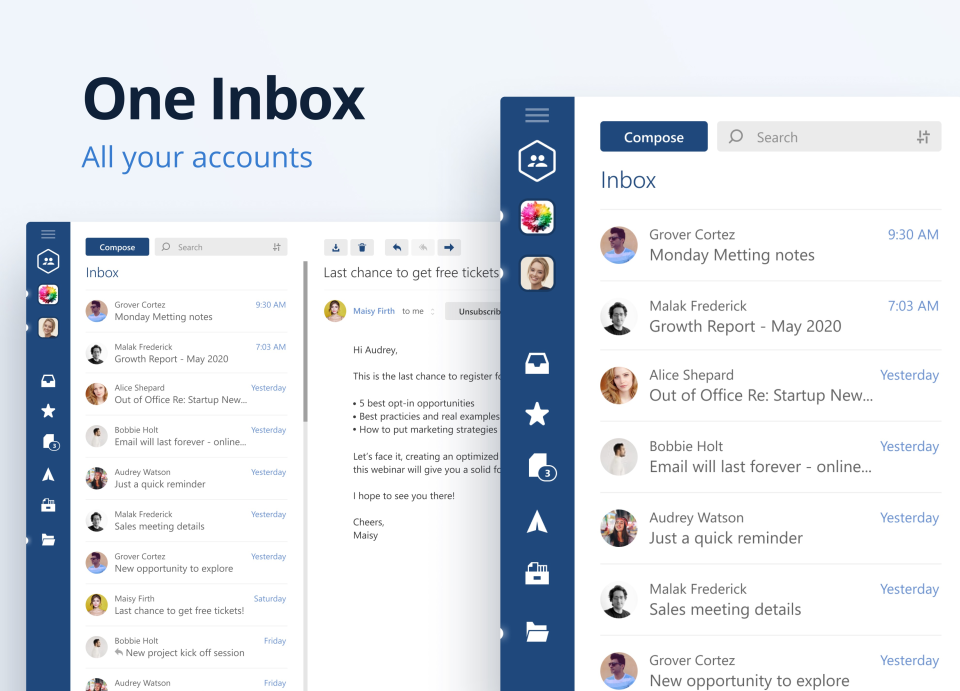 The apps that you add appear as icons in the sidebar for one-click access. As expected, Mailbird is not free to download and use. A personal account costs $29 for a year or you can pay a one-time lifetime price of $79.
There is also a Business plan that goes for $59 annually and adds support for Exchange and unlimited email tracking.
Another popular option is eM Client. This service supports all major email services like Gmail, Yahoo, iCloud, and Outlook.com. There is also support for PGP encryption, live backup, basic image editing capabilities, and auto-replies for Gmail.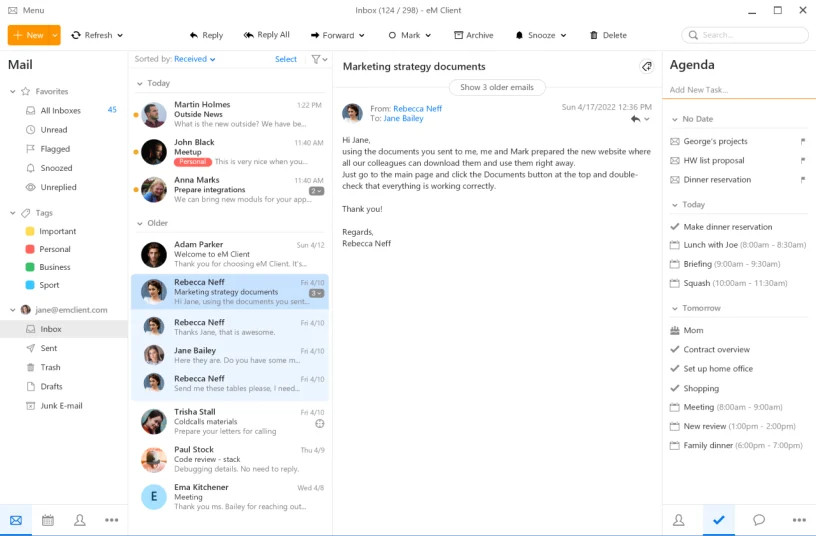 eM Client is available via Email Desktop Apps for Windows and macOS and while this is also a paid service, you might be able to get away with a Free version. Free version is intended for non-commercial use only so you might want to bear that in mind.
Conclusion
As you've probably realized, many of these email clients are paid services. Unless you really really need to have one of these, you might want to stick to the usual way of logging into your mailbox using your browser, that is if you're a normal user.
That said, we know that there are people who do this for a living and would therefore benefit greatly from services like these. For these people, it makes sense to invest in this. Or better yet, talk to your employer and ask them to take advantage of the often cheaper Business licenses.
Advertisement - Continue reading below