Online shopping is what you would go for when you are too lazy to walk downtown to buy yourself a pair of socks. It's called convenience. But if a particular brand of socks isn't available downtown at the local offline store, even walking there won't help. You need access to broader markets outside of your region.
Enter DHL Africa e-Shop (or is it Mall4Africa?) — we are actually still confused about the actual brand name since both DHL or Mall4Africa use them interchangeably. What's not confusing is what they do: help you order for products from 200+ global online stores including Amazon, Macy's Gap, Nordstrom, Zappos, Carters, Sephora, 6pm.com, Bloomingdale's among others. They ship to 34 of the 54 African countries including Kenya, Uganda, Nigeria, Lesotho, Rwanda, South Africa, Tanzania, Ethiopia, etc.
Advertisement - Continue reading below
Alright, so this was a really exciting pitch. 200 stores to 34 countries is ambitious enough, so we decided to give it a spin.
If you don't finish reading the entire review, just know we are very impressed with the DHL eShop experience. And it's well-deserved given DHL's vast and long experience in the logistics business in the continent. I was able to shop and ship products worth $200 from Amazon to Uganda in a record 7 days.
DHL Africa eShop Review: How It Works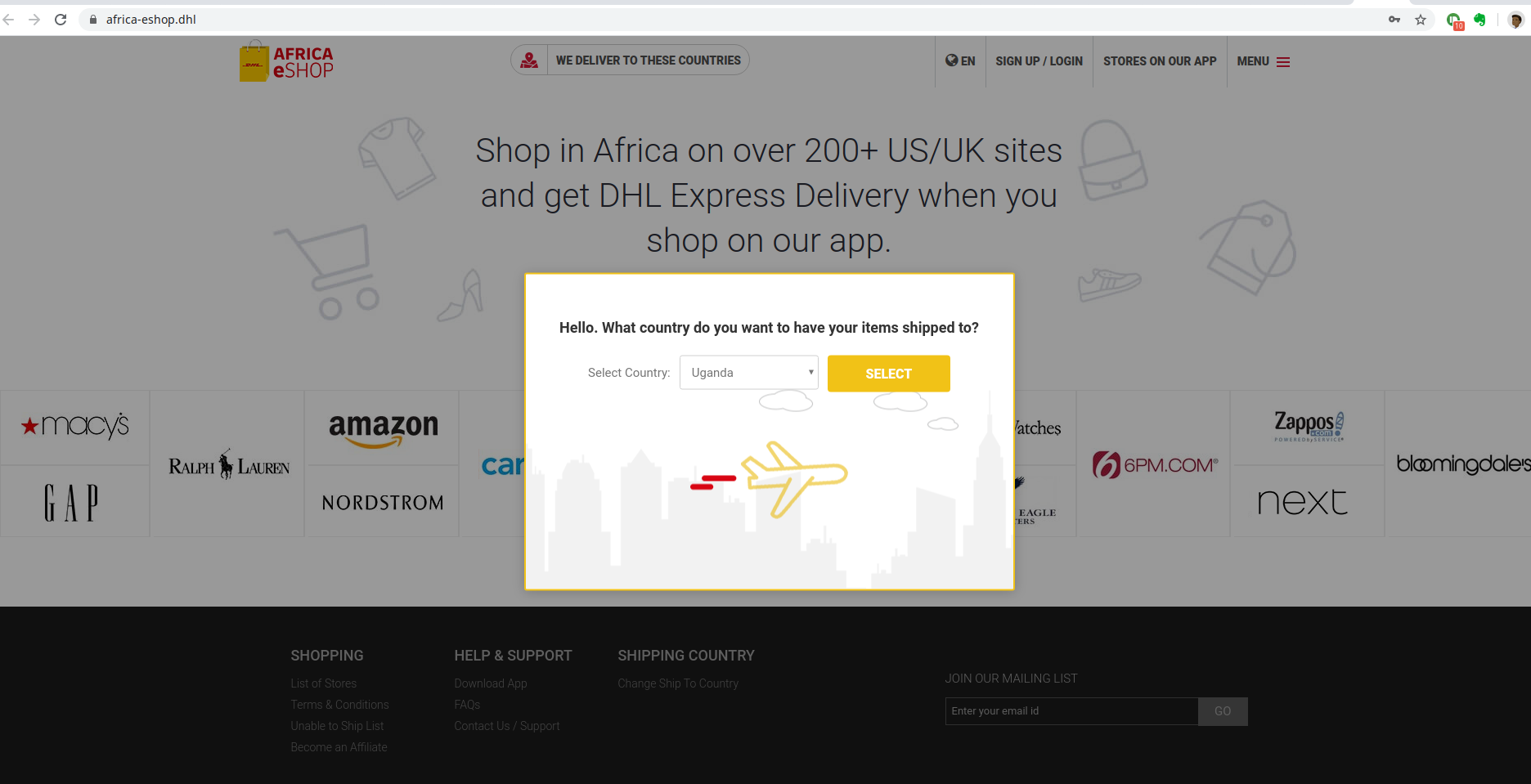 I used DHL eShop to shop from Amazon.com. They have a web chrome extension as well as a mobile app (for Android and iOS devices) to help you shop. I used the Chrome extension for all the purchases I made on the platform.
So when you download and install the Chrome extension, all you have to do is browse for products on Amazon, and then click "Add to Cart". The extension automatically knows which items you have added to your cart and shows a checkout button.
When you click on the Checkout button (of the extension), you'll be redirected to DHL eShop's website. Here, you will be required to register and log in. I really didn't like the login experience. DHL eShop asks for your username/email, password, and secret. I find either the secret or password field redundant as either should serve the purpose of authentication.
Once you are past the registration/login stage, the platform automatically calculates your shipping rate, Taxes & Duties, and processing fee. These are added to the total checkout amount of products in your cart.
Advertisement - Continue reading below
Shipping costs
DHL eShop is opaque on their shipping rates. They say shipping fees vary based on an algorithm on size, weight, and volumetric dimensions. But according to my estimate, it's between $8-20 per kg which, trust me, is quite fair. DHL is able to make savings from economies of scale being a logistics company first and foremost.
Taxes & Duties
Again this isn't very clear. For a laptop costing $514 on Amazon, you are charged $267 in Taxes and Duties. For context, this is 51% of the cost of goods! Well, as for my order below of $131, I was charged $33 which is about 25% of the cost of goods. Overall, I observed that taxes are highly variable, costing anywhere between 25-60% of the cost of items depending on the category.
When I probed them about this variation, DHL said;
"The duties and taxes are determined by the regulatory bodies which we have to comply with. DHL does not earn on these fees, they are remitted as required by law."
Electronics and luxury goods tend to attract higher taxes. These are determined at checkout.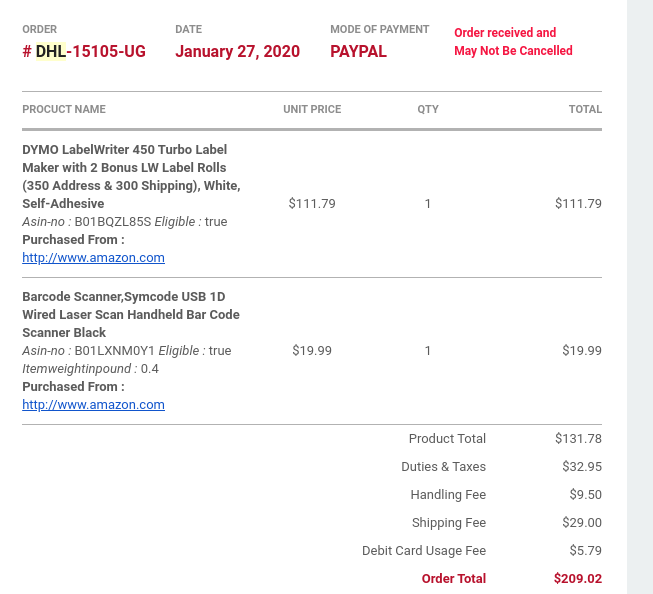 One thing note here is that for Ugandan residents (and possibly other countries), you must provide your Tax TIN from URA. Without it, you can't checkout on DHL eShop. DHL says they use it to pay customs tax on your behalf without which you can't import goods. So that's an important caveat right there. Luckily for me, I already had one (it's free to get one).
Payment methods
Finally, we come to payment methods. DHL eShop supports Visa/Mastercard credit and debit cards combo plus Paypal at checkout. No Mobile Money or Cash on Delivery is allowed. So you must use your Visa-enabled credit/debit at checkout. All Payments are made to Mall for the World.
Order Tracking
One nice thing you will get from DHL eShop is order tracking. You'll get email notifications about the status of your order from when it's shipped from the store to when it's arrived in your country. You can also get order tracking if you install the mobile app.
Advertisement - Continue reading below
Delivery
Dhl eShop has the option of delivering to your physical address (if you have one) or you can simply pick up from their HQ in your country. For Ugandan residents, you can pick up from their HQ at Lugogo bypass although they have several other pickup locations to choose from. There are no extra charges for in-country delivery as far as I know.
Note that when you checkout using DHL eShop, Amazon doesn't even know what you bought. The transaction is purely and squarely handled by DHL eShop.
Summing It All Up
DHL eShop is surely a good option if you are looking to buy products from online stores that don't directly support shipping to the above mentioned African countries. All you need is a Mastercard or Visa-enabled payment card with cash on it. In some countries (like Uganda), you will be required to provide a TIN number. Last time I checked though, this doesn't seem to be a requirement anymore! Costs of shipping are fair enough but Customs/Taxes might bite you real hard for premium products that require utmost care and handling during shipping — Laptops, Smart TVs, Smartphones, etc. So get started today by following this link.