Almost two years since its release, the Infinix Note 5 is finally getting Android 10, ladies and gentlemen. I bet you didn't see that coming. I know I didn't. Most mainstream smartphones are yet to get the holy grail of upgrades months after it was launched.
Believe it or not, the Infinix Note 5 initially shipped with Android 8 Oreo back in 2018 before the jump to Android Pie last year, same time. There are no food names this time around, unfortunately. That is unless Android 10/Android Q is secretly Quince, or Quinoa, or even Quava (Quavo?).
Advertisement - Continue reading below
The Infinix Note 5 falls under the Android One project. The beauty about this is that Android One devices run stock Android without bloatware (unless you count Google apps as bloatware) and minimal OEM tweaks.
But perhaps the biggest perk for smartphone users like me is that Android One phones receive at least two years of prompt OS upgrades. The Android One project also promises timely security updates for that duration.
One-time token upgrades are the norm when it comes to low-end and mid-range Chinese smartphones on the market. After that, you're on your own. That sucks when you love your phone, but those system upgrades are no longer coming through.
How to upgrade Infinix Note 5 to Android 10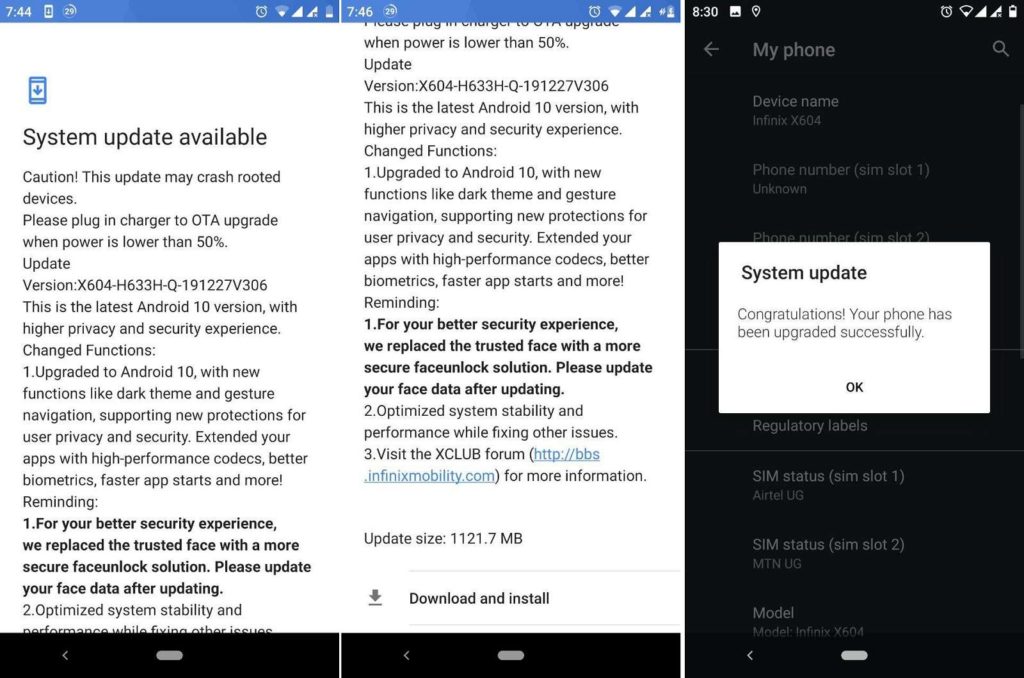 The Android 10 upgrade comes alongside a 5th January 2020 Security patch. As it's an OTA (over-the-air) upgrade, once it lands on your device, you should see an update notification message. Click on it and initiate the upgrade.
Can't wait? Neither could I. If you're like me, you can initiate the upgrade manually. Head over to Settings > System > System Update > Check for update.
Version: X604-H633H-Q-191227V306

Update size: 1121.7 MB

Advertisement - Continue reading below
Note: Ensure that your phone has 50% charge before you upgrade. Otherwise, plug it in or risk bricking your device with a half-baked upgrade.
Related content:
Some key features of Android 10 on Infinix Note 5
A system-wide dark mode.
Revamped AI Camera with AR Shot (Animoji) and upgraded Google Lens capable of live translation.
Beefed up security and user permissions (you can now grant access only when the app is in use)
Brand new gesture navigation comprising swiping left and right on the edge of the screen to go back or forward and swiping up to show open tabs.
Google Assistant gets 'handles'. You now have to swipe at the bottom edges of the screen to summon the Assistant.
Wi-Fi Sharing via QR codes
Focus mode in Digital Well-being which limits distractions by graying out addictive apps and hiding their notifications.
Ability to change Android 10 system accent color.
Smart responses on all messaging apps.
Featured image: https://www.knewkeed.com/