It's now 5 years since the HTC Dream (also known as the T-Mobile G1 in the United States and parts of Europe) — the first android powered smartphone — was released in the market and just one year before the Android operating system was officially unveiled.
This year, Google SVP and head of Android Sundar Pichai  tweeted (@sundarpichai) that "We now have over 1 Billion Android activations and hope this guy in front of the building keeps that momentum going.". The "guy" in question is Android's latest release — KitKat — that was released by Google last week together it's the search engine's flagship device, the Nexus 5.
Advertisement - Continue reading below
We now have over 1 Billion Android activations and hope this guy in front of the building keeps that momentum going pic.twitter.com/V0VovgmObl

— sundarpichai (@sundarpichai) September 3, 2013
KitKat is the 8th major iteration of the Android OS after Cupcake (1.5), Donut (1.6), Eclair (2.0), Froyo (2.2), Gingerbread (2.3), Honeycomb (3.0), Ice Cream Sandwich (4.0), and Jelly Bean (4.1-4.3).
KitKat is geared towards helping Google connect the next 6 Billion as its optimized to run on low end devices that may constituent the majority of smartphones especially in imagining markets. The latest platform version figures for Android developers show Jelly Bean as the most popular OS on Android devices with a total device share of up 45.1 percent.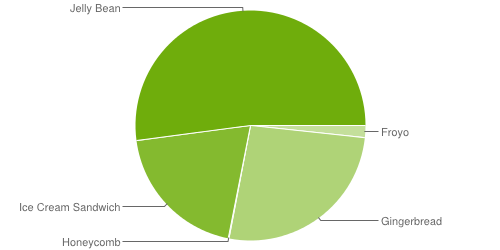 Advertisement - Continue reading below
Android's growth is largely attributed to its partner network, which consists of Samsung, HTC, Motorola, LG, ZTE and Huawei with Samsung leading the green army legion. By 2016, cumulative Android device shipments will near the 3 billion mark, according to research firm IHS.
Android's success can be attributed to several factors including its ability to support a diverse range of hardware or work with different hardware vendors, its openness of course means anyone who conforms to the android standards can roll out a device even from their own backyard without having to pay for hefty licences.
The affordability of Android devices driven by cut-throat competition and bleeding edge innovation among the ecosystem has made smartphones ubiquitous around the world. You're guaranteed that you will get a device that meets your pockets right from $50 to $1000.
Further more (and even more importantly), Android's developer community is unprecedented. With both software and hardware developers on board and with more minds working on the same problem, you're far more likely to achieve superior results than deciding everything with a select group of individuals behind closed doors. And finally, free Google services and Apps make stock Android a lot more remarkable.
On the pre-smartphone era, according to Gartner Dataquest's statistics, in April 2002 the billionth personal computer was shipped. The second billion mark was supposedly reached in 2007. By PCs, i presume Windows operating systems which command 92.2% desktop OS marketshare according to Net Applications.
As you can tell Android and Windows while being mobile and desktop/PC operating systems respectively share a few things in common: both support a diverse range of hardware, have solid and strong developer communities, are affordable and hence ubiquitous across the globe, both come with vendor pre-installed Apps and services.
However, PC sales continue to slump thanks partly to Microsoft's latest operating system — Windows 8 — and to the post-pc revolution of smartphones and tablets which continue to replace our good old dinosaur personal computers for work and play. Latest developments in the slow down have Acer chief executive, J.T. Wang, resigning over his inability to come to grips with a downturn in the PC business.
Advertisement - Continue reading below
It remains to be seen what will become of the computing industry, but one thing is certain, Android isn't slowing down anytime soon.
Image: gizbot.com