We unboxed the TECNO Spark 5 over a week ago and on the face of it, the device was a good one. By "good one," we mean the design/aesthetic was brilliant and the overall build was sturdy & impressive. We used the device for approximately 10 days and detailed below is our review of the TECNO Spark 5.
Let's get right into it.
Advertisement - Continue reading below
Perfomance
Before anything, let me just put this out here: the TECNO Spark 5 is NOT built for the heavy stuff. And by 'heavy stuff', we mean long hours of heavy gaming, having too multiple browser tabs opened, heavy multi-tasking, etc. While surfing the internet (using Google Chrome), there was a lag in page-scrolling and overall speed of the browser as tab-count reached 20-30.
CPU-intensive games like PUBG and Call of Duty were barely enjoyable. And this is attributed to the meagre amount of RAM available out-of-the-box. For context, the TECNO Spark 5 ships with 2GB RAM but only 800 – 900 MB is available for usage. Some system files and pre-installed apps preoccupy more than 1GB of the device's RAM.
If you need a smartphone for lightweight usage (social media, movie streaming, instant messaging, etc.), the TECNO Spark 5 handles that perfectly, without lag or shuttering. For heavy, long-hours of gaming or intense multitasking, however, the Spark 5 isn't cut out for that.
Game Mode
Despite not having the hardware to handle heavy gaming, it's interesting to see TECNO try to make up for it via software enhancement. The Spark 5 boasts of a bunch of settings, tools, and customizations that are dedicated to making gaming enjoyable.
According to TECNO, activating 'Game Mode,' for example, enhances overall game experience. On paper, this mode sounds like it will 'boost' and make gameplay faster, but that's not the case.
Quick Tip: Swipe from the left-hand side of the display while playing a game to reveal the Game Mode Panel.

Advertisement - Continue reading below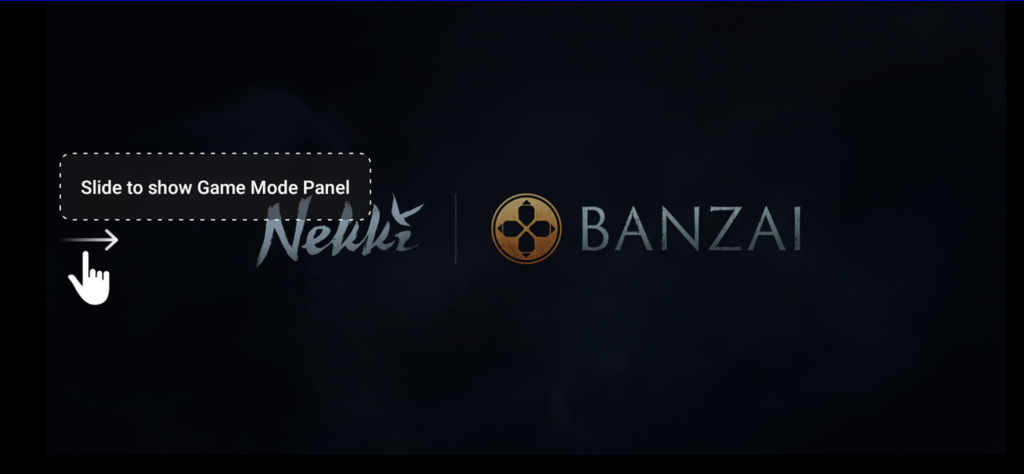 We didn't notice any significant boost in speed while playing "Shadow Fight 3" with Game Mode enabled. Playing with Game Mode enabled and disabled provided similar experiences.
What we liked about the Game Mode, however, is that it allows you to fully immerse yourself in your games without any distractions. For example, Game Mode can enable "Message Do Not Disturb," which blocks reminders and message notifications during gameplay. In the Game Mode panel, you can also enable "Incoming call reject" to instruct your device to automatically block incoming phone calls while playing games.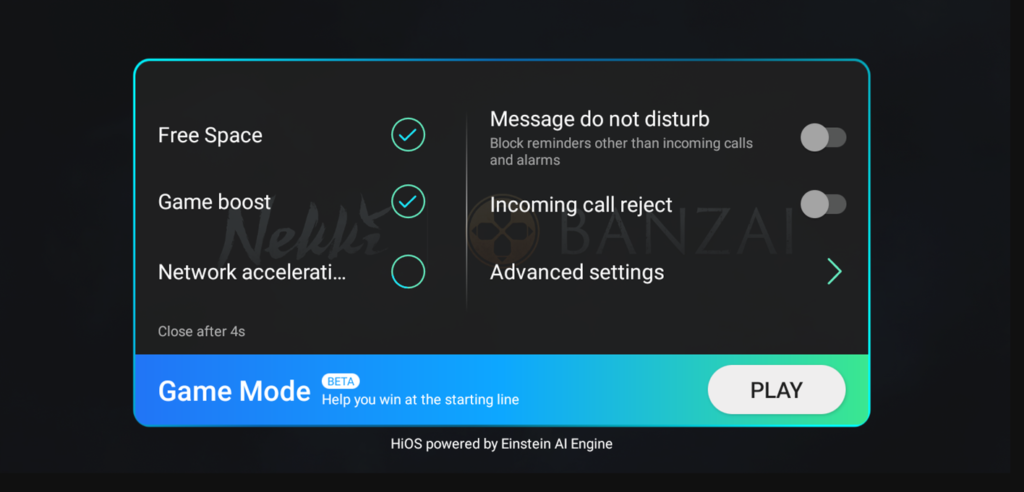 Game Anti-Addiction
Battling game addiction? Game Mode boasts of some advanced features that can help keep you in check when your gaming hours go overboard. Navigate to Settings > Game Mode > Game Anti-Addiction to configure how you want the Spark 5 to help you curb game addiction.
Toggling on "Health Reminder" will send you a notification each time you've played a game for 2-hours non-stop. Also, when your overall/accumulated daily gaming hours hits 4 hours, you'll be sent an 'healthy' reminder to take a break from gaming.
There's also a "Parental control" mode that lets parent curb smartphone and gaming addiction for their kids. The TECNO Spark 5 Parental control mode allows you to lock certain apps/games for specified periods using a 4 – 6 digits PIN or password.
When a game/app is locked under the Game Mode Parental Control, your kids will not be able to launch the game for the set period. You can choose to set a lock period for weekdays or weekends. When a game is launched during the lock period, an error message that reads "The game cannot be opened because it's not in the set game period."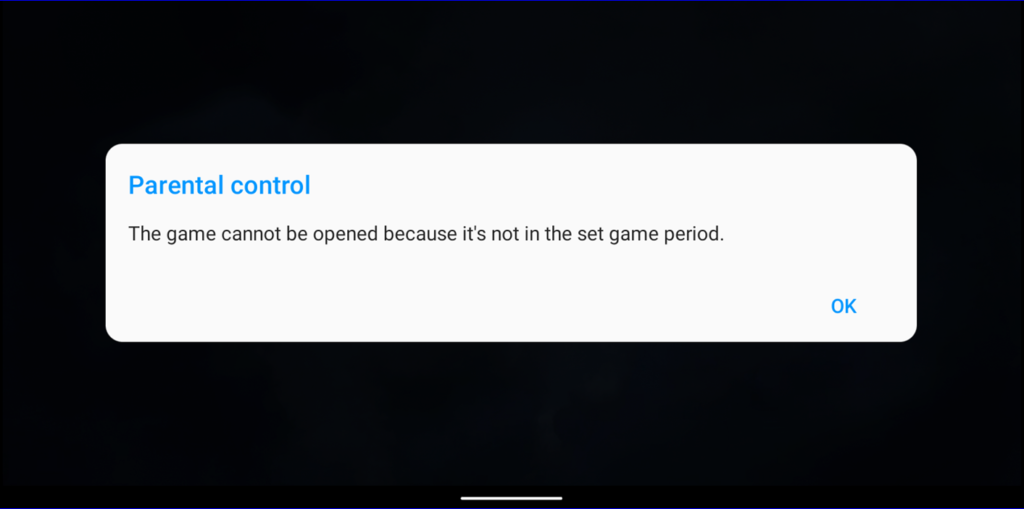 Game Data
To further help curb game addiction, the TECNO Spark will also display your gaming duration and data usage per game. It also shows your most played game in a 7-day period. Interestingly, you can hare your gaming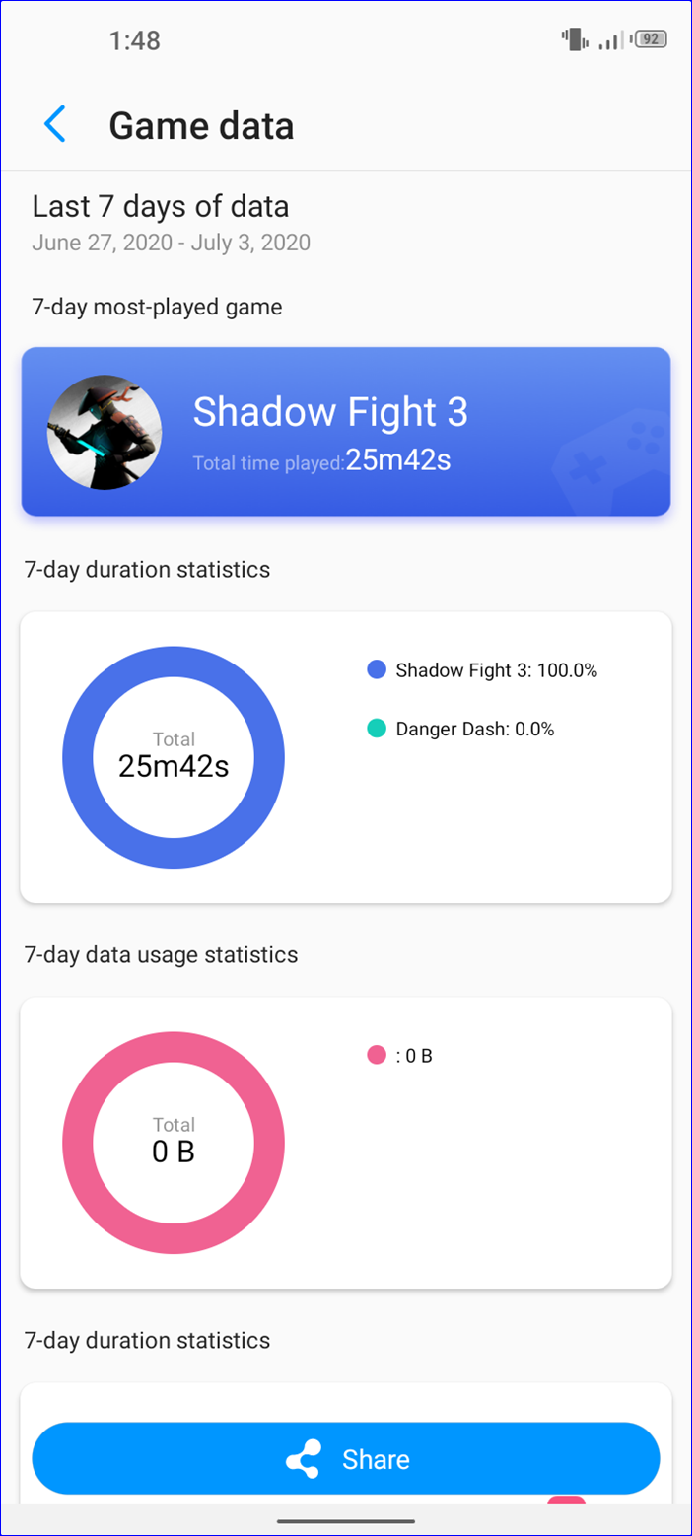 HiOS
The TECNO Spark 5 runs the latest version of its's native HiOS — HIOS v6.1. This is based on Android's latest operating system, Android 10.
Advertisement - Continue reading below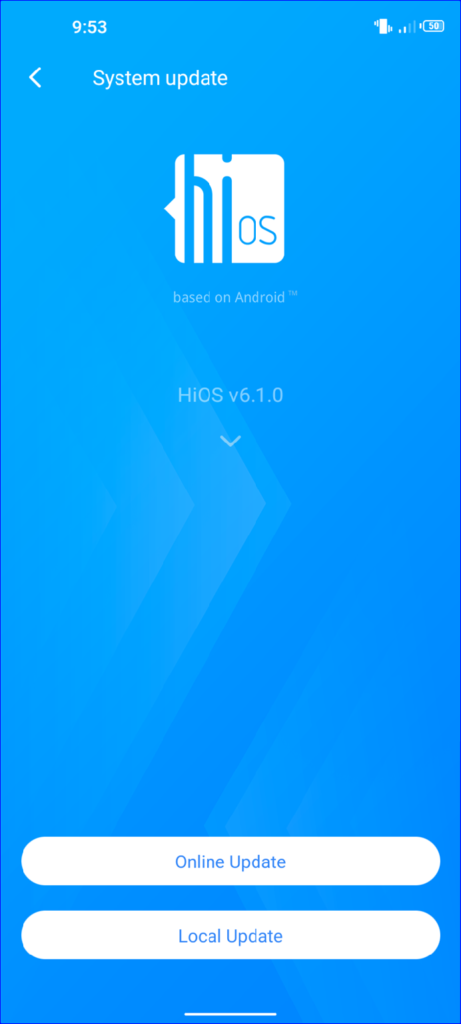 This was my first experience with TECNO's HiOS, and I should mention that I was as equally impressed as I was disappointed. And I'll tell you why. Let me start with some features of the HiOS that threw me right off the bat.
The Bad
– Too Many Bloatware
The TECNO Spark 5 comes with about 15 bloatware installed out-of-the-box. The majority of these pre-installed apps (BoomPlay, PalmPay, Palm Credit, Palm Store, AHA Games, Vskit, Scooper News, Recharge King, SIMO, Ficool Books, etc.) are owned by TECNO's parent company (Transsion Holdings), there were also some third-party apps like Facebook, PHX Browser, YouTube, YouTube Music, Messenger, Danger Dash, etc.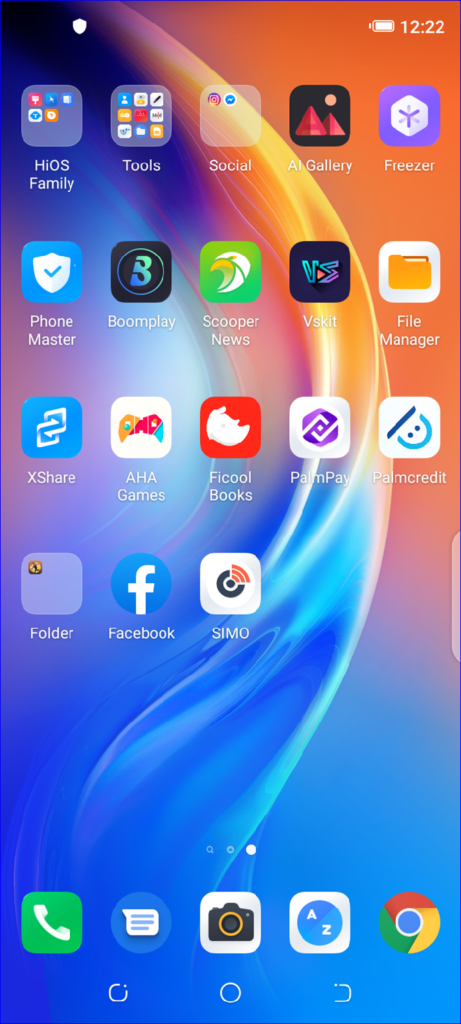 Pre-installation of excessive bloatware on new devices seem to be Transsion Holding's M.O. We recently unboxed the Infinix S5 and the device equally had too many redundant bloatware pre-installed.
Back to the TECNO Spark 5, there's just too many apps that we didn't need. And that you most likely don't need, as well. Even worse, some of this bloatware cannot be uninstalled.
– HiOS Launcher is Data-Intensive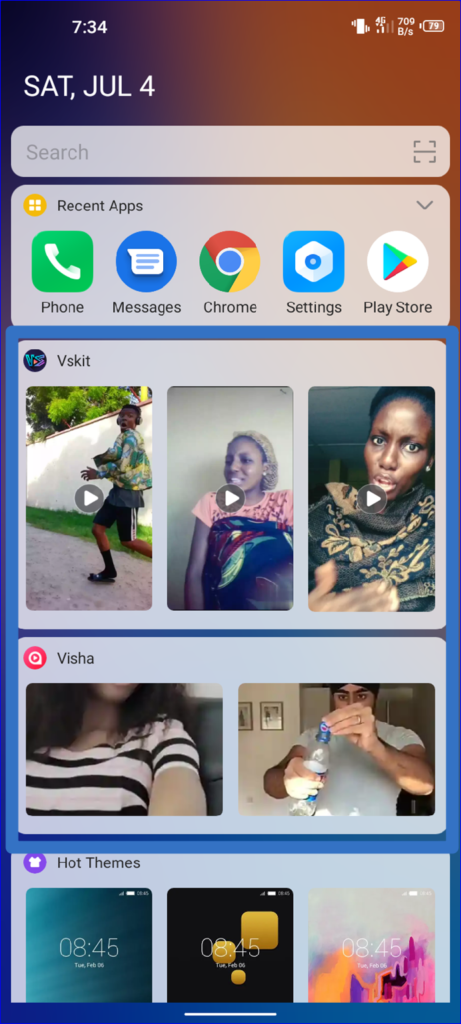 The HiOS launcher is pretty clean and easy-to-navigate, no doubt. The search section of the launcher, however, is quite the data hog. The section occasionally updates and refreshes with new content from many widgets and pre-installed apps like Vskit, Visha, Themes, etc.
The Good
– Bike Mode
Swiping down from the Spark 5's status bar reveals the Bike Mode. You can picture this as a dedicated Do-Not-Disturb mode for bikers.
When enabled, Bike Mode automatically rejects all incoming calls and sends the caller(s) an auto-generated SMS informing them that you're unavailable to receive calls. This mode is designed to last for 2 hours after which it will be automatically disabled.
You can re-enable it if you want. When in Bike Mode, you'd see a motorbike icon at the top-left corner of the screen, next to the device's clock.
Advertisement - Continue reading below
– Flashlight Design
The TECNO Spark 5 comes with a Quad-LED light setup on the rear and a single LED light upfront. What's interesting about the device is the "360 Flashlight" feature. When you tap the Flashlight icon on the notification panel, the rear-facing flashlight comes on. Tap and hold the flashlight icon to reveal more options: Front flashlight, 360° flashlight, Rear flashlight.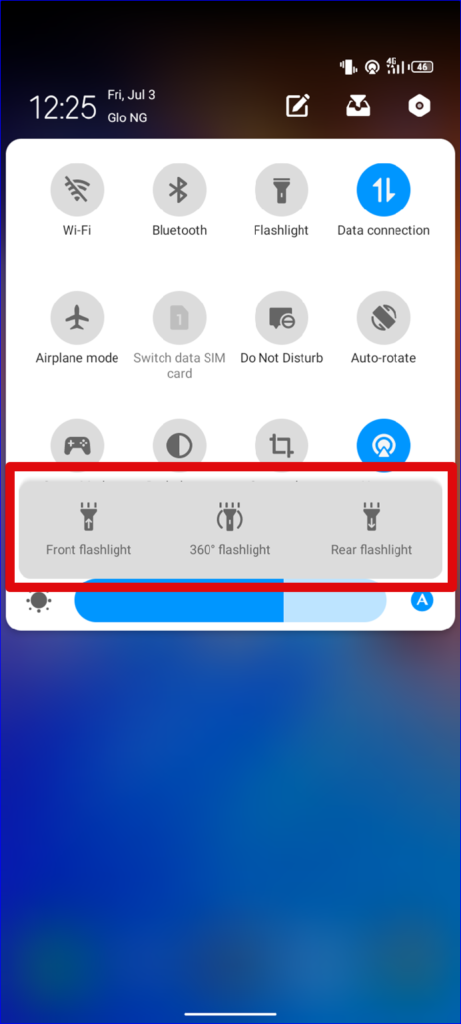 Front Flashlight: Enables/Disables front-facing flashlight.
Rear Flashlight: Enables/Disables rear-facing flashlight.
360° Flashlight: Enables both rear & front-facing flashlight simultaneously.
– Micro Intelligence
Another thing we loved about the Spark 5's HiOS are the customizable gestures, which TECNO calls "Micro Intelligence". You can access and customize the device's gesture from the settings menu (go to Settings > Micro Intelligence). Some available customization on the TECNO Spark 5 include:
Flip Mute: flip the phone over to mute incoming calls.
Cover silence: cover the phone's screen (with your hands) to mute/silence incoming calls.
Answer with a gesture: Use customized gestures to accept/reject incoming calls.
Smart Screen Lightning: This lights up the display when the device is picked up and, interestingly, turns off the screen when you drop the phone.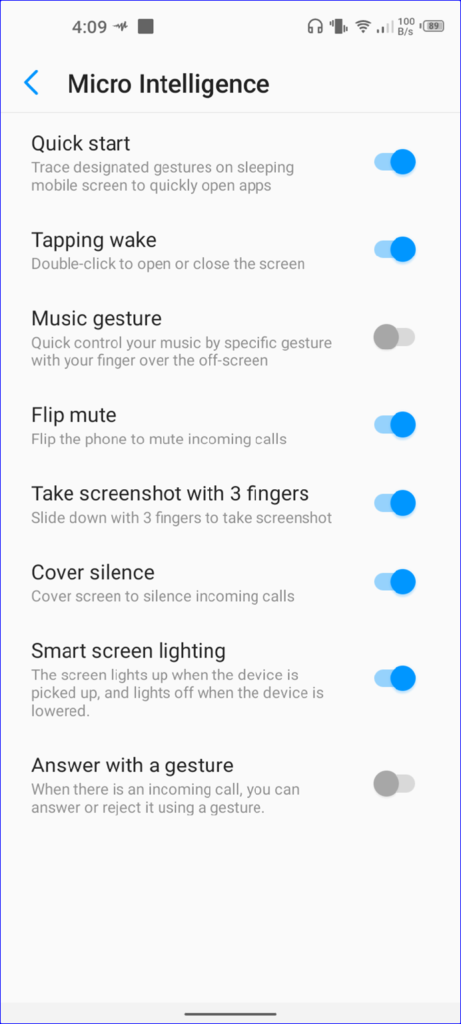 Camera
The TECNO Spark 5 boasts of four (4) cameras on the rear and a single 8MP selfie camera infused within the display — TECNO calls it a Dot-In camera. The four cameras on the rear are configured as follows:
A primary 13-megapixel AI camera
A 2-megapixels Macro lens for close-up shots.
Another 2-megapixels (Depth) Lens for Bokeh/Portrait Mode, and
A dedicated AI Lens.
Regular shots captured in regular AI mode were decent but not top-quality. The resulting images are of lower quality when compared to premium high-end flagship devices with 13-megapixels lenses (or less). Additionally, we noticed that images were a little grainy in low-light and a little too bright when shooting outdoors.
The Portrait Mode also didn't add enough Bokeh effect (i.e. Background Blur) to the subject. The 'AR shot' mode also lets you add Snapchat-like filters to your pictures.
Security
The TECNO Spark 5 embodies all the security mechanisms you'd find on the latest Android-powered devices. PIN, Pattern, Password, Swipe, Fingerprint, Face ID, and Smart Lock. A PIN/Pattern/Password is a prerequisite to activating the device's biometric authentication features. This means that without a PIN, or password, or pattern, you cannot use the device's Face ID and Fingerprint security features.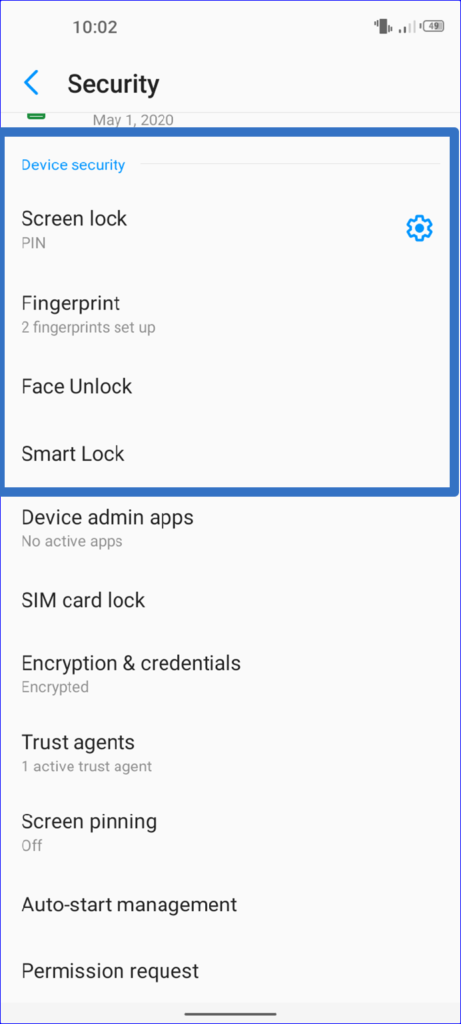 The Face ID was pretty easy to set-up. However, it is not the fastest and most effective facial recognition I've used on a smartphone. On multiple occasions, there was a delay in recognition of my face, both during the day and night. It was particularly worse in low-light conditions. Oh, FYI, it (Face ID) doesn't work in the dark. Another thing I disliked is that, with Face ID, you cannot enable/use either of the device's flashlight from the lock screen. Face ID blurs out the Flashlight option on the system bar.
To recommend, you're better off securing the device with the fingerprint sensor; it is faster and much easier to use.
Advertisement - Continue reading below
Fingerprint Multipurposeness
Asides the basic security functionality (device unlock) of the sensor, the TECNO Spark 5's fingerprint can also be used for a bunch of other things. Navigating to Settings > Security > Fingerprint lets you configure what the fingerprint sensor can be used for — based on the active app that's being used.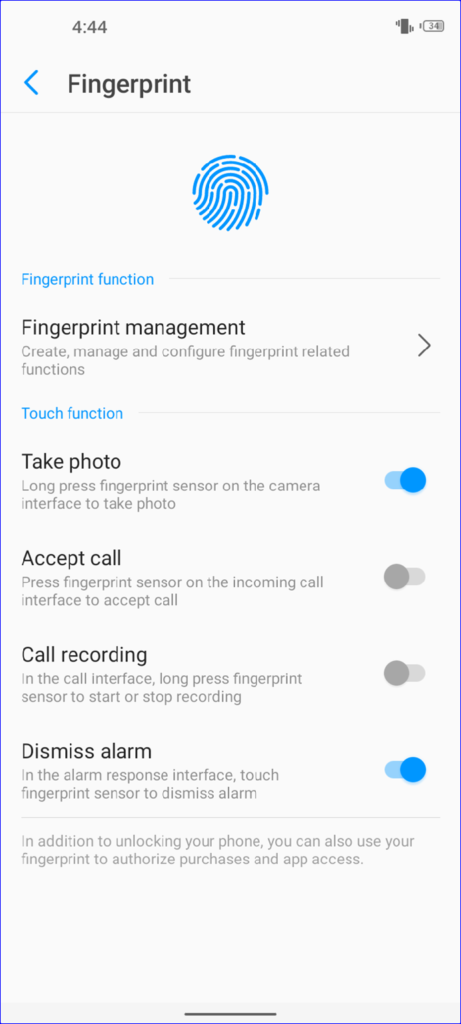 In the call interface, you can configure the fingerprint sensor to accept incoming calls. Simply tap/press the sensor to pick a call. Long-pressing the fingerprint sensor during a call will also start recording the conversation. Long-press the sensor again to stop the call recording.
Touching the fingerprint sensor while the device is blaring an alarm also dismisses the alarm.
Battery
The TECNO Spark 5's 5,000mAh battery is a beast! There's no doubting that. We subjected the Spark 5 to several intensive tasks and it proved its worth as a device that can comfortably provide a day's usage on a full charge. In the first 2-3 days of usage, for example, I majorly used the Spark 5 as a router (i.e., mobile internet hotspot) to power my PC, streaming stick, and other devices. This round-the-clock hotspot usage only used about 40%-50% of the device's battery juice. And this was accompanied by occasional internet surfing, minimal gaming, and usage of social media apps (Twitter, Instagram, etc.).
Final Words
Although the TECNO Spark 5 is latest entrant in the Spark series, its predecessor (the Spark 4 with higher RAM & equally decent CPU) seems to perform better in terms of multitasking, gaming, and overall usage. However, with regards to battery life, OS-related features, and camera quality (which, despite the hype and marketing gimmick, is of average quality), the TECNO Spark 5 outclasses its predecessors. That doesn't make it a worthy upgrade, though. At best, the device is suitable for low/minimal everyday usage — phone calls, texting, minimal usage of social media apps, etc. Anything more will cause the device to lag. So, you should have these in mind before purchasing the TECNO Spark 5.