It is no longer a hustle in the world today for one to send and receive money from wherever they are. Various FinTechs and institutions have built channels through which cross-border money exchange is a possibility and one of these is the NovoFX app.
A product of Absa bank, the NovoFX application is a perfect tool to effect and make international payments on the go. The app is equipped with a wide range of currencies to choose from for one to make an exchange and to send friends and family living abroad money.
Advertisement - Continue reading below
Using the NovoFX app
For starters, the app can only be used by an active Absa internet banking subscriber. Though the bank is working on making it usable to non-subscribers as well. Being a mobile app, it is available for iOS on the Apple App Store as well as for Android on the Google Play Store.
Once you have downloaded the app to your mobile, you can go on to select the country from where you will make your transactions. Apparently, the app is available in 5 Absa markets. These are Botswana, Seychelles, South Africa, Uganda, and Zambia.
You will be required to sign up with the app by registering with the Absa Internet banking username and password you have in that particular country selected. To complete the registration process, you should log in to the app with the same credentials and confirm your identity with a One Time Pin (OTP) sent to your phone number.
Features of the app
The NovoFX app has 3 key features. These include the ability to send money or make payments, a live forex service, and the ability to upload documents relevant to your transactions.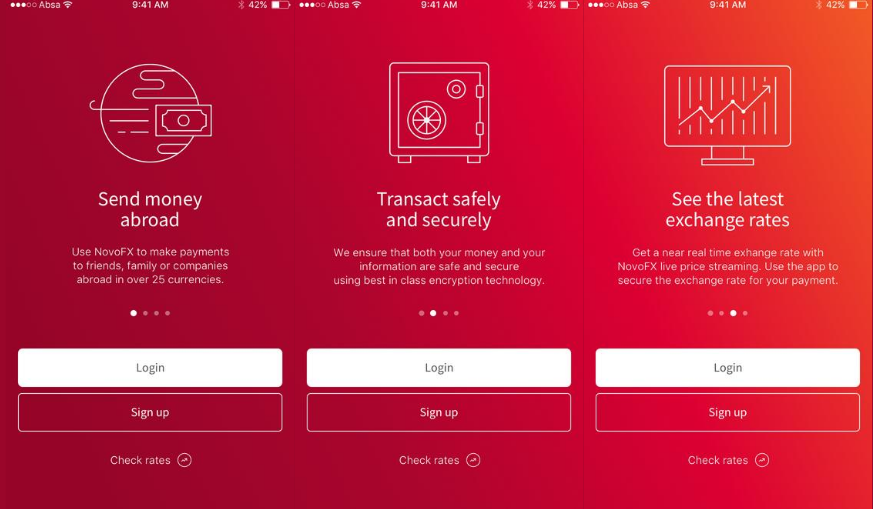 Sending money on the NovoFX app
The NovoFX app lets you send money and make payments from your local currency to any country in the world, save for the ones that cannot receive remittances, and have been sanctioned by authorities.
The payment can be done in either of the following categories: Gifts, Remittance payments, Travel – for payments to travel agents and holiday providers; and Investments – for the property, mutual funds, bonds, money market, shares, bank deposits, and others.
Advertisement - Continue reading below
The type of transactions accepted are outward payments only and you can make the money transfer in at least 11 currencies. These are South African Rand, US Dollar, British Pound, Euro, Canadian Dollar, Kenyan Shillings, Swiss Franc, Japanese Yen, Danish Krone, Australian Dollar, and the Tanzanian Shilling.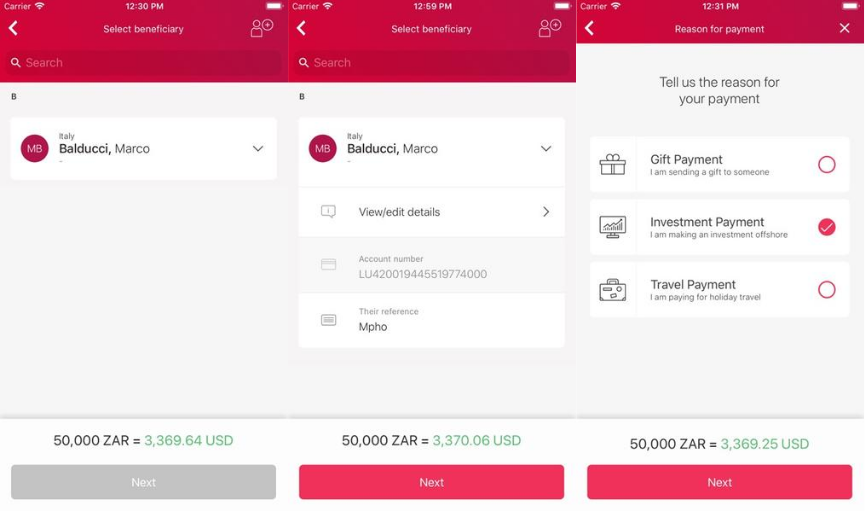 In terms of limits on how much you can transact, the per-transaction limit is UGX 50,000,000 while the daily transfer limit is at UGX 100,000,000.
Once you are done with the sending, there is a Transaction History tab that lets you see how far you have gone with your various transactions. These are categorized as Pending, Complete, and Failed.
Pending ones are those that have been received but are still under process; the complete ones are those that have been successful and completed; while the failed transactions are those that have not been processed yet.
Live Foreign Exchange service
The NovoFX displays foreign exchange rates in real-time letting you check how the local currency weighs against the foreign currencies without having to visit a physical bureau to get a competitive foreign exchange rate.
You also get to know the charges involved in sending the amount you wish to exchange to avoid unexpected costs.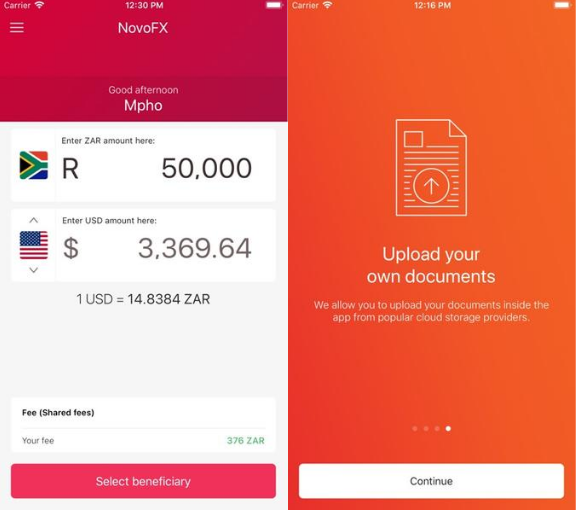 Document uploads
If you wish to upload documents to facilitate the success of the transaction, the NovoFX app has support for this. You could be required to upload tax clearance certificates, invoices, among others to attach to the payment.
You can easily upload these from your phone or Dropbox, and there is also the ability to capture photos using your camera.
Advertisement - Continue reading below
Benefits of using the NovoFX app
As we have already stated, the NovoFX app comes in handy to assist you in seamlessly and safely buying foreign exchange. Forget the days of having to run to various forex bureaux to check on which rate is the best for your transaction and who offers the better deal. With the app, you can easily exchange in real-time, implying that you even wait on for the favorable rate to show up so that you can complete your transaction.
The NovoFX app is also of great use when it comes to making payments in foreign currencies. From salary remittances, gift payments, investment, and travel payments – name it! You don't have to worry about the recipient being from a different bank or not having the app. They will safely get the payment in their account, and in a short period of time.
Image: Pixabay