If you care a lot about your fitness (which you should), you must have had experience with a number of fitness tracking apps. Well, here's another one, but from Google. Google Fit is a fitness tracking app that might have all you need to reach a goal.
According to Google, the app helps you achieve your fitness goals through customized coaching and actionable tips based on your health and activity history. Hence, that suggests that it is tailored to each person and not generic.
Advertisement - Continue reading below
In this post, we'll take a holistic look at the Google Fit app. Exploring what users can do with it, and what other apps can be integrated with it. Take a look.
---
READ MORE: Top 5 Google Play Store Tips That You Should Try.
---
Google Fit Overview
Registering on Google Fit
As with every other Google product, you can just login to the app with your Gmail account, if you have one already. If you don't, create a Gmail account and sign in.
Also, you can only access Google Fit via a mobile app. There's an app available for both Android and iOS users. But the tool can't be accessed via the web.
Download Fit for Android here.
Download Fit for iOS here.
Tip: iOS users can automatically import activity history from the "Health" app on their device.

Advertisement - Continue reading below
What Does Google Fit Track?
Heart Rate: This app records your heart rate and activities that get your heart pumping harder. You get one heart point for moderately intense activities and double points for more intense activities.
Steps: Google Fit records how many steps you take on a daily basis. It also lets you set daily step goals for yourself and strive to achieve them.
Sleep Info: With connected apps, you can find a chart of your sleep info in Google Fit. It tracks both Bedtime routine (when you went to bed and woke up) and duration of sleep.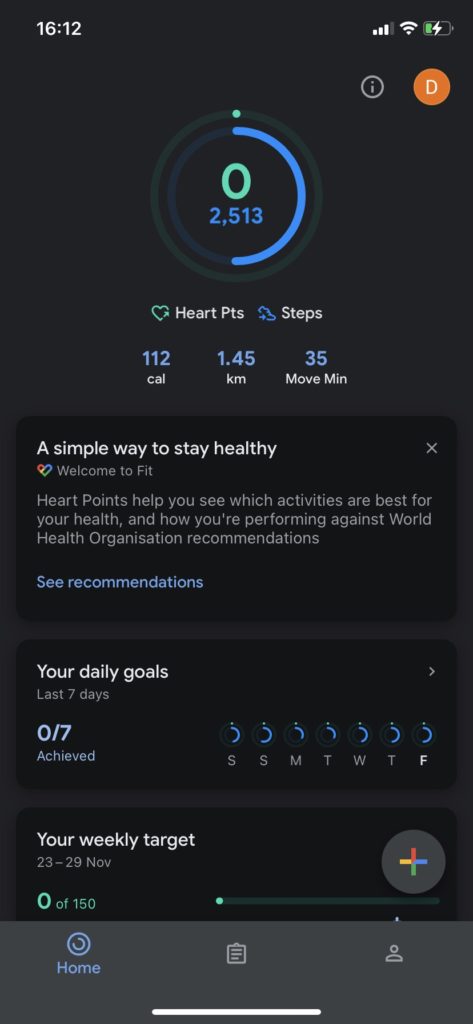 Navigating the Google Fit App
Once you are able to login into the app, you'd find three (3) major sections on the app's home screen. These include Home, Journal, and Profile. The app is quite easy to navigate.
Home: This shows an overview of the day's activities. Including the number of Heart Points garnered and steps taken throughout the day. It also shows some recommendations, daily goals, weekly target, and other relevant info.
Journal: The Journal can also be called your personal record. Here, you can add or track workouts from short walks, to swims, and as many as possible.
Profile: Profile shows your activity goals and some more information about you. Information includes name, date of birth, weight, and height. You can also turn on or off your bedtime schedule here.
Third-party Integrations
You can integrate this fitness app with other third-party apps for easier data transfer and general experience. Find a list of some of them below:
Mi Fit
Strava
Huawei Healt
Home Workout
Step Counter
Women Workout at Home
Lose Weight App for Men
WearFit2.0
Lose Weight App for Women
VeryFitPro
Six Pack in 30 days
Nike Training Club
Check this link for a full list of these apps.
There you have an overview of the fitness app. Let us know in the comments section if there are other things that weren't included and you'd like to know. We are happy to help you get your fitness back on track.