If you look through your iPhone, there's a pre-installed health app in there. The app gathers all your health data from your iPhone, Apple Watch, and other health or fitness apps that you already use. It helps to compile all your health data in one place.
In this post, we'll explore virtually everything there is to know about the iOS Health app.
Advertisement - Continue reading below
Set up Your Health Profile
Setting up your health profile on the app is one of the first things you should do. Follow the steps below to do this:
Open the Health app and tap the Summary section at the bottom of the app.
Tap the profile picture icon located at the top-right corner of the app.
Select Health Details, then choose Edit.
You can now add your details like First Name, Last Name, Date of Birth, Sex, Blood Type, e.t.c
Select Done once finished.
---
READ MORE: iPhone 12: Everything About the 2020 iPhones
---
What Exactly Does the iPhone Health App Track?
There are a number of things that the Health app on your iPhone or iPod tracks. We list and explain some of these below:
1. Step Count
This is the number of steps you take throughout the day. Your iPhone, via the Health app, counts steps for any activity that involves step-like movement. This includes walking, running, stair-climbing, cross-country skiing, and so on.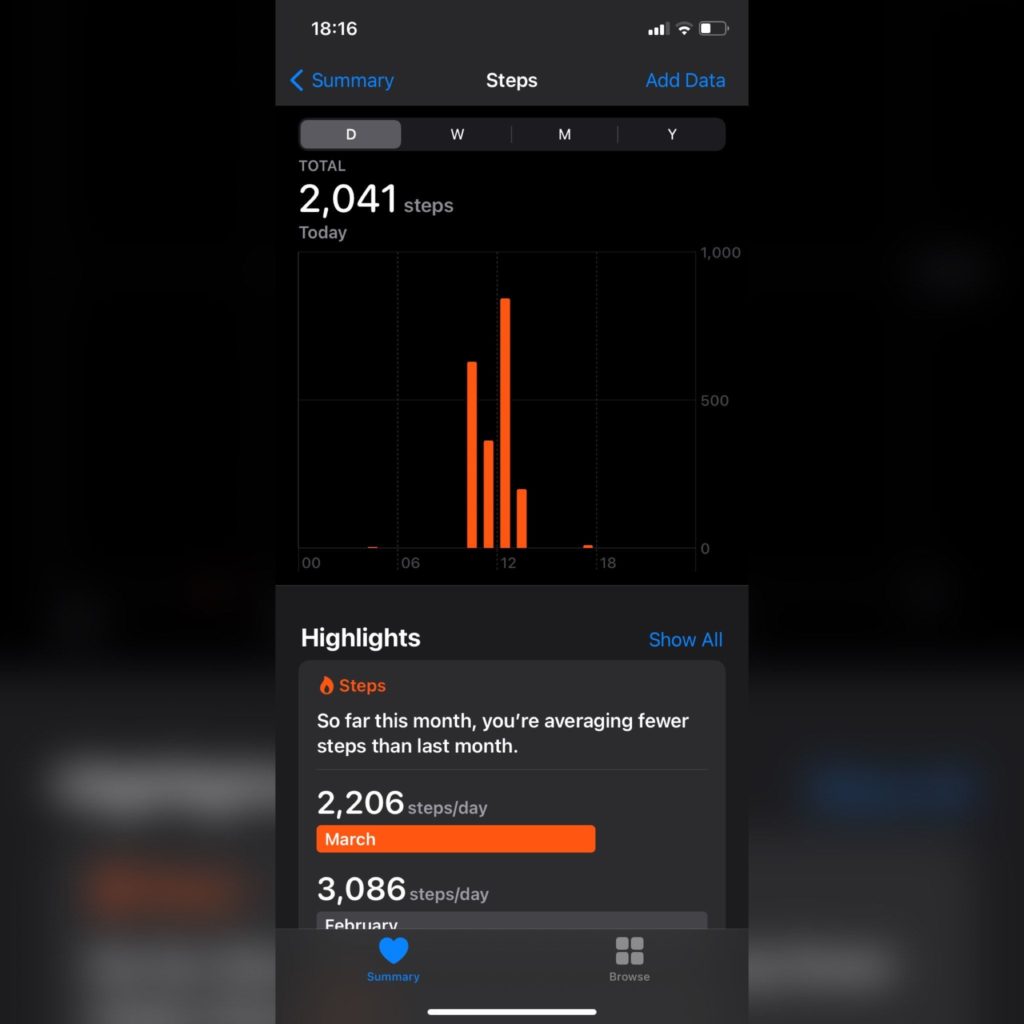 2. Sleep
The Health app helps you track your sleep habits. You can set a sleeping goal and the app recommends a bedtime and wake-up time for you. It will also track your time in bed and let you know if you hit your goal. You can even create different sleeping schedules for every day of the week.
3. Headphone Audio Levels
Yes, this is relevant to your health too. To protect your hearing, the Health app measures your headphone audio levels. It will send you a notification if you've been listening to loud headphone audio for long enough to affect your hearing.
Advertisement - Continue reading below
4. Menstrual Cycle
For women, you can log your period cycles in the health app and it will predict your next period and fertility window. The information you enter in the app is shown on a timeline and can be discussed with your doctor.
5. Heart Rate
iPhone health app visualizes a history of the heart rate data collected by Apple Watch or a heart rate monitor. This will show patterns and variability over the period of tracking, and various activities that are carried out. Technically, in this case, the Apple Watch or a heart rate monito does the tracking while Health visualizes it.
Want to Track More Stuff? Connect the Health App to Third-party Apps
There are a host of other health-related things that can be tracked and visualized in the iPhone Health app. But some of these require connecting the app to a third-party app that are specialized in tracking these things.
Here are a couple of them below:
1. Vitals
This includes metrics like blood glucose, blood oxygen, blood pressure, body temperature, respiratory rate, and so on. Some of the third-party apps that are useful for tracking these include Medisafe pill reminder, mySugr diabetes tracker log, iHealth gluco-smart, and so on.
2. Hearing
This part covers audiogram (how loud sounds need to be in order for you to hear them), environmental sound levels, noise notifications, e.t.c. It can be linked with third-party apps like Streaks, Mimi hearing test, SonicCloud personalized sound.
How to Add Information From Other Apps
Follow the steps below to add share and sync information between iPhone Health app and other third-party health apps.
Open the Health app
Tap on your profile picture in the upper-right corner
Under the Privacy section, tap on Apps. It'll display a list of apps that are already compatible with the iPhone Health app
Tap on any app and turn on the health categories you want to track
NOTE: If you don't see an app in that list, it's not compatible with iPhone Health.

Advertisement - Continue reading below
That's probably all you need to know about the iPhone Health app. Please, feel free to drop comments and questions if there's a specific thing you'd like to know.