Google fanboys will want to eat my liver for saying this, but in my opinion, Chromecasts before the Chromecast with Google TV should have been complimentary handouts one got for buying an Android smartphone. I honestly didn't see the rationale of buying a standalone glorified casting app for $29.99 yet my Smart TV could do the same at no extra cost. The whole premise of a husk of a device without an interface that depended on supported apps on your smartphone to cast content to a TV just didn't fly with me.
Before you crucify me on the cross, you should know that I initially bought into the hype and got a Google Chromecast (3rd Generation). It just didn't work for me. Smartphones are great devices but can only be the occasional remote control and not a daily driver. So in its place, I got an inexpensive Xiaomi Mi Box S, an actual Android TV box, and I haven't looked back ever since.
Advertisement - Continue reading below
Now that the latest Chromecast is here to take back its birthright and assume the throne, it's only fitting we put it through rigorous tests to ensure it's the real deal. It hasn't escaped our attention how most reviewers are gushing about Chromecast with Google TV, but we would like to do our own bit of due diligence before we join the gush-fest.
In the box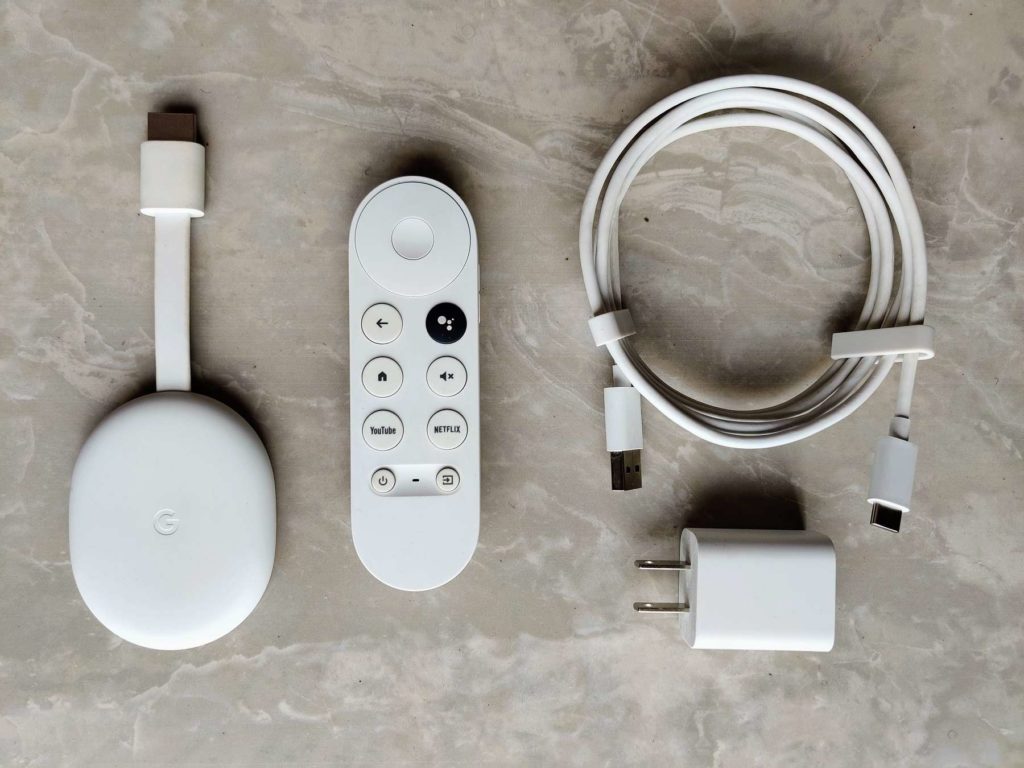 Previous Chromecasts were barebones to the point that once plugged into a TV, you'd more or less forget about it. The new one does a thing or two differently. The Chromecast with Google TV dongle comes with a remote control, a USB-A power adapter, a USB-A to USB-C cable, and two AAA batteries.
Older generation Chromecasts shipped with a power adapter but it was entirely up to you whether to use it or no. This time around, it's a necessity as we are going to find out.
Design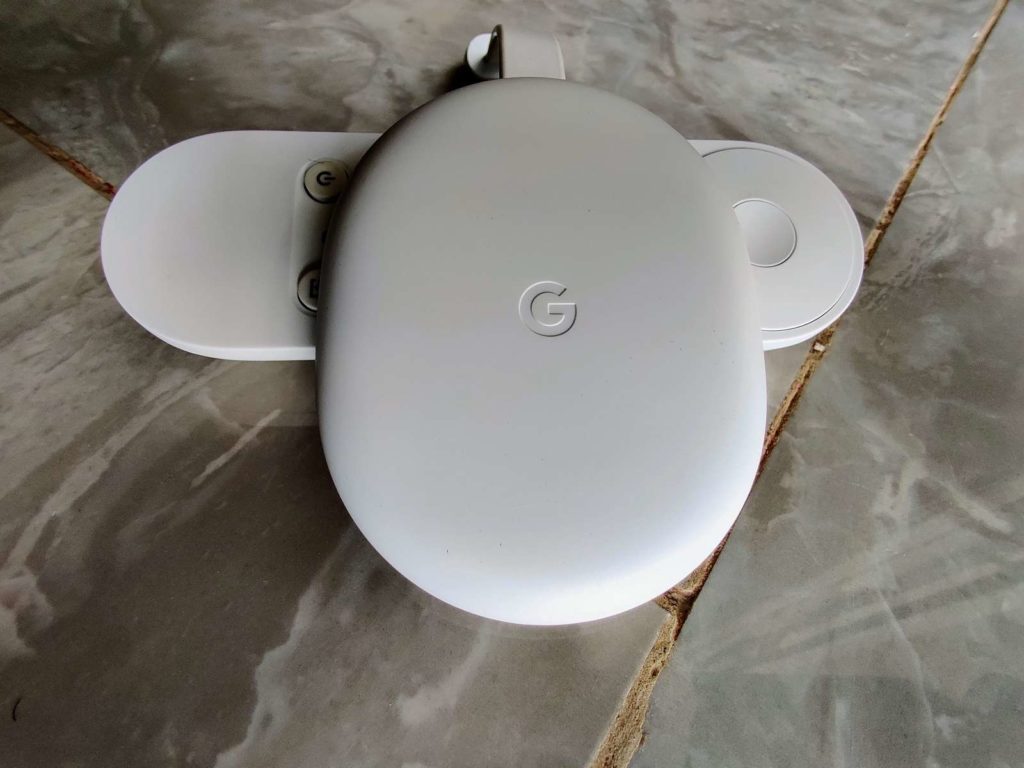 Google didn't go too far out into the woods design-wise. The latest Chromecast maintains a familial resemblance to those that came before. The pebble-shaped dongle has an HDMI cable permanently attached along with a USB C port for power draw via a power adapter that's also provided. The underbelly houses the reset button and an indicator LED.
The dongle has a smooth matte finish and comes in three flavors; white, blue, and pink with matching remote controls. Not that the colors really matter much, seeing how the dongle will stay hidden behind your TV pretty much till the end of time. That hasn't stopped the colored variants from being snapped up the minute they surface in online shops.
Remote Control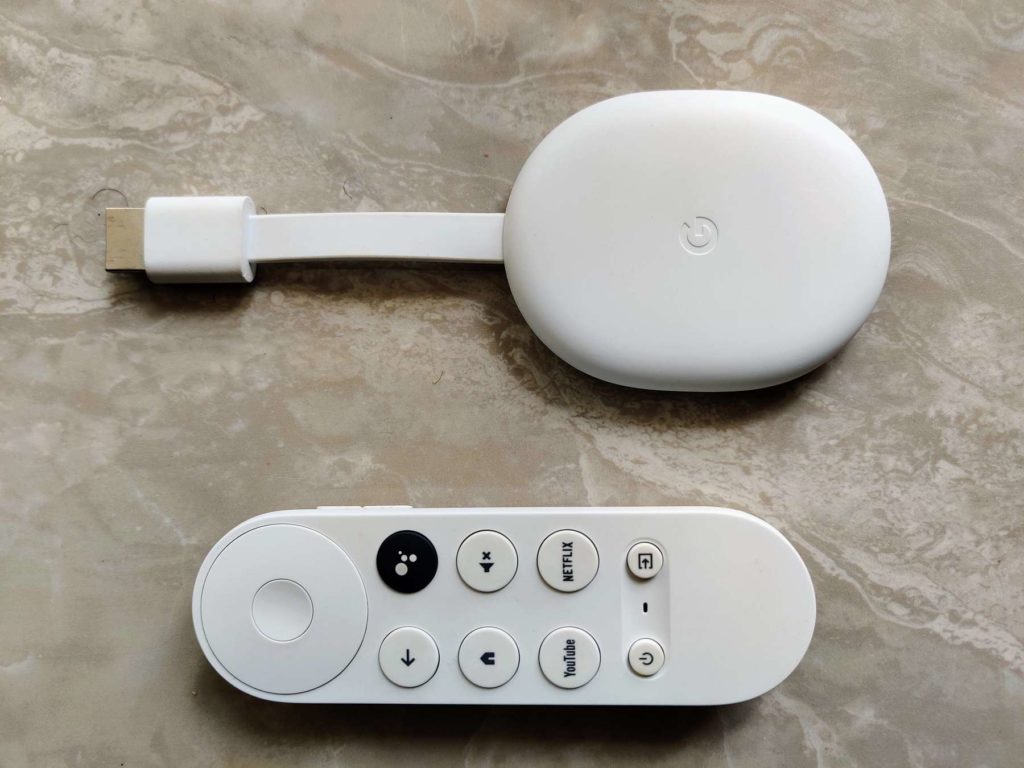 The new and improved Chromecast finally bowed to pressure and tossed in a remote control. As a first from Chromecast, there's no precedent to give a comparison. The remote is flat on top as expected with a deeply curved back for better or worse.
Advertisement - Continue reading below
This design decision thrills me and annoys me in equal measure. The darned thing keeps sliding out of my grasp whenever I try to adjust the volume with my right hand. You see, the volume buttons are situated on the right side same as the Roku remote. Roku does it better with this whole arrangement if you ask me. A flatter back gives you better leverage to fiddle with side buttons.
Thankfully, the rest of the buttons are situated on terra firma. The circular direction pad near the top blends nicely with the overall rounded shape of the remote. Google does away with unnecessary FastForward /Back /Play /Pause buttons in favor of the directional pad. The rest of the buttons are so few, we can name them all here: Back, Home, Google Assistant, Mute, Power, Source, YouTube, and Netflix. Oh, there's also a microphone orifice although that's not a button in itself, we still thought we should mention it.
You can set HDMI CEC to allow the Chromecast remote to take over the functions of your TV from commandeering TV volume, accessing content source, switching off and on the TV at will using the IR blaster. After a few days in, I personally prefer to use the Chromecast volume controls over TV volume because when easier to balance.
Chromecast with Google TV Specs
A quick peek under the hood reveals modest specs. The Chromecast is powered by 2GB DDR3 RAM, 8GB ROM, and an ARM Mali G31 GPU. And despite the laurels, Chromecast with Google TV is by far the slowest Android TV box at bootup. It took a nail-biting 50.6 seconds to boot. By contrast, a much cheaper Fire TV Stick (3rd Gen) boots up in 35.83 seconds. I know that this is nitpicking, but I imagine our readers ought to know the nitty gritty.
| | |
| --- | --- |
| SPECS | Chromecast with Google TV |
| Processor | ARM Mali G31 |
| RAM | 2GB DDR3 |
| Storage | 8GB |
| Remote Control | Bluetooth + Infrared |
| Voice | Google Assistant |
| Picture | 4K HDR (HDR10+, Dolby Vision) and Dolby Atmos |
| Cast | Chromecast |
| OS | Google TV (Android 10) |
| Power supply | USB-C |
Performance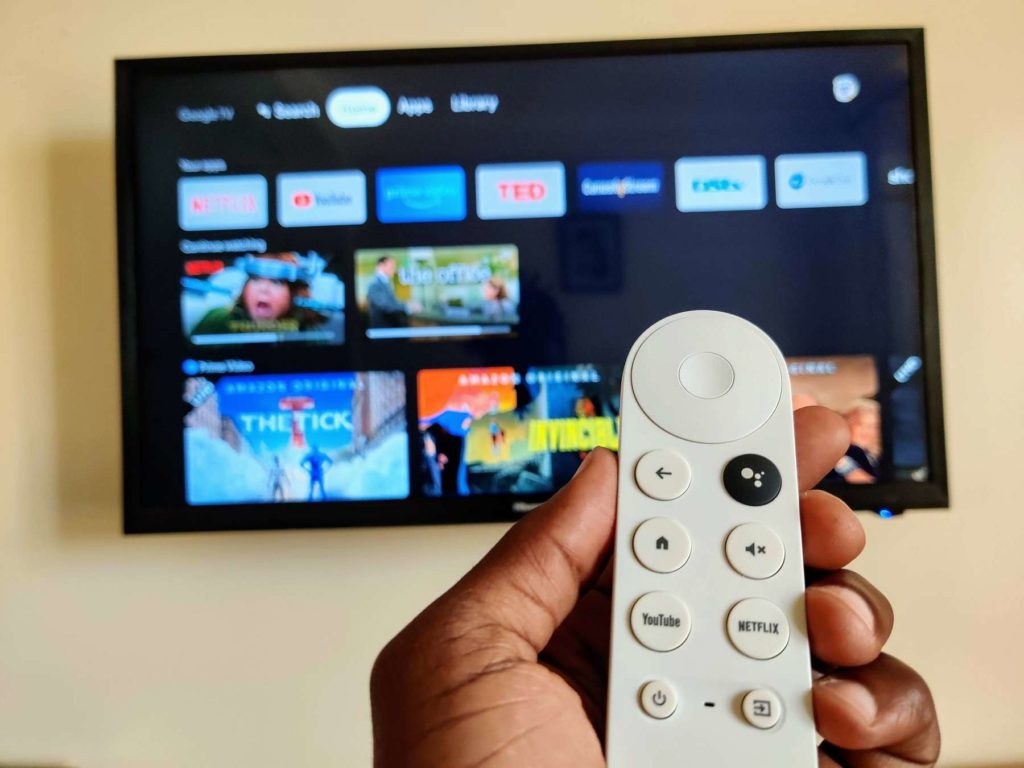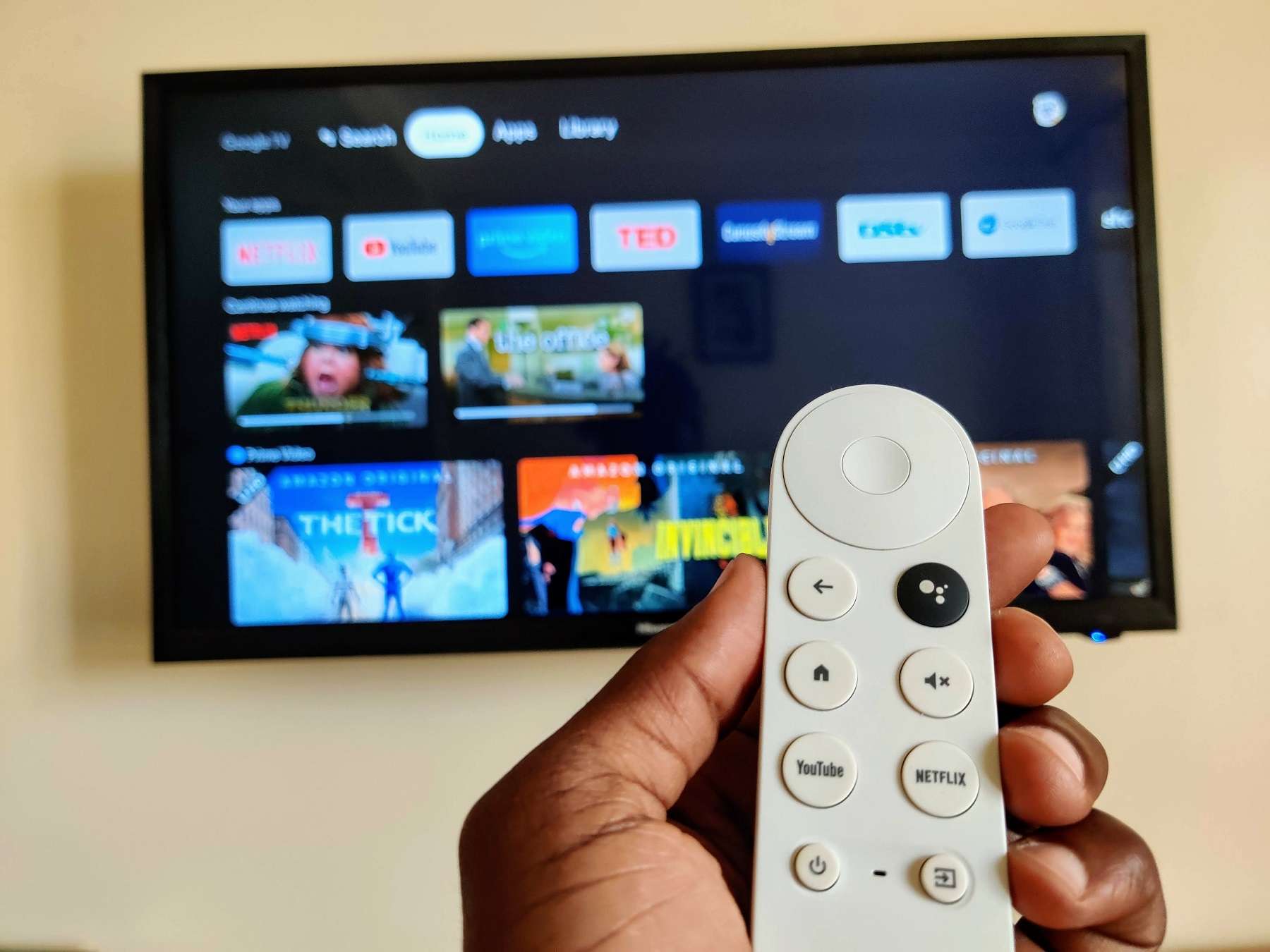 I made an interesting observation when I plugged in the Chromecast with Google TV. I noticed that the TV's HDMI port registers it as Chromecast Go, which hints at the dongle's lackluster processing power. If you've used Android's entry-level smartphones, this would ring a bell. Android Go is Google's answer to smoothly running its apps on less beefed-up devices.
Other than the less than stellar boot-up time, and remote freeze-up when I press buttons that haven't been configured yet, I haven't experienced the performance lag that has been reported by some users. The remote control is still the main let-down for me. On occasion, it forgot my TV, requiring me to reconfigure it before I could use it. Secondly, the Google Assistant button can be caught unawares at times and it won't work when you press the button for voice search.
And to their credit, I forgot whatever misgivings I had about boot time once the interface loaded. I would say that Chromecast had a significant interface overhaul in relation to Android TV, but that would be a lie. Much as Google released Android TV, it had never had a taste of its own medicine, that is until now. Google TV (formerly Android TV) takes the reigns from Android TV, introducing the all-new Android 10 OS. The apple doesn't fall far from the tree, however.
Google TV is a much more refined interface that's leagues easier to navigate while still remaining true to the Android TV we have come to know and love.
Advertisement - Continue reading below
Streaming content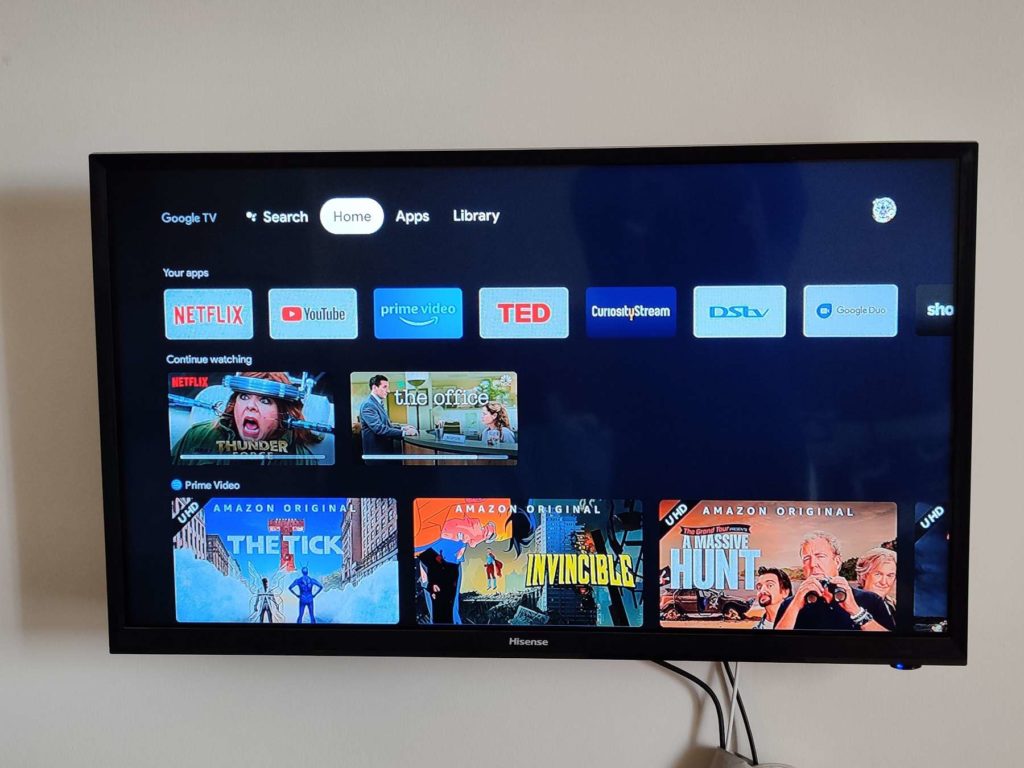 Google's vast ecosystem is the mother lode of apps for just about every major streaming service worth its salt. There's over 6,500 apps to spoil you rotten including the likes of Disney+, Netflix, HBO Max, Prime Video, YouTube e.t.c., and for my African homies, DStv and Showmax too. The biggest name I can think of that is AWOL is only Apple TV Plus, for now, but that too might soon change.
Using the remote control, the directional pad can take you to Home, Apps, Library to find your purchases, rentals, and watchlisted content across your devices. I love the fact that I Continue Watching is prominent in the Home app and it allows me to continue where I left off on Netflix. It's also easier to check out recommendations without having to go galivanting around in separate apps.
Unfortunately, I would like to mention though, that it appears Google is practicing some discrimination as usual. Fringe regions like where I reside only get cursory Search, Home, Apps, and Library features. Users who live where the money reside get the whole shebang with Search, For You (recommendations galore), Movies, Shows, Apps, and Library.
Take a look at the Google TV interface on the Chromecast.
The Chromecasts supports content in 1080p or 4K HDR/ HDR10+ and Dolby Vision. It also supports DTS, Dolby Audio, Dolby Digital Plus and Dolby Atmos formats. That said, you actually need a compatible Smart TV and soundbar to take full advantage of these audio-visual goodies.
---
Read more: Android TV: Chromecast with Google TV vs Fire TV Stick Lite (3rd Gen)
---
The power of Google Assistant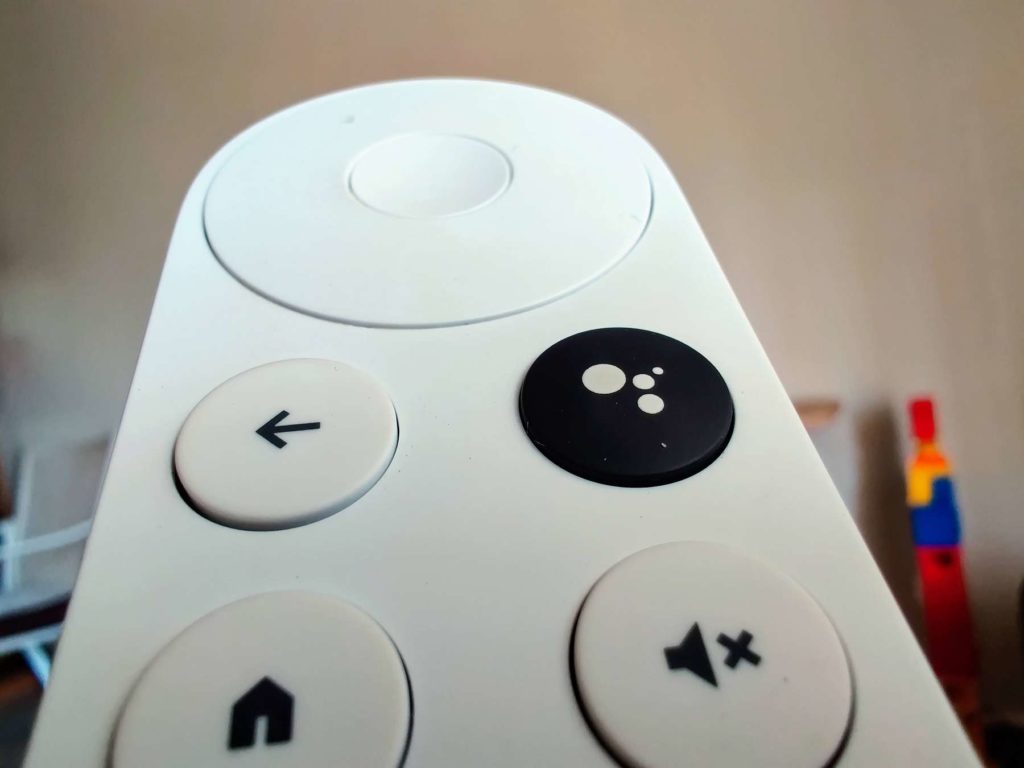 I have had Google Assistant on my smartphone since eons back and I will admit that I rarely use it. However, I have found that it takes on a different meaning on the Chromecast.
Google Assistant makes your TV an interactive part of your entertainment experience. You can pull up movies and shows by talking to your remote or ask for content based on genre regardless of which app it is. Unfortunately, we noticed that the Assistant will say content on Prime Video isn't available even though it has pulled it up for you.
Advertisement - Continue reading below
What you might not realize is that Google Assistant does more than pull up movies. You can interrupt your viewing to ask about how a movie performed at the box office, how old an actor is, the weather, and such tidbits, and then go right back to your viewing.
Is it worth it?
If you've set deep roots in the Google and Android ecosystem, another Google device makes perfect sense. Chromecast with Google TV integrates well with everything Google from your smartphone for a secondary remote, for signing in to apps, for Photos and chromecast functionality using your smartphone. It supports most major streaming apps and you can also sideload apps if what you use isn't on the Play Store. The remote control with Google Assistant makes it even more versatile than all the previous Chromecasts combined.
Price and where to buy
Chromecast with Google TV goes for $49.99. It comes in white, pink and blue. Find it on the Google Store, Best Buy and most major online shops. In Uganda, head over to Odukar where it retails for UGX 395,000.