MTN Uganda recently introduced a first FREE gaming service dubbed "MTN GoGames". The service offers MTN customers access to a huge catalog of browser-based mobile games, for free. MTN GoGames is launched in partnership with ATechnos, a global mobile gaming services provider.
Customers can access and play games without paying a fee or buying data as long as their mobile connection is via the MTN network.
Advertisement - Continue reading below
For advanced players, the service also has a selection of premium games, which may be played at a small fee of as low as UGX 500 per day or 3000UGX per month.
MTN GoGames is accessed at www.mtn.gogames.run on almost any web browser on your phone or device making it easy and convenient for customers to play games, without having to download additional apps. The free games are accessible via your mobile web browsers like Google Chrome, Firefox, Safari, Opera Mini, and others.
The range of games is diverse from sports, action, education, and simple games Snakes and Ladders, Number Memory, Candy Rush, and Crappy bird, among others. It also includes Ugandan-themed games such as Mweso, Ludo, Kwepena, Hide and Seek locally known as Kakebe.
Speaking at the conference for the launch, MTN Chief Marketting Officer, Somdev Sen said;
"At MTN, we know that gaming is fun, so we created a platform that delivers simple fun to any of our customers at any point in time. The past year has without a doubt been intense, and even as we take on this year, several serious situations lie ahead of us. We however believe that MTN GoGames will enable us to take a break from all the seriousness and have some fun even if it is just for a few minutes as we unwind"
A recent December 2020 study by Research gate scholars asserts that gaming in moderation has been found to be beneficial in the cognitive, motivational, emotional, and social domains of life.
Advertisement - Continue reading below
How to Play Games on MTN GoGames?
Step 1: Visit www.mtn.gogames.run
Step 2: Register by entering your preferred username and your mobile number (If already registered click on "Log In")
Step 3: Select your preferred game and start playing.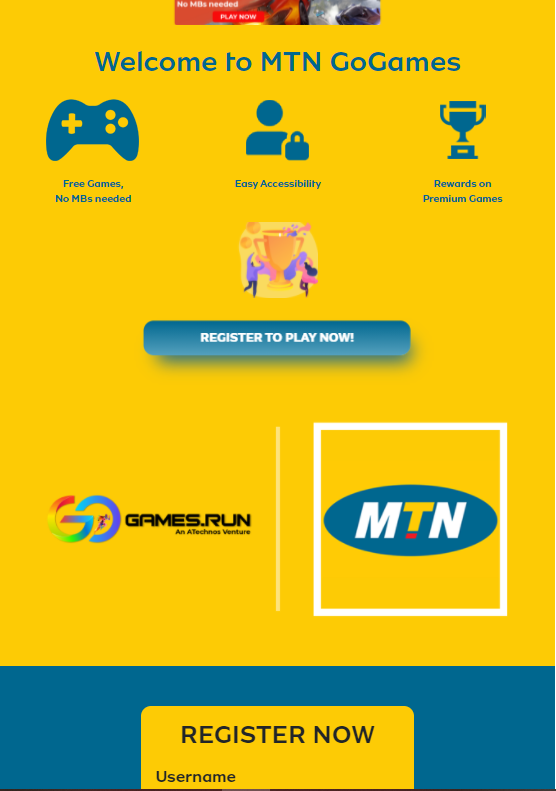 How to Pay for and Play Premium Games?
Step 1: After login into www.mtn.gogames.run, click on 'Profile' then "Active subscription'.
Step 2: Click 'Subscribe' and choose Daily UGX 500, Weekly UGX 1500, or Monthly UGX 3000. You will receive a prompt on your phone confirming your selected subscription option.
Step 3: Enter your MTN MoMo PIN. You will receive a message confirming your subscription.
Step 4: Now you can play all the premium games.
First Impressions
The first thoughts that ran into my mind when I saw the MTN group launched a dedicated gaming platform were how different were these games compared to the games found on MTN Ayoba.
The major differences upfront is that the GoGames are browser based and you can use them on multiple devices. From PCs to smartphones meanwhile the Ayoba based games are limited to use within the app only.
The depth of game options also make the GoGames platform totally different. The idea of having a category for Ugandan themed games are well thought off and pleasantly welcome.
Google Ads on the both Desktop and mobile version of the phone are notoriously annoying and I'm not quite sure if paying for premium games makes the ads go away but highly doubt. Given the fact that they aren't explicitly mentioning it on the commercials it could be the ads are ever there.
Anyway, I'll pay for the premium games later on and do a full review of the new MTN GoGames in a separate article. For now, I am impressed with the choices of games included and can't wait to try out the premium options. Let us know in the comment section if you have ever played the games available on MTN GoGames and what has been your impressions so far?