Imagine a life where you don't need to keep switching between apps on your Android phone. You can watch movies and chat with your friends on WhatsApp at the same time using the split-screen feature on your phone. Yes, you can multitask on your phone. I will show you how.
What is a split-screen?
A split-screen is a display technique on your phone that divides your screen into two adjacent parts such that you can use two apps at a go.
Advertisement - Continue reading below
How to split-screen on Android Phones
Open the recent apps via the app switcher or via gestures depending on the phone you own.
Navigate to the app you would like to appear at the top segment of the split-screen. If that app doesn't exist in your recent apps, open it first so that it appears there.
Tap on the icon above that app and select the Open in split-screen view option.
The app drawer will appear on the bottom segment of the split-screen and you can scroll down to the other app you would like to use or simply search for it.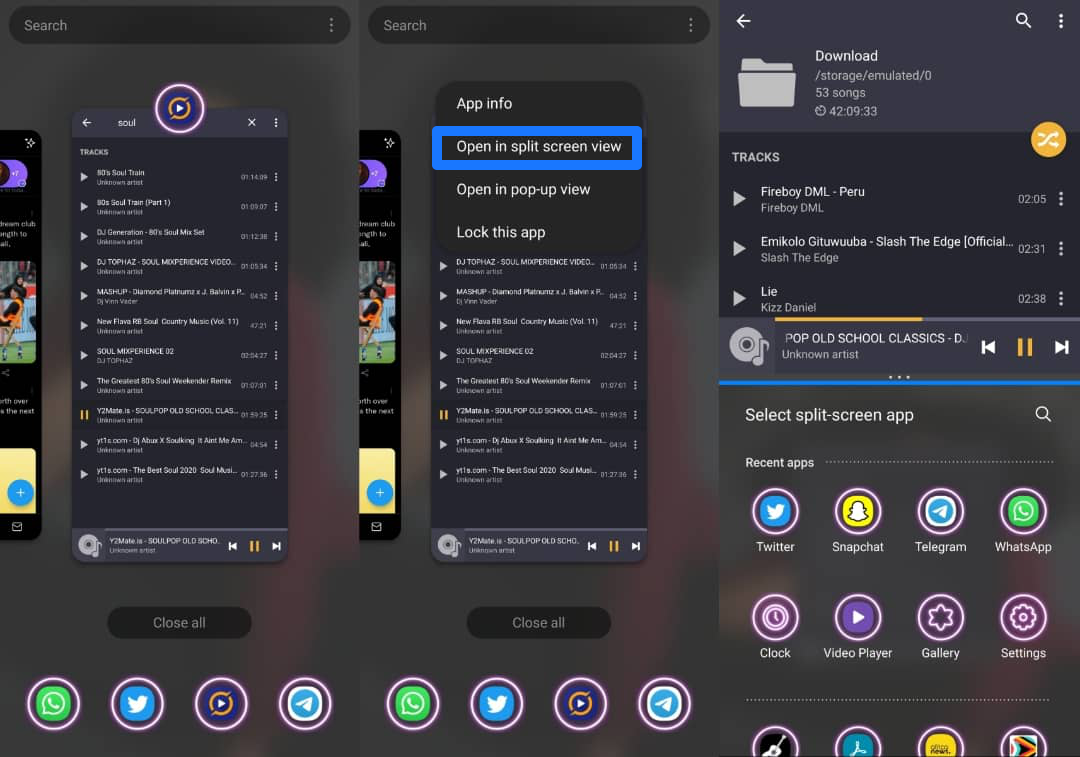 Related Article: How to Take Full-Page Screenshots in Chrome on Android
Samsung's Pop-Up View
You should view your apps in split-screen mode with the steps above, but you can even do more with a Samsung phone. Samsung's Pop-up view feature dwindles the selected app to a small window that you can move around the screen as you use other apps.
To get to the pop-up view:
Navigate to your recent apps.
Tap on the icon above the app you would like to use in the pop up view and select the Open in pop-up view option.
The app will then open in pop-up view and you can resize and position it as you see fit.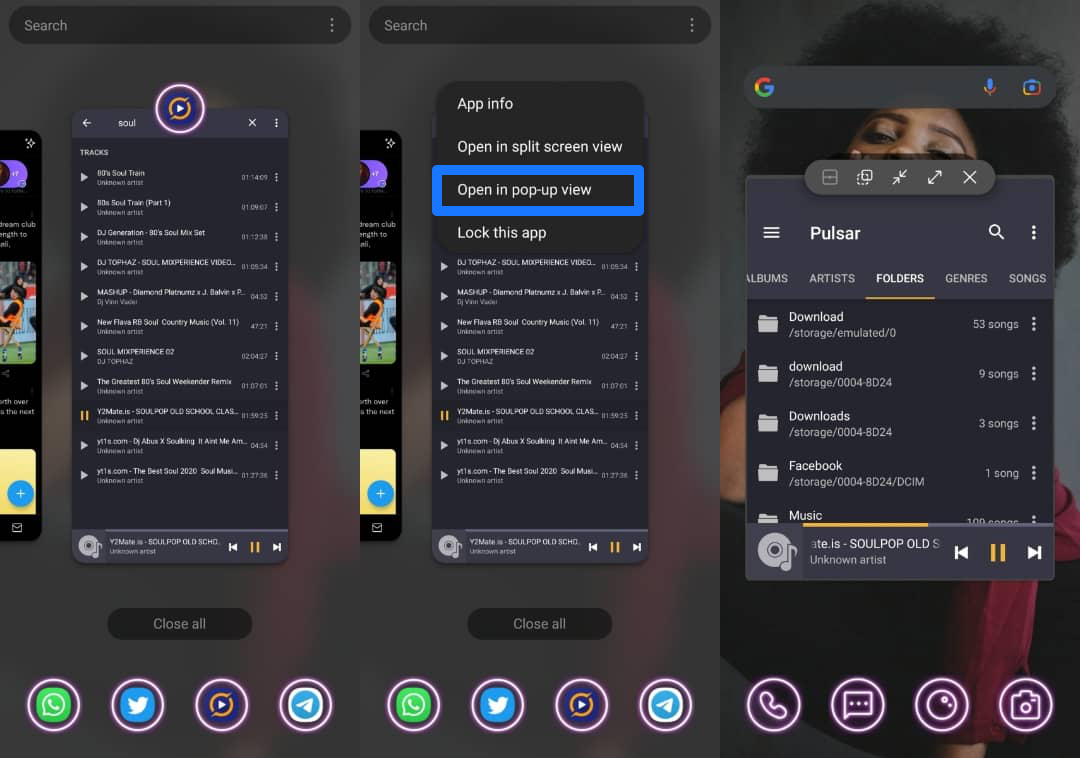 Android split-screen not working
If you can't access the split-screen feature on your phone, follow these steps to troubleshoot your phone. Before going any further, check your phone manufacturer's website for the features of your particular phone to see if it supports the split-screen option.
If it does, but the feature isn't working, follow these steps:
Reboot your phone. This is the simplest and most common remedy to many issues on a phone or electronic device.
Check the latest system update available. Your phone might just be outdated or bug infested and needs an update to enable it run smootly again.
Check phone temperature. Many phones temporarily limit the split-screen option when your phone is overheating. It would pay to turn off your phone for a few minutes until it cools down.
Factory reset your phone. This should be the last option and only should be done when you are sure you have a backup of all the data on your phone.
Although the split-screen option comes with higher battery demands, it is an effective way to multitask without switching between apps. Follow the above steps to enable split-screen and multitask like a pro.
Advertisement - Continue reading below
Feature photo by Keira Burton from Pexels