Whether you are looking at anonymizing your internet traffic or want to get around content geo-restrictions, a good VPN is always a good investment. But if you are specifically looking for a VPN to run on your smart TV, then you want to prioritize speed, server location and whether or not the VPN provider is optimized specifically to support streaming.
I have been using Android TV via the Xiaomi Mi Box and Google TV through the new Chromecast with Google TV. Android TV/Google TV is one the widely supported platform by VPN providers. Smart TV platforms such as Roku don't even a single VPN app support. You typically have to install the VPN on your router if you wish to use Roku with VPN which is a highly technical endeavor. Not so with Android TV.
Advertisement - Continue reading below
There are tens of VPN service providers out there, but few are optimized for streaming. VPN providers are always playing a balancing act between security and speed. Tighter security means using VPN protocols with stronger encryption algorithms which introduce additional data overheads that slow the tunnel connection. Conversely, faster VPNs have less stricter encryption algorithms. If you're going to use a VPN for streaming, you're probably prioritizing speed over security. That means going for VPNs that optimize speed over security such as IKEv2 or the newer Wireguard VPN protocols.
Another factor to consider is server location and how optimized the VPN provider is for streaming. Streaming service providers such as Netflix, Disney+, Roku have been fighting "VPN streamers" for a while now typically outrightly blocking any user who connects to their services via a VPN. Even if you're an American who's traveled oversea and you wish to use your American Netflix account, you might not succeed with a VPN. So sometimes it's a hit or miss game.
Related post: Before you use a VPN on Netflix, here's what you should know
Alright that said, I have been perusing through a list of VPN providers on my Chromecast with Google TV. Most of the "big guns" are listed as you would expect, so it basically boils down to price, speed and if the VPN is streaming-aware.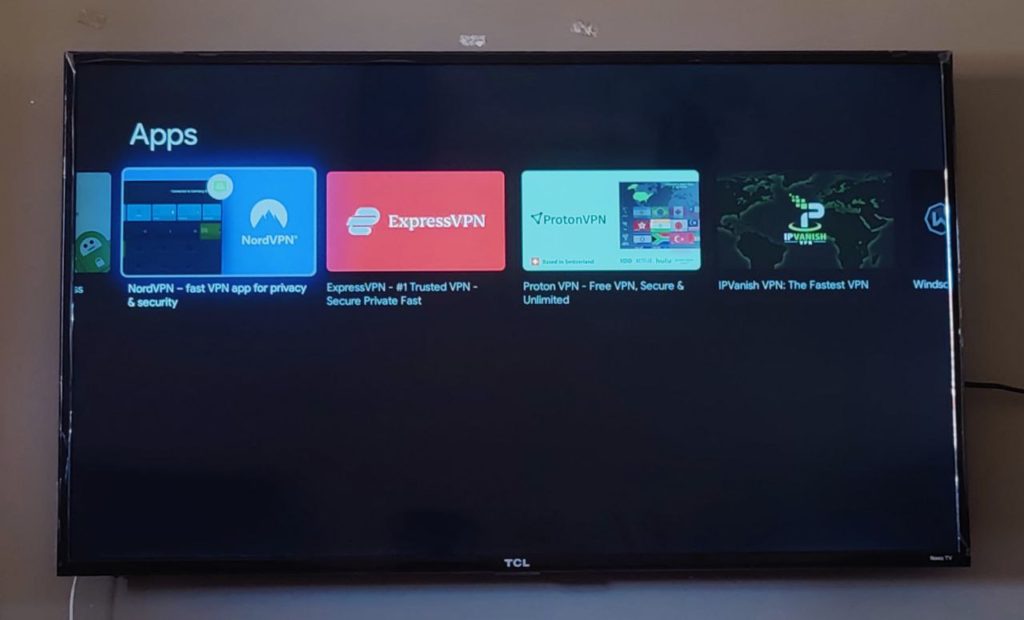 My favorite and the one I personally use is Windscribe. That's because they have a generous free plan that offers upto 10GB/month free and additional 5GB if you tweet for them. It's also widely supported across multiple platform. I use it on Netgear DD-WRT router, Chromecast with Google TV and on Fire TV stick. Getting around Geo-restrictions is hit or miss situation according to my experience, but it works most of the times. It costs $4.08/month billed $49 every 12 months. But if you want only U.S servers, you can pay $2/month with their custom pricing plan.
With servers located in Switzland, ProtonVPN is high up on security. Their reputation goes before them. But since we are talking about VPNs for streaming, ProtonVPN has a "streaming plan". This plan promises VPN blocking bypass for popular streaming services like Netflix. It starts at $8/month billing $96 yearly. ProtonVPN has absolutely well designed Apps across multiple platforms with intuitive interfaces according to my experience.
Advertisement - Continue reading below
If you're in the market for a VPN to watch Netflix, then ExpressVPN is downright one of the most popular choices out there. It's fast, easy to use, supports multiple clients such as Smart TVs, Mac/Windows/Linux, Android/iOS, specific routers and much more.  ExpressVPN runs over 3,000 remote servers in 160 locations and 94 countries. They recently released their own custom VPN protocol called Lightway which apparently is optimized for speed. However, it's also the most expensive on the list. ExpressVPN's best deal goes for $8.32 a month billed over 12 months. You can read more about their Android TV implementation.
Surfshark another great commercial VPN service provider for streaming available on Android TV. It's a good option to obtain geo-blocked content thanks to 3200+ servers in over 65 countries. Its speeds are good, but not so great and the price is quite cheap too. It's quite reliable and has good positive reviews overall. Surf shark's best deal is starts at just $2.49/month plan billed over 2 years making it one of the cheapest providers on the list.
This is another great option for streaming Netflix. It's known to be capable of breaking through VPN blocks and is widely supported across a number of platforms. NordVPN is has its own VPN protocol called NordLynx based on Wireguard which is fast. They have over 5,500 servers worldwide and offer upto 6 devices on a single account. It's affordable if you pay for longer periods; $3.32 billed over 2 years ($89 on signup for two years of service). Read more about NordVPN for android TV.
CyberGhost VPN gives you access to 7100 servers in 91 countries across all continents, except Antarctica. Under the right conditions, Cyberghost vpn claims that their VPN tunnels can reach as much as 1,000 Mbps. Their service costs $2.25/month billed over 2 years making it one of the cheapest options on the list.
IPVanish offers over 40,000 IPs on 1,900 plus VPN servers in over 75 locations around the world. They offer both IKEv2 and Wireguard which are great VPN protocols for streaming because of their speed. IP Vanish bills $3.75/month for the first year and then $89.99 thereafter.
There are of course several other VPN providers I have left out such as VPN Unlimited by KeepSolid, VyprVPN, F-Secure VPN, Speedify, Hide.me VPN and more. Some of the VPN providers have 7-day free trials so you can test them without fully committing. Keep in mind that using a VPN will almost half your connection speeds and isn't always guaranteed to work around geo content blocks.