Many fintech apps and startups have followed a familiar blueprint for a few years now. Start by getting a dependable customer base and pivoting to try and build a super app. Right from day one, Safeboda has set out to build a super app. All new features, innovations, and investments were a bet on finding a fertile turf.
With the new recent updates on the app, SafeBoda is accelerating its status to the super app level that will help Ugandans push forward; a one-stop-shop for all your daily needs.
Advertisement - Continue reading below
Below are 10 awesome things you can do right now with the updated Safeboda Super App;
1. Sending Money for Free
Sending money with the SafeBoda App is FREE at no cost. Use the SafeBoda app to swiftly send money to your contacts and other app users at no extra cost; it's FREE.
To Send Money With the Safeboda App:
Tap on the Send Money button
Select the beneficiary from ySeour contact list or enter the phone number
Enter the amount and confirm the transaction with your SafeBoda Wallet PIN.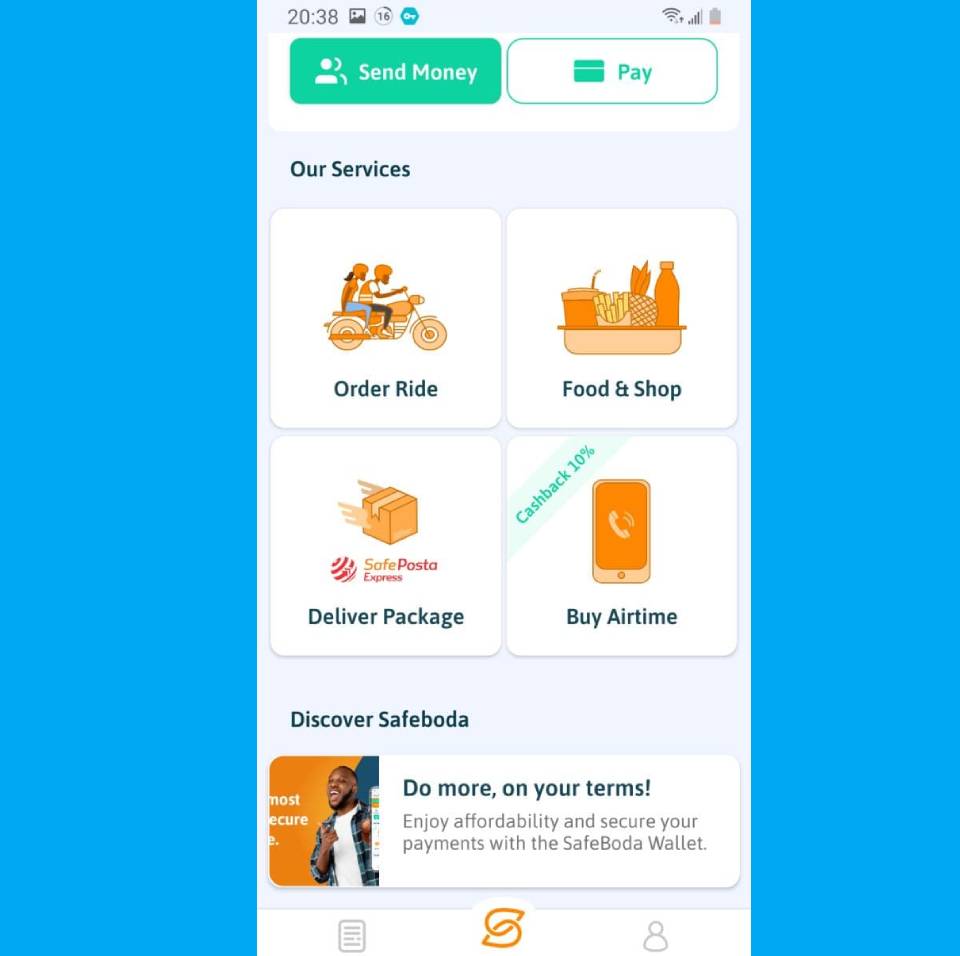 2. Withdraw Money for Less
You can also receive money on the app and withdraw it from your nearest agent at the lowest rates on the market. Use the Find Agent button on the app home screen to find one in your location and quickly cash out. SafeBoda has over 200 agents across Kampala, with the new signage visible at most agent centers.
To withdraw at a SafeBoda Agent:
Tap on the Withdraw button at the top
Select the Agent near you or search based on your location
Enter the amount and confirm the transaction with your SafeBoda Wallet PIN.
3. 10% Annual Interest on Your Savings
You now earn 10% annual interest on your SafeBoda Wallet. It's all Automated, and you wake up richer every day. All you need is a balance of more than 5,000 UGX.
Advertisement - Continue reading below
You will get a notification on your app daily with the interest you have earned.
To check your interest earnings:
Open your SafeBoda App and click on Savings at the top screen.
A window will pop up confirming that you are earning interest and showing the total interest earned to date.
4. Earn 10% Cashback on Airtime Purchases
Easily buy airtime on MTN or Airtel for your mobile phone number and others to instantly earn a 10% cashback, so if you buy airtime worth 10,000UGX, you get back 1,000UGX.
To buy airtime and earn a 10% cashback:
Open your SafeBoda app and tap on the Buy Airtime button
Type in the number to buy for or enter it from your contact list
Select the amount to buy or tap Other to enter it manually
Confirm the transaction with your SafeBoda Wallet PIN
5. Buy Fuel at a Discount
Fuel prices these days are crazy high. With your SafeBoda app, it's all cheaper. Simply use the SafeBoda app, click Pay at a Total petrol station with your SafeBoda Wallet and get an exciting discount.
Visit any Total Fuel Station, ask for a SafeBoda Agent; he will be wearing a SafeBoda reflector with Agent on the back, and let him know that you want to fuel with the app. We thoroughly discussed in our previous blogs how you can pay and the places where you can enjoy this offer.
---
Read More: How to Buy Fuel for Less Using SafeBoda's Wallet?
---
6. Merchant Payments
SafeBoda has partnered with key shops, bars, and restaurants where you can make payments using your Safeboda wallet credit. You simply pay in-store with the SafeBoda App.
The app's onboarded some of your favorite brands and hangout places in Kampala – like Kenji's, YoKuku, Thrones, Funz Video, Wild Coffee, and more.
With your SafeBoda app, you can easily make payments to SafeBoda-branded merchants for free. It is so so so convenient.
Advertisement - Continue reading below
To pay with your SafeBoda app:
Tap on the Pay button
It shows the closest merchants (bars, restaurants, shops) to you geographically, so if you are at Kenji's, the top of the list will show Kenji's! No more need for till numbers!
Select the merchant, or you can search by name
Finally, Enter the amount and confirm the transaction with your SafeBoda Wallet PIN.
7. Order for Food
The SafeBoda app hosts many fast and local food restaurants in the Restaurant section, which deliver food in minutes. You can also shop for groceries, medicines, drinks, and other home necessities on the app from the Shop section.
To order food and shop online:
Tap on the Food & Shop button
Select either Restaurants or Shops
Tap an item you wish to order
View the order, select a payment method, and place an order. It's easier with your SafeBoda wallet; no cash required!
8. Insured Package Delivery With Safeposta Express
SafeBoda is working with Posta Uganda to expand logistics in Uganda. You can use your SafeBoda App to deliver your packages. Your parcels are insured with the new premium service.
9. 5% Cashback on Utilities Payments
You do not have to lose your peace because of a run-out TV subscription, electricity, or water. With your SafeBoda app, you can now easily pay up for any of these, upon which you get an instant 5% cashback.
Renew your Pay-TV service subscription for providers such as DSTV, GOTV, and Startimes simply on the app. You can also get your Yaka token and pay up for Umeme bills on the SafeBoda app.
Additionally, pay up your water bills on the SafeBoda app and keep it flowing for everyone.
10. Ofcourse, Order Rides
Last but not least, you can take a ride with a trained SafeBodas. In Kampala, SafeBoda has completed over 30,000,000 safer rides. The trusted and trained community of drivers has been helping people move around the city for years and it's what has made them build a reliable customer base.
Final Thoughts
Although quite prevalent in Asia, and, China, the term "super app" is only just starting to catch on in Africa.
Thanks to similarities with the Asian market, Uganda is a mobile-first country where smartphones are the primary internet point for the majority of internet users and the SafeBoda approach to deploy a Super App is a good idea. Imagine depending on one app to do close to 10 things is phenomenal and time-saving. Let us know in the comment section if you will be using this new SafeBoda app and if you will utilize all the available features.