Samsung has unveiled the Galaxy S22 series, featuring three devices; the Galaxy S22, S22+, and the premium model – the Galaxy S22 Ultra. The Galaxy S22 Ultra is the standout device of this series. And that's not just because it is the premium version, but the fact that its design was adapted from the Galaxy Note line (this device is everything the leaks suggested it would be) – feels like Samsung is doing all it can to keep the Galaxy Note line relevant. The only difference is that this device doesn't carry the "Note" inscription. Other than that, It comes with a large 6.8-inch screen, a built-in S pen stylus, quite a number of rear cameras, a box-shape design with inspiration obviously coming from the Galaxy Note series, and a $1,199 price tag slapped on it.
Related: Samsung Galaxy S21: Specs and Price in Nigeria
Advertisement - Continue reading below
A Stand Out Design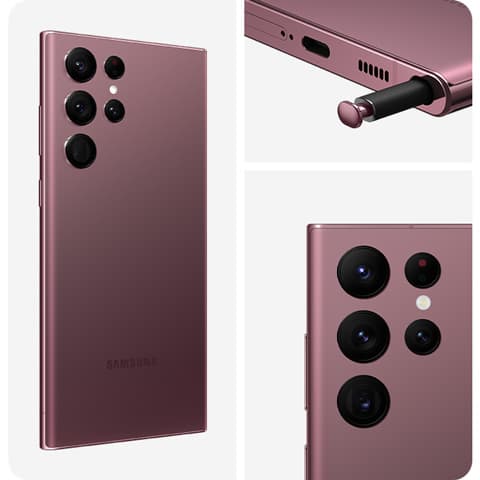 To begin with, there's the stylus pen – something that wasn't present on its predecessor, the Galaxy S21 Ultra – and just like on the Note series, it slots into the bottom edge of the phone. Furthermore, the contour cut camera present on the Galaxy S21 Ultra and on the new Galaxy S22 and S22+ is missing on new Galaxy S22 Ultra. Samsung, instead, have introduced stand alone cameras poping out of the metal rear of the phone. Here is a warning though: This smartphone is quite large; It is a 6.8 inch edge Quad HD+ Dynamic AMOLED 2X device with a dimensions of 77.9 x 163.3 x 8.9mm. This means it might not be a very comfortable smartphone to use if you've got small hands. You've also got four colors to choose from; Phantom Black, Phantom White, Burgundy and Green.
Camera Setup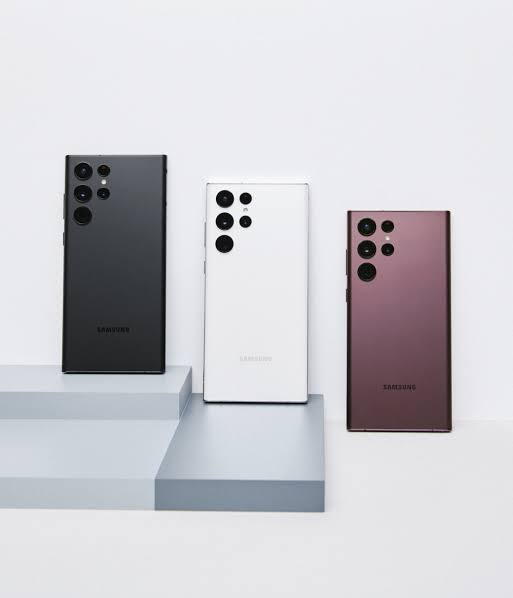 Looking at the spec sheet, the camera set up of the new Galaxy S22 Ultra isn't different from what's on its predecessor – the Galaxy S21 Ultra. It features a quadruple-lens rear camera setup of 108-megapixel main sensor, a 12-megapixel ultra-wide camera, as well as two 10-megapixel telephoto sensors. However, the highlight of this segment of this device is a feature Samsung calls Advanced Nightography. According to Samsung, this feature uses its 2.4um pixel sensor to capture better images at night, framing multiple subjects and better portrait photography even in low light (at night). It is supported by a 40-megapixel front-facing camera.
Related: Samsung Announces The Galaxy S21 FE: Here's What We Know
Chipset
In this area, the Galaxy S22 Ultra comes in two chipset variants, and the variant you can buy depends on your location.The U.S. and other markets where Samsung's Exynos chip isn't available, the Galaxy S22 lineup will run on Qualcomm's Snapdragon 8 Gen 1 chip. In other markets, the Samsung Galaxy S22 lineup will run Samsung's Exynos chip. It is also coming in four storage variants: 8GB RAM with 128GB internal storage, 12GB RAM with 256GB internal storage, 12GB RAM with 512GB internal storage, and 12GB RAM with 1TB internal storage. There's, however, no microSD support for this smartphone.
Other features include the 5000mAh battery with up to 45W wired charging and 15W wireless charging, 8K video recording at 24 fps (7680×4320), 4K UHD video recording at 60 fps (3840×2160), 120Hz refresh rate display, and a water resistance rating of IP68.
In conclusion, the Galaxy S22 Ultra will be selling for a recommended retail price of $1,199. Should you upgrade to the Galaxy S22 Ultra? Well, if you already own the Galaxy S21 Ultra, there's really no point rushing for the new Galaxy S22 Ultr – except, of course, you're going for the stylus experience. The device is now available for pre-order on Samsung's official website.
Advertisement - Continue reading below