Okay, I am going to level with you. On the best of days, scales give me the heebie-jeebies. I mean, there's enough body-shaming passing around, that who needs a scale to tell you the same thing? But even so, smart scales like the Wyze Scale do offer unbeatable value coupled with a plethora of features when paired with the Wyze app.
The Wyze Scale is touted as one of the best smart scales on the market and it's easy to see why. Its price ( $33.98 + Free shipping on Amazon), is roughly the same as on the Wyze website ($19.19 + Shipping). The Wyze Scale tracks 12 metrics, including basal metabolic rate (MBR), BMI, body fat, body water, bone mass, lean body mass, metabolic age, muscle mass, protein, visceral fat and good-old weight As I don't have another other way to verify these metrics, I will have to take their word for it.
Advertisement - Continue reading below
In the Box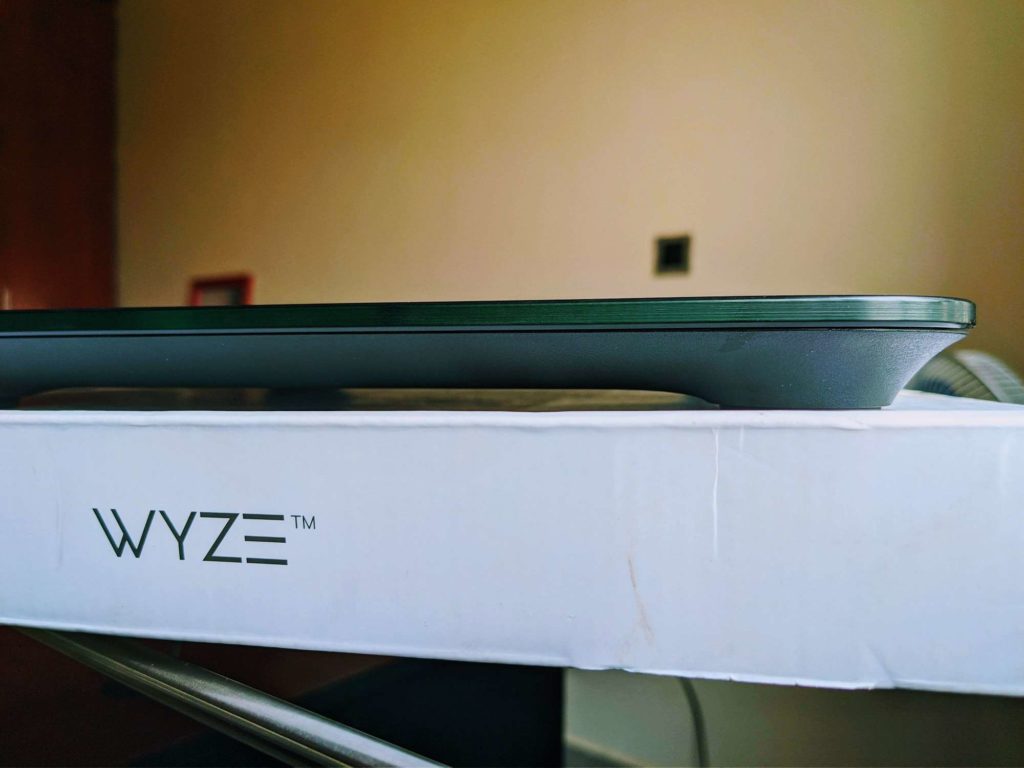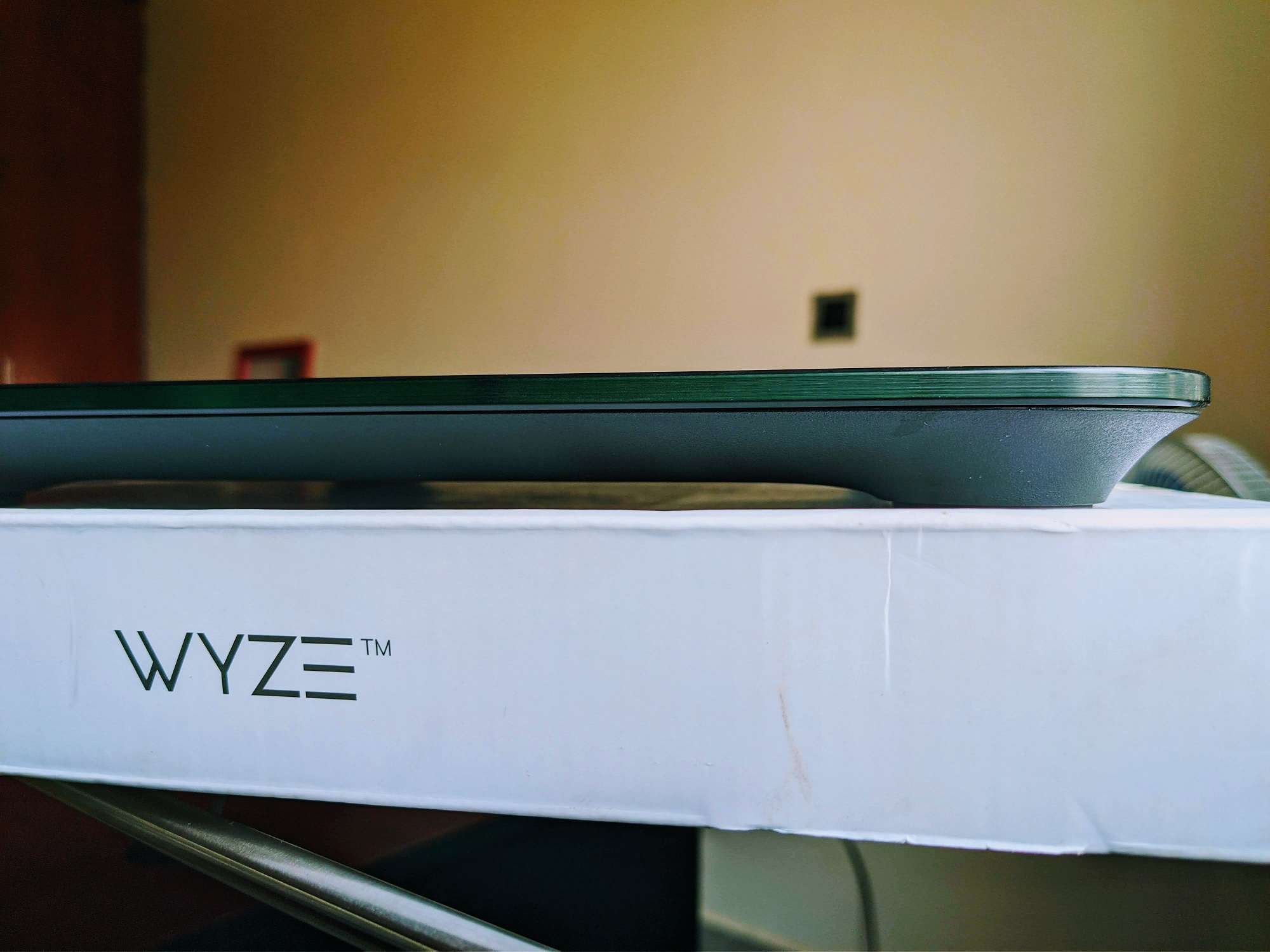 Wyze Scale
1.5V AAA batteries (x4)
Quick Start Guide
Wyze Scale Specifications
Model: WHSCL1
Measurement Range: 10 – 400lb/5 – 180kg
Display Units: lb/kg
Product Size: 306x306x26.6mm
Product Weight: 4.07lb/1.85kg
Power: 4×1.5 AAA batteries
Compatibility: Android 5.0+/iOS 9.0+
Operating Temperature: 41 to 104 degrees F (5 to 40 degrees C)
Quick Setup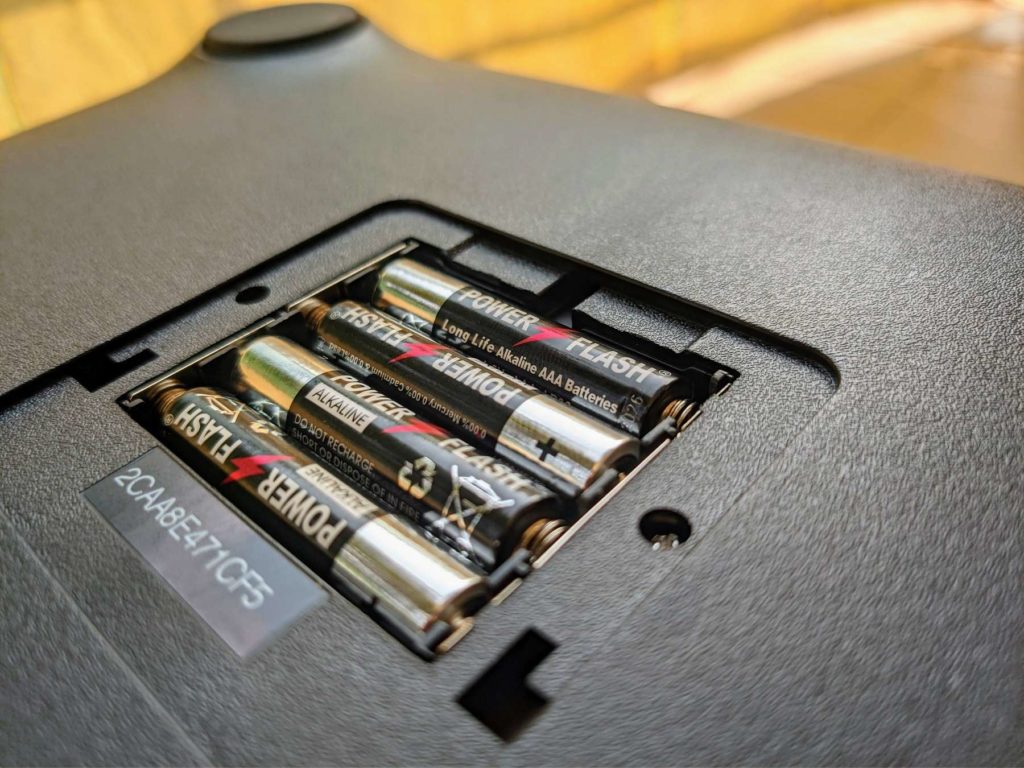 The Wyze Scale is battery powered and ships with four AAA batteries in the box. Top open the back cover and insert them, minding the terminals.
If this is your first rodeo, download and install the Wyze app from Play Store or App Store.
Download an Authenticator app to generate a 2-step verification code which is required after you signup/sign in to the Wyze app. We used Google Authenticator, but any others should be just fine. Open your Authenticator app to copy the code when you are prompted by the Wyze app.
Once you're in, tap on 'New Device' >>Lifestyle>>Wyze Scale.
Turn on your Location/Bluetooth to locate the Scale
Before you get started, enter your personal information i.e. gender, year of birth, height and Athlete mode (where you're active or no).
Place your Wyze Scale on a firm flat surface and then step on it with bare feet to get your initial readings.
Voila!
Design and Build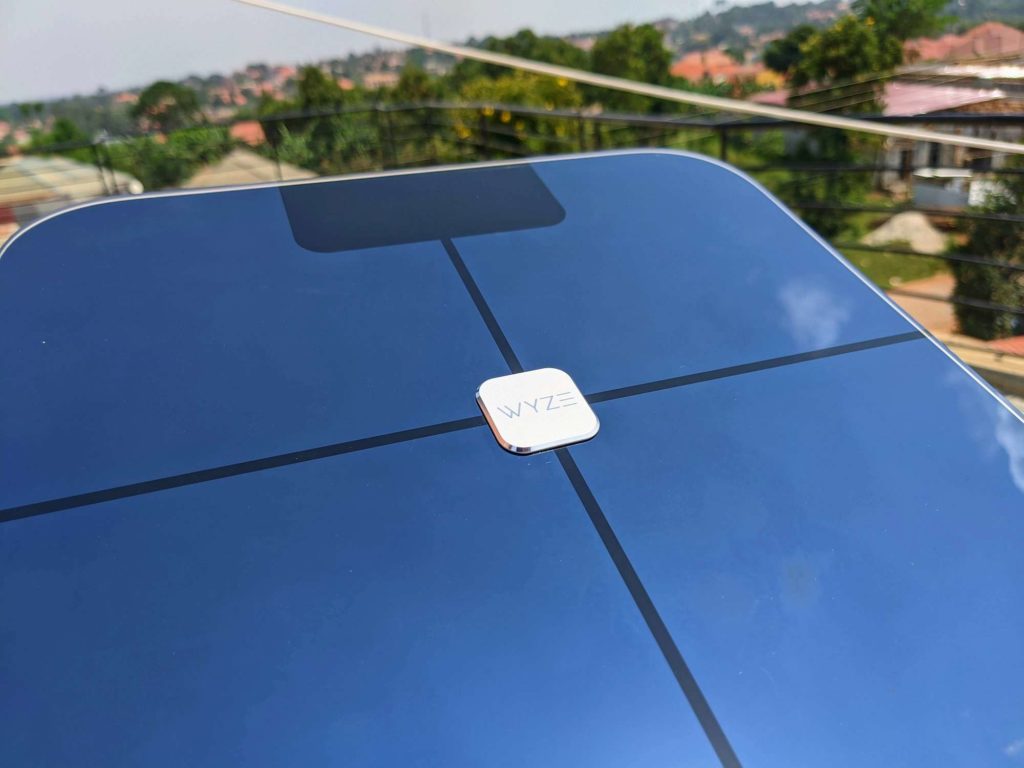 There's only so many ways to design a square (or squircle) scale, so it would be disingenuous of me to say there's anything special about the design of the Wyze Scale. But with the Wyze logo planted dead center, I will say that it's slick and gives off premium vibes. The blue-black coated glass seamlessly blends with the rough hard plastic underside.
The glass glass is excellent at conducting electrical pulses, but it's a footprint magnet and reflective as hell. We had to go to the rooftop just to get shots without our mirror reflections skulking about in the background. To our chagrin, we also scored a scratch on the glass, which hints at its fragility.
Furthermore, the IPX3 rating should caution you not to step on it with wet feet or have water pour on it. A few light sprays should be fine though. I personally decided against leaving it in the bathroom altogether just for my peace of mind.
Once you step on the Wyze Scale, the LED display lights up to display your weight and body fat. This is independent of the Wyze app although you do see more metrics once you turn on your Bluetooth on your smartphone and open the app. Just don't keep your phone in the palm of your hand as you do your measurements for obvious reasons.
Advertisement - Continue reading below
Performance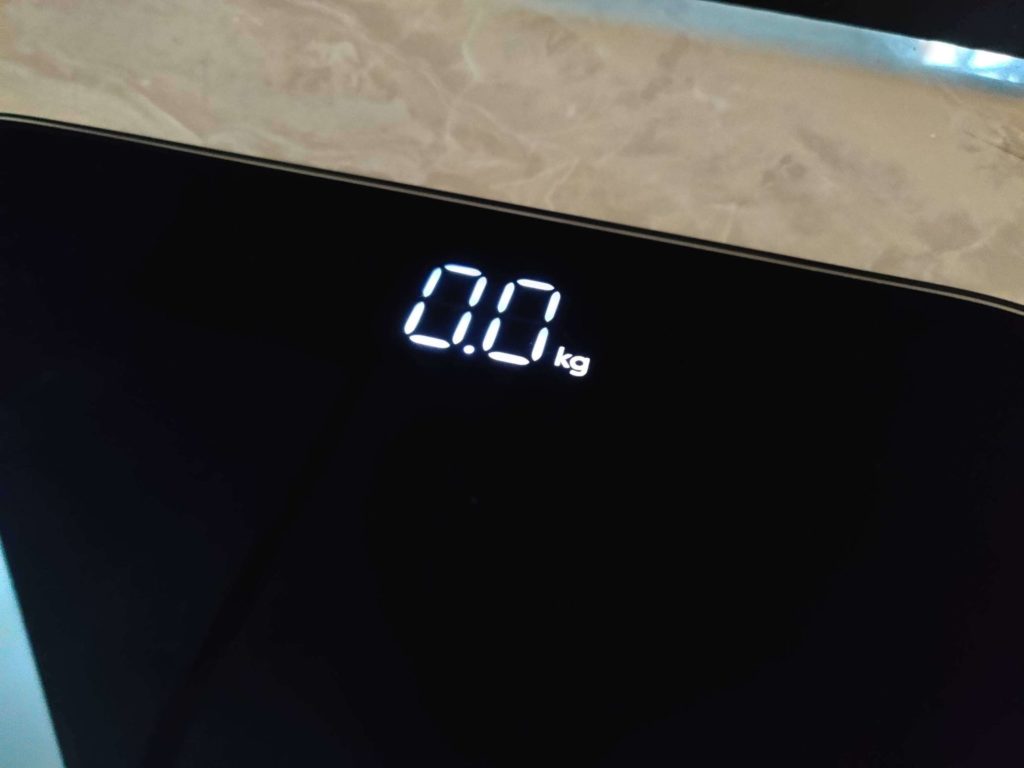 The Wyze Scale uses your phone's Bluetooth, not Wi-Fi, to keep track of all your measurements. The scale automatically syncs with the companion mobile Wyze app (Android 5.0+ and iOS 9.0+) whenever you turn on Bluetooth on your phone. The process is seamless and unobtrusive.
The best you can get when you're not connected to the Wyze app is your weight and body fat. The LED lights up the second you step on the scales and promptly turns off after a few seconds to save battery, I guess. When I reviewed the Mi Scale, I had to lightly tap on the sensors with a foot to turn it on before I could do my measurements, so you can imagine what an upgrade the Wyze Scale is for me.
Based on our tests, the Wyze Scale has proved to be one of the most accurate scales we have reviewed to date. We tested this out extensively and noted that the measurements don't vary much when compared to analog scales and with pre measured weights.
Pregnant women and people who wear pacemakers can activate a Safe Mode in settings to disable Bioelectric Impedance Analysis (BIA) BIA uses a weak electric current to measure body fat percentage and could be a safety concern. Once turned off, the smart scale is dumbed down to a regular scale instead of a smart scale and only measures weight.
Read more
8 Unique Users
It's a feather in the Wyze cap that the scale supports up to 8 unique users. What's even better is that the data isn't shared, given how the scale is shared. You open the settings menu in the Wyze app, tap on share, 'Share with a new user' and then enter their email address.
The person you're sharing with will have to download their own Wyze app on their phone and accept the invitation to then hop onto the scale for their own private metrics.
It's reassuring to note that the scale is smart enough to differentiate users whenever they use the scale. In the event that the weight is roughly the same, you might be required to turn on Bluetooth and connect to the scale before stepping on it so as not to contaminate the metrics.
Advertisement - Continue reading below
Integration with Fitness apps
Wyze integration is a bit of a sore spot for Samsung Health users. Integration with Samsung Health has been 'coming soon' for some years now that it's fair to say it it will not happen anytime soon. That said, the Wyze Scale does sync with Apple Health, Google Fit and even Fitbit.
One of the few workarounds to sync Samsung Health to the Wyze Scale is to use some 3rd party apps like Health Sync (iOS and Android). This app syncs health data from the other apps like Google Fit and shares it with Samsung Health. Thanks Reddit!
Body Composition Analysis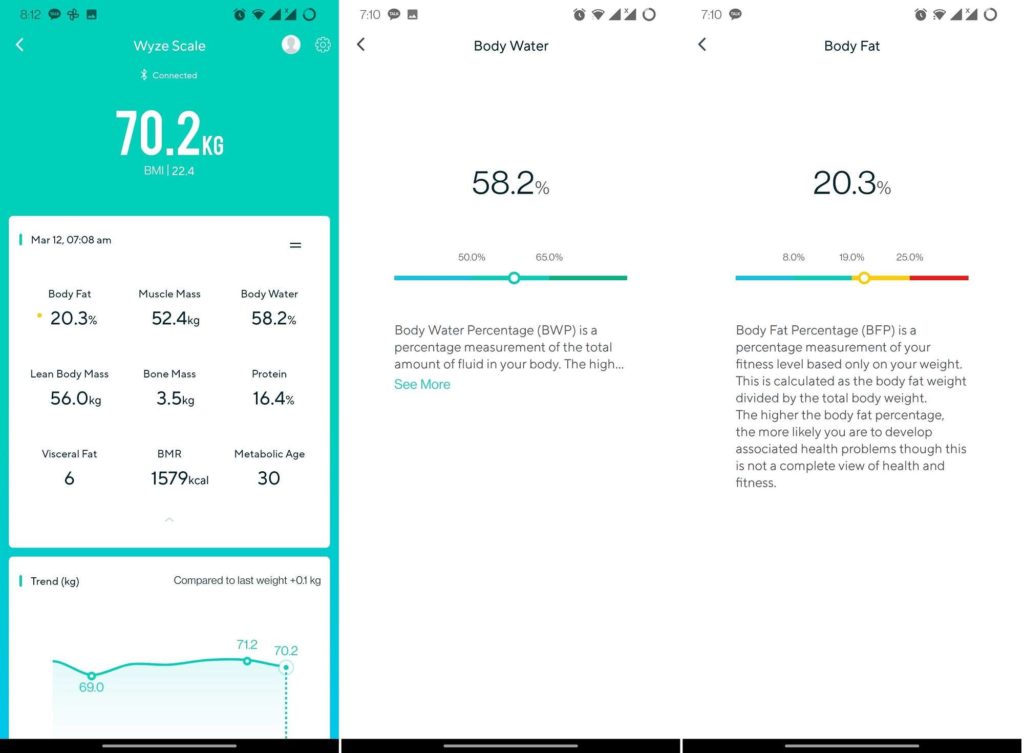 Body type and composition varies person to person. Smart scales might not be a definitive picture of a person's health as more knowledgeable people have mentioned, but it's half a loaf yeah? And the Wyze Scale's measurements aren't too shabby either, if I might add.
The Wyze Scale gives a contextualized look at your general health via a string of measurements like basal metabolic rate (MBR), BMI, body fat, body water, bone mass, lean body mass, metabolic age, muscle mass, protein, visceral fat and weight.
The one thing that totally failed for me was my heart beat. For some strange reason, my heart beats faster when I try to step on the scales. Just now it was 93 but usually is 83 on the scale. My normal heart rate is actually less than 73 from less stressful measurements.
Tapping on any of the metrics gives you an idea where you stand and some literature to better understand the figures you're looking at. My concern as a bonafide couch potato is my body fat which hovers around 20% or slightly below. It did throw a spanner in the works when I went for a wee and lost 1% body fat. What I learned from this is that the measurements are calculated from total body weight. If you go for a #1 or a #2, your body fat will definitely drop a fair degree.
Verdict
A contextualized approach to body measurements perhaps goes a ways in alleviating the anxiety associated with scales. The Wyze Scale gets top marks for its price ($19.19 + Shipping) or ( $33.98 + Free shipping on Amazon), 12-metric tracking, and integration with Google Fit, Apple Health and FitBit. The measurements are as accurate as it gets, although a person has to keep in mind that measurements can be skewed by a full belly and its byproduct.
The biggest problem could be Samsung Health users who have to jump through hoops to get the Wyze Scale to sync with their smartphones. Other than that, I'd say this scale gives the best value for money, hands down.
Advertisement - Continue reading below