If you're like me and can't resist the urge to jump on any scale to see how much your potbelly weighs, this is the one. The Mi Body Composition Scale 2 does all the things my old analog no-name scale couldn't and then some. Whereas before I had to dial the scale back to 0 before weighing in, the Mi Body Composition Scale 2 requires no such amateur fiddling around.
Setup? What setup? The Composition Scale 2 is basically touch-and-go. Slap in two pairs of AAA batteries in the belly and you'll be up and running that very instant. And if measuring your weight is your endgame, I'll have to say that you're all caught up.
Advertisement - Continue reading below
The Composition Scale 2 will accurately measure your weight whenever you step on the white tempered glass plate. It supports a weight of 100g~ 150kg with a minimum index of 50g. However, you need at least 5kg to activate the scale. The 4 batteries are good for about 8 months (I advise you get a reputable brand e.g Duracell or Energizer).
Since switching to the scale, I'll have to that it's definitely a step up from my old analog scale, what with the high-precision pressure sensors and 10 data points, terminologies we are going to dive into momentarily.
Design & Build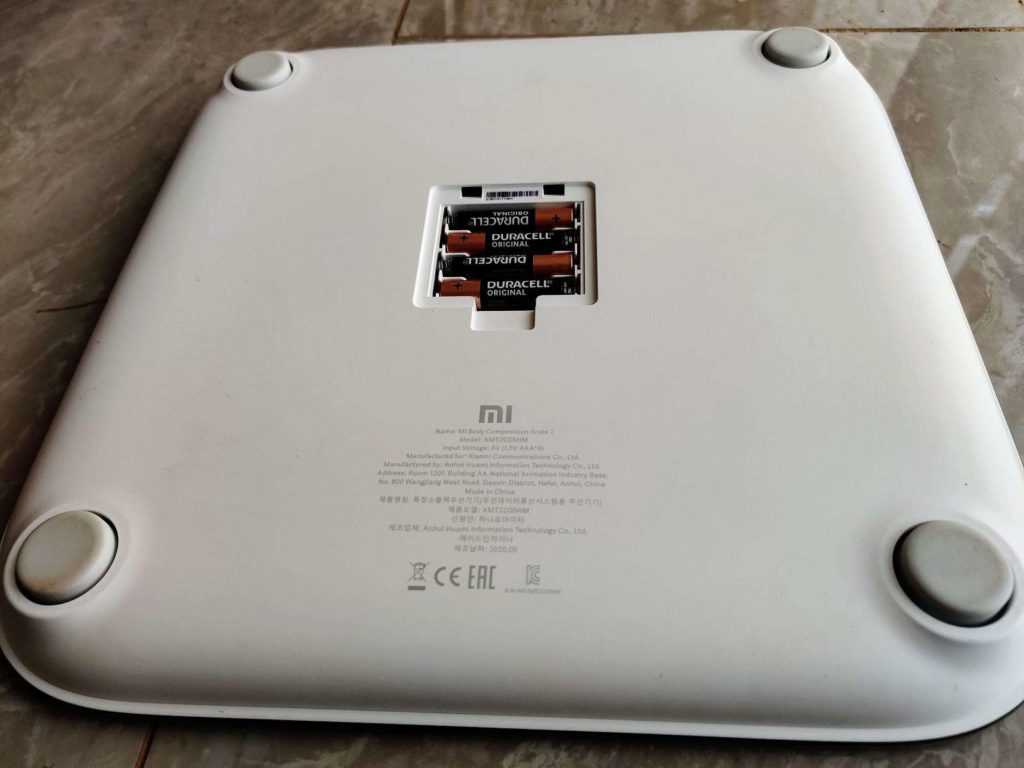 The Mi Body Composition Scale 2 is, for lack of a better word, squircle-shaped. That's basically a cross between a circle and a square achieving to my Android icon pack. The scale measures 30cm by 30 cm with a 2cm ground clearance.
As mentioned before, the top is thick tempered glass with four circular steel plates on the sides similar to Thor's body armor from the movies. The Mi logo is placed dead center for maximum visibility. As for the underside, it's white plastic supported by movable rubberized stumps. The batteries that power the scale go in the middle of an easily accessible compartment.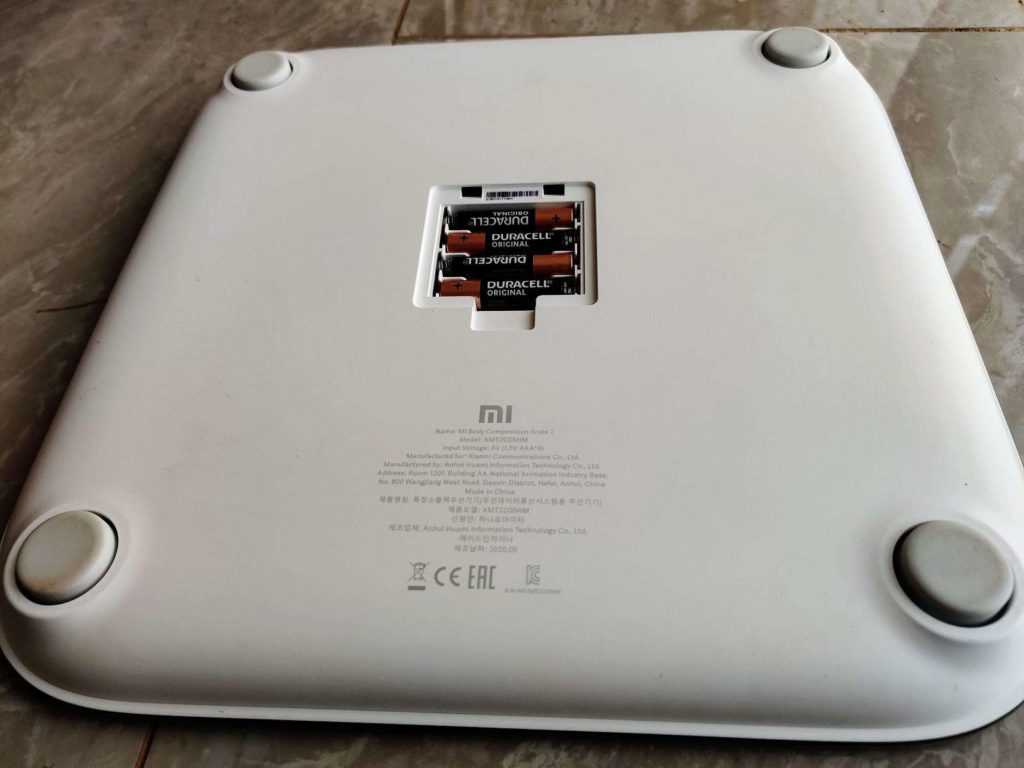 13 precise data points
To truly unlock the Mi Body Composition Scale 2, one needs to pair it up with Xiaomi's Mi Fit app available on Android and iOS. And those plates are not for the aesthetic but are rather stainless steel electrodes that harvest more precise personal data than just bodyweight.
This data comprises weight and body composition (body fat ratio, muscle mass, water ratio, basal metabolism, visceral fat level, bone mass, body type, BMI, and body score). When put together, these data points give you an inkling about your general health condition.
Advertisement - Continue reading below
Please note that to measure these advanced data points, one has to step on the scale barefooted. Skin contact with the steel plates works to activate the juju to do its magic. Conversely, when you step on the scale with shoes and you'll unfortunately only measure your body weight, which doesn't tell you much considering.
Companion app: Mi Fit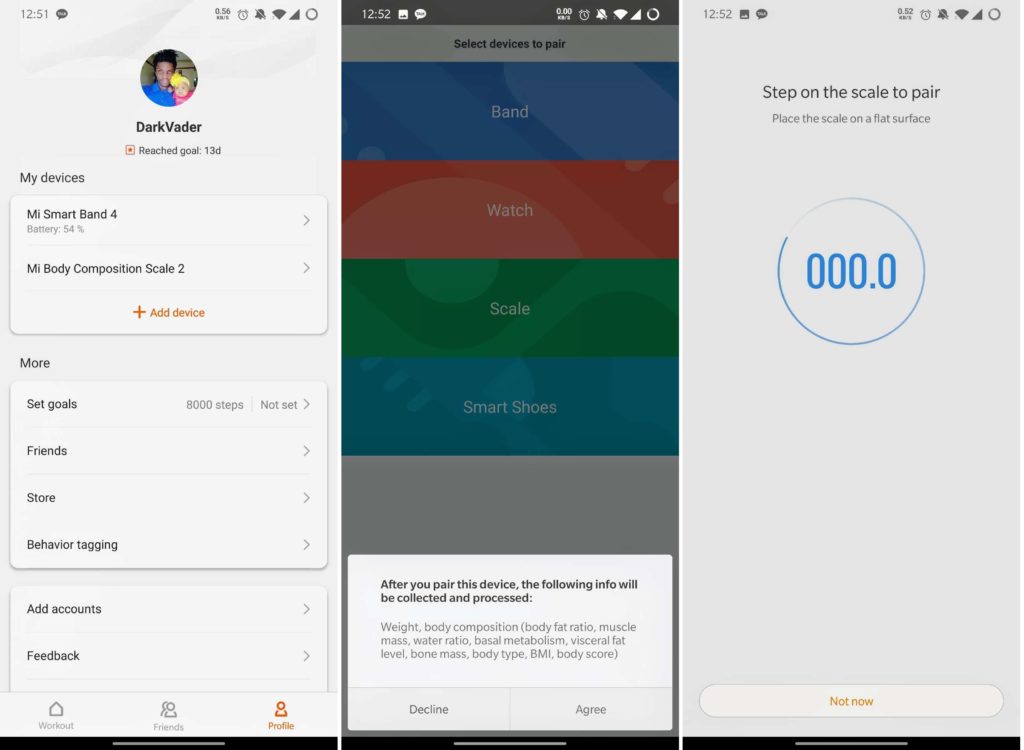 Our readers are no stranger to the Mi Fit app (available on Android and iOS). Xiaomi's versatile killer app has made numerous cameos in our reviews for the Mi band, the Amazfit Bip, and the GTS fitness trackers.
Add the Mi Body Composition Scale 2 to the mix and the sheer scale of information about your health and fitness at your disposal is astounding. Alongside data on your workouts or regular steps in a day, sleep cycle, and heart rate, you can also measure your balance, weight, and body score which is further broken down into minutiae.
Setup takes all of two minutes and I'm being generous. We won't go into the nitty-gritty here because, at this point in time, most people are well versed in the art of creating accounts. To skip ahead, once your Mi Fit app is all set; >>>Navigate to the Profile tab.
>>>Under My Devices, select 'Add device' and then tap on Scale. The Mi Fit app will throw you a kind reminder of the info that will be collected.
>>>Once you agree, turn on your Bluetooth and Location to find the scale.
>>>Step on the scale to activate it.

P.S: It's quite important to note that when you tap on your profile, you enter the correct gender, date of birth, and height so that the information you get from the Composition Scale 2 is accurate.
---
Read more:
---
Health data overview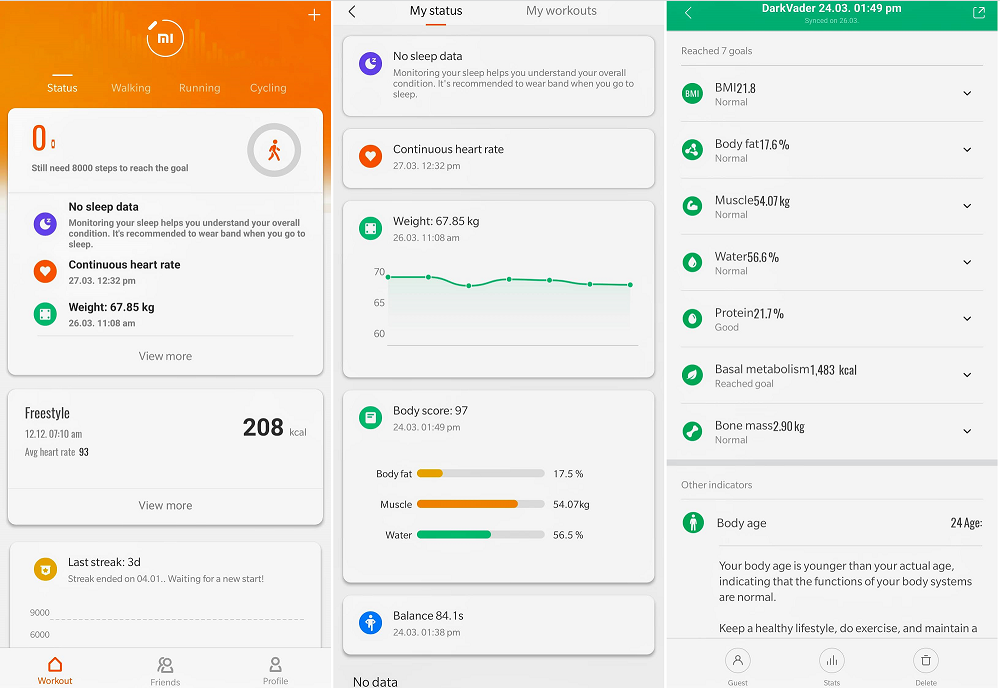 As it turns out, Xiaomi didn't just rip off Thor's armor to make a scale. The science behind the juju that makes the Mi Body Composition 2 scale work is something called Bioelectrical Impedance Analysis. It's paired with complex algorithms to take accurate readings when you step on the scales.
The little science I know about the measurements checks out. For instance I was able to stay balanced on my leg for 84.1 seconds, which the app rated as very good. People with better balance ability can stand longer (which I can).
I also had a body score of 97. I assume that indicates that I am the perfect image of health. Matter of fact, the Composition Scale 2 stroked my ego a little by showing that by all accounts, I have the body of a 24-year-old. If you must know, I haven't been 24 since the popular TV show by the same name called it quits. Even so, all my body system functions are normal for the most part. Overall, at 67.85kg, I have body fat amounting to only 17.5% of my body, muscle weighing in at 54kg, and water at 56.5% of my body weight.
Advertisement - Continue reading below
Going forward, I now have a template to aspire to. The app will continue monitoring this information and offer suggestions on how to stay in tiptop shape. For example, it hints that I have eaten too much protein (which I have) and should incorporate high-fiber vegetables into my diet as well. I also should drink more water (which I don't often do) and I totally agree.
Buy it or bin it?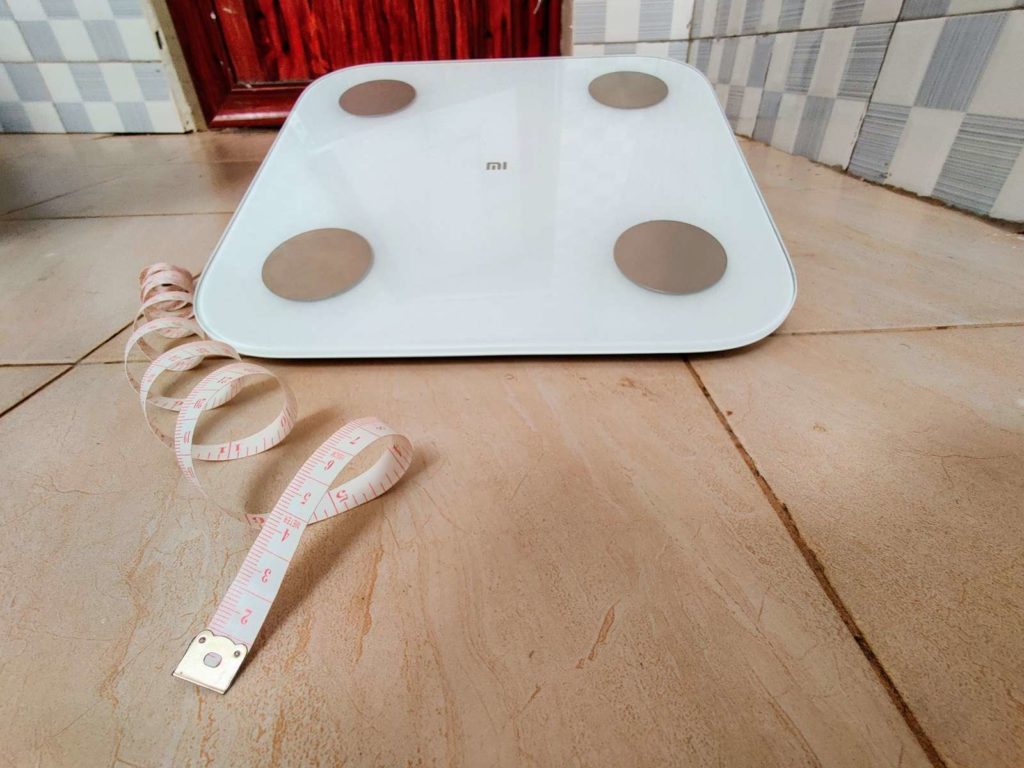 I would definitely buy the Body Composition Scale 2, especially since the outbreak of Covid -19 has nurtured a sedentary lifestyle. Like I said earlier I have this inexplicable urge to get measured whenever I see a scale. And with a smart scale, I get more information out of it than I would a regular scale.
I am a bit worried about the glass breaking accidentally but I guess only time will tell how durable the scale is. The advanced data I get is a welcome change from before when all I got was my body weight without context.
I like the added bonus that the whole family can keep a record of their health stats. Xiaomi claims that the Composition Scale 2 can automatically identify each user by weight and other metrics. It can store up to 16 user profiles and can identify children from adults.
Update: Take a look at our video review of this smart scale;
Price and where to buy
The Xiaomi Mi Body Composition Scale goes for $34 (UGX 220,000/NGN 22,800/KES 6590) on Amazon.com. Update: It's not discounted to just $19 on Amazon.
If you Live in Uganda, you can get it from Odukar Store at Ugx 230,000. They offer same-day delivery for customers in Kampala.
Advertisement - Continue reading below