An electric bike is not just a way to save money spent on fuel. It is also a way to get the right amount of exercise on a bicycle without pedaling excessively. Electric bikes are cool, fun, and very functional. They have these cool motors that make it easier to travel long distances on a bike.
However, since they are the new cool, there are electric bikes that go for as high as $4000. This can be quite pricey especially if you're looking to save costs by purchasing one. That's why in this article, we've compiled a list of durable electric bikes you can get on a budget along with their specifications.
Advertisement - Continue reading below
1. Aventon Soltera
Key Specifications
20 MPH top speed
41 miles average range
Integrated lights
Lightweight frame
36V 350W motor
5 levels pedal assist
Speed sensor
36V, 9.6Ah with LG cells
300 lbs maximum rider capacity
Price: $1,199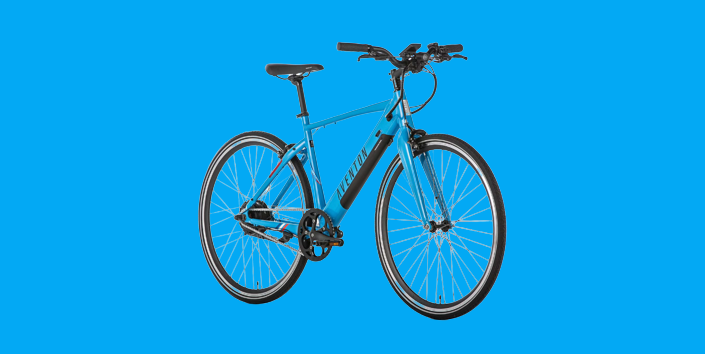 The Aventon Soltera is the best single-speed e-bike you can purchase. It's a durable yet lightweight investment that you can carry up the stairs. If you're also looking for a simple bike to move around, then this is the right option for you. Asides from being a comfortable model, the throttle is very helpful in ensuring that your bike doesn't hit a dead end. It's also the best bet if you need a bike that can carry a lot of weight.
Although it doesn't have any bells and advanced features, it compensates for this with easy controls and no-frills. The battery location in the down tube makes it look so sleek that you might not immediately realize that it's an electric bike. You can also bump it up to the 7-speed version for about $100.
2. RadRover 6 Plus
Key specification
750W motor
Blacklight LCD
25-45 miles per charge
Half twist throttle
48V charger and controller
589-672 Wh battery
275lbs maximum rider capability
Price: $1,599
Advertisement - Continue reading below
This e-bike has a lot of imitations and with good reason. It's a durable bike designed for rides against paved and unpaved roads. You can climb hills and move across intersections thanks to the 750W motor designed to ensure you go steeper at lower speeds. There are also helpful hydraulic-disc brakes to help you hit pause whenever you need to.
Another feature we love is the semi-integrated battery that interfaces with the 10-inch LED display so you know when you're running out of juice. Being the best fat-tire e-bike available, they are puncture-resistant so you're safe during adventures.
3. Velowave Electric Bike
Key specifications
750W Bafang Motor
48v 15Ah removable battery
26-inch fat tire
25-40 miles
7-speed
28MPH max speed
30olbs maximum load
Price: $1,599
This electric bike comes with a 48V LG battery that ensures you have longer rides of up to 40 miles when fully charged. You can even remove this battery and take it out with you when you need to charge. You also have a multi-functional LCD to tell you the battery percentage, speed, and other metrics while riding.
We love the hydraulic disc brake system and suspension fork that makes it an excellent ride for unpaved roads and speed bumps. Asides from the stability it offers, you have a bright front light so you can comfortably go on night rides.
4. Swagtron Swagcycle EB-7 Elite Plus
Key specifications
7 speed
16-inch wheels
Removable 36v Li-on battery
19-mile range
18.6 MPH
350W motor
265lbs maximum load
Price: $699
Advertisement - Continue reading below
If you commute a lot and you're on a budget, this bike is a reliable option that'll give you the control you need to tread paths. With 7 speeds gear shifts, you can move as fast or slow as you want. The 350W motor ensures it's always at peak performance and it has a throttle-only range of up to 18.6 miles. This bike also can cruise up to 18.6 mph and conquer 25 degrees inclines. So if you're looking for a bike with peak performance, this is a good investment.
Although the battery charges fast (3-4 hours), you can still grab a spare battery to swap whenever you're running out of juice. Since the battery has a secure compartment, you're sure that it won't be open to dust and splashes. Since it's also designed for rough commutes, it has durable tires, dual-disc brakes, and enough stopping power you can rely on. Unfortunately, this electric bike isn't foldable. However, it's lightweight and it comes with a handle you can hold when you need to carry it around.
5. Hurley Road Bicycles
Key Specifications
350W motor
Single speed
20 MPH speed limit
40 miles
28-inch wheel size
36V battery
300llbs maximum capacity
Price: $575.00
Looking for a mountain bike? The Hurley road electric bicycle is powered by 350 watts motor, a 36-volt ride assist and a throttle for that extra power you need. You can ride at a maximum speed of 20 mph and cover a distance of up to 40 miles. Being a very simple bike with a single-speed drive, it's also very easy to assemble. It comes 85% assembled for a quick and easy setup. You also have a digital display to help you track your speed and battery life. The only thing we didn't like about this bike is that the charging time was about 5-7 hours. This seemed a bit long especially since there are no spare batteries yet.
6. HeyBike Cityscape
Key Specifications
350W motor
40 miles of removable battery
7-speed
26 inches wheel size
36V 10Ah battery
40 miles
19MPH
3 working modes
Price: $799.00
As the name implies, this cityscape bike is perfect for commuters who want to simply explore their environs. It's easy to set up because it comes pre-assembled. With the 36V battery, you can travel up to 40 miles on a single charge using the pedal assist. The 350W rear drive motor also ensures that you have reliable support and 19MPH top speed. Thanks to the puncture-resistant tires, 7-speed, and dual shock absorber, you are sure to enjoy your riding experience.
Advertisement - Continue reading below
We also love the dual disc brakes and very functional lighting system. There are three working modes so sometimes, you don't even need to pedal. There's the throttle function for that. If you do prefer to pedal, there are pedal assists so you don't break a sweat while at it.
7. Schwinn Kettle Valley
Key Specifications
7 speed
375WH battery
250 watts pedal assist
Replaceable battery
Front Suspension
45 miles
Price: $ 1,699
This is another bike for commuting across the neighborhood. It has a 250 watts pedal assist hub drive motor that gives that extra boost when you need it. You also have access to a thumb pad controller that allows you to choose your preferred assistance levels. Unlike other e-bikes, this model comes with a 375-watt battery that can last up to 45 miles. It's also rechargeable so you can simply plug it in with any household outlet.
The design is sleek and while it's a bit heavy to carry around, it has a low step-through frame that makes it easy to get on and off for a comfortable mount. We also love the mechanical disc brakes that deliver superior and safe stops. The downsides are that you'd have to assemble the parts on your own and there's no throttle.
We hope you've found this article insightful and that you've been able to easily identify the right electric bike for your needs. Do let us know which of these e-bikes you'd be opting for in the comments below. Also, share this post with your friends and family so they can make an informed decision too.
Disclaimer: We might get a commission for some of the products we recommend here, but this doesn't affect our editorial policy
Advertisement - Continue reading below