One of the most notable features that came with Windows 11 is the ability to run android applications on the desktop officially. Initially, we used to do this through unofficial third-party emulators. This feature was first tested under the Windows Insider builds for months but it is now available to all users.
There however is a criterion that you have to meet before you are able to install and run Android apps on Windows 11. To start with, you need to be running on a Windows 11 system with Build 22000.526 or higher. Next, there are your computer's hardware requirements.
Advertisement - Continue reading below
If your computer meets the minimum hardware requirements you will then have to install a Windows Subsystem for Android (WSA) with the Amazon Appstore. You also need to check for and install any pending Windows updates before proceeding. Lastly, you will need to have hardware virtualization enabled.
This is necessary because Windows 11 runs Android apps on a virtual machine. After this, all android apps will work like any other native Windows app. Here is how to do it. But first, let us have a look at the WSA as well as the hardware you need to do it.
---
Also Read:
---
Windows Subsystem for Android (WSA)
The Windows Subsystem for Android is the magic working behind the scenes to facilitate Android apps to run on your Windows 11 device. Windows 11 is set up to automatically install the WSA in the background without your knowledge whenever you install the Amazon Appstore from the Microsoft Store.
This will also happen automatically in the background whenever you install an Android app from the Microsoft Store for the first time. This is because Windows 11 will start by installing the Amazon Appstore before installing your Android app.
Minimum System Requirements
To check the system properties for your current system, open the task manager by pressing Ctrl+Shift+Esc and selecting the Performance tab. From here you can see detailed information about your RAM, CPU, and storage. Below is the minimum required specification. This is where you will also check if hardware virtualization is enabled. This also means if you have better hardware than specified below, you are better off.
Advertisement - Continue reading below
RAM: You need at least 8GB of RAM but 16GB is the recommended quantity.
CPU: Intel Core i3 8th Gen or AMD Ryzen 3000 or Qualcomm Snapdragon 8c.
Storage: You need a Solid State Drive (SSD), HDDs are not supported.
If your Hardware virtualization is not enabled, head over to your computer's UEFI firmware (BIOS) and check for Intel VT-X or AMD-V then turn it on.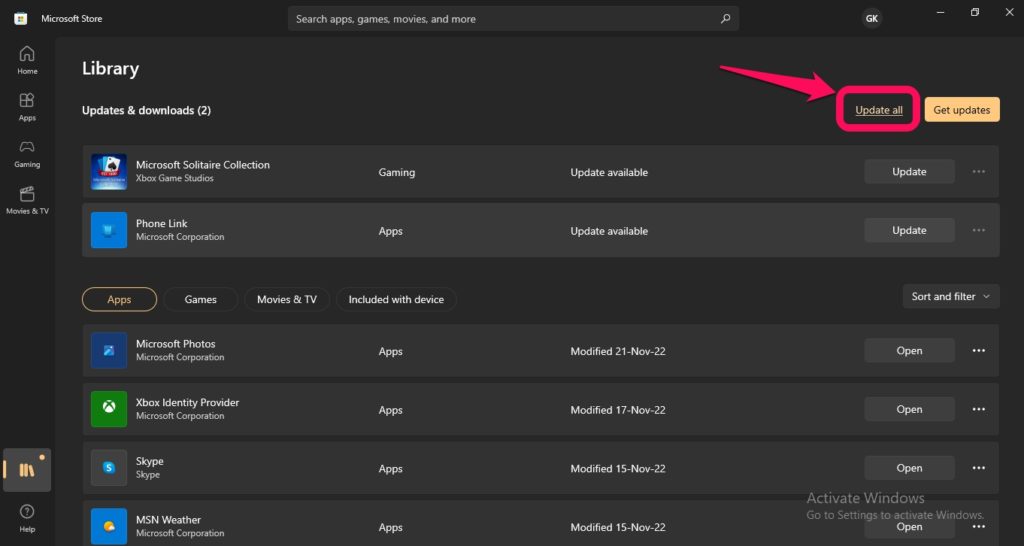 Next, make sure that your Microsoft store is on its latest version. To confirm this, open the Microsoft Store, go to the library page, and update all apps. It is a good idea to restart your computer at this point especially if you have installed any updates.
---
Also Read:
---
Step By Step Guide To Install Android Apps on Windows 11
First, we need to enable the Virtual Machine platform and Windows Hypervisor Platform
Open the start menu, search for the control panel and open it.
Select the Programs section
Click Turn Windows features on or off.
Scroll down and find both Virtual Machine Platform and Windows Hypervisor Platform
Next, tick the boxes next to both of them and click OK to enable them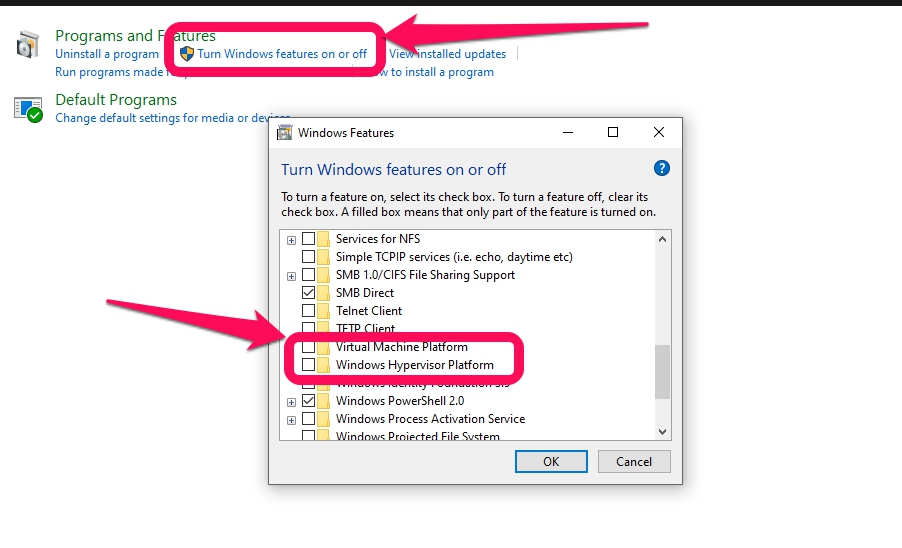 Now we Install the Amazon Appstore:
Open the Microsoft Store by pressing the Windows key on your keyboard and typing Microsoft Store.
In the Microsoft Store, search for Amazon Appstore and Install it through the setup prompts. The last step will prompt you to restart your PC, do it.
After restarting, the Amazon Appstore will open automatically. If it doesn't, find the just-installed Amazon Appstore from the start menu and open it.
At this point, you need to log in to the Amazon Appstore, that is if you already have an amazon account. If you don't have one, go ahead and create an Amazon account.
After you log in you will realize that it works just like any other app store. You can browse through or search for any Android apps you like and install them.
After installation, these Android apps can be found in the Start Menu like any other Windows app. You can even pin them on the taskbar if you like
Regions With Support for The Amazon Appstore
A caveat here is that the Amazon App store is available worldwide, and can only be used in a limited number of countries and regions so far. These countries and regions supported as of now include; Andorra, Australia, Austria, Canada, Christmas Island, Cocos (Keeling) Islands, Cook Islands, Belgium, France, Germany, Gibraltar, Guernsey, Heard and McDonald Islands, Ireland, Isle of Man, Italy, Japan, Jersey, Liechtenstein, Luxembourg, Monaco, New Zealand, Niue, Norfolk Island, San Marino, Spain, Switzerland, Tokelau, United Kingdom, United States, and Vatican City.
That's all you need to know in order to install Android apps on your Windows 11 computer. It should go without saying that even Android games will work. What Android apps or games can you not wait to install and use on your Windows PC? Go ahead and let us know via the comments section below.
Featured Image Credit: techbriefly.com
Advertisement - Continue reading below