Are you a budding entrepreneur or just looking to share your hobbies with the world? Whatever the reason, creating a website is a great way to showcase your skills and passions. And the best part? You don't have to break the bank to do it. Thanks to Google Sites, you can create and host a website for free, without any coding or technical know-how.
There is a number of caveats to using Google Sites over other website builders like Webflow and WordPress. From having fewer features and templates to choose from to being a one-page website without links to other pages. In this article, we'll walk you through the process of using Google Sites to bring your website dreams to life, show you how to link it with a custom domain, and the perks of using Google Sites. Let's get started with it, shall we?
Advertisement - Continue reading below
What is Google Sites
Google Sites is free a website builder and web hosting service from Google that allows users to create and host websites easily. It is especially helpful for those starting out and having a shoestring budget.
Google Sites allows users to customize the look and feel of their site, add pages, upload images and videos, embed content from other websites, and more. It also provides templates that can be used to quickly create a website with all the necessary features. With its easy-to-use interface and powerful features, Google Sites is an ideal choice for creating professional-looking websites without spending any money.
Getting Started with Google Sites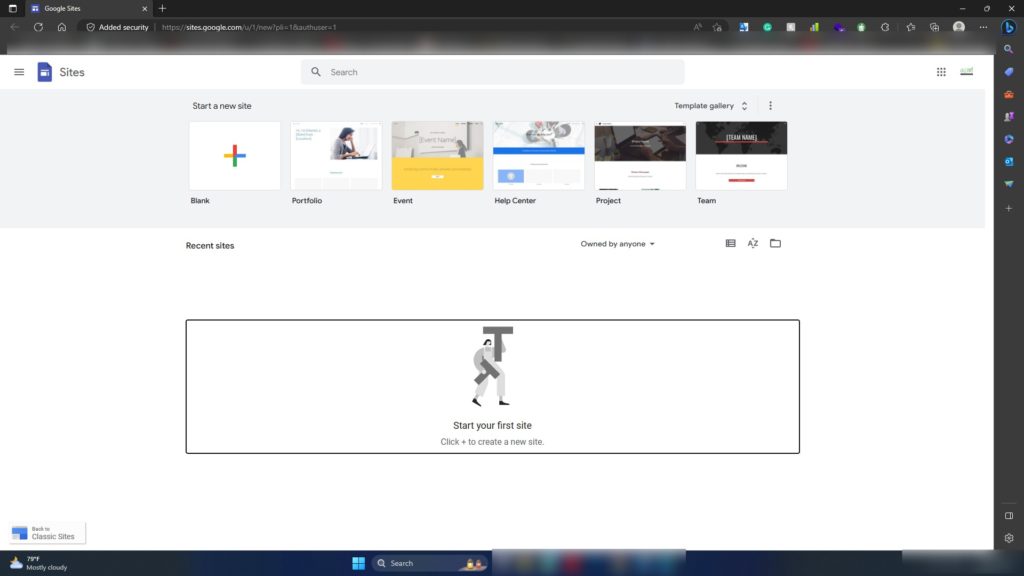 Just like any other Google product, the first thing you'll need is a Google account to use this tool.
In order to use Google Sites, it is necessary to have a Gmail account. This means that if you don't already have a Google account, you will need to sign up for one.
Once you have created your Google account, you can proceed to sites.google.com and begin to familiarize yourself with the interface. You will be greeted with a blank page and a call to create your website.
The platform has been designed with simplicity and intuitiveness in mind, making it easy to create websites even for those with little or no prior experience. The interface is user-friendly and straightforward, so you should be able to get started with creating your website without too much difficulty.
---
READ ALSO: A Guide to Compressing Your Google Photos
---
Creating Your Website with Google Sites
Now that you have become acquainted with the interface, it is time to start developing your website. Google Sites presents a variety of templates for you to choose from, which will enable you to select the most suitable one. After selecting a template, you may personalize it to your liking, which includes modifying the layout, adding content, and utilizing the editing tools to achieve the exact look you desire for your website
The list of templates you can choose from is thirteen and this includes:
Advertisement - Continue reading below
Education Category
Student Portfolio
Club
Class
Small Business Category
Dog Walker
Holiday Party
Photo Portfolio
Restaurant
Salon
Wedding
Student Portfolio
Work Category
Team
Project
Help Center
Event
Personal Category
Publishing and Sharing Your Website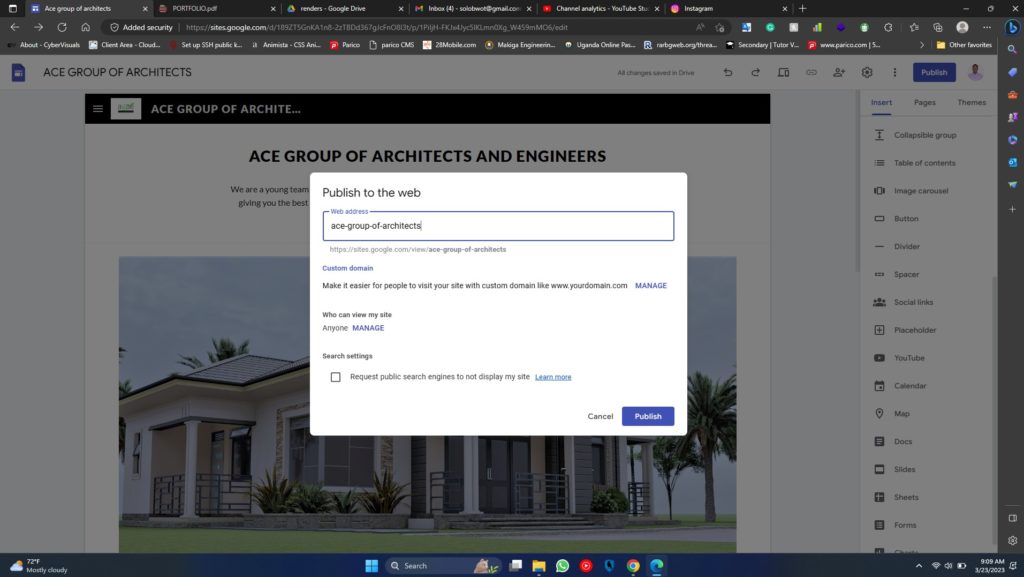 Once you've created your website, it's time to share it with the world. Google Sites lets you publish your website for free, with no additional costs or hidden fees. You can even set up a custom domain name, so your website has a professional look and feel. And if you want to share your website with friends, family, or potential customers, you can do that too. Google Sites makes it so You can easily share your website via social media, email, or even QR codes.
If you're a more advanced user, this is where the problem starts but break no sweat, there are plenty of advanced features to help you take your website to the next level. For example, you can integrate Google Analytics to track website traffic and gain insights into how your visitors interact with your site. The only downside is you can not add custom HTML, CSS, and JavaScript to your website.
Check out this website I built for an Architect friend of mine when writing about this article. I used one of the templates and edited it to showcase his projects, contacts, and links to his social media pages.
If you have no budget for a professional web designer and want a quick DIY platform to build a website, Google Sites is the perfect place for you. It is a fantastic tool for anyone looking to create and host a website for free. It's easy to use, customizable, and packed with features to help you start your digital footprint journey.
Let us know in the comment section if you have ever tried out Google Sites and the list of the features and themes or elements you liked while using it.