With over 2 billion active users, WhatsApp is the most popular, and most used instant messaging app in the world, at the moment. Because it is a very effective and seamless app for messaging, a lot of people rely on it for personal and business communications: to send text messages, videos, pictures, as well as voice messages.
Now, even though a lot of smartphone brands support dual SIM slots, which allow users to have two phone numbers dedicated to different things, WhatsApp doesn't officially support having two WhatsApp accounts on the same smartphone (except if you download WhatsApp Business). This means, if both numbers are registered on WhatsApp, you can only use one of them for WhatsApp on your smartphone.
Advertisement - Continue reading below
But thankfully, Samsung has provided a way around this for its users, with its Dual Messenger feature. This feature allows users to enable WhatsApp for both phone numbers on a Samsung smartphone, and use two WhatsApp accounts simultaneously.
How to set up two WhatsApp Accounts on a Samsung Phone
Navigate to Settings on your Samsung smartphone.
Tap on Advanced Features, then Dual Messenger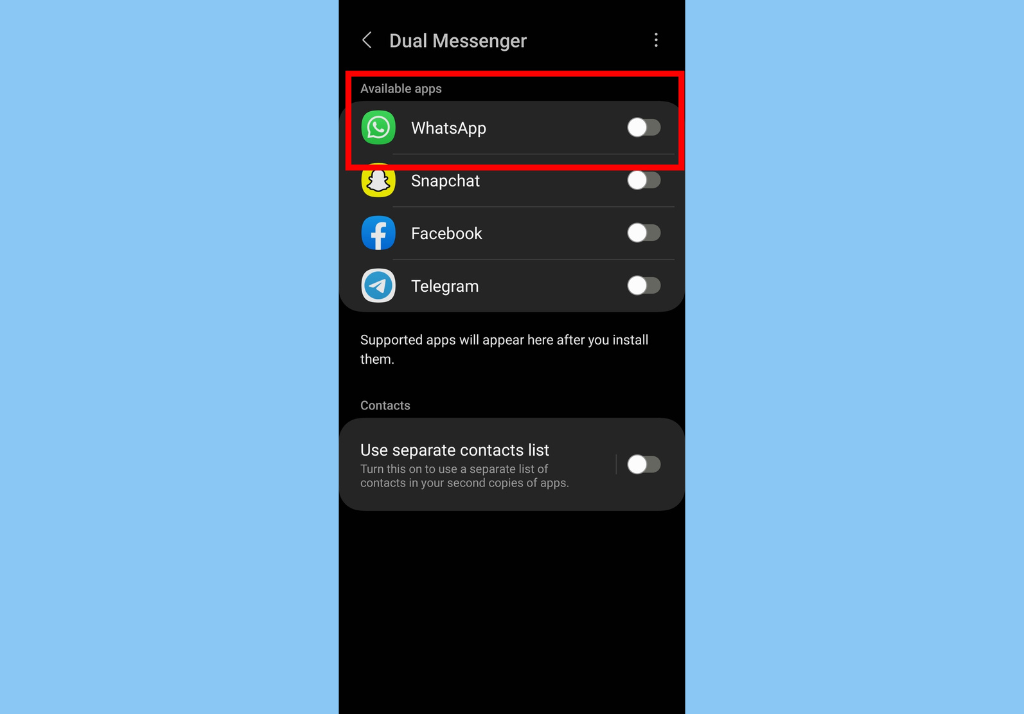 You'll then need to Enable Dual Messenger for your preferred app. Toggle the switch for WhatsApp to use a separate account.
Tap Install and then Confirm
Once that is done, you'll then be able to sign into another WhatsApp account in the second copy of the app.
---
Related:
---
A Few Things to Keep in Mind
You need a Samsung Galaxy smartphone to access the Dual Messenger feature
Both SIMs must be linked to different WhatsApp accounts
If you delete the first WhatsApp application from your phone, the second WhatsApp application will be deleted automatically.
Finally, you should keep in mind that some WhatsApp features might be restricted on the second WhatsApp account.