With the Fifa World Cup 2022 set to kick off in less than 5 days, Google is also gearing up for the tournament. To make sure you get the best possible results from the search engine, new features specific to this year's World Cup have been developed. They have integrated several new features into the Google Search Engine to make sure you are not left out of any major moments.
Football fans worldwide will be delighted to know that they can enable push notifications when goals are scored. They can also view match highlights for games they missed as well as see team lineups before kickoff and even play online multiplayer games. Just to mention a few. In this post, we will highlight ten such features that Google has added to enhance the fans' experience during the 2022 World Cup.
Advertisement - Continue reading below
---
Also Read:
---
1. Notifications
With this new feature, you can search "World Cup" and the latest matches will show up where you can follow your favorite teams. To opt into following your favorite team tap on the notification bell in the top right corner. You will now receive push notifications from starting lineups to more in-depth statistics like who is dominating the game, and who is likely to win among others.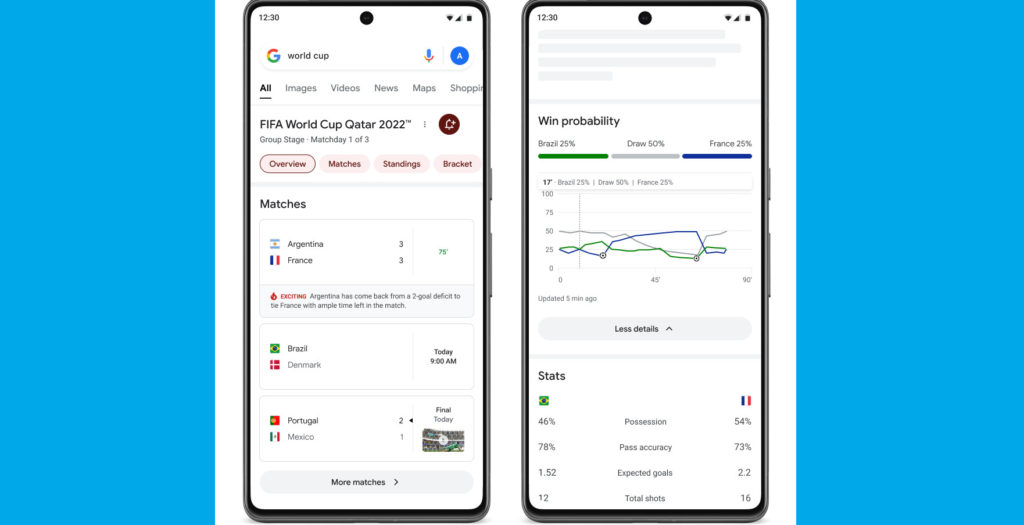 2. Pin The Score
Are you too busy to watch every minute of the game live? With this feature, you get to pin the scores on your android phone so that you are up to date every minute of the 90′. To do this, simply click on the game you would like to follow and move it to any place you want it on your screen.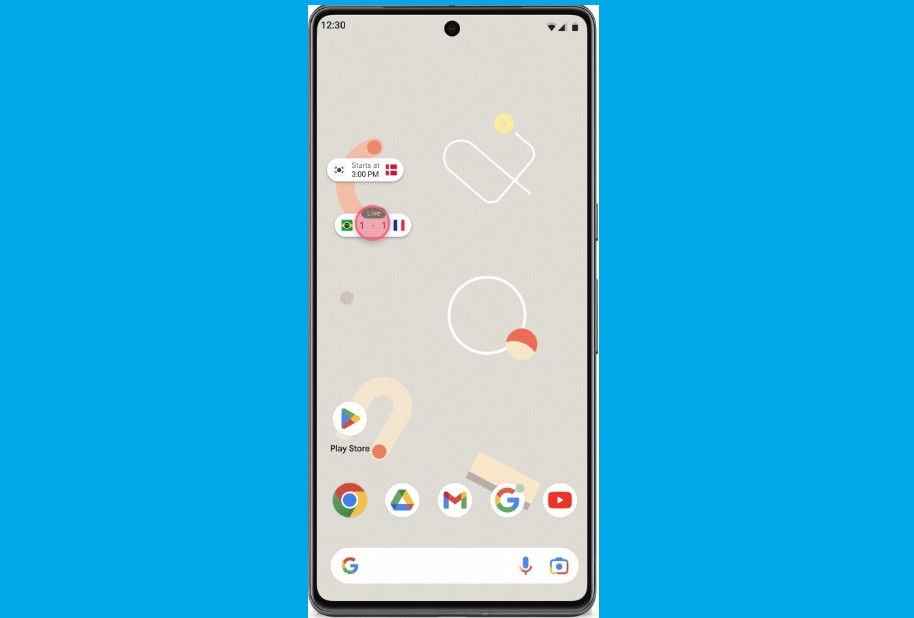 ---
Also Read:
---
3. Catch All Highlights
Google will also allow you to get all the best moments of the game from goals to near misses and VAR moments. With this, there will be daily videos to recap the past day's games courtesy of FIFA+ and licensed broadcasters like ZDF, BBC, and beIN SPORTS.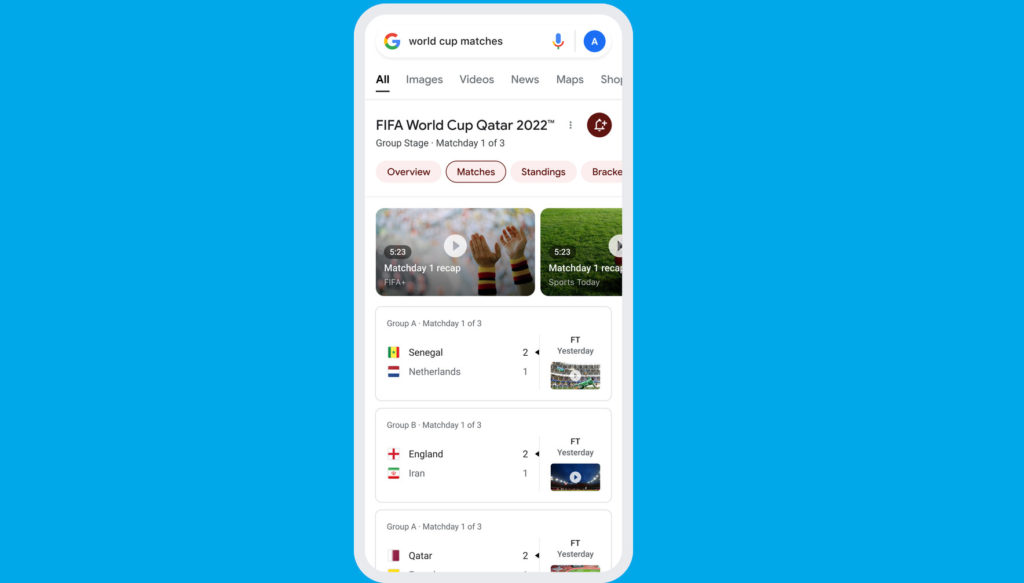 4. Check The Statistics of Your Favourite Players
You can even go further and check up on your favorite player's achievements and stories. Since the 32-country tournament is all about communal cohesiveness, you can look up players and rate them. You get to rate them based on how you think they will perform in oncoming games. Then you can compare your rating against other fans' ratings.
Advertisement - Continue reading below
---
Also Read:
---
5. Google Has a Multiplayer Online Game For The 2022 World Cup
There will also be a multiplayer virtual game among fans from across the globe. Essentially you will work together with other fans to help your team score the most goals in a virtual competition. This will be possible as soon as a real-life match is set to start and the virtual game ends as soon as the real game ends.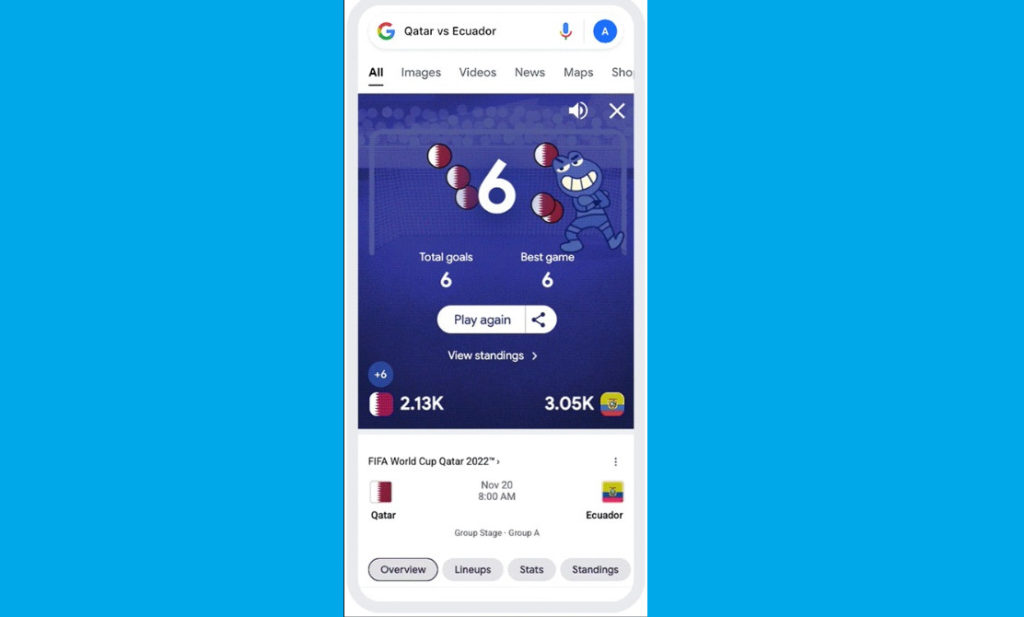 6. Google Lets You Watch the 2022 World Cup Live Matches on YouTube
Through YouTube, and courtesy of FIFA and other authorized broadcasters, you will be able to rewatch the most exciting moments of each game. As soon as the tournament kick-off, YouTube TV subscribers will watch live World Cup games via FOX and FS1. Subscribers of the 4K Plus package will be able to see all 64 matches in UHD.
---
Also Read:
---
7. Google TV
Google TV has also been tweaked to enable you to be part of the entire tournament. All the way from the group stages to the final match. On your "For You" tab you will find links to jump you straight into the live action. There is also a new row that helps you explore live games, highlights, recaps, and much more from the World Cup through various broadcasters.
All these updates are readily available on the new Chromecast with Google TV. And also other devices including but not limited to TCL, Sony, Philips, and Hisense.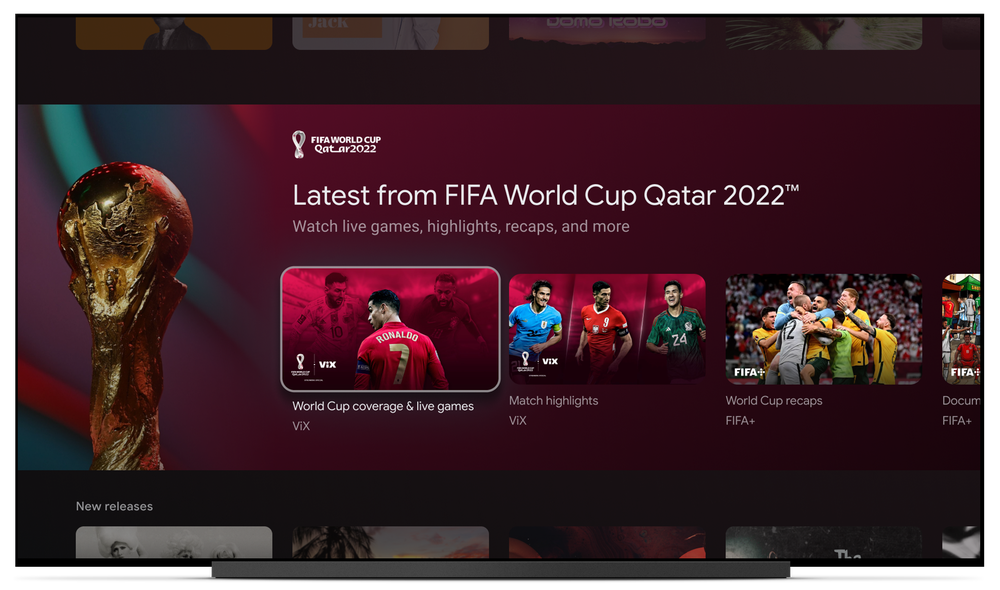 8. Google Will Help You Know Where To Watch 2022 World Cup Matches
Football is a game enjoyed best together with friends and other fans. And for that reason, Google has a feature just for us hardcore fans. By simply searching "Where to watch the world cup near me" you will be presented with venues near you where you can join other fans. However, business owners of such establishments are advised to review their local laws on showing sports events publicly.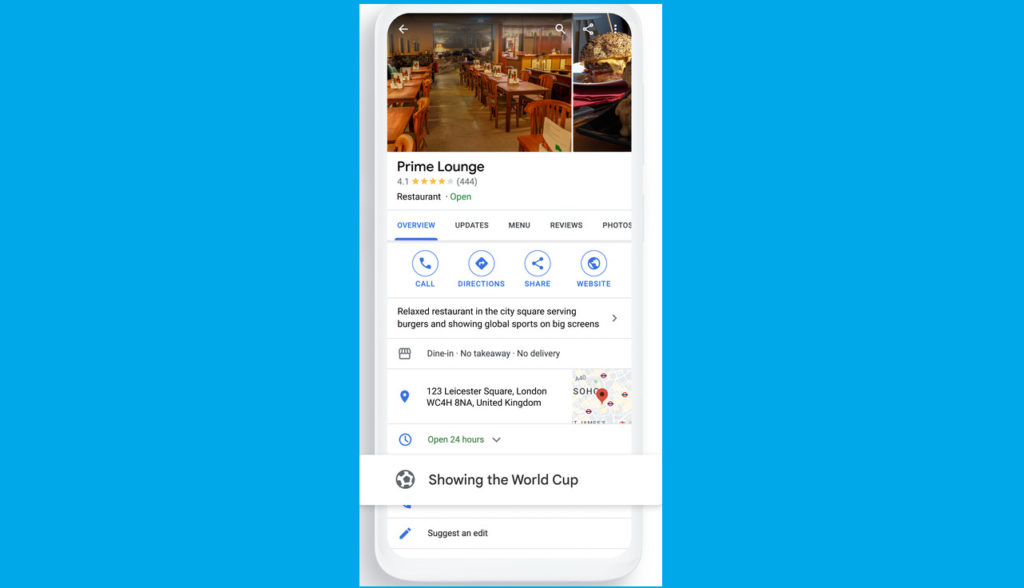 ---
Also Read:
---
9. Countdown With Google Watch
With Google Wear OS on Google watch, you will be able to check your game viewing plans on your calendar as well as ask for a reminder to be set for upcoming games. You will also get pre-game data like team lineups and player profiles on your smartwatch. In-game data will also be displayed such as when a team scores, the watch will animate. Rest assured you will not miss a goal. This applies to all watches running on Google's Wear OS, not just Google Watches.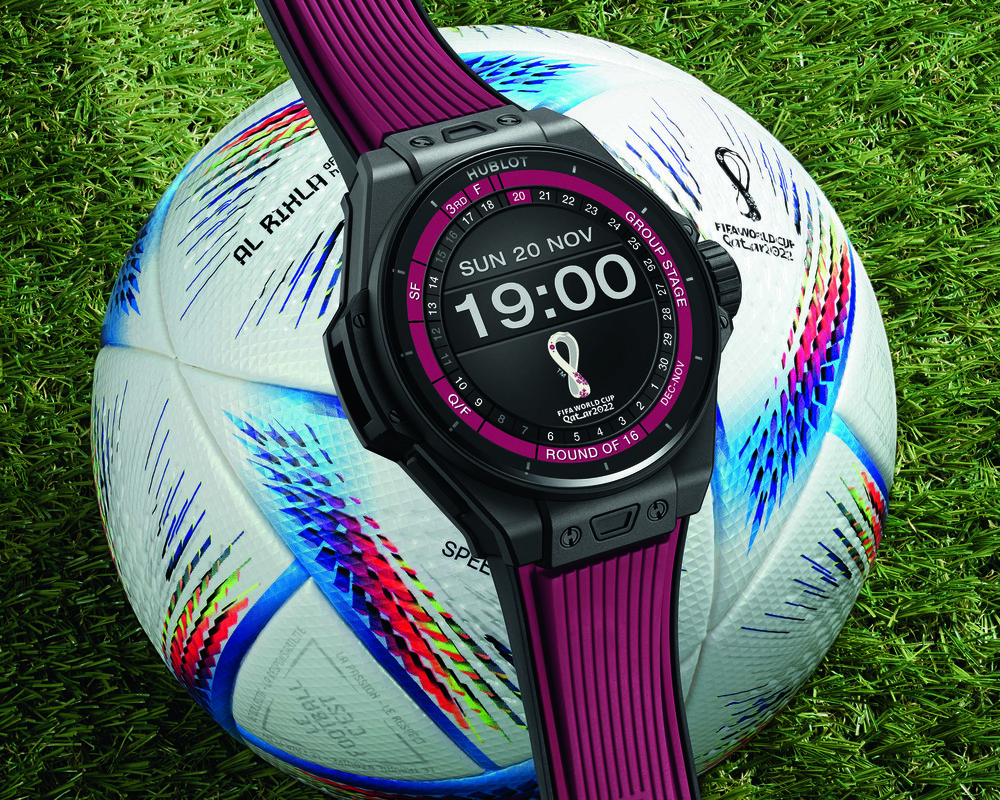 10. Google Assistant
Google Assistant has not been left behind as it has added a collection of football statistics. You can prompt Google Assistant by saying: "Give me a soccer fun fact". You will then get information like the number of stadiums prepared by the host country. Also, you can also engage the assistant in a chat with "Do you like soccer?" or even celebrate a goal together by saying "Say goal!"
Advertisement - Continue reading below
With all the above Google features, your 2022 World Cup experience is bound to be better than ever. What other features do you wish had been added? Kindly go ahead and let us know in the comments section below.