Google I/O 2023 has just been concluded and exciting announcements we did get. Today, Google has announced a new feature for its AI chatbot Bard: the ability to generate AI art using Adobe Firefly, a cloud-based creative platform.
The AI war has escalated quickly with OpenAI taking the industry by storm, and Microsoft basking in the glory, all to the peril of Google all eyes were on the Mountain View company leading up to the Google I/O 2023 to see what the company had to say in light of recent developments. Google Bard, the experimental chatbot, was on the hot seat, and aside from being opened to the masses and not being hidden behind a waitlist, it learned a few tricks.
Advertisement - Continue reading below
On top of Bard's ability to generate text based on your prompts, you will be happy to hear that it has a new feature: AI art generation. Thanks to a partnership with Adobe, Google Bard can now use Adobe Firefly, a generative AI tool that can create images from text descriptions. This means that you can ask Bard to show you an image of anything you can imagine, and Firefly will try to make it happen.
---
Related:
---
How does it work?
To use this feature, you simply need to type your image description in the Bard chatbox, and Bard will respond with an image generated by Firefly. For example, you could type "a cute unicorn and a cake at a kids' party" and get something like this: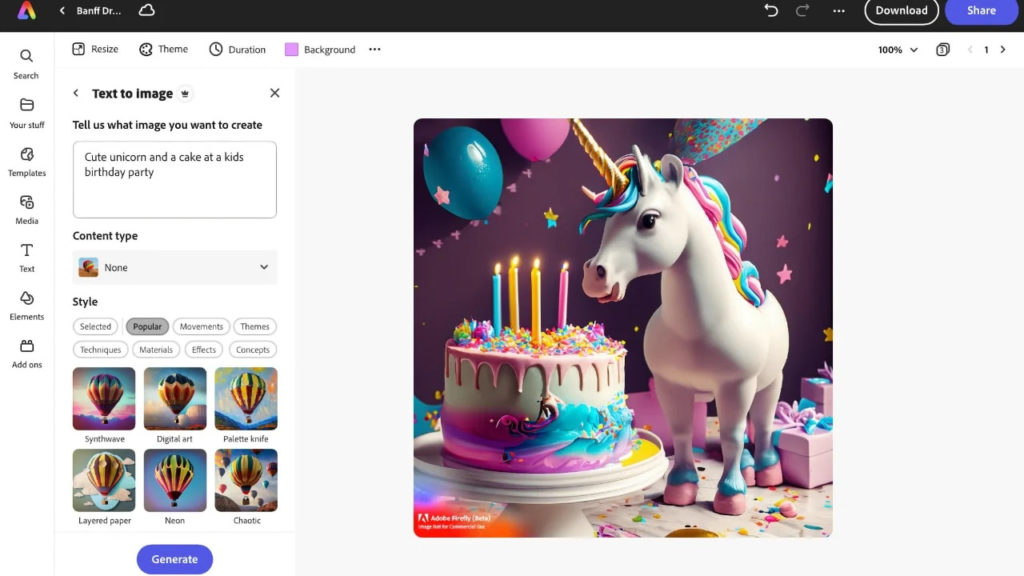 You can also use more abstract or creative descriptions, such as "a surreal landscape with floating islands and waterfalls" or "a portrait of me as a superhero". Firefly will use its neural network to interpret your text and produce an image that matches it as closely as possible.
What can you do with the images?
The images generated by Firefly are not just for fun. You can also use them for various purposes, such as:
Inspiration: If you are looking for some ideas for your next project, you can use Bard and Firefly to generate some images that spark your creativity. You can also ask Bard to give you some feedback or suggestions on how to improve your work.
Education: If you are learning about a topic or teaching someone else, you can use Bard and Firefly to create visual aids that illustrate your points. You can also ask Bard to explain the concepts behind the images or quiz you on them.
Entertainment: If you are bored or want to have some fun, you can use Bard and Firefly to create some amusing or surprising images. You can also ask Bard to tell you a story or a joke based on the images or play a game with them.
---
Related:
Advertisement - Continue reading below
---
How can you edit the images?
The images generated by Firefly are not final. You can also edit them within Bard using another Adobe tool: Adobe Express. Express is a creative suite that allows you to quickly create and modify content like social posts, videos, flyers, logos, and more. You can access Express from Bard by clicking on the edit button below the image. This will open a new window where you can use Express's editing tools to adjust the image as you see fit.
For example, you could change the color, brightness, contrast, crop, rotate, add filters, stickers, text, shapes, and more. You can also use Express's templates or create your own from scratch. Once you are done editing, you can save the image to your device or share it online.
---
Related:
---
Why should you try it?
Bard and Firefly are two of the most advanced generative AI tools available today. They offer a unique way to interact with AI and explore your creativity. By combining text and image generation, they enable you to create anything you can think of and see it come to life. They also provide a fun and easy way to learn about AI and how it works.
If you want to try this feature yourself, you can visit the Google Bard experiment page and start chatting with Bard. However, this might not be available for everyone just yet so be patient as Google tools it out.
You can also check out some examples of images generated by Firefly on the Adobe blog. And if you have any feedback or suggestions for Bard and Firefly, you can share them with Google and Adobe through their respective channels.