The Google Pixel Watch is Google's first attempt at the smartwatch space and while they've been in the business of making Android for smartphones and Wear OS for companion watches, they've not been making their own watches until 2022.
While the Pixel Watch 2 is already out at this point, it is a little hard to get your hands on the same around these parts of the world and I had to jump through a couple of hoops just to get my hands on a unit here in Kenya.
Advertisement - Continue reading below
Unboxing
The Google Pixel Watch comes in two variants, an LTE model that uses eSIM and the WiFi version. I got the WiFi version and this is what comes in the box.
1x Google Pixel Watch
1x Charging Cable with USB-C on one side and a wireless, magnetic charging cradle on the other
1x User Guide
1x Short watch strap for persons with smaller wrists.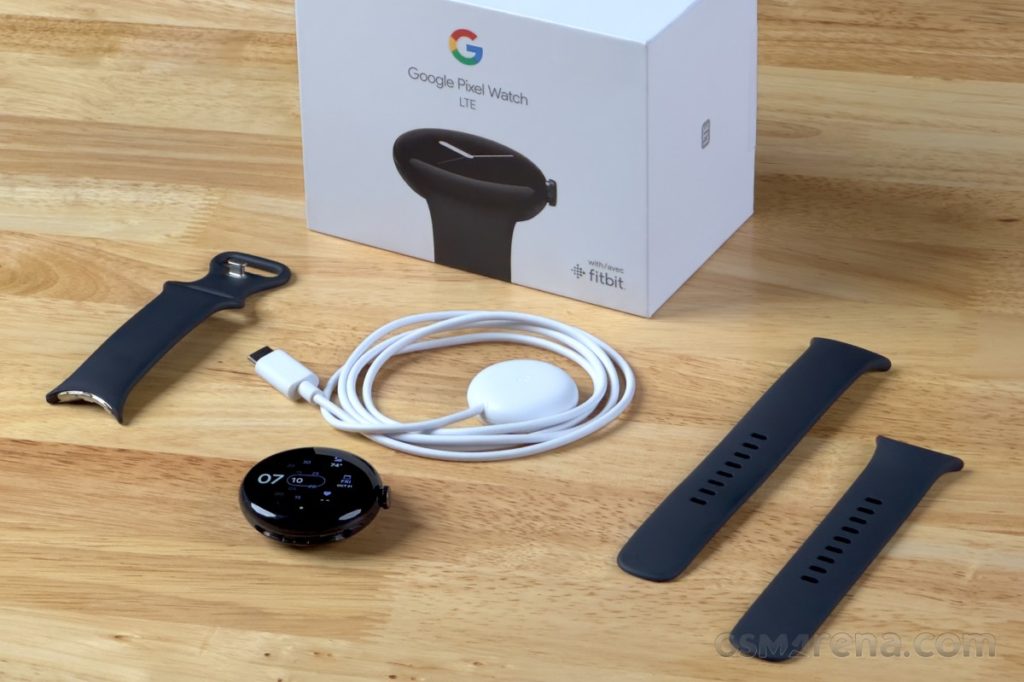 First Impressions
My current daily driver is the Oraimo Watch 3 Pro but I find myself using the Xiaomi Smart Band 8 just as much. The Pixel Watch is a 41mm watch with a smooth curved screen that makes the watch look very classy, more polished than anything I have used.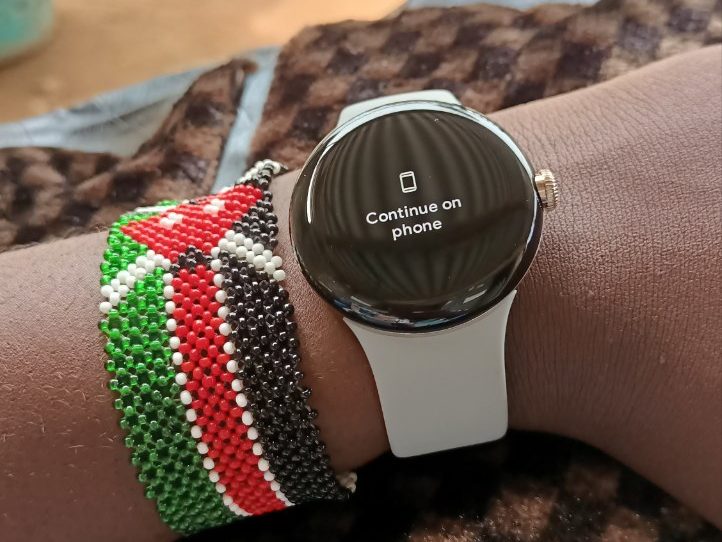 I used the shorter strap that is included in the box for a more compact fit on my wrist and I have to say, it fits rather comfortably. I got the Gold version with light blue straps, a nice change from the black-on-black wearables I have.
You can only use an Android for the setup
Unsurprisingly, you will need an Android device to set up the Google Pixel Watch. I don't have an iPhone so I cannot try that out to see what error message you get.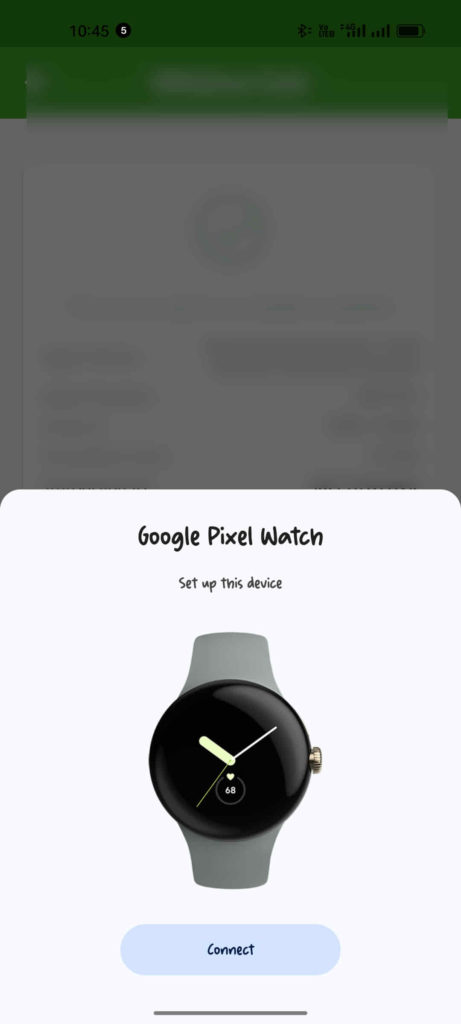 The Google Pixel Watch supports fast pairing. This means that once you power it on next to your Android device, you should see a pop-up prompting you to proceed with your setup process.
Advertisement - Continue reading below
Alternatively, you can power up your Pixel Watch and then call up your Google Assistant on your phone, asking it to help you set up your watch. Just say 'Okay Google, Set up my device'.
---
Related:
How to Set up the Google Pixel Watch
---
First thoughts
I have the watch running on Wear OS 4 and this is my first time experiencing this platform. The software is feature-rich with familiar Android-like menus and Settings adorning the experience. Google Play Store is available and a good number of the apps that I already have on my phone are available here.
WhatsApp, Google Maps, Spotify and many more are here. The watch does have WiFi so I am able to do a lot without even having my phone on me. I can connect my TWS and go out on a run while jamming to my playlist with little to no fuss.
The watch charges fairly quickly via the magnetic wireless charging cradle that is included. However, the battery life leaves a lot to be desired. Coming from the Huawei Band 8 and Xiaomi Smart Band 8, the Pixel Watch's battery endurance feels wrong; broken even.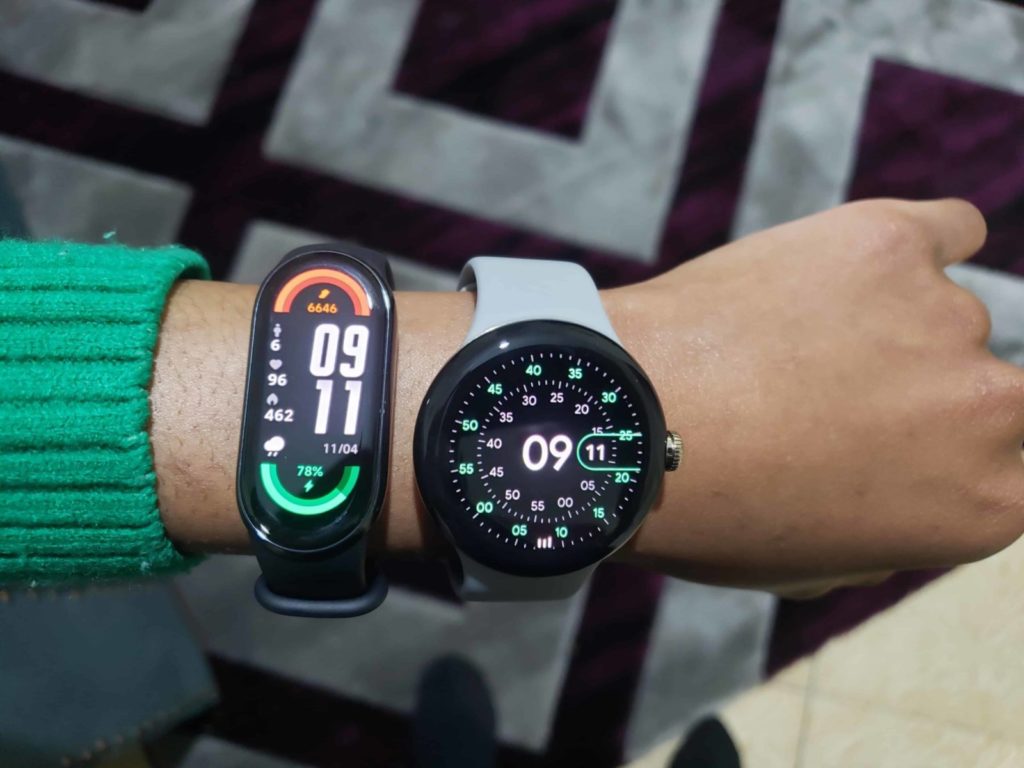 The watch looks good, with smooth curved glass on the front, making it feel delicate like I am moments away from cracking it while going about my daily activities. It feels really classy. It is 41mm and for my skinny wrists, it fits perfectly.
I will continue using it for a sometime and document my experience so stay tuned for a full review and a few more posts so stay tuned. Do you have a question on the Pixel Watch? Leave a comment and we shall cover it in the full review.
Advertisement - Continue reading below