Having earlier launched in South Africa, Kenya, Tanzania and Egypt, today, Uber officially launched in Uganda at a press briefing held at the Kampala Serena Hotel. We earlier wrote an "All you need to know about Uber in Uganda" that is a good guide for those who want to know what Uber is.
In a snapshot though, Uber is a network of chauffeurs that connects car owners to individuals that need rides; more like our "Special Hire" here in Uganda or what they call "Taxi" in the west. The Popular service is available in about 462  cities worldwide and believes that they are the best way to where you are going.
Advertisement - Continue reading below
On how they will handle Kampala which isn't as organised as some cities is a question if time. While we wait to find that out, Comedian Anne Kansiime was seen already taking her first Uber
We were lucky enough to catch Ugandan comedienne @Kansiime256 taking her first uberX ride in Kampala! #MoveUGANDA pic.twitter.com/4JIi3sEMv3

— Uber Uganda (@uber_uganda) June 2, 2016
Sign up for Uber get free rides this weekend
You can either sign up on their website or by downloading the Uber App. The App is available on Android, Windows and iOS. On Android, after downloading the app, it will prompt you to register by adding your name, email, mobile number and a password. You could also register via Google or Facebook.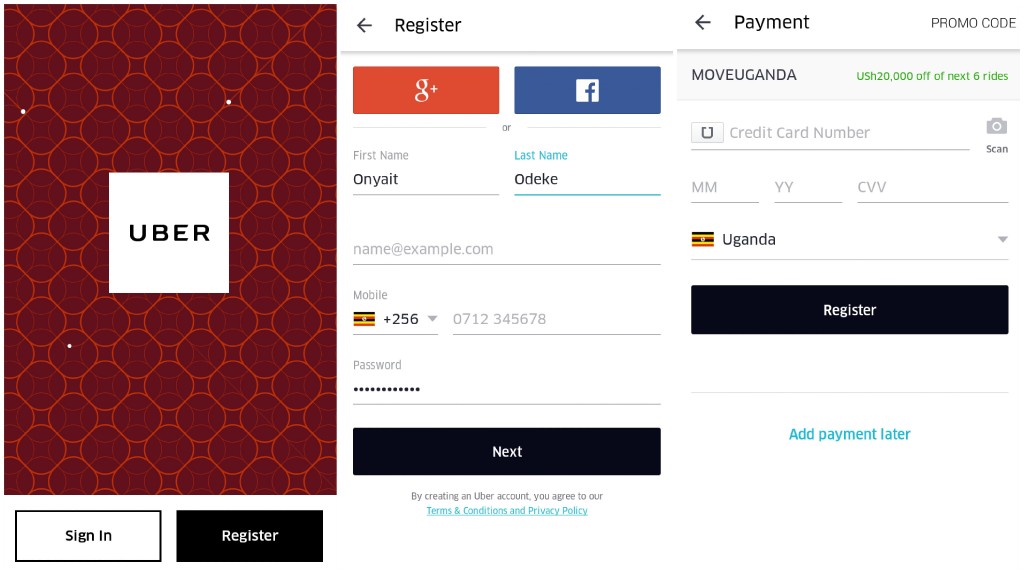 Advertisement - Continue reading below
After registration, it then prompts you to add a payment method which is currently via Credit Card. Fortunately, there is an option to add payment later. In the right hand corner is "Promo Code" button that allows you to enter a promo code to get free rides. The current code is "MOVEUGANDA"
Pricing and Payment
USh 1 300 Base Fare + USh 900 per kilometer + USh 200 per minute
Minimum Fare: USh 5 000
Cancellation Fee: USh 5 000
From their website, Uber broke it down this way. First you will pay Ugx 1 300 as a Base Fare then add Ugx 900 per kilometer and lastly Ugx 200 per minute. This brings the minimum fare to about  Ugx 5 000 regardless of the distance. Also, customers will pay a cancellation Fee of Ugx 5 000 when they cancel their Uber requests. Some quick thoughts. If I pay 200 shillings per minute and wait in Jam for 2 hours, my fare increases right? I guess it does.
Sample Pricing 
Kyambogo University to Mandela National Stadium: USh 7 500
Acacia Mall to Makindye Country Club: USh 13 000
Entebbe International Airport to Kampala Serena Hotel: USh 90 000
Payment: 
As for payment, it's certain that there will be few people with functional Credit Cards as a form of payment and that is why Uber is launching with a cash option. Which brings in a few operational issues like having or looking for change.
How Uber works
Step 1: Register/Signup online or using the Uber App
Step 2: Request a Ride select your pickup location on the map
Advertisement - Continue reading below
Step 3: Pick Up. Your driver will pick you up
Step 4: When you arrive your destination, hop out. (In Uganda since we are using cash as a payment method, you may have to pay before you leave.)