Whatsapp has over one billion users in about 180 countries all over the world. This messaging platform allows the users to make calls, share videos and send text messages. However hackers and fraud stars have developed new strategies to send viruses and compromise your privacy by sending Whatsapp scam messages.
I have been a victim of these Whatsapp scam messages. Someone forwarded to me a message that there was a trick to get free internet 4 GB data from the various service providers. In my ignorance, I was so excited and rushed to click the link. I was then asked to input my number then forward the message to 10 of my contacts. I did as I was instructed because I needed that 'free 4 GB.'
Advertisement - Continue reading below
In the end I discovered it was just a Whatsapp scam message. I then made a resolution to ignore such messages. However, after about 3 years of active usage of Whatsapp, I keep seeing the same old Whatsapp scam messages making rounds.
Since it is the best way to spread rumors, scammers are preying on ignorant WhatsApp users to spread their rumors and scams in order to make money. The fraud stars are sharp in that they can make the message look authentic. For example, since Google is presently running a project claiming that it is 'free internet for everyone', they can come up with a link to provide free internet from Google.
There have been scams like Whatsapp gold claiming you can get the exclusive gold version of Whatsapp that was reserved only for celebrities. Then there are these scam messages claiming your subscription has expired and needs to be renewed. Also another common one I have come across is about how a company is giving out free goodies to celebrate says 25 years of existence.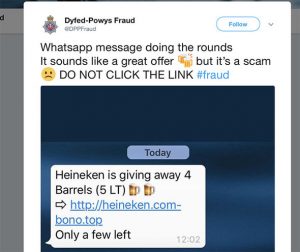 Clicking these links is very dangerous as it gives hackers opportunity to steal your data and track movements and your activities on the internet.
The fraud stars are also able to collect personal data, install tracking cookies, and install advertising browser extensions on your browser.
Advertisement - Continue reading below
If you happen to fall for the 'Your subscription has expired scam' you will be voluntarily gifting hackers with your bank details.
---
Related Article: 10 ways you can improve your Facebook account privacy
---
How to detect Whatsapp scam messages.
You can as well conclude that the message is a scam if it has any of the following features:
The message promises you a reward from Whatsapp or other companies.
If the sender is reassuring you that he/she is affiliated with Whatsapp.
The message is telling you to forward it to other users.
If the message claims that if you do as it says, you can avoid account suspension and other types of electronic punishment.
How to protect yourself from Whatsapp scams.
First and foremost, Whatsapp is a free application. Initially, there was a fee for using Whatsapp but this changed after Facebook acquired Whatsapp. You don't need to forward messages to other people to enjoy free Whatsapp.
Double check links that are forwarded to you on Whatsapp. If someone forwards to you a message claiming it's from a company, simply check their official website to confirm whether the information is true.
Confirm the 'Official message from Whatsapp'. Whatsapp has a contact us section. If you receive suspicious links claiming to be from Whatsapp. Simply go to the contact us section and lodge in your query.
Stay alert. Watch out for the different tricks these scammers are using. Also download apps from App Store and Google Play Store only. You may need to have spam protection and anti virus applications installed on your device.
Today, WhatsApp scam messages are increasingly nasty, whether they want to scrounge your personal data or install malware on your device. We at Dignited wouldn't want you to be a victim of these Whatsapp scam messages. You therefore need to be careful before you click any link or forward any message.
Advertisement - Continue reading below