The world's top Search giant, Google, is planning to take its platform to a more communicative level as the ability for users to comment on search results is likely to be added.
Currently, users can add reviews on places checked on Maps. But with the look of things, you will soon be able to add comments on search results through "Your contributions" page. And not just that, you can also add reviews on movies, TV shows, books and all.
Advertisement - Continue reading below
According to 9to5Google, the feature is available on the Google Search app 8.55. It was noted that the added comments and reviews could be checked and deleted at any point in time.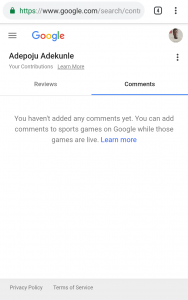 Similar to the modus operandi of social media, you can also view comments and reviews made by others. More so, you can like or dislike comments, rate them as inappropriate or even report spams.
Live sports updates can also be commented on once the feature rolls out. As the Google base is enormous, it might be cumbersome to read most of the comments. To help out with this, categories such as "Top Comments" will assist you in filtering comments made by expert commentators.
Once Google publicly integrates the feature, it will be available to both the web and mobile app versions. There's no official statement from Google about when it will be made public. However, we'll keep you posted with updates accordingly.
For now, you can check out the "Your Contributions" web page here.
Advertisement - Continue reading below