We all own USB cables. If you don't use one, chances are that you at least use one every now and then. Could be to charge your smartphone and USB-compatible gadgets, or to transfer files between devices. A majority of new devices come with at least one USB cable out-of-the-box but there are times when you'd need to buy a cable because you misplaced your old cable or it stopped functioning properly.
When buying cables, many simply go online or to a store and pick any cable that looks aesthetically pleasing without putting some other vital factors into consideration. That should no longer be the case when you're done reading this article. We'll talk about six (6) things to look out for before heading out to buy a cable and likewise, important things to note when you're selecting a cable to buy.
Advertisement - Continue reading below
1. Purpose
What you intend to use a cable for will determine what type, size, and length of cable you buy. If you intend to use a cable to only charge your smartphone or other devices, then you would want to ensure you buy a fast charging cable. You should check out our detailed guide on fast-charging USB cables and how to identify one.
If, on the other hand, you intend to use the cable for data transfer only (or data transfer + charging), your best bet is to look out for a USB data transfer cable when shopping for one. Data-transfer cables typically have four wires in them while charge-only USB cables have just 2 wires in them. For a more detailed explanation on the differences between charge-only USB cables and data transfer cables, check out this article.
If you need to cop a USB cable as a car accessory, a charge-only fast-charging USB cable is what you should purchase since you'd only use it to charge your smartphone.
2. Brand
When you are at that (online or offline) store where they sell cables, you should make sure to opt for USB cables manufactured by reputable brands. Most times, it is recommended that you purchase cables produced but the same brand that made the device you want to use the cable with. For example, if you use a Samsung smartphone, you should buy a Samsung-branded USB cable from a certified Samsung store.
You can also buy USB cables produced by another reputable accessory manufacturer. However, ensure you read reviews to avoid buying a counterfeit cable that doesn't perform its function efficiently.
3. Cost
The price of the cable is another important (if not the most important) factor to consider when picking up a cable. Generally though, USB cables are not exactly expensive. However, when properties like length, thickness, quality, brand, durability, and overall construction are compared, the prices of cables will vary.
Advertisement - Continue reading below
The cash you splurge on a cable will depend on your budget or how much you are willing to spend on a cable. However, it is a general rule of thumb that the higher a cable costs, the higher its quality.
4. Build
One of the leading contributors of cable damage is repeatedly folding/coiling of USB cables to fit into pockets, bags, purses, etc. Doing this causes the connectors/wires within the cable to wear or break. Also, constantly coiling also causes USB cables to pin on both ends of the cable to break, consequently leading to slower charge and nonrecognition of your devices by a PC.
To avoid this, look out for cables that are coated with Kevlar (an exceptionally strong, light, man-made fiber used to strengthen cables). Additionally, ensure that whatever cable you're picking up at the store or adding to your cart is efficiently strengthened at vital stress points — the end is plugged into your device and the other end that plugs into an adapter, a computer, or any USB port.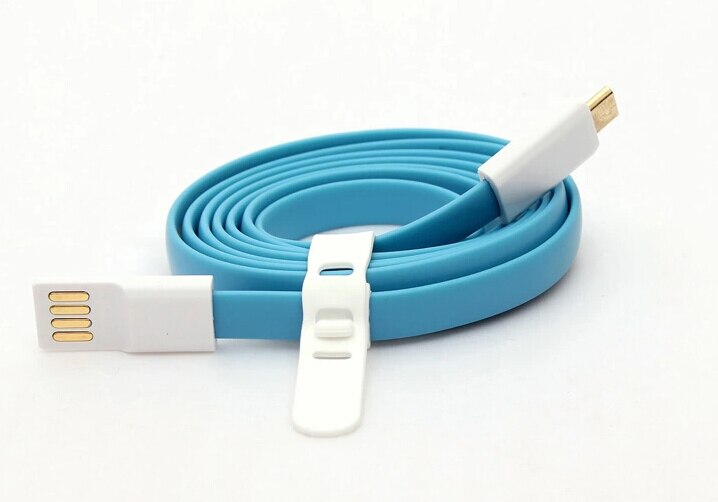 Flat cables also help reduce wear of wires because, unlike round cables, the wires/conductors in flat cables are kept in parallel with each other. This means the wires within a flat cable are stables and stationary (i.e. do not move even when folded or coiled.) which helps keep their electrical quality intact.
5. Length
The length of a USB cable is another property to look out for before picking up your next cable. Sure, a long cable will come in handy if you have your socket far from your bedside, couch, or your workstation. A long cable gives hands you the luxury of using your phone during charge irrespective of the distance of your power outlet.
When buying a USB cable, however, you shouldn't purchase a very long cable if you intend to charge your phone at a very fast speed. This is because it has been experimentally proven that long USB cables take more time to charge a battery compared to shorter and medium length cables. If you only intend to use a cable for data transfer, then you can, of course, buy a really long cable. Otherwise, a moderately sized USB cable is what you should invest your money on.
6. Thickness
Lastly, whenever you're in the market for a new cable, it is advisable you choose USB cables with thick external wires than the slim/thin ones. This is because cables with thick exteriors generally have thicker/bigger wires within them. These thick wires allow more current to pass through them and consequently supply more power to your device's battery. Thicker cables also allow for faster data transfer and throughput.
Slim cables commonly get warm/hot during charge and generally have reduced efficiency in terms of charging speed and data transfer.
Advertisement - Continue reading below
Now that you know some major properties of USB cables you should look out for before buying one, you should no longer have any problems with your USB cables. If you have any questions, comments, or you need more clarity, drop a message in the comment box below.