Privacy has got yet another boost this year now that Cloudflare, one of internet's biggest companies has released a Free fast VPN dubbed "WARP". Cloudflare started with a privacy-focused DNS service last year with 1.1.1.1 App across iOS and Android on mobile and Linux, Mac and Windows support on PC.
Cloudflare's 1.1.1.1 DNS service uses Privacy-focused standard called DNS-over-HTTPS(DoH) that we have talked about previous. DoH scrabbles your DNS requests making it difficult for prying parties which could be your Internet Provider or Government to know what you're browsing online. However, they could guess which sites you're visiting by inspecting IP address of your traffic.
Advertisement - Continue reading below
Read more: What's DNS-over-HTTPS (DoH) and DNS-over-TLS (DoT) and why it's controversial
Now Cloudflare's WARP takes this idea of privacy to the next level. With a fully-fledged VPN, all your traffic will be completely hidden from your Internet provider or any other third parties. The company had announced this feature a couple of months ago and invited users on a waiting list. I happened to have joined the waiting list. Now the service is generally available when you update the 1.1.1.1 App.
Read more: How to Speed up your mobile internet connection with Cloudflare's 1.1.1.1 DNS service on Android and iOS
I have managed to update my 1.1.1.1 App which you can download from Android or iOS stores. The company is offering 1GB/month free. There are no Ads even with the Free options. You can upgrade anytime to the unlimited package of $4.99/month with WARP+. You have the option of using the App as a private DNS service 1.1.1.1 or as DNS service and VPN (1.1.1.1 + WARP). When you turn on WARP, the App creates a VPN profile on your phone which you can connect/disconnect when you visit settings >> network >> Advanced >> VPNs.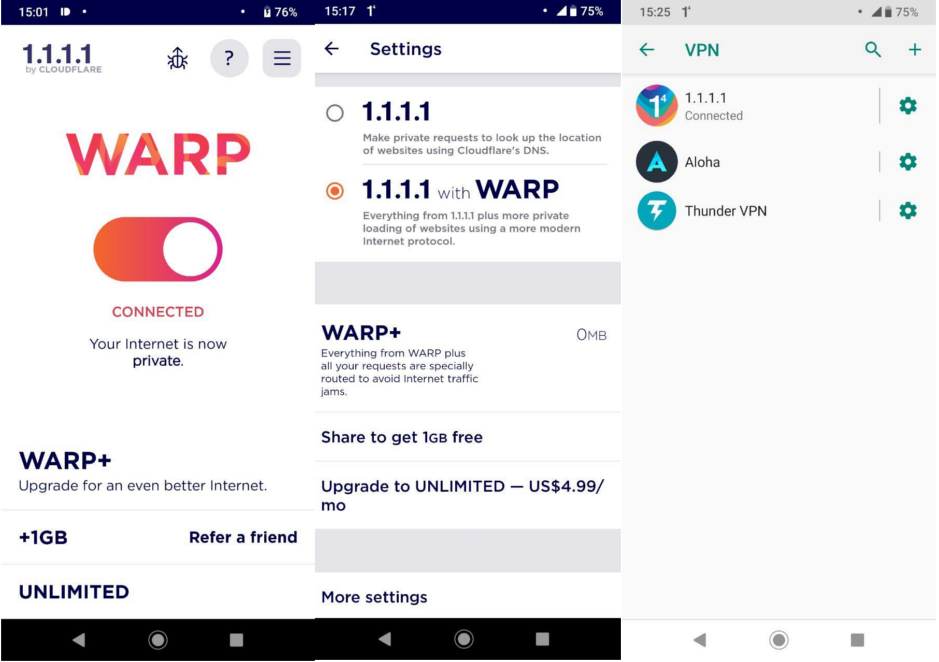 The App also has dark theme for Dark mode fans in the settings. What's more is that you can choose to disable the App for selected Apps in the settings. This could save on your monthly Data usage when you disable for Apps such as Youtube. Also some banking Apps such as Stanbic bank App won't work with a VPN on, so you can safely disable it for such exceptions.
Now to be clear, WARP is not exactly like your conventional traditional VPN. For instance, you can't choose yet the server location for the VPN with WARP. According to Cloudflare, WARP is not designed to allow you to access Geo-restricted content when you're traveling. It will not hide your IP address from the websites you visit. Instead the product is built to make your data private while in transit so that your Internet provider or any other man-in-the-middle can't sniff on your internet traffic.
Advertisement - Continue reading below
Get started with Cloudflares WARP here.