The pandemic led a vast number of people to go digital, especially in Africa and now we have content creators everywhere. A content creator is responsible for the ideation and creation of content that connects a brand or entity to its prospective audience. Let's see the top 10 free productivity tools for content creators in this day and age.
You will find that most social media & management tools are freemium and not free. This is where they have a free plan you can use indefinitely.
Advertisement - Continue reading below
Who is a Content Creator?
A content creator is someone who creates entertaining or educational material to be expressed through any medium or channel.
Bloggers, online publishers, newsletter authors, podcasters, YouTubers, course creators, video game streamers, and social media influencers all fall in the "content creator" bucket.
What are Productivity Tools?
Productivity tools are the apps and services or software programs that boost the current functioning of an individual or machinery for better results in less time. Productivity management tools are a better name for such software programs that are aimed at removing or reducing the ambiguity in your work process and helping you reach goals faster.
1. Linktree
Linktree is a tool that allows you to share multiple links on social media, but it rose to prominence on Instagram. This is because Instagram does not allow you to share web links anywhere apart from in Stories and in the 'bio' section of your profile page, which has a strict character limit.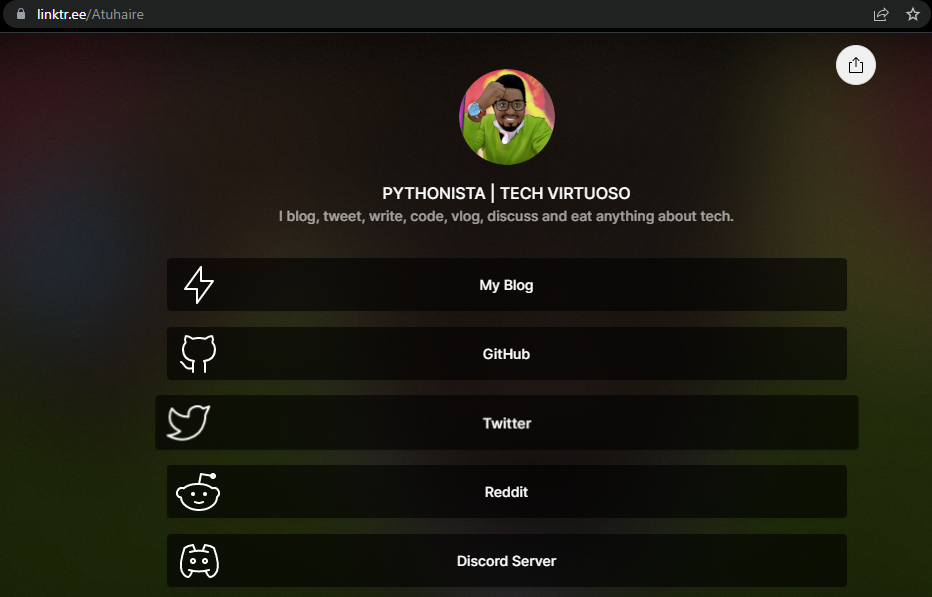 Linktree allows you to create a personalized and customizable page that houses all the important links that you want to share with your audience. Connect with me here.
2. Product Hunt
Product Hunt surfaces the best new products, every day. It's a place for product-loving enthusiasts to share and geek out about the latest mobile apps, websites, hardware projects, and tech creations.
Advertisement - Continue reading below
Community members can submit, browse, vote, and comment on daily submissions of products. They also get the opportunity to interact directly with product creators, investors, and journalists, as well as, an active community of people who are passionate about products.
3. Calendly
Calendly is a Software as a Service (Saas) platform that allows people to schedule meetings and events at a mutually workable time without the need for back-and-forth emails.
Individuals or businesses can use the platform to schedule team meetings, video conferences, and more for customer support, recruitment processes, and sales.
4. Buffer
Buffer is one of the top contenders in the social media management space.
Number of users: 1
Number of profiles: 3
Platforms supported: Instagram, Facebook, Twitter, LinkedIn, Pinterest
Scheduling: Available for up to 10 posts per channel
Buffer is a multi-purpose social media marketing software tool. Buffer's core feature is the ability to draft and schedule posts for sharing across multiple social networks including Facebook, Instagram, Twitter, LinkedIn, and Pinterest.
5. Slack
It is the perfect team collaboration software that unifies your entire team's communications. It integrates with the apps you use every day such as Google Drive, Dropbox, and Box to name a few.
Top features:
Chat and team communication
Set up reminders
Highlight words to be notified as they appear in a conversation
Slack is a new way to communicate with your team. It's faster, better organized, and more secure than email.
Advertisement - Continue reading below
---
Related
---
6. Canva
Canva is your free photo editor and video editor in one graphic design app! Create stunning social media posts, videos, cards, flyers, photo collages & more.
It is made for people and teams wanting to design absolutely anything, from logos and social media content to documents, prints, and more. Tons of free templates, photos, and fonts to bring your vision to life. I do use freemium Canva almost daily to annotate, design, and create some basic graphics.
7. OpenShot
OpenShot Video Editor is a free and open-source video editor for Windows, macOS, Linux, and Chrome OS.
OpenShot is an award-winning free and open-source video editor for Linux, Mac, and Windows. You can create videos with exciting video effects, titles, and audio tracks. It's one of my go-to tools for video editing.
8. Shift
It is a desktop app for streamlining your accounts, apps, and workflows. Tired of switching between accounts, and logging in and out? Shift is a logical & beautiful solution for managing everything better. Toggle between multiple Gmail, Outlook & Office 365 accounts without the hassle. Connect all of your email accounts + your favorite web apps and tools to Shift. Then, customize your workstation so it's just right.
Top Features:
Cross-platform support (macOS, Windows, Linux)
Manage all of your apps and accounts in one place
Custom desktop notifications
Unified search across all your Google accounts to find exactly what you need
Focused browsing web tabs
9. Notion
Notion is a single space where you can think, write, and plan. Capture thoughts, manage projects, or even run an entire company — and do it exactly the way you want.
Advertisement - Continue reading below
Notion is free to use indefinitely. The Personal Plan is completely free for individual use. The Team Plan has a free trial with a 1,000 block limit, more than enough to try out Notion with your team before upgrading.
10. Figma
Figma is a powerful design tool that helps you to create anything: websites, applications, logos, and much more. By learning to use Figma, you'll take your first steps into User Interface Design and User Experience Design.
Figma is a free, online UI tool to create, collaborate, prototype, and hand off. It is a browser-based UI and UX design application, with excellent design, prototyping, and code options. It has all functionality that UX/UI Designers need and even much more.
Conclusion
Productivity tools refer to programs and applications that make daily office life easier. There are many tools online that you could leverage as a content creator and while some are free, others are freemium and others are trialware.
I have used almost 90% of these tools here and they have truly increased my productivity because I fall almost in every bucket of content creation.