Do you want an authentic phone, directly from the official phone brand store but do not want to go through the hustle of travel? Jumia Mall got you covered. With it, you can visit the official brand store virtually, with just a few mouse clicks or phone taps.
What is Jumia Mall?
This is like a world of its own on the Jumia website or app. It where Jumia partners with big brands directly and takes the tagline, Home Of Brands.
Advertisement - Continue reading below
To put it simply, it is an online mall where all the brands have official stores on the Jumia platform. It can be accessed via https://www.jumia.ug/jumia-mall/ You can also find it via the mobile app as a category next to Jumia Global, Deals, and call to order.
How it works
Jumia collaborates with the following brands:
MI
Nokia
Apple
Samsung
Bluflame
Hisense
Dettol
Pampers
Official distributors like Dembe, among others.
The purpose of this partnership is to offer 100% genuine and authentic products to you at discounted prices.
Products are in the following categories:
Phones and Tablets
Computing
Health and Beauty
Gaming
Automobile
Television
Kitchen
Groceries
The products come with a warranty and Jumia also offers a 15-day return policy, an extension from the typical 7-day return policy. The products are identified by a red badge with the text Jumia Mall above the product image. It also has a tab that shows you the top deals – the top discounted products that week.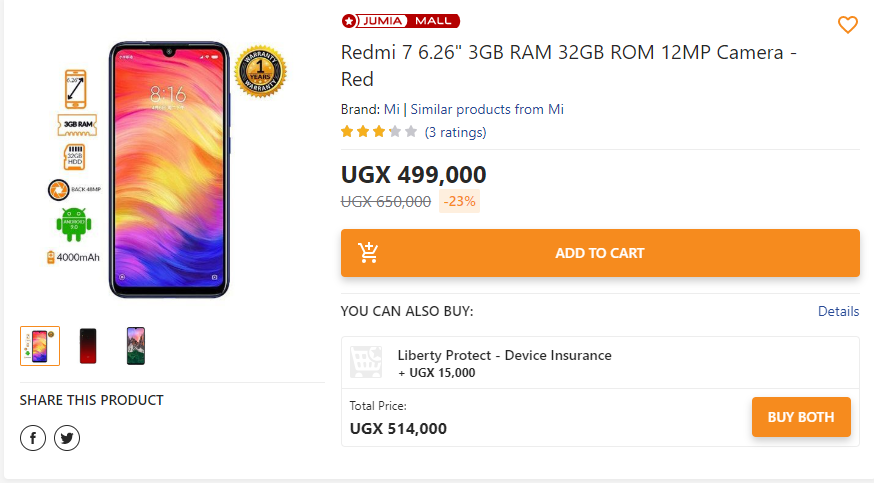 The ordering process is just a typical Jumia way. Select a product, Hit buy now, and go straight to the cart where you will complete the procedure from.
Advertisement - Continue reading below
See how to order on Jumia Via The Ultimate Guide to Shopping on Jumia
Pricing and Delivery
As regards pricing, products available on Jumia Mall are slightly cheaper than those on the regular Jumia. For example, here is a comparison of Infinix Hot 7, 32GB ROM, 2GB RAM, 13MP Camera – Black.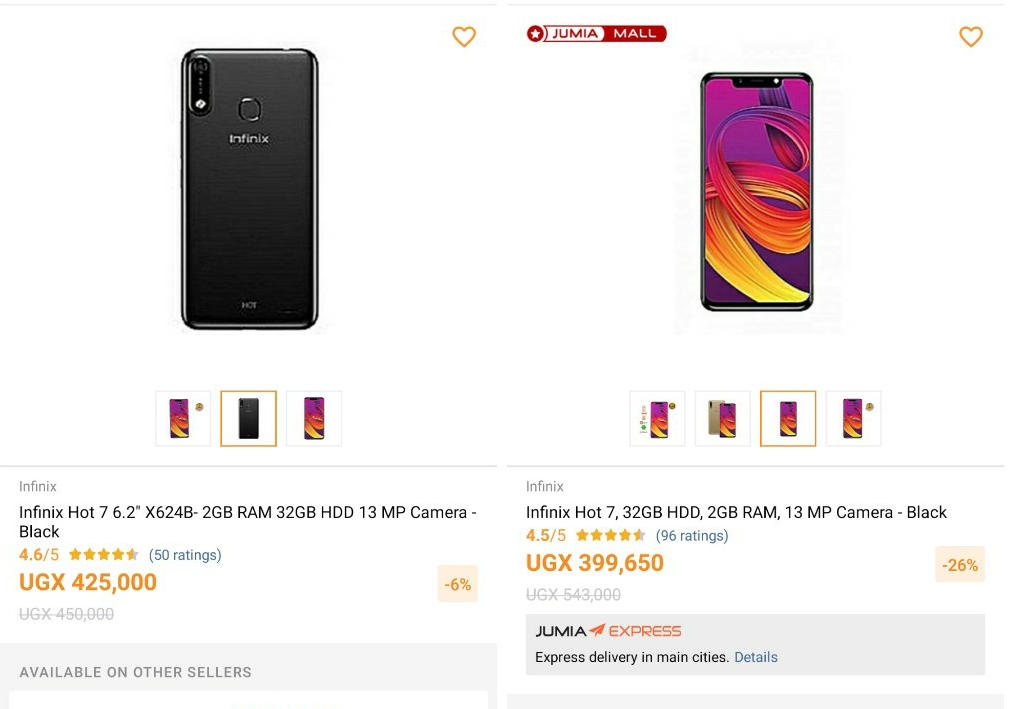 The delivery is as the regular Jumia. It takes 2-3 days for a product which is not part of Jumia Express. For Jumia Express products, you get the product on the same day the order is made provided the order is made before midday.
The introduction of Jumia Mall is great for both brands and consumers alike. The brands are able to have another direct link to the customers while the customers can be assured of genuine products and in case of any problem, redeeming the warranty and any after-sales services is possible.