American software company and chip maker, Qualcomm has announced the latest update to its quick charge technology. The Quick Charge 5, which according to Qualcomm is the world's first 100W+ fast-charging solution, will be able to charge a 4,500 mAh battery from 0% to 50% in 5 minutes. This means that the battery will potentially be gaining 1% of power in 6 seconds.
When compared to Quick Charge 4, it is 70% more power-efficient, and four times faster. This means that it offers 10 times more power delivery.
Advertisement - Continue reading below
"Quick Charge 5, our fastest and most versatile charging solution, will enable consumers to enjoy their devices for longer periods of time, without worrying about the time required to recharge. We are proud to expand our technology portfolio and make accessible 100W+ charging a commercial reality," Qualcomm Technologies said in a statement.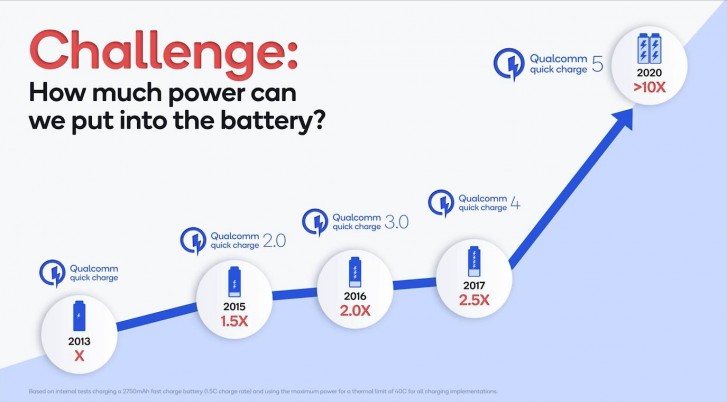 Features of Quick Charge 5
100W+ Charging power
Dual charge technology
Smart identification of adapter capabilities
Better thermal management.
---
Related Article: PD 3.0 vs QC 3.0: Which Fast Charging Standard Should You Go For?
---
The new fast-charging technology incorporates 12 separate voltage, current, and temperature protections coupled with a battery saver to ensure the safety of the device and battery. It supports 2 batteries in series devices to double the charging voltage and also increase headline charging speeds. For those worried about the battery overheating, Qualcomm says that it has improved the thermal management to make the charging process 10° C cooler.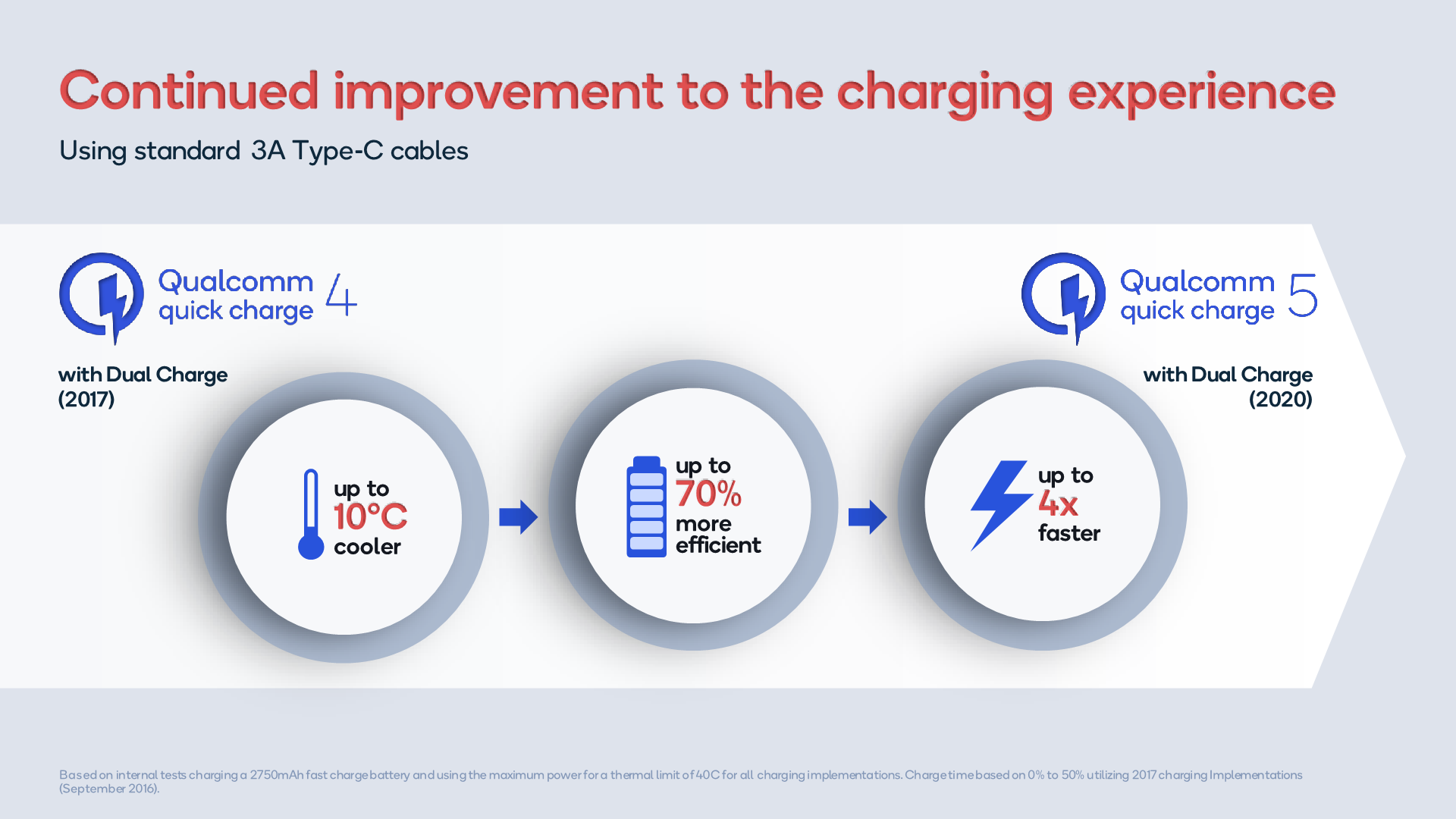 Quick Charge 5 will also support USB-PD hence making it able to charge even larger electronics at full speed. Wireless quick charging is also supported. It is backward-compatible with version 2.0, 3.0, 4, and 4+ and supports the Snapdragon 865 and 865 Plus, as well as future premium and flagship Snapdragon mobile platforms.
Xiaomi has been confirmed as one of the first partners to leverage the technology with devices supporting Quick Charge 5 set to be released in Q3 of 2020.
"Xiaomi has always been committed to proactively driving the adoption of new technologies and accelerating the fulfillment of enhanced experiences. In the future, more Xiaomi users will be able to enjoy high-speed, safe, and superior charging experiences enabled by Quick Charge 5," Xiaomi said in a statement.

Advertisement - Continue reading below
The Quick Charge 5 technology is just about to revolutionize fast charging on smartphones and devices alike. How excited are you for this new development from Qualcomm? Share with us your thoughts in the comments section below.