If you imagine all smartphone users as a massive pool of people, then you can see how launching multiple models of a phone is important. If each model has a unique selling point, then it allows the phone company to be appealing to a large group of people. TECNO Mobile released more than one device across its popular Camon series lineup alone this year.
We know it can get really confusing to navigate all these lineups of smartphones released. that's why we have taken the liberty to curate a list of the best Tecno smartphones in announced in 2020. The focus is on devices announced within the continent of Africa including prices, core specs, and where to buy them, especially during this Black Friday season.
Advertisement - Continue reading below
1. TECNO Spark 5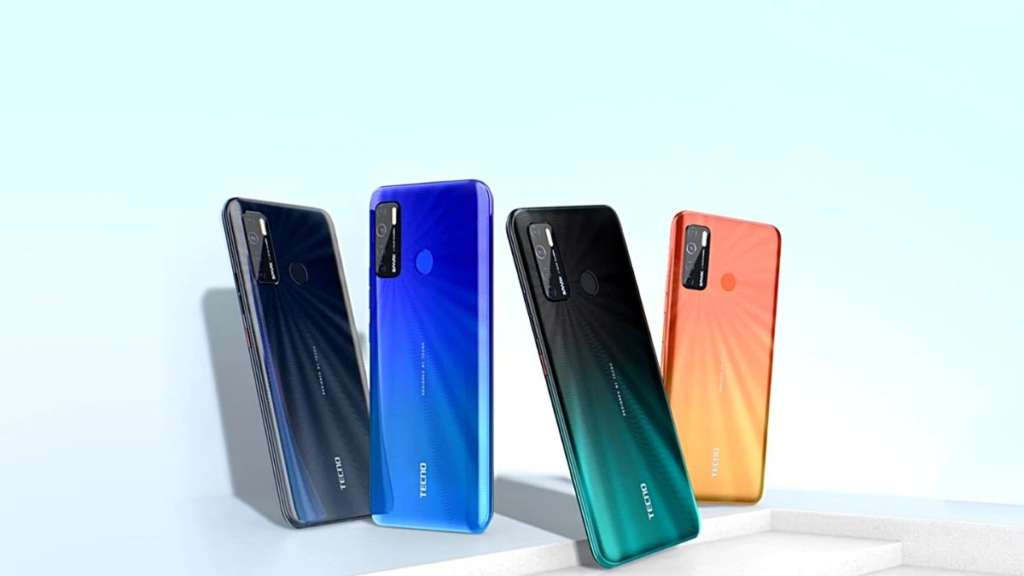 This was the first major smartphone release from TECNO mobile back in May and it was in form of Tecno Spark 5. A predecessor to Spark 4 which is popular among youths for its price point.
Tecno Spark 5 comes with a huge improvement in battery capacity and camera setup. The 13MP quad-back cameras and 5000mAh battery are miles ahead when compared to the pioneer version of phones in this category.
Spark 5 was released in 3 variants of Spark 5, Spark 5 Air and Spark 5 Pro which comes with slightly better features and specs in terms of storage, RAM and camera.
Spark 5 Pro comes with a powerful toolbox dubbed "Social Turbo" that can make your DIY Emoji, save present WhatsApp status, and automatically open flash while you have incoming WhatsApp call.
TECNO Spark 5 Pro selfie front camera is a small cutout in the screen with a very small notch and bezels around the phone. With dual front flash and Portrait HDR, brighter and charming selfie in a low light scenario is easier to take.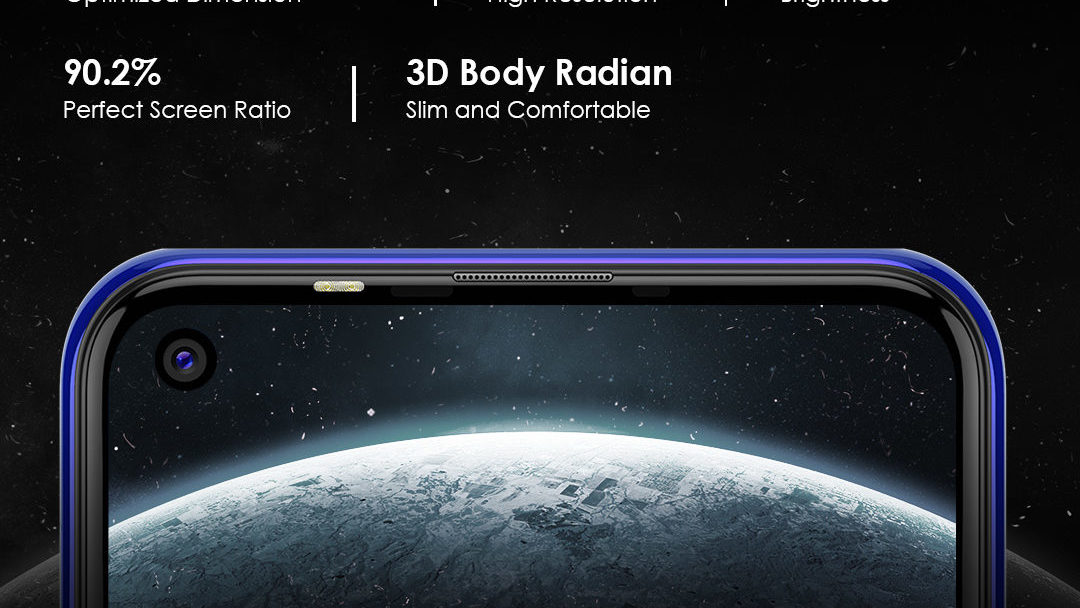 Tecno Spark 5 Key Specifications
DISPLAY: 6.6-inch IPS LCD, 720 x 1600 pixels (266 PPI)
OS: Android 10; HIOS 6.1
PROCESSOR: Octa-core MediaTek Helio A22 (12 nm)
RAM: 2GB
ROM: 32GB Built-in Storage, With Memory Card Support
REAR CAMERA: 13MP + 2MP + 2MP + QVGA Quad
FRONT CAMERA: 8MP
4G LTE: YES
Fingerprint Sensor (Rear): YES
BATTERY: 5000mAh Non-Removable Li-ion
Price and Availability
In Uganda during launch, Tecno Spark 5 32GB/2GB variant was priced at Ugx 525,000 and has seen a slight discount during the Black Friday campaign. The same phone cost Ugx 445,000 on Jumia Uganda.
Advertisement - Continue reading below
The same unit was purchased for NGN 56,000 in Nigeria in July and has been discounted on Jumia to NGN 49,490 during the Black Friday Sales.
In Kenya, the phone was launched at Kshs 14,000 and is heavily discounted during this Jumia Kenya Black Friday. The new price on Jumia is Kshs 14, 199 for a 3GB/32GB variant.
| | | |
| --- | --- | --- |
| Phone | Price at Launch | Black Friday Price |
| Spark 5 | Ugx 525,000 | Ugx 445,000 |
| | Kshs 14,000 | Kshs 11,198 |
| | NGN 56,000 | NGN 49,490 |
| Spark 5 Air | | ₦ 49,490 |
| | | KSh 12,499 |
| | | UGX 404,250 |
| Spark 5 Pro | | KSh 13,110 |
| | | ₦ 54,000 |
| | | UGX 499,000 |
2. TECNO Spark 6

Spark 6 was launched in September 2020 and came as a surprise to many customers as a predecessor to Spark 5 in the same year. The phone has been under the radar since it's launched but it's a gem with a bigger battery, slightly improved camera and a bigger screen.
The biggest perk is the 18W fast charging and the fact that the baseline version of Tecno Spark 6 comes with 64GB of storage and 4GB RAM.
Tecno Spark 6 Air Key Features
Android 10 (Go Edition) with HiOS 6.2 skin
Quad-Core 1.8GHz MediaTek Processor
2GB RAM and 32GB built-in storage
7-inch 720 x 1640 pixels (HD+) Dot Display
Triple 13MP + 2MP + AI Lens rear camera with Quad Flash
8MP front camera with dual flash
4G VoLTE
6, 0000mAh non-removable battery
Price and Availability
Tecno Spark 6 Air cost ₹ 7,699.00 on Amazon India which is 39,239 NGN in Nigeria, Ksh 11,252 in Kenya and UGX 381,573 in Uganda at the current transaction rate.
3. TECNO Pouvoir 4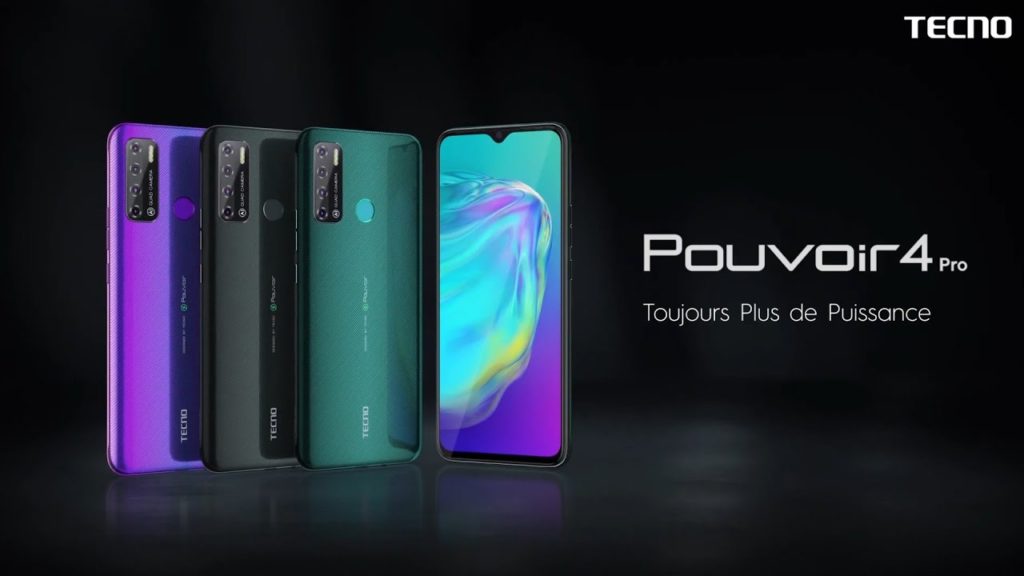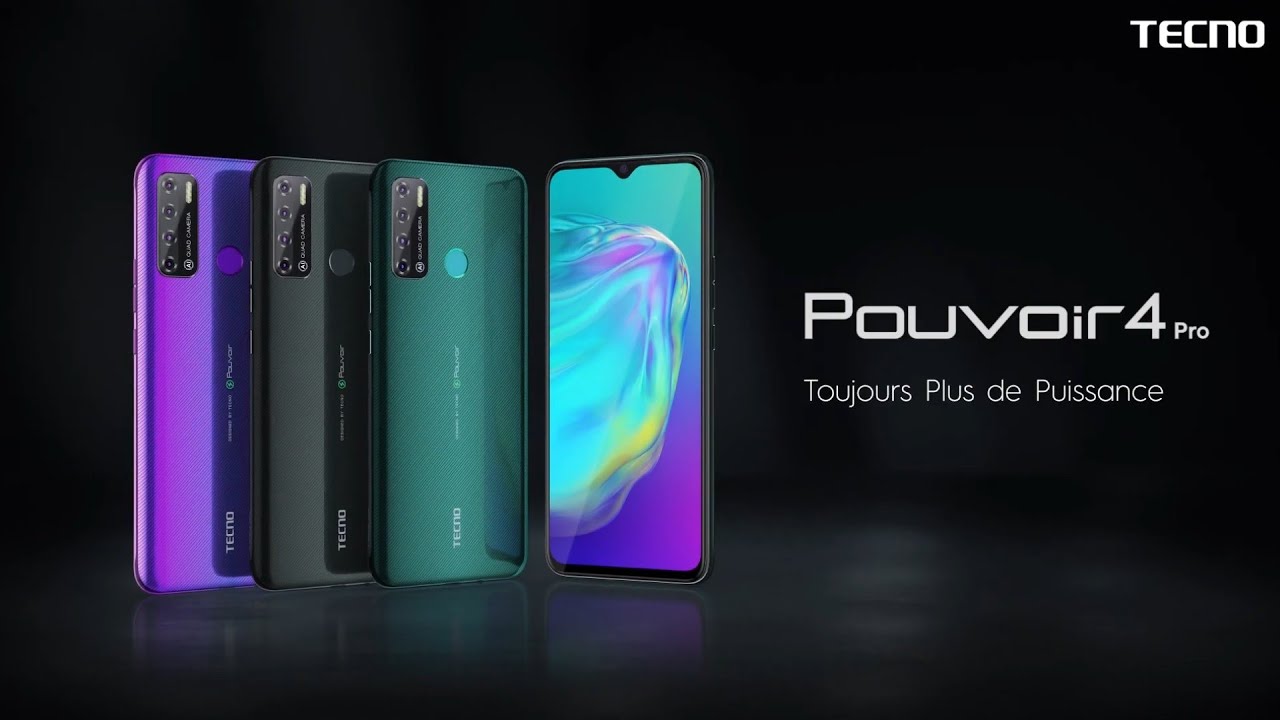 Pouvoir smartphone lineup is undoubtedly Tecno's battery king category. The Tecno Pouvoir 4 is the only phone with the baseline version having a whopping 6000mAh battery capacity.
On the Pouvoir 4, you get a dedicated red button that gives you quick access to Google Assistant with a single press.
We did an in-depth review of the Pouvoir 4 at the end of September which you can explore and understand how the battery king could be the best buy for you this year from Transsion.
Advertisement - Continue reading below
Tecno Pouvoir 4 comes in three variants of Pouvoir 4, Pouvoir 4 Air and Pouvoir 4 Pro.
RELATED ARTICLE: TECNO Pouvoir 4 Full Review: The Battery King
Tecno Pouvoir 4 Key Specs
Display: 7-inch 720 x 1640 pixels HD+ screen.
Camera: 13 MP + 2 MP + 2 MP + 0.3 MP Main / 8 MP front.
Storage: 32 GB.
RAM: 3 GB.
CPU: Quad-core 2.0 GHz, Mediatek Helio A22.
OS: Android 10, HiOS 6.1.
Battery: 6,000 mAh battery, 18W Fast Charge
Price and Availability
In Uganda, Tecno Pouvoir 4 32GB/3GB variant cost Ugx 508,000 at Jumia.
In Nigeria, the Black Friday deals are available for the Tecno Pouvoir 4 Pro version and cost NGN 62,990 for the 4GB/4GB RAM variant.
In Kenya, Kilimall are selling the Tecno Pouvoir 4 phone at KSh 14,099 and cost KSh 15,644 in Jumia.
Camon Series
4. TECNO Camon 15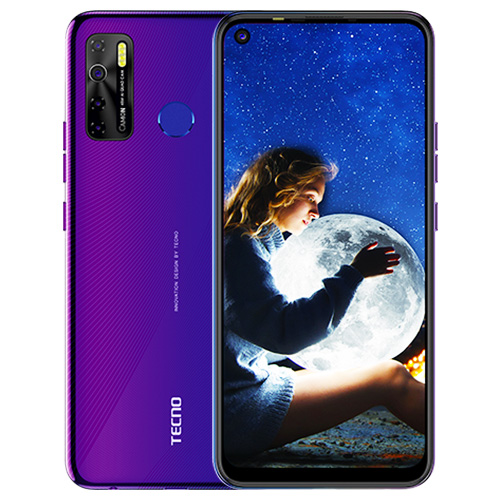 Tecno Camon 15 was launched as a direct successor to the Camon 12, skipping 2 numbers in the chronological order meaning a huge leap in performance, specs and features.
Going by the specifications, the Camon 15 improves on its predecessor by a mile. It comes with a bigger battery, better camera setup, and lots more.
Tecno Camon 15 Specifications
Display: 6.55-inch IPS LCD Display, 720 x 1600 Pixels
Camera (rear): 48MP + 5MP + 2MP + 2MP Quad Cameras
Camera (front): 16MP Front Camera (punch hole)
Storage: 64GB Built-in Storage, with Micro-SD Support
RAM: 4GB RAM .
CPU: Octa-Core Mediatek Helio P35 Processor
OS: Android 10.0; HIOS 6.0
Battery: 5000 mAh Non-Removable Battery
Still, with the upgrade spirit, the 16MP punch-hole front camera and the hidden dual flash in the dot-in display are phenomenal and help to capture clear selfies even in low light scenarios.
Advertisement - Continue reading below
According to Tecno mobile, the Ultra Night Lens on Camon 15 makes better edge correction and multi-frame noise reduction, producing more pure and clear night shot.
Camon 15 comes in three versions; Camon 15, Camon 15 Air and Camon Premier.
Price and Availability
Tecno Camon 15 was first launched in Nigeria on the 2nd of April and cost about NGN 62,500. The Black Friday price on Jumia Nigeria is NGN 63,413 which is higher than the launched amount. I think this is because of demand since other stores are already out of stock for the same device on Jumia.
The same gadget was announced in Kenya a week later and has been retailing for Kshs 18,000. Other variants Camon 15 Air and Camon 15 Premier retails for Kshs 16,000 and Kshs 27,000 respectively.
In Jumia Kenya, the Black Friday Deal on Tecno Camon 15 sees it retail at currently KSh 15,999 which is a decent discount from the release price. Kilimall is retailing the same gadget at KSh 14,439.
In Uganda, Camon 15 was announced in partnership with MTN Uganda. Customers who buy the Camon 15 automatically get connected with a free SIM card plus 3GB free every month for three months from MTN.
Camon 15 currently cost UGX 551,000 at Jumia Black Friday sales and Tecno Camon 15 Air at UGX 537,500.
RELATED: TECNO Camon 16 vs Camon 15: Should You Upgrade
Advertisement - Continue reading below
5. TECNO Camon 16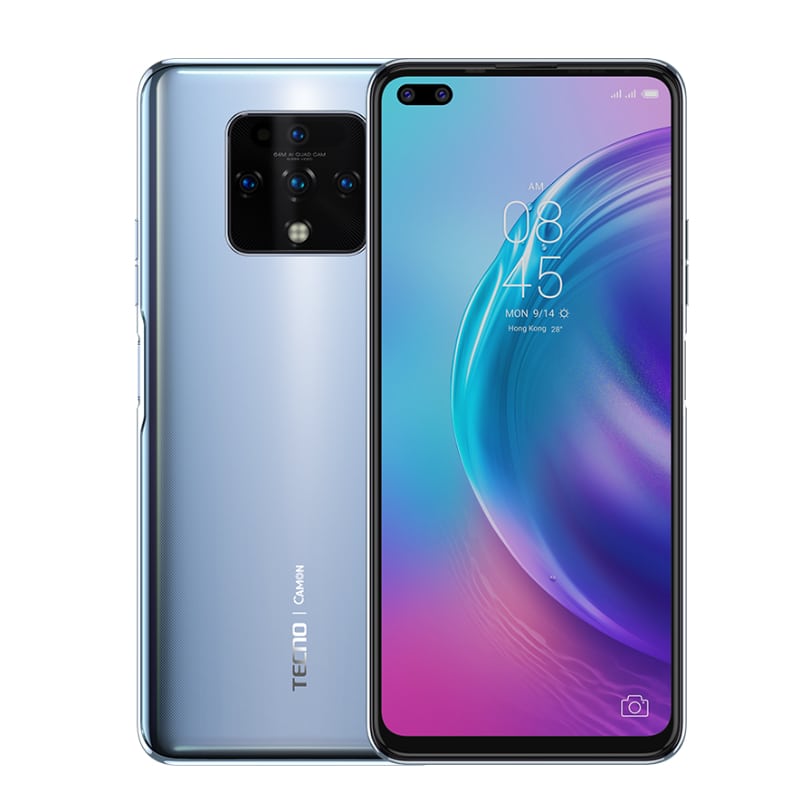 The unveiling of a new TECNO Camon 16 by the end of 2020 comes as a surprise to many customers provided the Camon 15 series was released only a couple of months back. It is a welcome addition to the Camon lineup.
Tecno Camon 16 series is an all upgraded smartphone from the hardware to the software and the jump in price point as well.
Camon 16 series pioneers on many fronts like Camera technology, stylish design, operating system, and many other features you will discover when you use the device.
One major improvement to the display of the Camon 16, is the 90Hz refresh rate which is the first of its kind on any TECNO smartphone.
Just like the predecessor, Camon 16 series comes in three different versions: Camon 16, Camon 16 Pro and Camon 16 Premier.
Tecno Camon 16 Specifications
Front Cameras: 48MP Main Camera + 8MP Ultra Wide Angle Camera
Rear Cameras: 64MP Main + 8 Ultra Wide + 2MP Night Camera + @ MP Portrait sensor.
Ultra Night Portrait Powered By TAIVOS™
Display : 6.9″ FHD hole-punch Display
Battery: 4500mAh with 33W Flash Charge
Storage: 128GB ROM + 8GB RAM
Chipset: Helio G90T Extreme Performance
OS: HiOS based on Android™ 10
Price and Availability
Tecno Camon 16 was first launched in Nigeria at the beginning of September and cost about N115,800.
Camon 16 Premier is available for purchase on Jumia Kenya at a price of Ksh. 28,499.
In Uganda, Camon 16 retails at UGX 1,050,000 on Jumia as part of the Black Friday Sales.
Tecno has been really active this year, releasing a handful of high-end smartphones and even catering to the entry-level market. Which Tecno smartphone are you more excited about or planning to buy this year? Let us know in the comment section.
Advertisement - Continue reading below