Whether you are gamer or not, chances are that you have heard about the much hyped Play Station 5 (PS5) from Sony. The PS5 is the latest iteration of Sony's popular gaming console that after a long wait is beginning to trickle down to consumers world wide. The PS5 is retailing at starting price of $499.
Now we know how hard and expensive it can be to get the latest gear if you don't live in the U.S or other supported countries. For Geeks in Uganda, it's quite expensive to import or locally buy top gear. You will have to pay a lot in taxes which I'll break down and shipping. In my experience getting gear into the country, there are a lot of variables and as a result, there's really no standard price for anything. It all depends on how much you're willing to part and the provider or vendor you used.
Advertisement - Continue reading below
Now, assuming you badly need that PS5 in Uganda, my cursory research reveals merchants pricing it between Ugx 4,600,000 and 5,600,000. That sounds like an outrageous cost for a product that initially costs $499 or Ugx 1,865,262. In order not to be ripped off, you want to have some facts and at least know a fair estimate.
My good estimate based on my knowledge on shipping and taxes in Uganda would bring the PS5 to between Ugx 4,100,000 to 4,200,000 assuming a descent markup of 10% by the vendor. If you're to dropship the product yourself which you can using a number of providers such as DHL eShop Africa, or Aramex's Shop&Ship, then you'll part with not less than Ugx 3,800,000.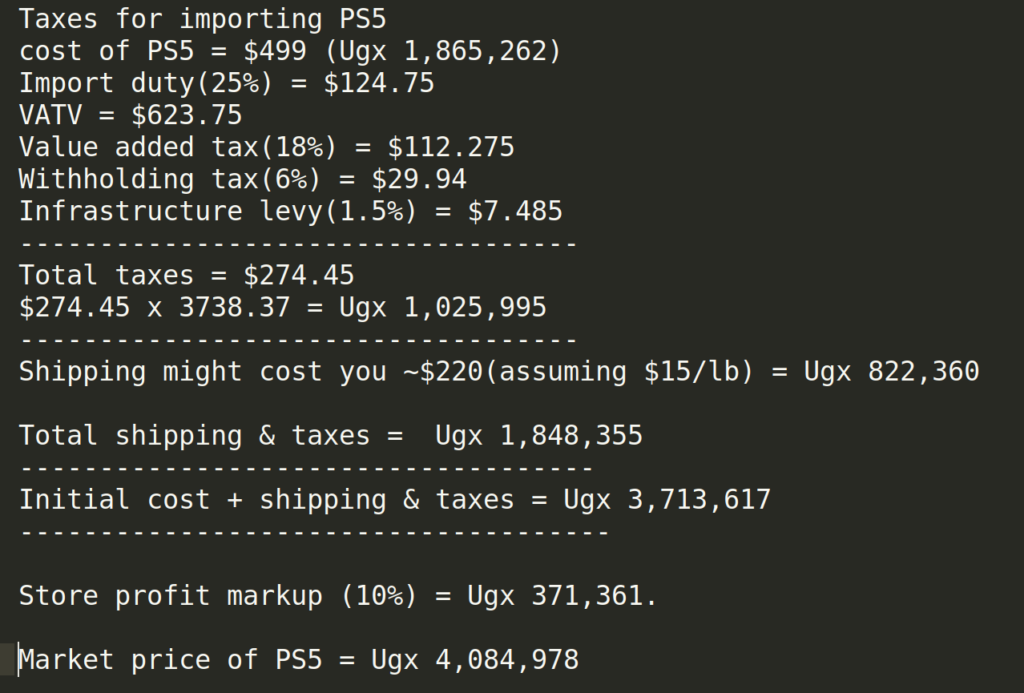 According to my calculations, import taxes alone are just about the same as the the cost of the product itself! The taxes include 25% import duty, 18% Value Added Tax(VAT), 6% Withholding Tax and 1.5% infrastructure levy. These will set you back about $275 (Ugx 1,026,000).
Then shipping costs are quite variable across a number of providers. Taking my favorite, Aramex Shop&Ship a reliable and fast shipping company, it'll cost you $15 per pound to ship stuff from the U.S. Given the PS5 is about 14lbs, then shipping it to Uganda will cost you $220 or Ugx 822,360. So depending on whether you choose to dropship yourself or buy locally, you'll part with between Ugx 3.7-4.2m. Of course a lot of variables apply in the real world. The actual cost will depend on what you're willing to part with and the vendor you choose to buy from and how they conduct their business.