Here's a fact; however fast your WiFi connection is, it can never be better than an ethernet link. That's because WiFi is prune to all sorts of interference from walls and your Bluetooth headphones, earbuds, fitness band. This is why, if you really want a smooth internet connection for your Chromecast, then Ethernet is the best option.
Read more: Ethernet vs WiFi: Comparing Internet Connectivity Technologies
Advertisement - Continue reading below
However, the Google Chromecast both old and new — Chromecast 3rd Gen, Chrromecast Ultra 4K, Chromecast with Google TV — all don't have an Ethernet port. They instead connect to the internet wirelessly via WiFi. So you need an Ethernet adapter. This adapter will bridge your Chromecast to your router via Ethernet cable. With a steady Ethernet internet connection, you can play games on Stadia or stream 4K movies without worrying about finicky connections and buffering.
So to connect Chromecast to your router via Ethernet, you'll need;
A Chromecast device connected to Smart TV or Monitor via the HDMI port.
An Ethernet cable connected to a working router with at least one LAN port.
A standard household outlet or other sources of AC power such as USB-A wall charger.
The Ethernet Adapter.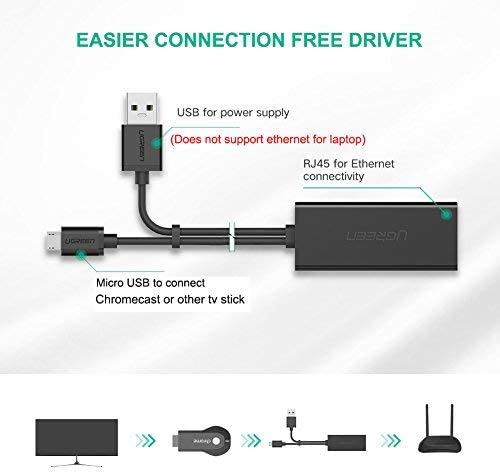 The Chromecast connects to your TV via HDMI on one end. On the other, it connects to the Ethernet adapter via Micro-USB. The Ethernet adapter then connects to power source via USB-A wall charger and then to router via Ethernet cable as shown below;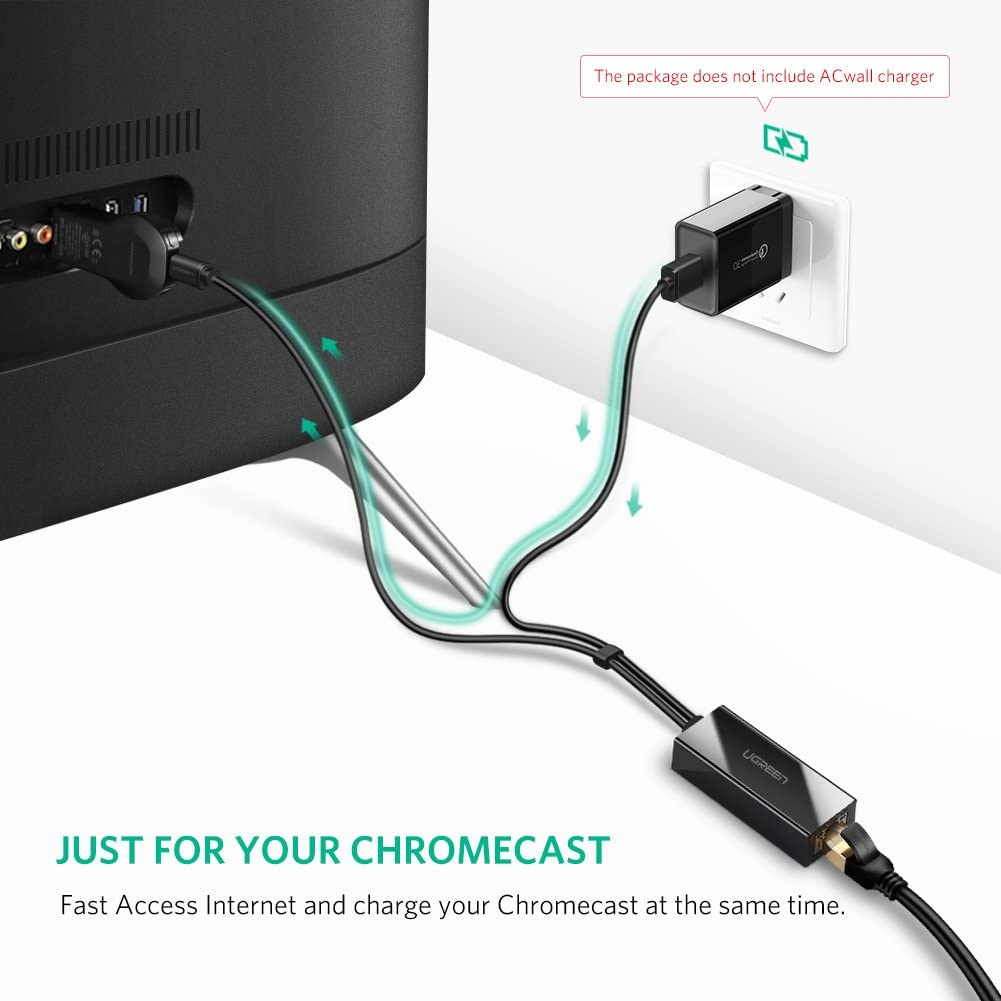 Now keep in mind the new Chromecast with Google TV released in 2020 comes with USB-C port instead of Micro-USB connection. So you'll need the appropriate Ethernet adapter with USB-C cable instead. Also the Chromecast Ultra ships with its own Ethernet adapter at no extra cost.
My best recommendation for an Ethernet adapter for your Chromecast which can also work for Fire TV Stick, Google Home Mini or Raspberry Pi Zeros is the UGREEN Ethernet Adapter. It costs $13.59 on Amazon. Alternatively, you can also go with the Amazon Ethernet Adapter for Amazon Fire TV Devices priced at $14.99.
Advertisement - Continue reading below