We did an unboxing and first impressions piece for the Tecno Camon 17 smartphone. All round, the device was great – with its attractive specifications. However, beyond the flowery specs that's slammed on new smartphones by manufacturers, we decided to dig deeper and do a full review of the Camon 17 smartphone.
This review will focus on the actual performance of the device. In this post, we will explore subtopics like the phone camera, battery, and actual performance. At the end, you should be well equipped to make an informed decision on if the Camon 17 device will match your expectations.
Advertisement - Continue reading below
Please, feel free to ask further questions at the end of the review. We're happy to answer to the best of our knowledge.
Check this post to see the specifications and price of the Tecno Camon 17 smartphone.
---
READ MORE: Tecno Spark 7p: Unboxing And Full Review.
---
Camon 17 Performance Review
The Tecno Camon 17 smartphone comes packed with a 4 GB RAM. In theory, this should be enough to make the device run apps and processes very smoothly. You're about to find out if this is the case.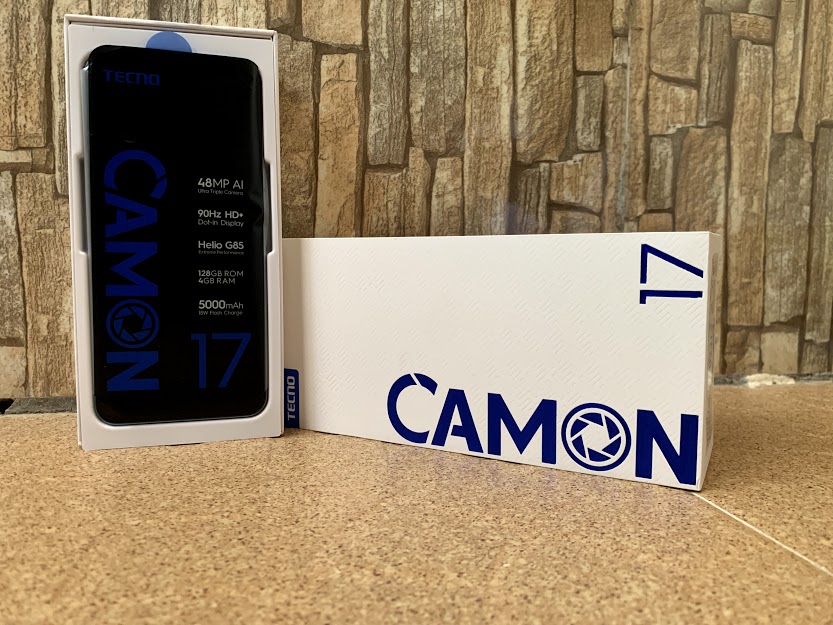 Using the device actually feels really smooth and swift. There are no unnecessary lags that you would experience with other devices that have, say, a 1 GB or 2 GB RAM. Switching between apps and multitasking with the Camon 17 comes pretty easy with the device.
We can agree here that the Camon 17 device is built and can be well suited for heavy users and multitaskers. So, feel free to download your numerous mobile applications to use on the device with no fear of lag.
Advertisement - Continue reading below
Surfing the Internet
From experience, you should have seen that Chrome is a CPU-heavy browser. It comes a lot of CPU and RAM so you would understand why we have to be sure of what the performance of this device is like when using this browser.
We opened a lot of tabs on the Google Chrome browser with the Camon 17 and tried to rapidly switch among these tabs. We didn't experience any lag or slow time doing this. However, after exiting the browser for a while and going back in, we discovered that some tabs in the browser were being reloaded to show its content.
Our best guess is that after a short while, Chrome purges the content of these tabs from RAM in a bid to conserve system resources for other activities. Overall, the device has a pretty good browsing experience. Totally recommend.
Playing Games
We subjected the Camon 17 smartphone to playing a CPU-heavy game – Call of Duty. And like you would see soon, the experience was nothing short of smooth.
First, the phone was compatible with the latest version of the game (For context, the iTel P36 wasn't). Then launching and playing the game was quite smooth without the lags that you might experience with other phones. So, users heavy on gaming shouldn't entirely dismiss the Camon 17.
Please note that the quality of video was grossly compressed so it can be shared. The video quality is much better than what you'd see. But also, and more importantly, notice the smooth sail I had with playing the game.
Camon 17 Camera Review
On the rear of the Camon 17, there's a triple camera. There's a 48-megapixel main sensor, a QVGA depth shooter, and a dedicated AI lens. While the selfie camera is an 8MP punch-hole camera.
Using the phone camera gives you access to short video (15 seconds video recordings), Video, AI CAM, Beauty mode, Portrait mode, and Super Night modes.
Advertisement - Continue reading below
The pictures that this camera produced are very clear. We totally recommend for mobile photographers. This seems like a suitable device for mobile photography because it has a great camera quality and also strong RAM that cam run photo editing apps. It's like the entire package for this segment of users.
We took a couple of photos with the Camon 17 and they came out really clear and beautiful. Please check the gallery below.
A great update that came with the camera was the integration of Google Lens. So, right from your Camon 17 camera, you can click on the Google Lens icon and search for an image, translate a text, solve a mathematical equation, or 1001 other things that Lens allow you to do.
Camon 17 Battery Review
A monster 5,000 man battery, what do you expect?
The device charged from 0% – 100% in 2 hours, 35 minutes. The Safe Charging feature, we imagine, helps with this quick charge. This same feature also protects the battery by automatically disconnecting it once it's done charging.
After charging full, the device was left with minimal usage for about 3 days and it still had 82% battery. Under heavy usage – playing Call of Duty for about 3 hours -, the battery was left at around 45%. This has an impressive look.
On this end, the manufacturers outdid themselves as the battery department is very impressive.
Drawback
As with many other Tecno devices, the Camon 17 smartphone comes with a handful of bloatware. This messes up your notifications and sometimes, interrupts your experience as you use the device. It can be really frustrating, to say the least.
Advertisement - Continue reading below
What's the Verdict?
From our perspective, there are a couple main sections that any device owner want to see their smartphone excel in. They include the actual performance, camera, and battery.
The Camon 17 smartphone does really well in all of these areas. A 4 GB RAM, clear triple rear camera, and a monster battery. Hence, we think it's totally great and worth the price it currently sells for.
It is, surely, the whole package!