The landscape of Bluetooth headphones has grown over the years and they have evolved to include features like ANC, ambient mode, and Bluetooth multipoint which is somewhat the least talked about.
For a feature that has been supported since Bluetooth 4.0, it hasn't gone mainstream yet like the other features that were previously mentioned.
Advertisement - Continue reading below
Usually, wireless headphones or speakerphones make a point to point connections only, even though Bluetooth supports point to multiple points connections which is where the name Bluetooth multipoint stems from. In this case, this makes Bluetooth headphones to be able to connect to multiple devices at once.
How Does Bluetooth Multipoint Work?
For context, a Bluetooth device like your headset is able to mitigate against interference by frequency hopping which is basically changing frequencies up to 1600 times per second.
Because Bluetooth is designed to work in a congested frequency environment, it hops on a new frequency after receiving or transmitting a packet to avoid interference. Another term to note is a piconet. This is the collection of devices in a Bluetooth ad-hoc connection.
In a piconet, a device has to act as the master which in this context is the Bluetooth headset and the other devices in the connection are the slaves which are all on the same hopping sequence dictated by the Bluetooth Headset (master). In Bluetooth multipoint, there are more than two devices because the Headset is connected to multiple devices or points usually two or three.
Virtually all devices like your smartphone, laptop, smartwatch and so on support Bluetooth multipoint, however, because the Bluetooth headset is the master, it dictates how many of these devices you can connect to or how the connection will be which brings us to the types of Bluetooth multipoint there are.
---
Read More: How to connect Bluetooth headphones or TWS Earbuds to Roku TV
Advertisement - Continue reading below
---
Types of Bluetooth Multipoint
There are different types of Bluetooth multipoint based on how many devices you can connect to and how switching between these devices works. Some headphones have different requirements for Bluetooth Multipoint like support for a particular Bluetooth codec or audio profiles generally A2DP, HSP and HFP.
Simple MultiPoint
Here, you have one headset connected to two devices simultaneously such that you will get notifications or calls from one device if you are actively using your headset on a different device. However, let's say you're on a call on one of your smartphones with your headset and you get another call on a separate phone connected to the same headset, your headset will notify you of the call and if you pick up the incoming call, your current call will be disconnected. In other words, it disconnects from your initial call to answer another call from your other phone.
Advanced Multipoint
This also involves a connection with two devices but unlike the simple method, the headset is able to keep your former call going (on hold) while you answer an incoming call from the second device. This is where the distinction between the simple and advanced multipoint lies. Also, this is usually seen in professional headsets and is not common in mainstream ones.
Triple Connection Bluetooth Multipoint
Bluetooth Multipoint with a triple connection requires a docking station that connects to up to three devices using DECT and Bluetooth. You can receive calls from multiple devices here and also control them on the docking base. This is entirely professional headphones turf and you will unlikely see any other type of headphones with this functionality.
---
SEE: Understanding USB-C Alternate Modes
---
Other Bluetooth Multipoint Implementations
Mostly seen in earbuds like the Galaxy Buds 2, Galaxy Buds Pro and Apple Airpods. There is an auto-switching feature that detects activities like phone calls or music play and switches between compatible devices accordingly.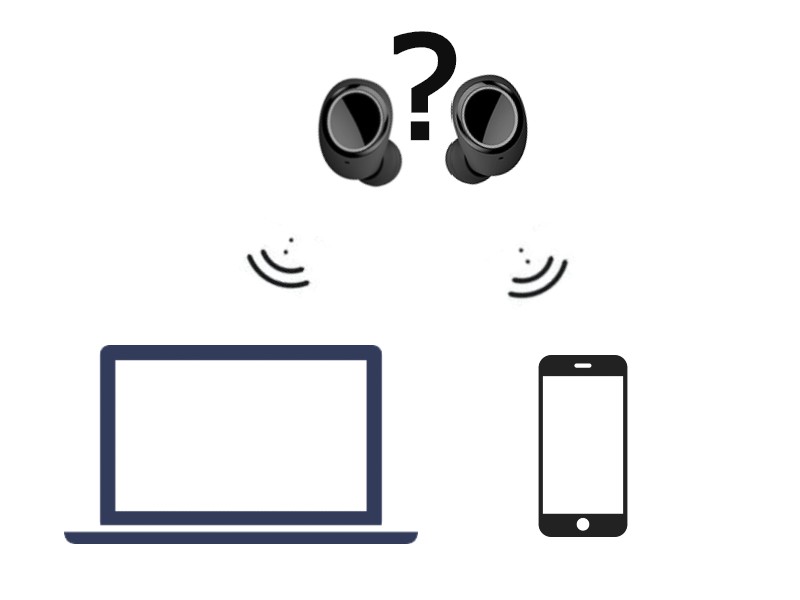 This is possible because Bluetooth is an ad hoc connection and the availability of Park, Sniff and Hold modes for a device in a piconet. These Bluetooth properties allow a Bluetooth multipoint connection to be established without requiring the slave devices connected to the Bluetooth headset to be active or participate in traffic. Since the Bluetooth Headset is the master in the piconet, it can be programmed to be able to switch connections and also control the type of connection that is made.
Why Your Next Headphones Should Have Bluetooth Multipoint
Headphones that actually get Bluetooth multipoint to work seamlessly can be hard to find but when it does the upsides to having them are enormous. You don't have to miss calls or notifications just because you're watching a movie or go through the inconvenience of removing your headset to answer a call on another device.
Advertisement - Continue reading below
There are many use cases where Bluetooth multipoint comes with so much convenience and ease. It helps you stay connected to multiple devices at the same time so you can be immersed on one of your devices without missing important things on the other.
Bluetooth Multipoint Headphones
JBL TUNE 700BT
Jabra Elite Active 65t
Soundcore by Anker Life Q30
Jabra Elite Active 85t
Sennheiser PXC 550-II
Sony WH-1000XM4
Plantronics Voyager 6200 UC
Microsoft Surface Headphones 2
LG TONE Flex XL7
Tribit Wireless Bluetooth Headphones
JLab Go Work Wireless On-Ear Headphones
Motorola Boom 2 MH003
BH-M6 Multipoint Headband Bluetooth Headset
Nokia Luna BH-220 Bluetooth Headset
Does your current Bluetooth headphones support this Bluetooth Multipoint feature? Tell us in the comments section below.