The Xiaomi Redmi Note 10 Pro is a high-value proposition for shoppers on a budget. The head turners on this affordable midrange are the 120hz refresh rate and the best in class super AMOLED display, once a reserve for flagships. While the Redmi Note 10 Pro (global) packs a whopping 108MP camera, the Indian variant which goes by the same name has a more modest 64MP but is no less powerful.
Our decision to buy and thereafter review the Redmi Note 10 Pro (India) is based on its price $250 or ₹18,999 ₹21,999, $228 on Amazon.com versus $340 for the Pro Max (or global Redmi Note 10 Pro). Over the months of testing, we still stand by our decision based on what we get for the price. All right then, let's take a deep dive into what makes the Redmi Note 10 Pro one of the best buys of 2021. Full steam ahead!
Advertisement - Continue reading below
Design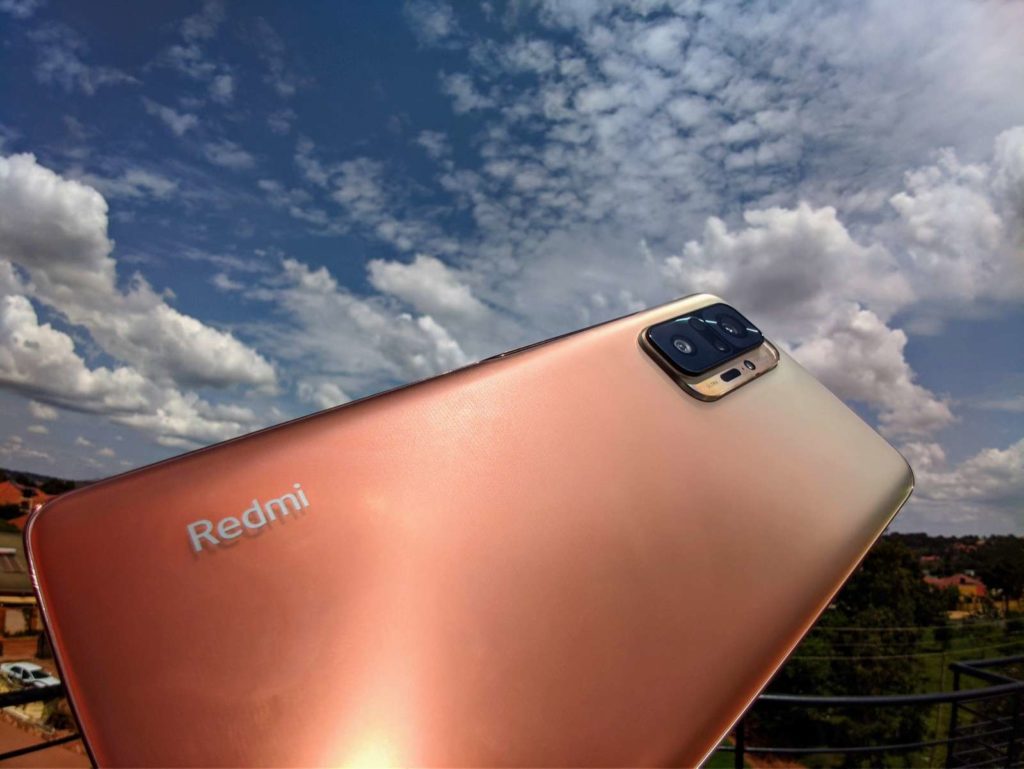 The Xiaomi Redmi Note 10 Pro's design language borrows heavily from the rest of Xiaomi's roster of smartphones and less from previous Redmi iterations. The four-camera setup is more or less identical from what you'll find in the Mi Series and so is the general aesthetic of the device.
True to form, Xiaomi released 3 Note 10 Pro variants: the Chinese version, Indian version and the global version. The main differences are the LCD panel for the Chinese variant and juiced up 108MP camera for the global variant in contrast to 64MP camera for the Indian version which retails at a lower price point.
The camera protrudes quite a distance. It would a challenge to fiddle with the device on a flat surface but Xiaomi rightly assumed we wouldn't dare use the Note 10 Pro without a jacket. Slap that on and the wobble is history while giving you peace of mind to boot.
The Redmi Note 10 Pro also stages a successful rebellion against the bollocks instigated by Apple and currently infecting high-end smartphone manufacturers. The device proudly ships with a charging brick and a headphone jack too. No earphones were included in our review device which is well and good. I never use those token earphones anyways.
The top and bottom house the speakers and microphones. The Note 10 Pro also includes a functional IR blaster. Despite having an AMOLED screen, it's the power button on the right side that doubles as a fingerprint scanner.
Cameras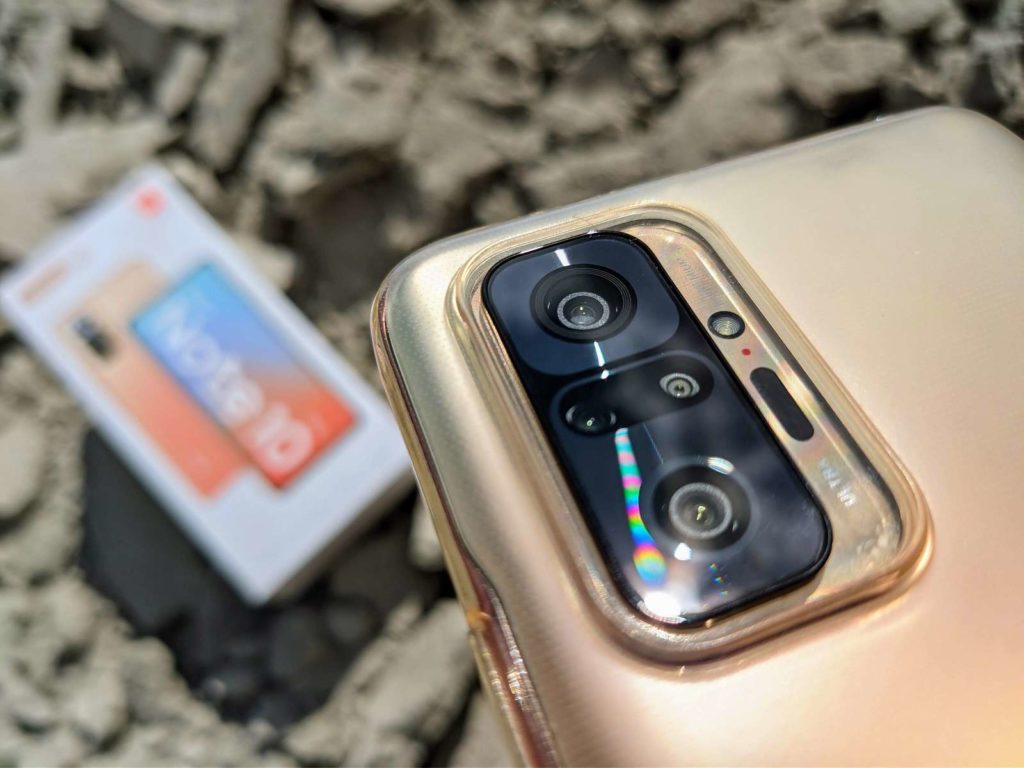 The primary camera sensor of the indian variant of the Redmi Note 10 Pro isn't jacked up like its international cousin but that doesn't make it any less impressive. If you want the full experience, get yourself the ostentatiously named the Pro Max (in India) or mindbogglingly the Note 10 Pro (with 108MP camera) internationally. Size doesn't always matter (look at the iPhone's modest camera specs vs output for comparison).
Advertisement - Continue reading below
I will be frank with you here; the Redmi Note 10 Pro camera doesn't hold a candle to the most flagships so let's not even pretend that it does. What you get are serviceable pictures. Shots on the Redmi Note 10 Pro can vary from excellent, to so-so depending on the environment, ambient light and time of day.
On a day when the sun is sunny side up and the light is conducive, the images are bright and cheery and the camera captures a good deal of detail. It's even better on closeups that return accurate image composition.
However, in less than ideal lighting, the camera defaults to gimmicks and over-saturation to get the job done. I noticed that colors such as the reds are often over-pronounced to the detriment of detail. So then on closer inspection, the images end up being grainy like a photo from the 90s. The cameras vacuum a lived-in carpet littered with dirt to look spick and span like a display set.
Something else I also appreciated far more than I have a right to are the camera features. Photo/Video Clone isn't unique in itself, but it's pleasant that I don't need to download a different camera app to be able to take advantage of it. Have a look at some of the shenanigans I got up to.
Performance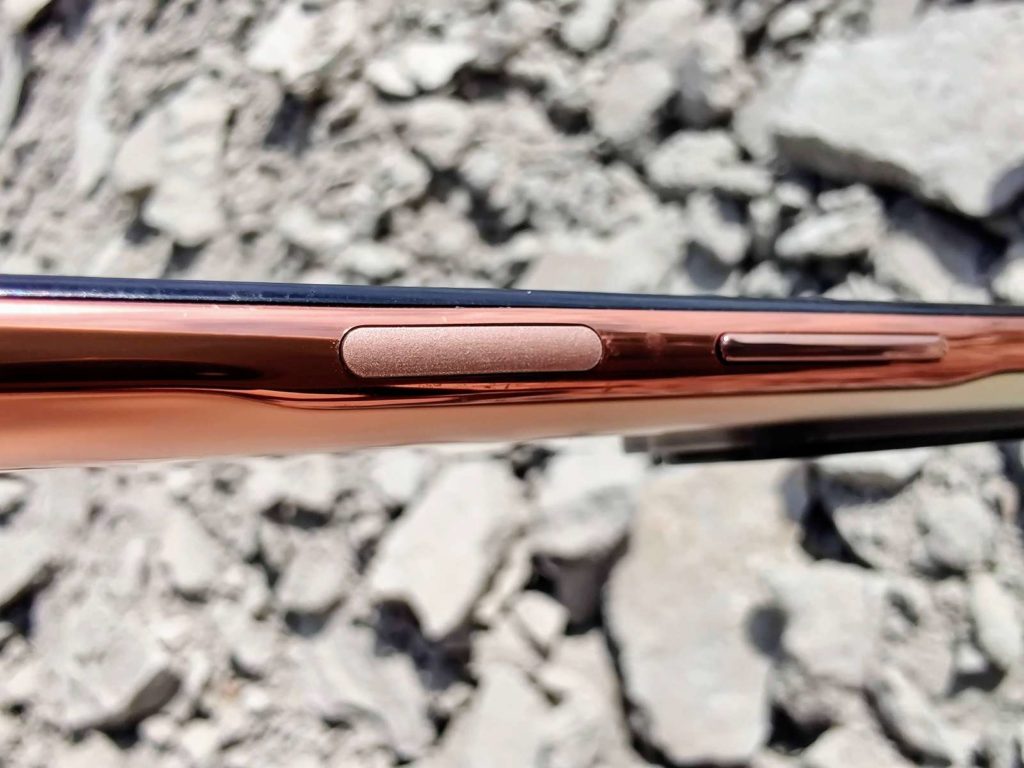 A peak under the hood reveals a lower midrange Qualcomm Snapdragon 732G SoC. While there are decidedly better processors, you'd be hard-pressed to find one better for its price point. Other devices at a similar price point on the market either have the Snapdragon 662, the MediaTek G80 or Exynos 7904 all of which are lacking in the firepower department.
Running on all cylinders, the Redmi Note 10 Pro dazzles with its stunning 120hz Super AMOLED display. You get better viewing angles and a wider color gamut than most phones of this price. And perhaps due to my quite heavy usage, the 5020mAh battery takes quite the hit at 120hz refresh rate and doesn't edge past 8 hours. By default though, the refresh rate is set to 60hz, so that bumping it up to a higher refresh rate is a conscious decision.
The performance is buttery smooth. The side mounted fingerprint scanner is super fast but I noticed that after a few months of usage, it stuttered once or twice and refused to respond. But that's small potatoes. Just for comparison, I opened apps side by side with the OnePlus 7T (running Snapdragon 855+) and the Redmi Note 10 Pro. To my surprise, the two devices launched apps at more or less the same pace. The games don't render nearly as good but they are decent in their own right.
The Redmi is responsive and snappy but that's not to say that the Redmi is anywhere near as good at the 7T. Actually, I noticed a few hiccups here and there. The screen did freeze on me a couple of times out of the blue and the battery drained quite fast until I defaulted back to 60hz.
Advertisement - Continue reading below
Perhaps the one downside is the absense of 5G which is fast becoming the norm. Personally, I don't care for it. 5G will take a while to execute in my region, and only then will I seriously think about getting a 5G smartphone. After a while using the Indian Redmi Note 10 Pro, I noticed that outside India, the lack of extensive network bands can be limiting. The connection isn't as strong in certain regions and the WiFi weakens considerably when I am in a different room in the same house.
Battery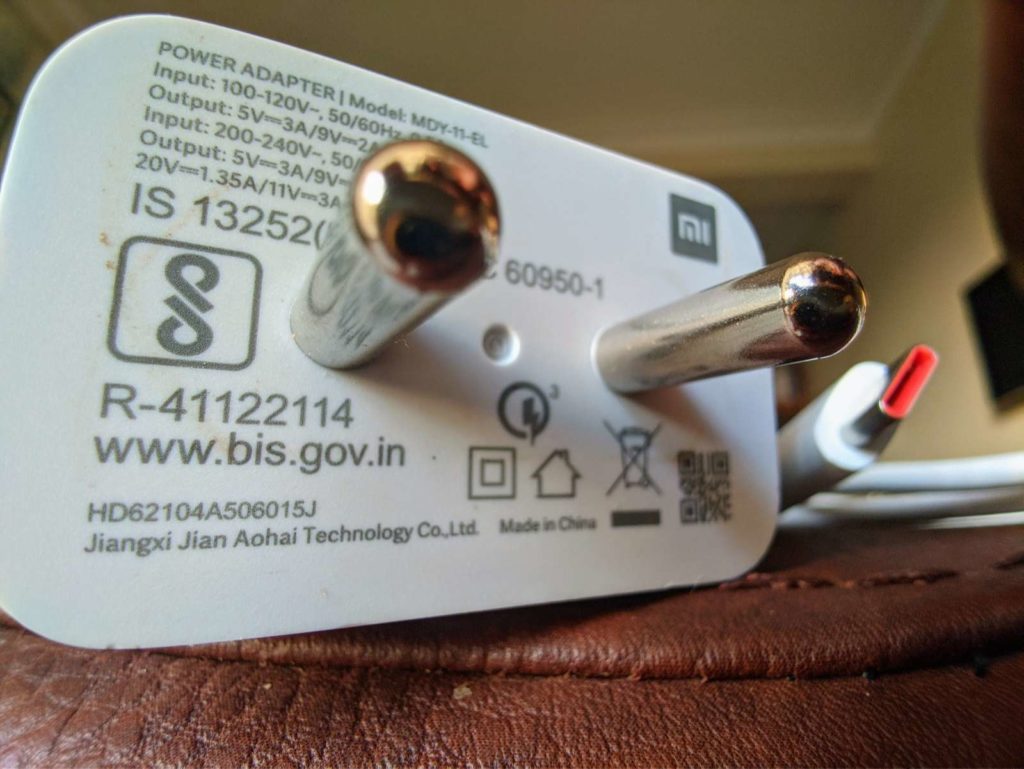 Xiaomi clearly gives more buck for the buck with devices that have a long-lasting battery, raw processing power, and these days AMOLED screens all at a low price. The Redmi Note 10 Pro is a classic example of this. The 5,020mAh battery is more than enough to take you through a full day of usage, even with the 120hz refresh rate although that doesn't do it any favors.
The higher refresh rate taxes the processor more which isn't good for overall battery longevity. I found that I could get away with using 120hz as opposed to 60hz because of just how fast the 33W fast charger juices up. I can top up 50% in under 30 minutes. As an aside, don't I just love the fast charge animation that shows the charging in real life. Quite cool.
---
Related:
---
MIUI Android skin
The Redmi Note 10 Pro runs Android 11 gloved in MIUI 12 which is a hit and miss depending on who you talk to. As of writing this post, that stands at MIUI 12.5.8 which cleans house on some system issues. Now I have personally always been a fan of MIUI, most especially the vertical recent apps menu. A horizontal apps menu on a vertical smartphone are just rubbish. MIUI does it better hands down.
One thing I didn't fathom was the font choice. The boldened font choice goes against the MIUI aesthetic to the point that it looks out of place. Much of the phone is all about artistic playfulness, which I love. But get to the setting and it's authoritarian bold fonts that just rub me the wrong way.
Something else I loved was the 'About Phone' feature. On a single page without having to download 3rd party apps, you have access to information about the phone specs, wireless, current upgrade and whatnot.
Software & Bloatware
The Redmi Note 10 Pro India serves the usual ration of bloatware one would expect from an Android smartphone. Can we still classify Google apps as bloatware if we use them willingly? While I was kosher with most of the apps, I found it galling that I couldn't uninstall Google One and Google Pay The security app too dishes you some apps on the low-low while pretending to sanction new app installs. At least that's easy to uninstall.
Advertisement - Continue reading below
When you upgrade MIUI, Xiaomi does install some more bloatware on the sly. Last I checked I got ShareMe, Mi Coin, Yellow Pages, and a few other apps that cannot be uninstalled but were initially not there.
Keeping it in the family, the Redmi Note 10 Pro retains the IR blaster you won't find in most non-Chinese smartphones. With the Mi Remote app, you can control your TV and other devices that make use of this technology. It comes in handy in a pinch when you are not up to the quest of looking for the remote, although to be honest, using the app is not something that comes naturally to me.
Network outside India
The Redmi Note 10 Pro from India appears to lack some operating frequency bands. The supported frequency bands for 2G include GSM 850 / 900 / 1800 / 1900 for both SIM 1 & SIM 2. As for 3G, you get HSDPA 850 / 900 / 1900 / 2100. But 4G by far has the least bands only comprising 1, 3, 5, 7, 8, 40, 41 bands. Contrast that with The global Redmi Note 10 Pro which packs 1, 2, 3, 4, 5, 7, 8, 20, 28, 32, 38, 40, 41. We noticed that the Redmi Note 10 Pro Max supports the same frequency bands as the Note 10 Pro India.
Daily mobile usage is quite all right for the most part. despite the fewer bands. Whatever shortcomings I had can easily be the fault of my MTN and Airtel networks. However, I noticed that the WiFi signal strength degrades quickly when not within spitting distance of the router.
Redmi Note 10 Pro (India): Final Verdict
I don't know about you, but I haven't come across many pocket-friendly smartphones offering half the firepower the Redmi Note 10 Pro has. The 120hz super AMOLED screen makes a world of difference considering most smartphones at this price-point are usually LCD screens.
Couple that with a decent Snapdragon 732G for consumers who wish to experience Snapdragon in a sea of mid or low range MediaTek processors and you have yourself a winner. Xiaomi doesn't stop there though. The beefy 5020mAh battery is complemented with a 33w fast charge power brick for those super fast top ups.
At $250 (UGX 889,000), the Redmi Note 10 Pro (India) is a high-value proposition for price-sensitive shoppers who wish to save a few bucks. There is no difference in specs from the Redmi Note 10 Pro Max other than the camera. It's inexcusable to pay $340 (UGX 1,200,000) for the Redmi Note 10 Pro Max just for a marginally better camera. Something doesn't add up for me, or maybe it's how it's costed in my region.
Overall, I am quite satisfied with my purchase.
Advertisement - Continue reading below
Price and availability
You can get the Redmi Note 10 Pro from Xiaomi India online store for ₹18,999 ₹21,999 for the 8GB+128GB, Vintage Bronze model or ₹15,999 on Flipkark for the or 128GB/6GB RAM model or $228 on Amazon.com for the 128GB/6GB RAM model.