When my son turned about two and a half, I was already scouting online stores for a child-friendly tablet to hook him up. I grew up in the 90s way before the internet, let alone smartphones or tablets were even a thing. Today, kids start playing around with these gadgets as early as one year.
Experts still disagree on whether such Tech is good for toddlers, but the general consensus is to moderate on screen time and have parental controls which I totally agree with.
Advertisement - Continue reading below
So now that we can't stop or reverse the clock, you have to hop on the train. Now the question is; what's the best tablet for my child? That's a broad question whose answer lies somewhere in-between your budget, location, platform of preference, and the age of your child.
As a geeky Dad, I have the liberty and privilege to roam between iPads, Amazon Kids tabs, and Android tablets. My iPad Air 3 has largely been out of bounds for my son given its cost and fragility. So he's mostly played with Amazon Kids tablets and Android tabs.
Before you buy a Kids tablets
Now, before you settle on a choice for a tablet for your child, you need to consider a number of factors;
Price: This is a no-brainer. Childcare is in itself already expensive and most parents already have a ton of financial obligations. So naturally, the cost is a very important metric to consider. Luckily most brands are aware of this constraint and have priced their products under $200 for the 10-inch models and sub $100 for the 7-inch models. The outlier here is, of course, Apple whose cheapest tablet is about $350. But Apple could be excused because the iPad isn't necessarily a Kids specific tablet, It's a general-purpose tablet computer that can be adapted for all ages.
Parental control: Children must be protected especially in the wild wide west that is the internet. So having some checks and balances for parents to routinely tune and keep a watchful eye on what their kids are consuming online is super important. Luckily a number of vendors ship some kind of parental control for their tablets which allows parents to approve apps before they're downloaded on the device, see viewing history, and even set screen time. I find Amazon's parental controls the best in any tablet.
Protective case: Any parent knows kids can be a mess and that's great. It's part of their development and play. That's okay if they're playing with their toys. Tablets are not toys. They're costly and fragile. A good protective case will keep your kid's tab from drops, foodstuffs, drinks, and liquids. A good one should be able to take a thorough beating from any hyperactive child without damaging the device. Amazon's Fire tablets have one of the best protective cases I have seen on a tablet. Sadly, iPads with all their fragility don't come with one, so you will have to buy a good one separately.
Advertisement - Continue reading below
Kids Apps and content: No kids' tab will be worth its salt without a good education and fun content designed specifically for kids. Luckily there's a decoupling between the hardware and software, so vendors don't have to worry about content as long as their devices run on the most popular platforms. Google's Android, Amazon's Fire, and Apple's iPad are the most popular platforms. Content providers and platforms such as Netflix Kids, Youtube Kids, PBS Kids, Disney, LooLoo kids, Cocomelon all try to work on the most popular platforms. Google's YouTube Kids isn't available on Amazon's Fire tabs.
Location: Where you live in the world heavily determines your purchasing choices especially where online content is concerned. Some vendors choose to support specific geographies and not others. Otherwise, you'll end up buying a device that won't work in your country. I find Android tablets to be the most universally supported affordable devices thanks to Google's global presence.
Second to that is Apple's iPads. They'll work almost anywhere in the world if you don't mind the cost. Amazon Fire tabs are cheap and cheerful but are made mostly for the U.S. Amazon Kids+, their subscription service for kids content doesn't work in my region (Uganda) for instance.
Size: Most Kids' tablets are 7 inches in size. This is easy to handle for younger kids. But as they grow older you want to consider bigger sizes such as 8" and 10". Personally, I find the 8-inch size a good sweet spot for a kids' tablet for children between 3 and 8. However, this all falls back to personal preference and budget.
Alright, with that said, let's get into some of our top recommendations for Kids tablets.
Amazon Fire 7 Kids tablet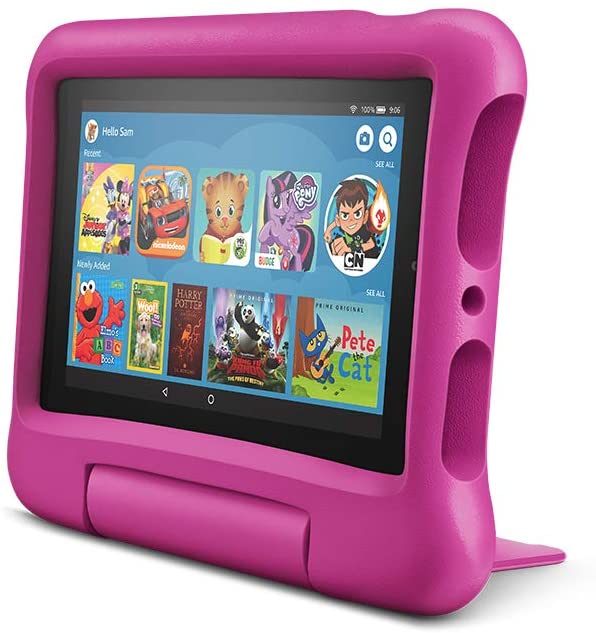 Even if this list has no specific order, Amazon's Fire Kids tablets come to my mind first. Amazon Fire tabs deliver good performance at hard-to-beat prices. They come in several sizes starting with the smallest 7-inch model, then 8 inches all the way to 10 inches. The 7-inch model is the cheapest costing a mere $59.99 when discounted and about $99.99 on regular sale. You should wait for the discounted price because Amazon always slashes the prices of its devices mostly during big holiday shopping seasons.
Alright, my son uses the $89.99 8-Inch Amazon Fire tab. I absolutely love the protective case which has kept the device safe even after several drops and foodstuffs all over it. Amazon's parental controls are also the best you will get in any tablet. They are easy to use and come with a number of features designed to keep your child safe.
The drawback to this tablet is that it's made specifically for the U.S region. A number of apps are unavailable to me unless I use a VPN including Amazon's own kids content subscription service. It also lacks YouTube or YouTube Kids even for users in the U.S. YouTube Kids is a mostly globally available Free service based on YouTube but specifically made for kids. You can technically install YouTube, but it takes a lot of technical wizardries most parents don't have.
Advertisement - Continue reading below
2021 Apple 10.2-inch iPad (Wi-Fi, 64GB)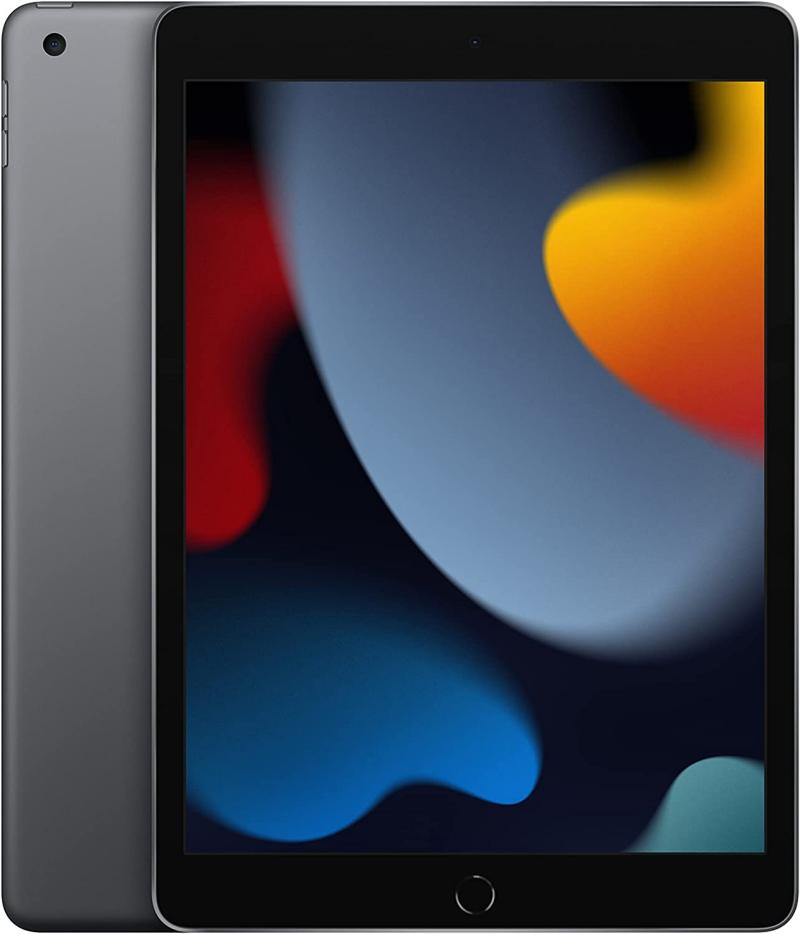 If you are already invested in the Apple ecosystem, you're probably better off staying in it. The iPad is a great tablet for kids offering the best performance and display on any tablet. Apple has several iPad models, but if you're looking for a tab specifically for your child, then the 2021 Apple iPad is your best bet.
It's their cheapest model packing more horsepower than what your kid needs in a tablet. This $329.99 model is powered by an A13 Bionic chip with Neural Engine, WiFi-only, comes with 64GB of storage, offers upto 10 hours of battery life, and works with an Apple pencil. Given how fragile the iPad is, I wouldn't buy it without a Kid protective case. This $21 Pepkoo kid case for iPad is a good option to consider.
Samsung Galaxy Tab A Kids Edition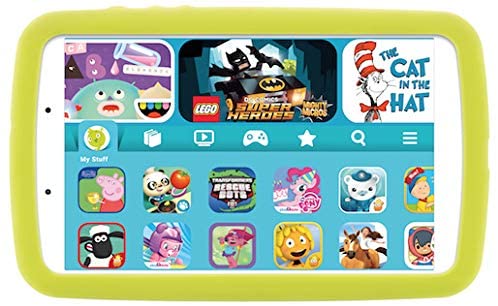 The Samsung Galaxy Tab A Kids Edition is an Android tablet designed specifically for kids. This tablet is a customized version of the Galaxy Tab A 8.0″ (2019, WiFi Only). The Kids Edition has a custom kid's interface called Samsung Kids which features curated kids' content and parental controls.
It also comes with a rugged bumper case that protects the tab against drops, dust, and food particles. This tab still feels like a weak attempt by Samsung to go after the competition or at least to keep up with the Joneses. This tab goes for $119 on Amazon. But if you can't find it, then you simply get the $144 Galaxy Tab A it's based on and buy an external case for it.
LeapFrog LeapPad Ultimate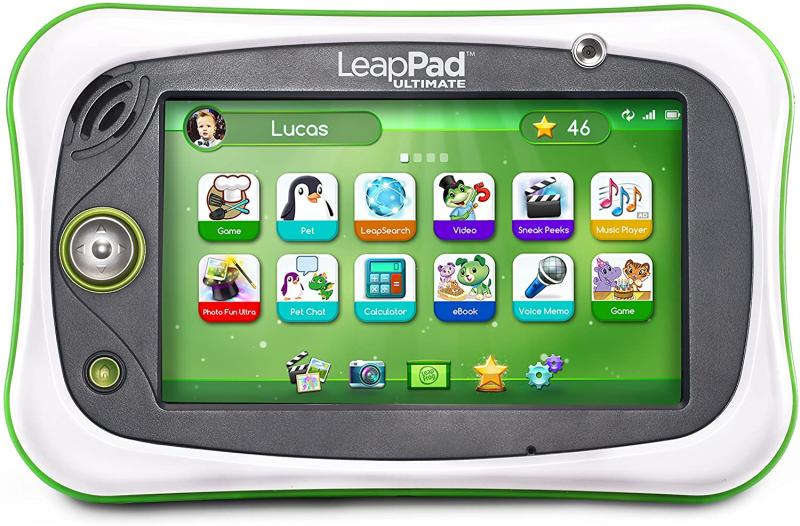 If you have used toys from LeapFrog before, you know they're totally committed to early child development. This tablet is just one of the many great products from LeapFrog completely customized for learning. This tablet comes with a 7-inch screen and is powered by a Quad-core processor, 8GB of storage, and comes preloaded with content with about $110 designed to teach kids core skills in math, reading, science, music, and creativity.
LeapFrog claims the tab comes with what it calls "Just for me learning technology" which personalizes the learning experience for each kid. It also includes a built-in bumper, reinforced design, and shatter-safe screen. Parental controls allow parents to add multiple kids to one tablet and set play time limits. This tab has great reviews but comes with a premium price of $239.99 on Amazon.
Pritom 8 inch Kids Tablet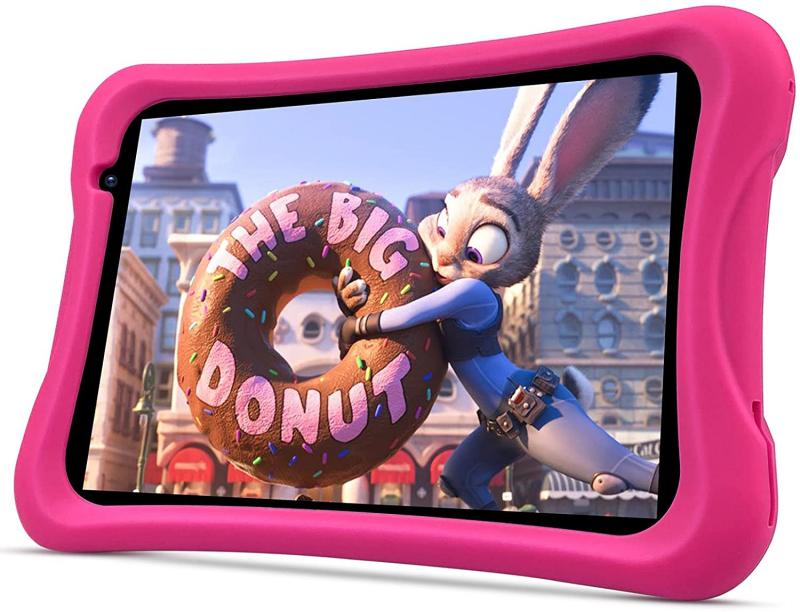 Pritom offers budget Kids android tablets with good performance. This model (L8 series) is powered by a Quad-core processor, has 2GB of RAM, 32GB of storage, a bright 800×1280 IPD HD display and runs on Android 10. You also get parental controls and a durable protective bumper case which comes in blue and pink colors. This model goes for $97.99 on Amazon but you can get cheaper less powerful 7 inch K7 models for $69.99.
Contixo V9 Kids Tablet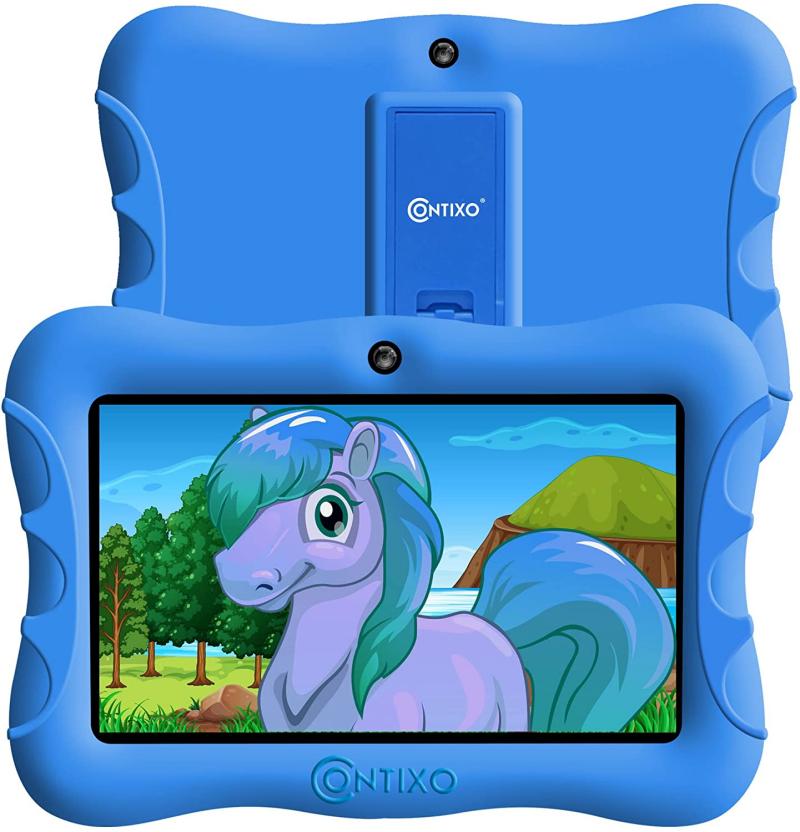 Contixo is another great Kids tablet vendor. They have several models, but the Contixo V9 is their most refined Kids tablet yet. This tablet comes with a 7" HD touch screen, is powered by a 1.5Ghz Quad-core processor, 2GB of RAM, and 32GB of storage. It comes with a number of pre-loaded learning games and apps and parental control.
Advertisement - Continue reading below
You also get a durable protective bumper case that safeguards the device against falls, scuffs, and scratches. It comes in several colors including Blue, Pink, Green, Purple, and Red. You can get it at $79.99 on Amazon or at Walmart at the same price.
Kurio Ultra 2 Tablet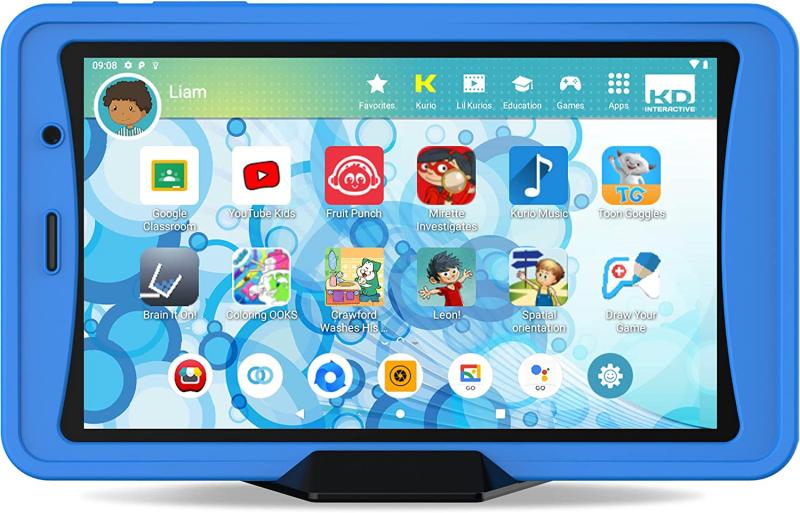 Kurio has a lot of experience designing kids learning devices. The Kurio Ultra 2 tablet is a 7-inch tab powered by a quad-core processor, 16GB of storage, and runs on Android 10 Go. This tab has great reviews. It comes with over 100 educational creative activity apps and games, Google classroom, kids profiles, and a number of parental controls. It has a great protective bumper case to keep the device safe from falls. This tab has an internet filtering system to keep kids safe online. It's $115 on Amazon, $99 on Best Buy, and $100 on Walmart.
TOPELOTEK V7 Kids Tablet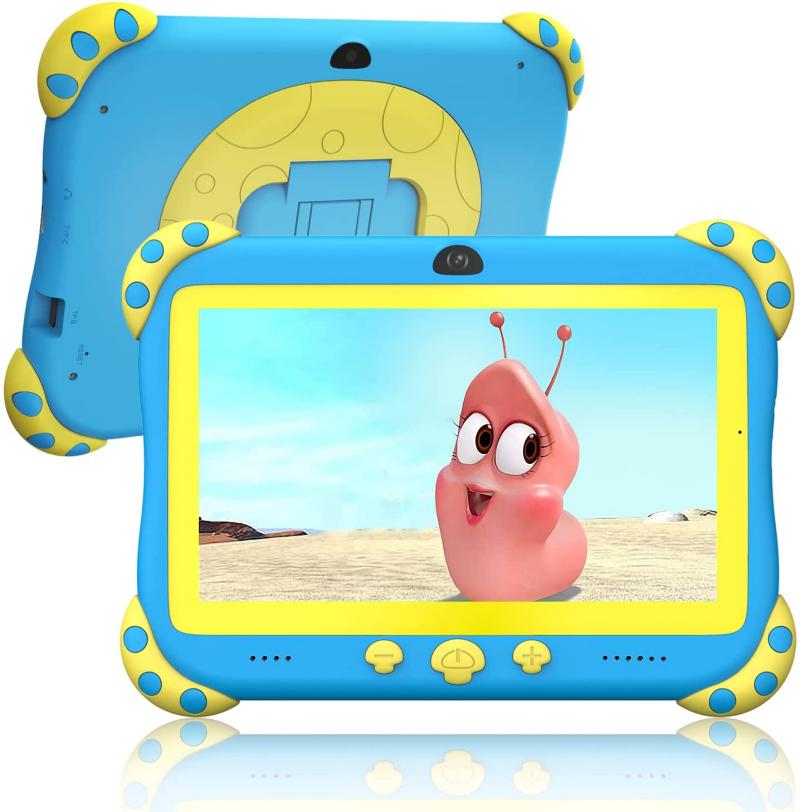 This tablet features a 7 inch HD screen, is powered by a 1.5GHz Quad-core processor, 1GB of RAM, and runs on Android 10. It comes with a number of educational apps pre-installed, but you can download more from the Google Play store. You also get parental control like any other good kid's tablet.
It also comes with a multiple-color mushroom design case that could protect your kid's tablet against dust, bumps, and drops. The foldable stand doubles as a carrying handle. It comes in Blue and Pink and goes for just $69.89.
Coopers 8″ Toddlers Tablet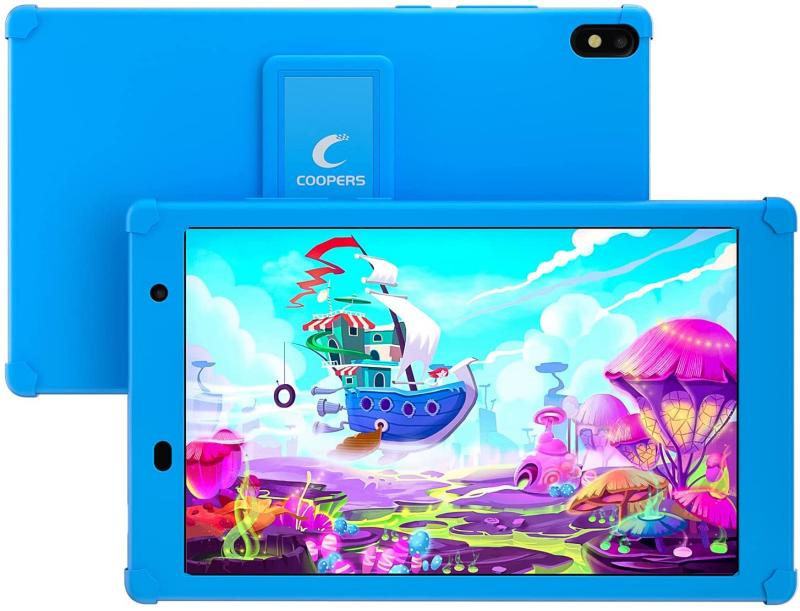 This 8-inch kids tablet comes with a bright 1280 x 800 IPS screen that gives a better viewing experience than most Android tablets on this list. It has 2GB of RAM, 32GB of storage, and a 4300 mAH battery. This Tablet Comes iWawa Kid's software free pre-installed apps for Kids learning. It also has a good protective bumper case which comes in Blue and Pink colors. This tab goes for $71.99 on Amazon.
AWOW Funtab 701 kids tablet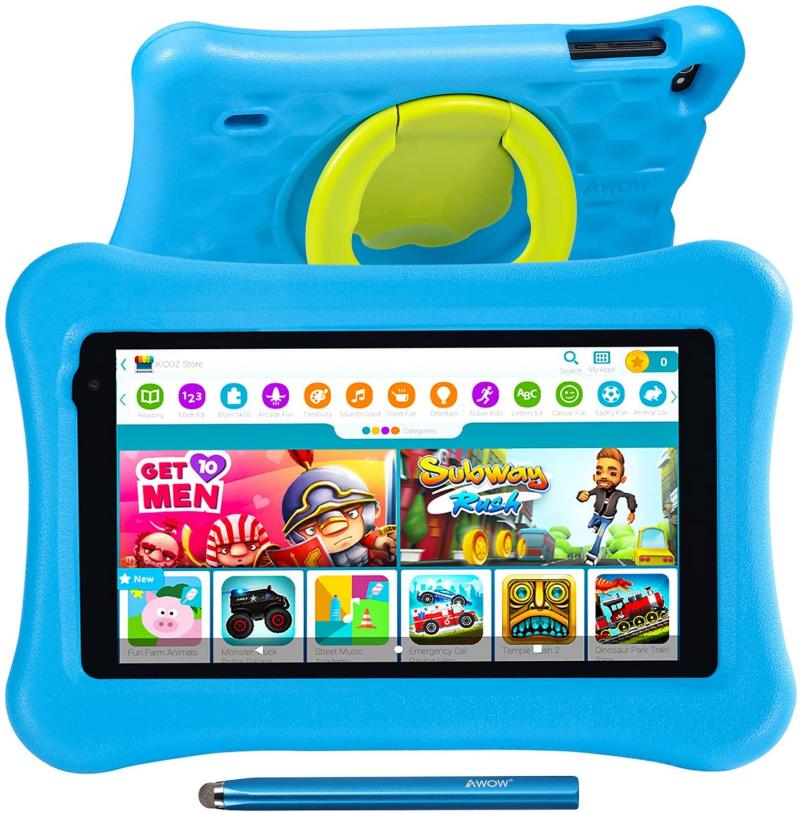 This is a 7-inch kids tablet from Awow that runs on Android 10 Go. It's powered by a 1.5GHz Quad-core processor, 2GB of RAM, and 16GB of storage. This tab comes pre-installed with the KIDOZ app as well as the Google Play store where you can download more Apps. Like any other good kids tab, it has parental controls. It has a good proactive case/stand that protects your kid's tablet against dust, bumps, and drops and comes in blue and pink colors. You can get it at $79.99 on Amazon.
Other notable mentions that didn't make it to the list include;
Disclaimer; this site might earn from Affiliate links added to our product recommendations.
Advertisement - Continue reading below