Since Apple decided to ditch the 3.5mm headphone jack a few years ago, the industry has seemingly followed suit. Today, devices with this versatile yet antiquated port are becoming a novelty. Only enthusiast devices and low-end devices come with this port today.
For the most part, the industry has embraced true wireless earphones, aptly dubbed TWS. From smartphone OEMs to third-party companies and accessory brands, everyone seems to be making wireless earphones today with something for everyone.
Advertisement - Continue reading below
Oraimo is a renowned smart accessories brand that is taking the African market by storm and their products don't suck either. The prices are also pocket friendly with a few slam dunks over the past few years with the Oraimo Freepods 3 being one of these masterpieces we've seen to date.
---
Related:
---
Oraimo's TWS portfolio is pretty well defined. We have had the Freepods lineup for the past few generations and most recently, we saw the launch of the Freepods Pro although these have been a little hard to come by. These offer active noise cancellation, and a far more premium design and this all comes at around $80.
The Oraimo Riff are the smallest and cheapest TWS from Oraimo and this begs the question, are these any good? Well, I have been using these for the past week or so and this is my full review of the Oraimo Riff True Wireless Earbuds.
Unboxing and Pairing
The unboxing experience for the oraimo Riff is not as elaborate as that for the Freepods 3 or even the Freepods Pro. You get a relatively simple but nice box. In it, you get the Oraimo Riff, a user guide, a short USB-C cable for charging, and two sets of replacement ear tips.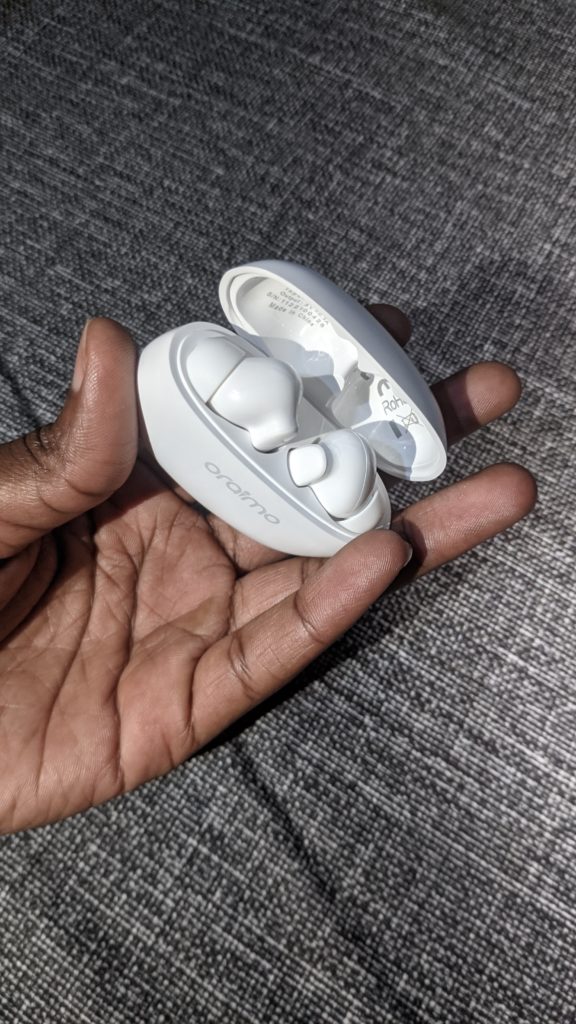 On opening the case, you find the two buds but you will first need to remove the plastic covering the charging pins for the buds to charge and to initiate the pairing process.
Advertisement - Continue reading below
The first pairing is pretty simple. Open the charging/carrying case and open Bluetooth Settings on your nearby smartphone or PC. Locate the 'oraimo Riff' from the list of available devices, tap on that and you're done! You'll hear 'Connected' announced through the earbuds. That simple.
Build
The Riff comes in a plastic carrying case that is much smaller than its predecessors and should fit in the tightest of jeans pockets with no qualms. Of course, this also means they might be easy to lose so be careful. The case is glossy and scratches easily so that's also something to bear in mind.
I haven't seen any cases for the Oraimo Riff but I am sure you can find generic ones that'll help you protect this little investment.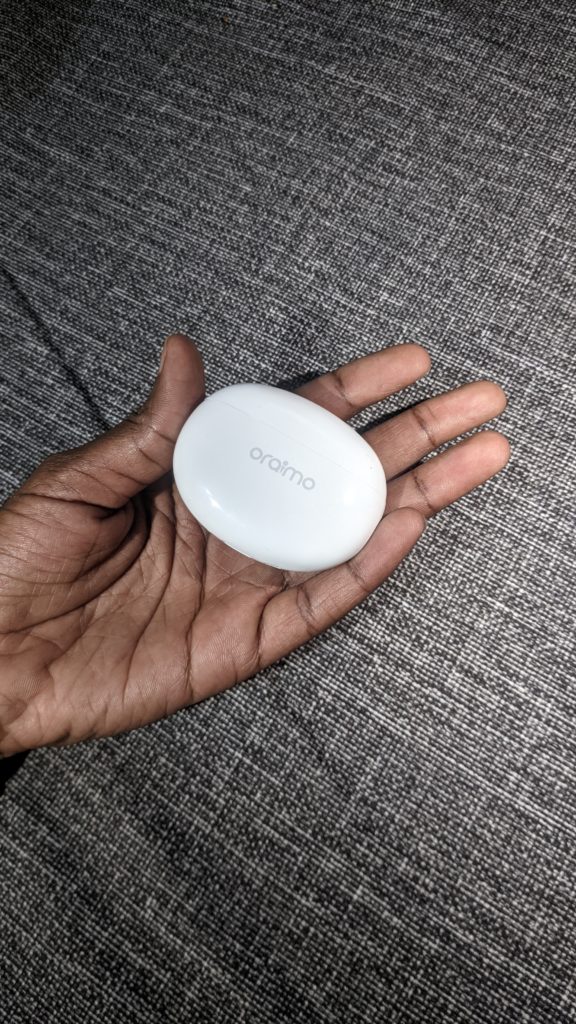 You want a set of wireless buds that are easy to have in your ears for extended periods of time without being uncomfortable. The Riffs are small buds with stem-style design and touchpoints to control playback.
The fit in-ear is pretty snug and they're able to adequately isolate outside noise with little fuss. There are also the replacement ear tips so you can use whichever one makes a perfect fit with your ears so try these out before you settle with the medium size ones that come preinstalled.
The case charges via USB type C, finally!, and also has a reset button and an LED indicator at the bottom. Overall, a really nice and small case to hold in hand.
Connectivity
The Oraimo Riff supports Bluetooth 5.0, the benefits of which can be found in this coverage of ours detailing what's new with this standard. Other Oraimo TWS like the Freepods Pro and Freepods 3 support Bluetooth 5.2 so this is definitely one area Oraimo skimmed off a little.
The Riff also supports both AAC and SBC audio codecs so you should enjoy good quality sound regardless of which codec your device pumps out Bluetooth audio in.
Advertisement - Continue reading below
Using the Riff to listen to tunes and podcasts from my phone and PC had little fuss but I have to add that the latency is massively perceivable, especially coming from the pricier offers from the same brand. Often times I'd crank up the volume and the right bud (master) would respond immediately but then the left bud (slave) would lag for a few seconds before it increased the volume as well.
Sound Quality
Well here's the thing, we are not audiophiles so the technical terms used by sound engineers might elude us. But then a good pair of earphones just stands out and in testing the Oraimo Riff, I came to the table as a music junkie.
Below is a Spotify Playlist that I curated and used in testing these buds. The selection of tracks ranges from songs with heavy hip-hop bass to vocal ballads from Adele to test out the mids, and a few Amapiano tracks to test out the highs with their sneers.
Straight off the bat, the sound quality is pretty good. The bass is punchy and well-defined but it does not come close to the level of bass we saw with the Oraimo Freepods 3.
The mids are also crisp, if not a little flat. Listening to podcasts that are well produced is easy and chill without sounding shrill. The highs could use a little more definition but remains pretty passable.
On Heavy, California by Jungle, the Riff were able to keep up with the rather busy track with relative ease. The mids and highs were well defined but the bass came out a little muddy and not as earth-shaking as I'd have liked.
On Love Lockdown that we used to test out the Anker Soundcore Mini 3, the low-end bass wasn't gut-shaking either like we've seen on other TWS but that is like the absolute extreme scenario. The bass is still pretty well-defined, just not low enough.
The wide open stage and guitar on Khadja Nin's Embargo were chill and crisp, perhaps the track that truly showed what the Riff is capable of. We doubt the average listener will have any issues with the sound quality, especially for the price.
Advertisement - Continue reading below
Controls
like many other Oraimo-made TWS, the Riff also use touch controls on the stems. These taps can be used to involve various functions as follows.
Two taps on either earbud plays and pauses music
Two taps can also answer or end calls on either
Long press for 1.5 seconds on left earbud goes to the previous track
Long press for 1.5 seconds on the right skips forward one track.
Triple tap on either bud to call up Google Assistant or Siri depending on which operating system you're on.
In my testing, these functions were pretty responsive, and at ni point did I feel as though the buds were sluggish to pick up my taps. However, it takes a little bit of fumbling to get the sweet spot for the touch-sensitive areas of the buds but after nailing them, muscle memory takes over and these are pretty intuitive. Perhaps seeing as I have been using Oraimo buds in the past.
Call Quality
The Riff also comes with a set of mics and this allows you to record audio, voice notes and take calls. The call quality through these buds was solid for the most part but then there are better options out there.
Worth noting is that I ran into odd connectivity issues when using the oraimo Riff for WhatsApp and Google Meet calls where the person on the other end of the line felt like I was across the room as my voice was distant. I don't know if this has something to do with my specific setup or the oraimo Riff but it is an issue nonetheless.
Battery Life
The best-sounding TWS is no good if the battery life cannot have you listen to your content in its entirety without having to charge them again. With that, battery life is just as important when we look at wireless earbuds.
The Oraimo Riff has a 35mAh on either bud and the carrying case houses another 300mAh. Like all TWS, the carrying case charges the earbuds when they're not in use.
The Oraimo Riff earbuds are rated at 4 hours of playback per charge although your mileage might vary depending on your usage. In my case, these lasted me through an hour-long podcast and a few TV show episodes at around 70% volume.
This is more than enough for the average user as this is perhaps one of the most extreme use cases. Besides, 3-4 hours of use is pretty passable for such products so you should be just fine.
Advertisement - Continue reading below
Equalizer
many of these little issues with these TWS emanate from the lack of a dedicated app that should help tune the EQ. I played around with a few tools on Android. the Poweramp Equalizer app proved rather useful as a third-party way of tweaking the equalizer on these buds.
I use Linux on my PC and PulseAudio also provided a robust way to tune the audio output on these TWS to my liking. Many PC OEMs have dedicated apps for their sound cards and these should also offer you more control over the sound from the Oraimo Riff.
Pricing and Availability
The Oraimo Riff has been in the market for the past couple of months and you should be able to grab a set of these from your nearest store with ease. They're also available on multiple e-commerce platforms like Jumia and even from Oraimo's official online marketplace.
They are available in 4 color options, Red, Green, Black, and White. These should run you a little over $20 (KES 2,500, 8,800 Naira, UGX 80,000).
Conclusion
That's the Oraimo Riff for you. Now, should you shell out your hard-earned money for these? In my opinion, absolutely. For the price, you'd be hard-pressed to find a better deal. However, if you're willing to part with an extra $10 or so, the Freepods 3 are still a more wholesome package and with the discounts going around online, those are a better deal.
Should you want the extra color options offered by the Riff, and not mind the hour less battery life compared to the Freepods 3, the Riffs are an unbeatable set of TWS.