Full disclaimer, I haven't been all that into TWS. I mean, I know that this is the way of the industry today but the anti-establishment in me has always been reluctant to hop onto the wireless audio train. Maybe I have been in denial or I am an aging dinosaur but I have always sworn by wired earphones.
But when my trusty, beloved Pace Mzooka earphones met their untimely death courtesy of a door handle, it was time to hop onto the hype train and go for true wireless earbuds. A quick consult with my colleagues revealed that everyone had their own preference but the Anker Soundcore Life P2 Review were my go-to.
Advertisement - Continue reading below
As fate would have it, Oraimo announced their Freepods 3 just a couple of weeks ago and I thought, Oraimo is one of my favorite Africa-focused brands and I have heard good things about the previous Freepods 2 Pro so, why not get the Freepods 3? Well, today I just took procession of my Freepods 3, and here's my experience. Spoiler; these things are the real deal!
Unboxing
The unboxing experience is pretty unique and clearly, Oraimo put a lot of thought into this. For just a pair of TWS, the box is a little bulky but opening it reveals why this is so. You might actually want to keep this box.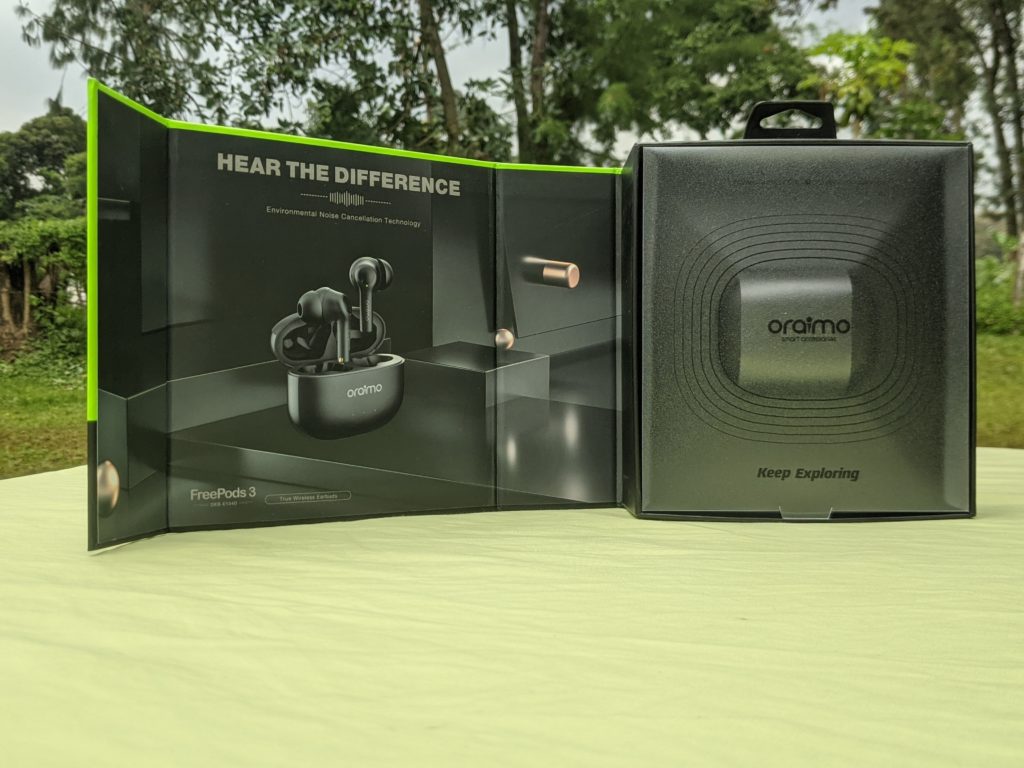 In the box, you get the following:
1x Oraimo Freepods 3 case with the buds inside
1x USB-C Charging cable
2 pairs of replacement rubber tips
Paperwork.
Connectivity
The pairing process is pretty seamless. Just open the case and once you see the LED on the earbuds, open your phone and go to the Bluetooth settings. Locate the Oraimo Freepods 3 and tap to pair.
The Freepods 3 do support AAC codecs. AAC is one of the most popular codec after MP3 and employs a complex lossy compression method and is the most common audio format on the internet. More on that in our explainer for Bluetooth codecs.
Sound
To say that I was blown away by the audio out of these little guys is an understatement. I loved my wired earphones and they had some serious punch in the sound. But no earphones I have owned come close to the kind of sound from the Freepods 3.
Advertisement - Continue reading below
The bass is punchy but isn't overbearing. Oftentimes, I have had to install an EQ app to tweak the music from my phone just how I'd like it but with these Freepods, I don't really need to. The sound is balanced out of the box with the highs and mids coming through clearly in almost all volume levels except when you're like, maxing it out.
Battery Life
Oraimo makes some bold claims over the battery life on these bad boys. In my week or so of usage, I wasn't able to kill them in one sitting which involves several hours of music streaming while connected to the PC.
Oraimo quotes 8 hours per charge for the Freepods and an additional 28 hours from the charging case and I am inclined to believe that. Besides, 8 hours of charge is more than enough for even the longest Zoom meetings.
Basically, there is no reason to worry about the battery life on these buds.
---
Read More:
---
Controls
The FreePods 3 come with touch-sensitive areas on both earbuds. Tapping on these allows you to perform various functions as follows.
Two taps on either earbud plays and pauses music
Two taps can also answer or end calls on either
Long press for 1.5 seconds on left earbud goes to previous track
Long press for 1.5 seconds on right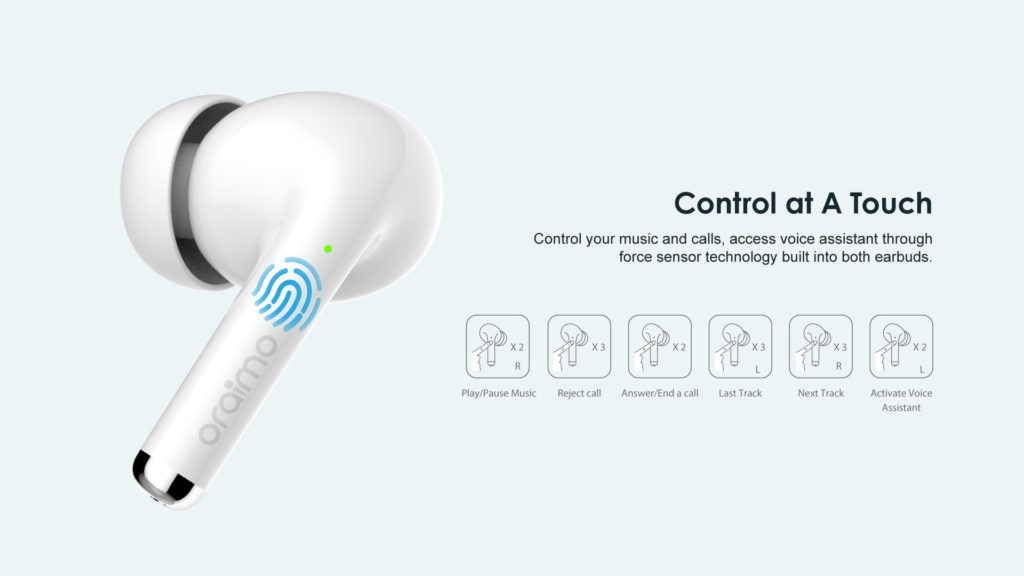 I am still trying to figure out the touchpoints of these Freepods, maybe because I am new to these touch controls, or maybe they aren't as sensitive as they probably should be but I am still having some trouble about a week in.
Advertisement - Continue reading below
Environmental Noise Cancellation Technology (ENC)
Perhaps one of the most hyped aspects of this product is the Environmental Noise cancellation Technology. This is supposed to isolate your voice from a noisy place and have users on the other end of meetings and calls hear you more clearly.
In my testing, these buds offered decent voice isolation but nothing too dramatic. I didn't get to use the previous generation but I suppose these should be better than the previous gen due to this feature.
One thing is for sure though, these are no match for any Noise canceling earbuds in the market today.
Awareness and Bass Mode
One nifty feature that I love about these buds is the replaceable ear tips. The packaging also offers you two extra pairs of these silicon tips, presumably for users who need a different fit but if we're being honest, many will just use these as replacements for when they lose the default ones.
So, awareness mode is the mode when you use the Freepods 3 without the tips. This allows ambient sound to get through to your ears hence awareness mode. Bass mode is when you have the silicon tips attached. These should provide a seal and result in deeper bass…Bass mode!
What are some of the cons?
I legit struggle to find bad things to report about these Freepods 3, mostly because my expectations have been exceeded, especially for the price. But these aren't perfect.
The Freepods 3 have a default tune that is a little heavy on the bass. This is fine for most casual users but might not be ideal for audiophiles. And unfortunately, there's no way of changing this. It'd be nice to have a companion app, but for the price, this is nitpicking.
Another issue that has cropped up over the past few weeks is the quality of the case. Whatever material used to make this case is, it's not very durable. Just a few weeks in and the case looks beat with scratches all over. Of course, the buds still work well and the case still charges the buds but it is something to note.
Advertisement - Continue reading below
Pricing and Availability
The Freepods 3 have been available in the market for about a month now and you can find them in your nearest accessory store. You can also get them from Oraimo's official online store.
The Freepods 3 should run you a cool KES 3,300 ($30) but could go as high as KES 4,000 owing to the current demand and ongoing shortage of supply.