In the ever-evolving digital landscape, cloud storage has become an indispensable part of our lives. Whether it's backing up precious memories, storing important documents, or collaborating on work projects, cloud storage services have made our lives easier. Google One has been a go-to choice for many, offering reliable storage solutions. However, as we inch closer to October 21, 2023, a significant change is on the horizon for Google One subscribers in Kenya.
Google has announced adjustments to the pricing structure of its cloud storage service, Google One, for Kenyan subscribers. The alterations have been phased in, with new subscribers experiencing the changes as of September 21, 2023, while existing customers will see these changes reflected in their bills starting October 21, 2023.
Advertisement - Continue reading below
---
Related:
---
Google One New Price in Kenya
For many users, the base plan is the gateway to Google One's cloud storage. Previously priced at Ksh 200, it will now cost Ksh 250. While a Ksh 50 increase may not seem astronomical, it underscores a broader trend in the digital world: the rising cost of convenience.
The other tiers will also go up and below is a breakdown of the new rates:
| Plan | Monthly Rate | Annual Rate |
| --- | --- | --- |
| Basic 100GB | Ksh 250 | Ksh 2,500 |
| Standard 200GB | Ksh 380 | Ksh 3,800 |
| Premium 2TB | Ksh 1,250 | Ksh 12,500 |
| Premium 5TB | Ksh 3,120 | Ksh 31,200 |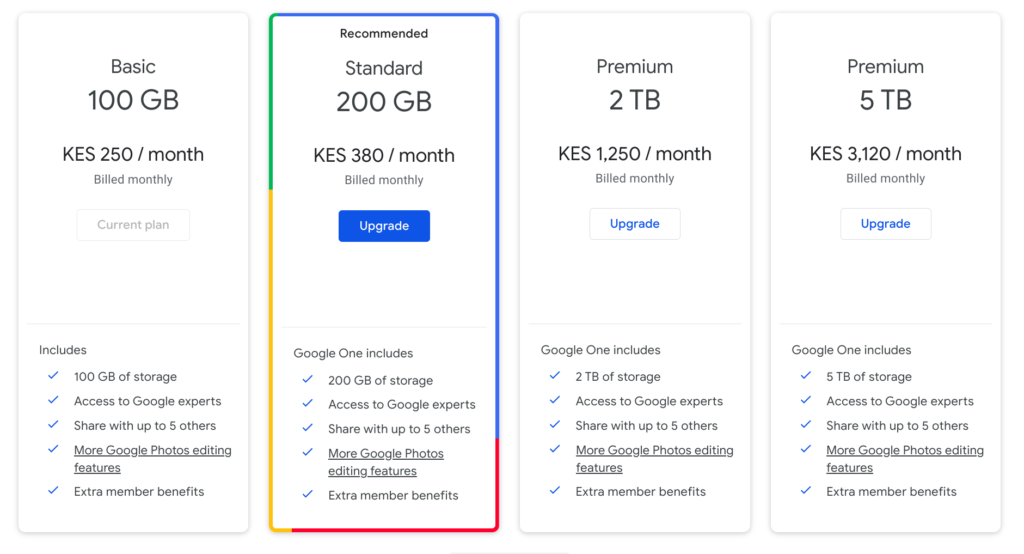 Cloud storage services like Google One have revolutionized the way we manage our digital lives. They provide a secure and accessible way to store and share data, ensuring that our files are just a few clicks away, no matter where we are. However, the convenience offered by these services often comes at a price, and that price is subject to change.
Navigating the Changes
For existing Google One subscribers in Kenya, these price adjustments may raise concerns. It's essential to remember that these changes are not unique to Google One; they are reflective of the increasing cost of living and the price of the Dollar.
So, what can existing subscribers do in light of these changes? First and foremost, it's essential to review your current plan and assess whether it still meets your needs. Google One offers various storage plans to cater to different requirements, so consider whether you need to upgrade, downgrade, or maintain your current plan.
Advertisement - Continue reading below
---
Related:
---
Moreover, it might be a good time to explore alternative cloud storage providers. Competition in this market is fierce, and you may find other services that better align with your budget and needs. Or you might just want to see how to compress your data on Google services, and see if you can get back to the free tier.
Conclusion
In the coming weeks, Google One subscribers in Kenya will face a new price for their cloud storage service. While these changes may not be met with enthusiasm, they are part of the evolving digital landscape. The convenience of cloud storage services is invaluable, but it comes at a cost that's subject to adjustments over time.
As consumers, it's crucial to stay informed and make choices that align with our budget and requirements. Cloud storage is a valuable tool, and whether we stick with Google One or explore other options, the key is to make an informed decision that best suits our digital storage needs.
Featured Image Courtesy